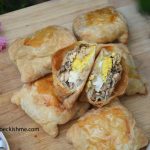 Mackerel and Egg Pastries
Ingredients
Instructions
1.       To make the filling, combine the mackerel, butter, chilies, onion, salt and pepper in a bowl. Using a fork, break the mackerel into small pieces. Keep aside.
2.       Preheat the oven 200 C.
3.       Roll out the pastry to about ¼ inch thickness. If you don't want to use store bought pastry, use this pastry recipe to make yourself a fresh batch.
4.       Cut into squares of approximately 4 inches in length. Place a tablespoon of the mackerel filling in the middle and top with half an egg. Fold into a parcel.
5.       Brush the top of the pastries with an egg.
6.       Bake until golden brown. This takes about 20 minutes.
Really, that's it!
I'm not a fish eater. As silly as it sounds, I hate the fishy in the fish. But strangely though, I seem to just adore these mackerel and egg parcels.
Flaky, buttery crust enveloping the strong flavored mackerel and the custardy yolk of half an egg is just the most sublime feeling on earth. The strong taste of mackerel is what you must rely on to cut through that rich buttery pastry and the egg is what you rely on to cut through that pungent mackerel. I cannot think of a more genius combination.
One bite and your teeth sinks into this pillow of softness and so much flavor that you wouldn't know what hit you. You can easily use the store bought packaged puff pastry or make your own easily. I have a lovely puff pastry recipe right here.