Yield: 10 pieces
Prep Time: 15 minutes
Cook Time: 15 minutes
Print
Chocolate croissants
Ingredients
Instructions
If you don't have ready made puff pastry, follow the method below.
1.       Mix the flour and salt in a bowl. Place the mixture in a food processor.
2.       Cut the butter into small cubes and toss into the flour mixture. Pulse a few times until the butter is absorbed into the flour mix and a crumbly dough forms.
3.       Add the very cold water and pulse a few more times (2-3 times will do)until the dough can be gathered into a ball. Don't over process. Your pastry will be useless if you do.
4.       Place the dough on a lightly floured surface and knead lightly approximately 10 times. With a lightly floured rolling- pin roll into a rectangle approximately 12 x 18 inches (30 x 45 centimeters). You need to work quickly because the butter should not melt.
5.       Fold the dough in half and then half again. Wrap the dough in plastic and refrigerate for at least 3 hours.
To make the croissants
1.       Remove the puff pastry from the refrigerator. If you're using frozen puff pastry like me, let the pastry thaw until of a roll-able consistency.
2.       Roll out the puff pastry on a lightly floured surface into ½ inch thickness (you can skip this step if you're using store bought stuff) and cut into 6 inch wide pieces.
3.       Roll this out thinly and cut into triangles. Place a piece of chocolate at the wider end of the triangle and roll the wider end towards the smaller end and tack to seal. Check this video for how to cut and shape the croissants.  
4.       Apply some egg wash on top of the croissants (or not, I never do) and bake in a preheated oven at 200 C for about 15 minutes until the croissants turn lightly golden on top.
5.       And your croissants are ready for the munching!
I hope you have that store-bought puff pastry ready. You don't? Don't worry, I also have a puff pastry recipe ready for you.
I was doing a bit of stocking up the other day at the supermarket and I was amazed at how every other shelf seems to be near-empty but the puff pastry and the spring roll sheet section. This gave me an idea.
Chocolate croissants!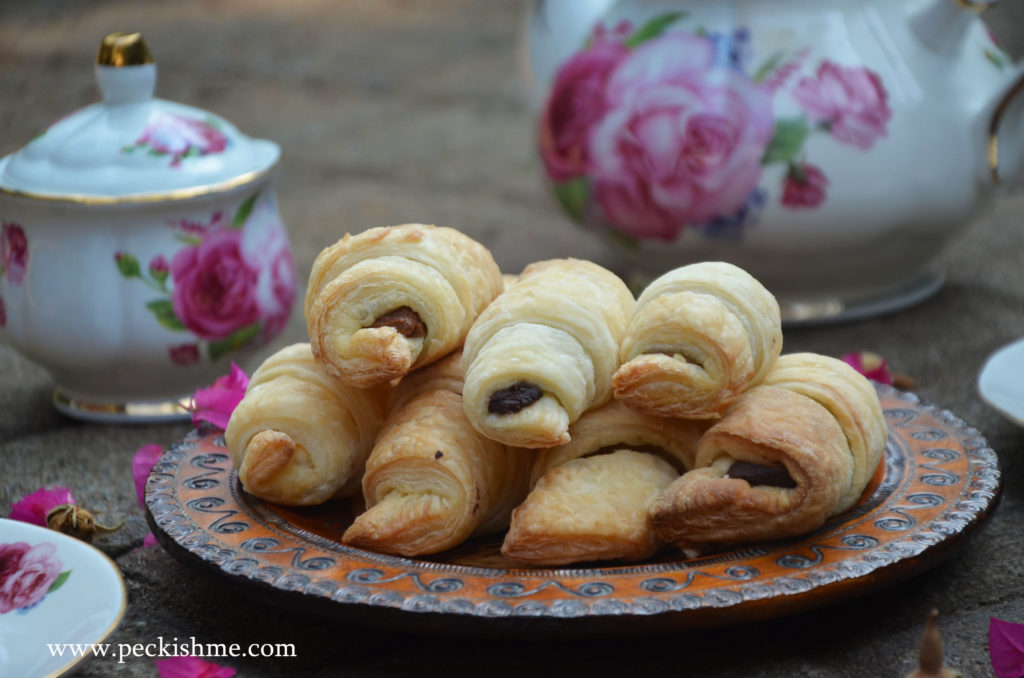 We were heading into curfew season and I have a bakery items fiend at home – aka hubster creature. Feeding him and keeping him happy is going to be a challenge hence, to make my life so much easier (because regardless of the curfew I will be working from home), I added these puff pastry sheets into my shopping cart.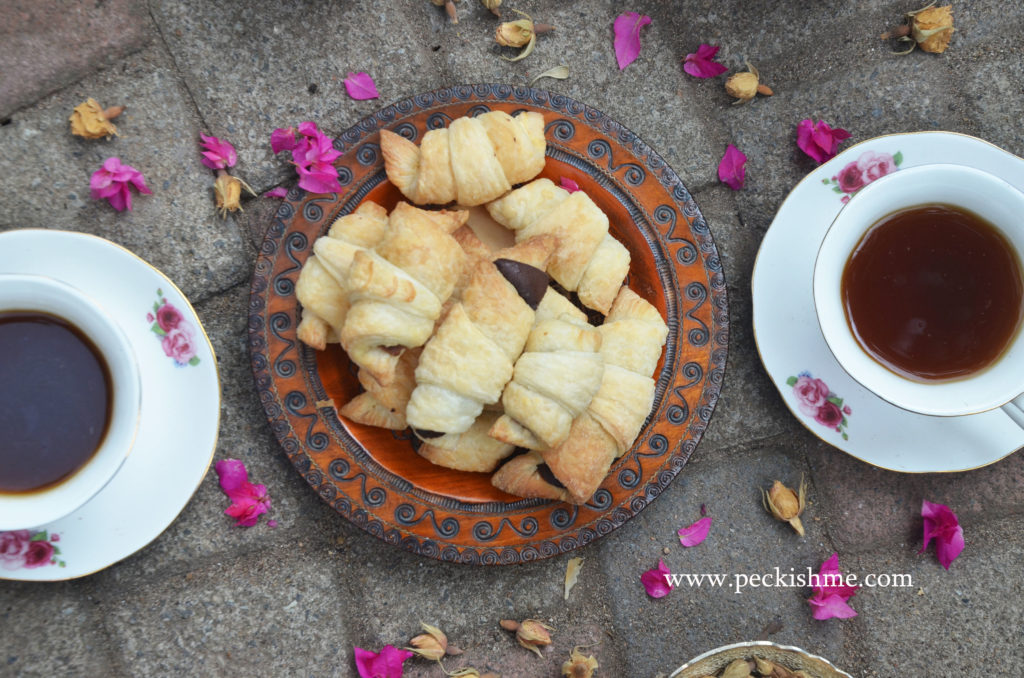 Mind you, when you make these at home on your own, it tastes so much better. But for recipes like this where the butteriness of the pastry isn't absolute paramount, the store bought stuff would do.
Besides, why make your life complicated? All I need for this chocolate croissant recipe is puff pastry and a few chocolate bars!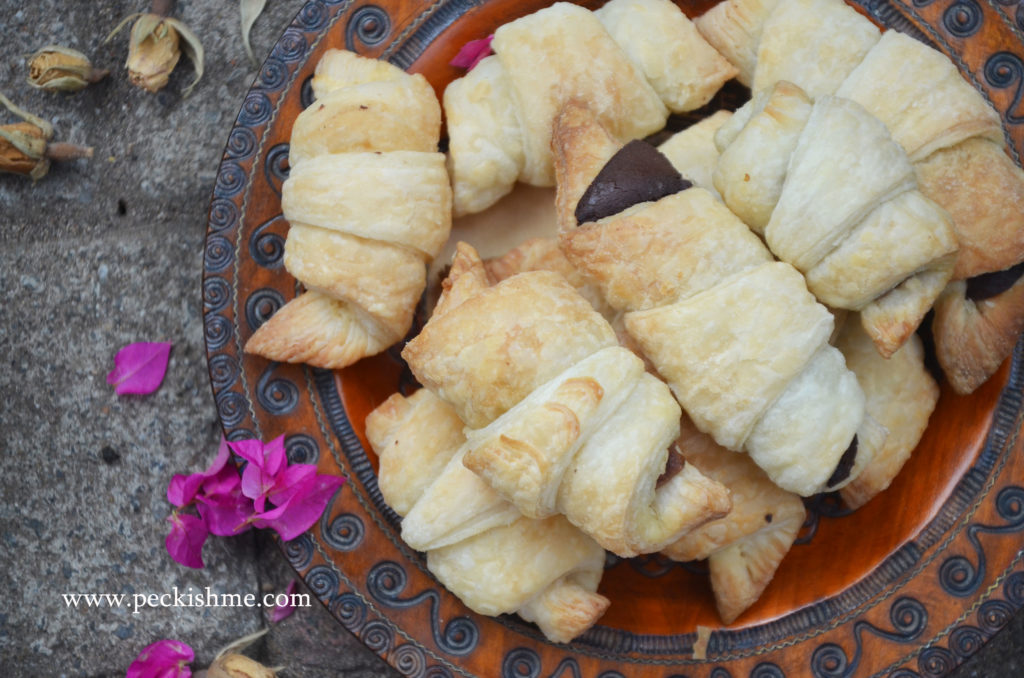 These chocolate croissants are incredibly light that it feels like you are biting into a layered cloud at first. Your teeth then meets the gooey chocolate on the inside of the croissant and the butteriness merges into a wonderful gooey chocolate, then blending into a luscious velvety richness. You can easily gobble up the entire batch in seconds. You can alternate dark chocolate, milk chocolate and white chocolate like I did and have a variety of croissants to bite into!
French patisserie style croissants right at home. With just two ingredients!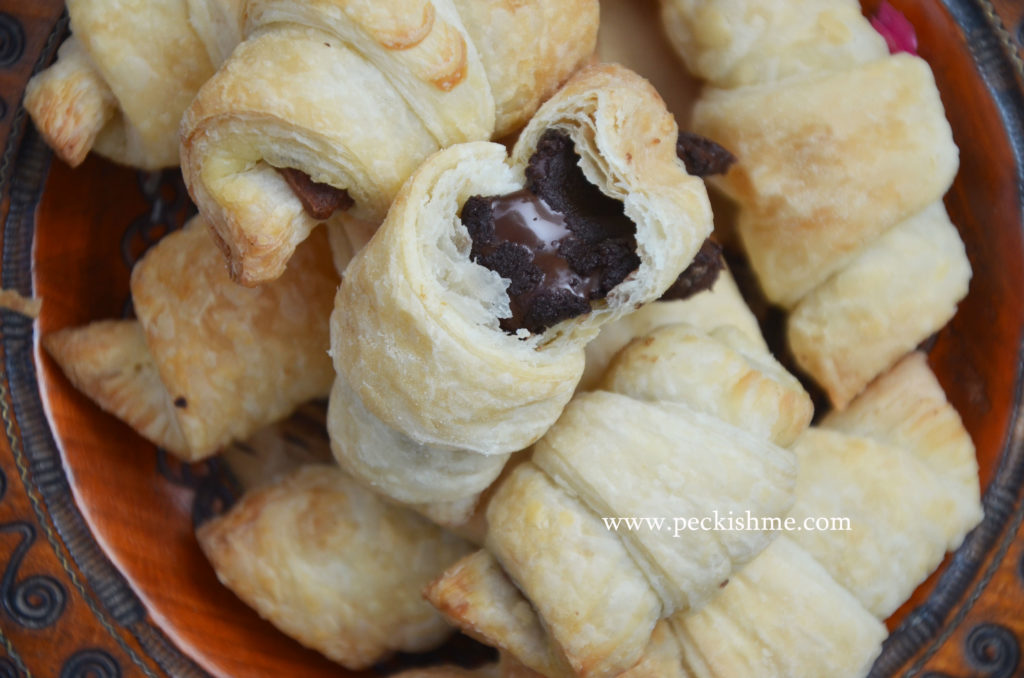 Baking tips
Use good quality chocolate. This is essential in this recipe.
Don't overwork your pastry dough. Puff pastry needs to retain its integrity so as to puff into layers in the oven.
Work quickly with your pastry dough. Because especially in Sri Lanka, puff pastry is notoriously hard to work with due to the heat.
Watch that oven! Remember, puff pastry is a LOT of butter and butter is something that tends to burn very quickly. Keep your eye on that oven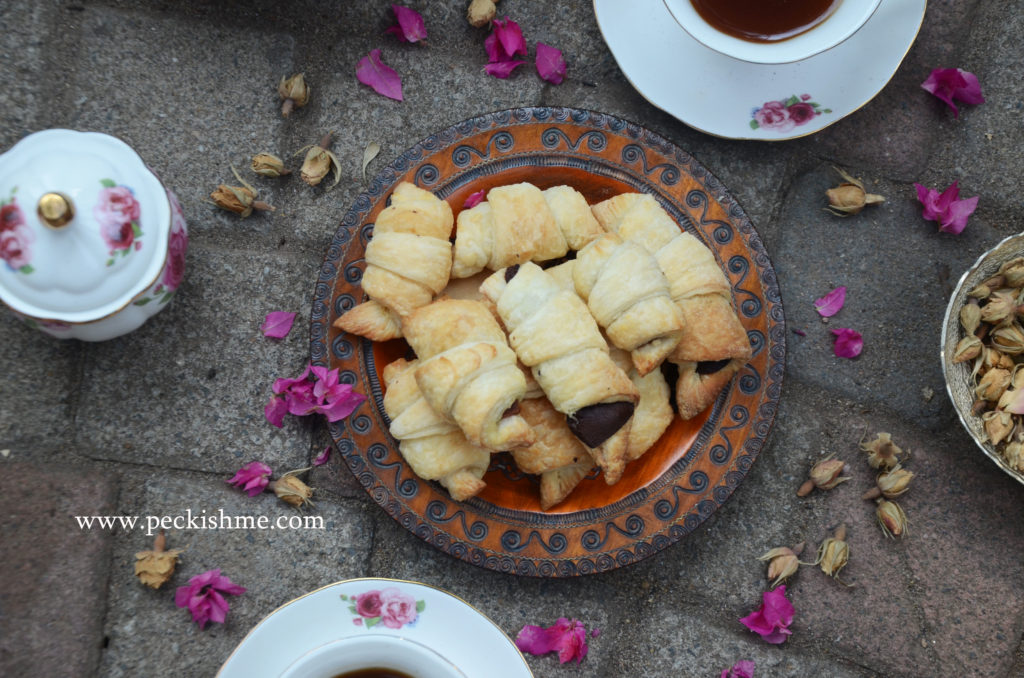 Photography – Jayani C. Senanayake.
Copyrights reserved. Photos and article are the property of the author. Stealing and using these photographs without written permission is punishable by law.