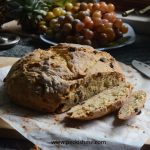 Yield: One loaf
Prep Time: 10 minutes
Cook Time: 45 minutes
Print
Irish Soda Bread
Ingredients
Instructions
1.       Preheat oven to 20°C. Line a baking sheet with parchment paper
2.       Whisk the buttermilk and egg together. If you don't have buttermilk, use one tablespoon of lime uice or white vinegar for one cup of milk. Set aside and let the milk thicken.
3.       Whisk the flour, sugar, baking soda and salt together. Cut in the butter and work the dough into coarse crumbs. Stir in the raisins.
4.       Pour in the buttermilk/egg mixture. Gently fold the dough together until dough it is too stiff to stir. On a lightly floured surface, work the dough into a 8 or 9 inch round loaf with floured hands to avoid sticking. Knead the dough for 30 seconds until the flour is moistened. If the dough is too sticky, add a little more flour.
5.       Transfer the dough to the prepared pan. Using a very sharp knife, score an X into the top. Bake until the bread is golden brown and center appears cooked through. This takes about 45 minutes. I usually loosely cover the bread with aluminum foil if Inotice heavy browning on top. This I usually do halfway through bake time.
6.       Remove from the oven and allow bread to cool for 10 minutes, then transfer to a wire rack. Serve warm, or toasted with desired toppings.
This is one of those recipes I thought I wouldn't like but ended up absolutely loving. You see, when you say bread, for me it always involves working with yeast, kneading and kneading it and then seeing the fruits of my labor when the loaf comes out of the oven fluffy, aerated and light. I tend to distrust any "bread" that does not involve yeast. Too easy. And that's the impression I had with this loaf as well.
But this loaf proved to me that easy can be delicious too!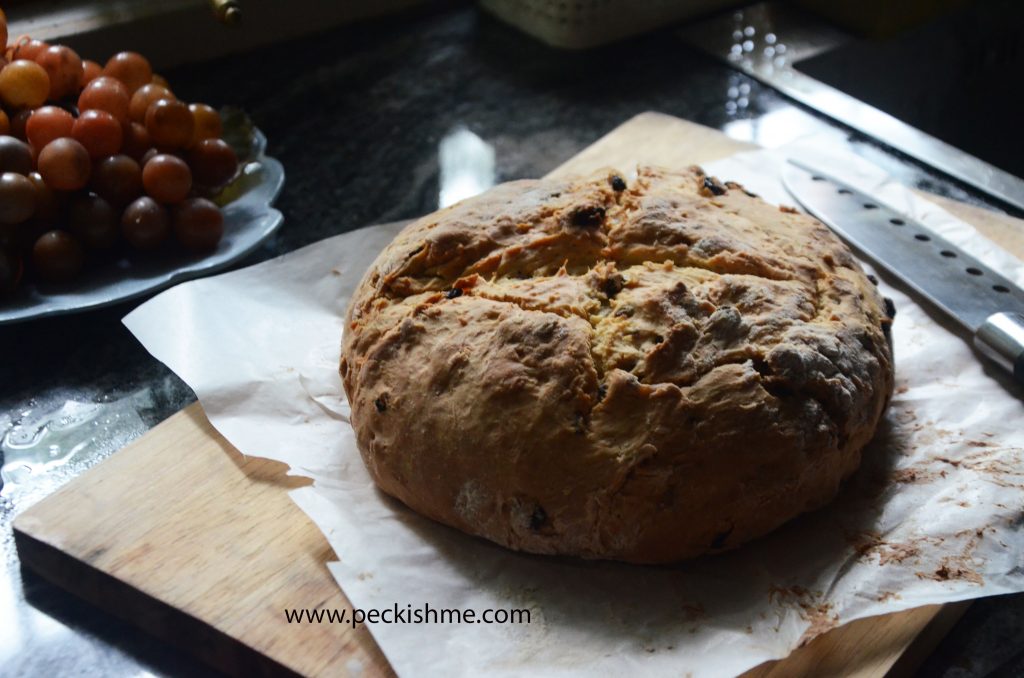 This is more cakey than light and has a slight sweetness to it that goes very well once slightly toasted and generously slathered with butter. The crusty edges are perfectly crunchy while the middle is moist and soft and so tempting to bite into. I also love the way that raisins go 'plop' in the mouth in between the layers of rich, milky bread. I love having a slice of this in the afternoons with a cup of tea and even in the mornings when I need a quick bite. Pure bliss!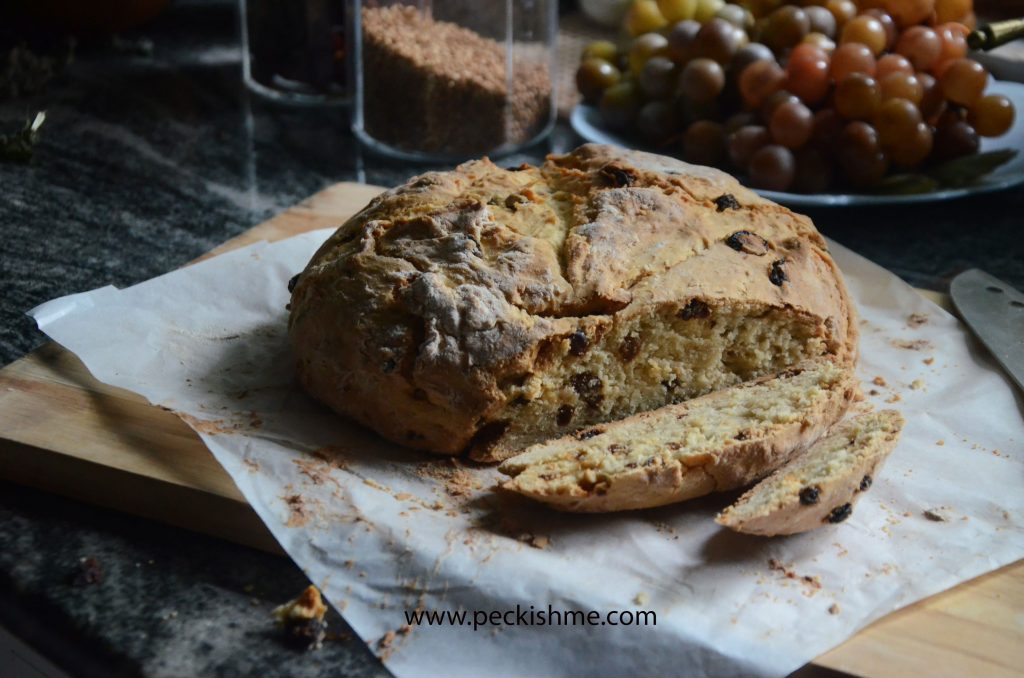 Notes
Buttermilk – Cold buttermilk is key to the bread's flavor, texture, and rise. The bread will not rise without it. I don't ever have buttermilk in the house so I always use a homemade "DIY" version. Whole milk is best. Add 1 Tablespoon of lemon juice or white vinegar to a liquid measuring cup. Add enough cold milk to make 1 and 3/4 cups. Whisk together, then let sit for 5 minutes before using in the recipe.