This is a heart attack waiting to happen. But I can assure you that it is a heart attack that you won't regret. Ever.
Soft, mushy potatoes, cheese and cream. Who could say no?
Gratin Daupinois or potato gratin as we call it, is a traditional French regional dish that was first served with an ortolan dish at a dinner given by Charles-Henri, duke of Clermont-Tonnerre and Lieutenant-general of the Dauphiné in 1788. It is also known by many other names – potatoes à la dauphinoise, pommes de terre dauphinoises and gratin de pommes à la dauphinoise being some of them. There's plenty of cream, butter and cheese involved, usually gruyere cheese, but I have used a combination of cheddar and mozzarella in this dish as I was unable to find gruyere in the excuses of supermarkets that we have in our vicinity.
Gratin Dauphinois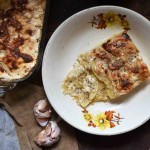 Prep Time : 20 minutes
Cook Time : 40 minutes
Yield :

8
Instructions
Peel and slice the potatoes thinly, preferably on a mandolin. Cover with a wet napkin and keep aside.
In a pan, heat 2tsps butter. Sautee the garlic, the onion, oregano and the thyme in the butter in that order until each ingredient takes on some colour. Add to this the double cream and the milk and boil over a low heat until the mixture begins to boil and bubbles start to appear. Add salt and pepper to taste. Take off heat.
Layer the potatoes in a baking pan (Use a pyrex dish, earthenware or a ovenproof gratin dish) slightly overlapping one another. Dot some butter over the potatoes. Sprinkle over this some grated cheddar. Over this, pour some of the cream mixture.
Repeat the layering first with the potatoes, butter, the cheese and the cream. The bottom layers need not be very neat but as you near the top, lay out the ingredients in a neater way.
Once finished, sprinkle the grated mozzarella over the top, pour the remaining cream mixture on top and bake at moderate heat for about n hour or when you feel at the prick of a knife to the middle of the dish, that the potatoes have been cooked all the way through. The pan must be relatively dry by then.
Serve with roasted meat or as a meal in itself. For those who do not want to waste the decadently creamy, cheesy toast, I recommend a piece of bread to scoop up all that beautiful sauce!
Print
Beautifully soft, moist, tender and juicy, the first mouthful gives you goosebumps and sends your heart soaring with the thought that you are doing something naughty, something that you really should not be doing but is thrilled that you are doing it anyway. The top layer is toasty, what with the mozzarella having worked its charm over the crusty crunchy bits of roasted potatoes sliced paper thin and this serves as a wonderful contrast to the mushy, rich and cheesy depths that you sink your teeth into, thanking the very fact that you are alive. The thyme sings in this creamy confusion of caramelized onion and fragrant garlic, the cheese providing salty chewiness and the sauce gliding satiny smooth across your tongue, coating your senses with exquisite oregano perfumed pleasure. It wouldn't be wrong to say that a spoonful of Gratin Dauphinois is a mouthful of immense, divine satisfaction, smothered in silk and soft, supple velvety plushness with the flavours playing around ever so gently, tiptoeing about so as not to disturb the perfect harmony of the experience. It is rich and decadent and it will increase your heartbeat (maybe even make you skip a few occasional) and put a wide, beaming smile across your face. What strikes you the most about this dish is what accentuates any French cooking – its subtlety of flavour, its elegance and sophistication and not to mention, the underplayed sensuality of it all. And I have always been a great fan of this elegant subtlety – this is true sophistication.
Does this not sound like love?
Personal note – Gratin Dauphinois is my favourite potato dish in the whole wide world.
Helpful tips
I know that Sri Lanka does not have an extensive variety of potatoes, so do go with whatever potato that you come across. But if you do have the luxury of choosing your potatoes, choose something like Desiree potatoes, Maris Piper, Golden Wonder, Kind Edward or Idaho potatoes for a wonderfully lush gratin dish.
It tastes better as it gets older as the juices have more time intermingling with one another. So prepare it one day advance and keep it in the refrigerator if you want. And don't worry if there are leftovers. It always tastes much, much better about 2 days afterwards. But do keep it refrigerated as we are working with dairy products here.
Again, be very careful when you are slicing the potatoes with the mandolin. I myself have suffered serious injuries with it. If you don't own a mandolin, you can still slice the potatoes with the knife. But make sure that all the pieces are of the same thickness so that they all cook together. Again, slice them as thin as you can for optimum results and a mandolin is your best option in this. So if you don't own one, you won't regret investing in one.
Salt the dish carefully. The addition of cheese and butter will add a bit of saltiness of their own so be mindful of that. At the same time, do not undersalt. The salt is the major player that brings the whole dish together and brings out the subtleties of flavour in the dish.