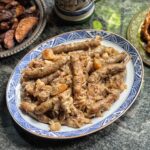 Yield: 3
Prep Time: 15 minutes
Cook Time: 20 minutes
Print
An Oktoberfest recipe
Looking for an easy sausage recipe for Oktoberfest? Absolutely loving this super easy cabbage and sausage skillet I made with Elephant House Nuremberg sausages which are fast becoming a household regular. These are thin, juicy sausages with a hint of spice that are perfect for a braise. Hence this cabbage and apple braised in white wine with Nuremberg sausages.
Ingredients
Instructions
Brown the sausages in butter

Add the minced garlic and saute until fragrant.

Add in the onions and sauté until soft and fragrant.

Add in the caraway seeds and let it merge with the onions and add in the chopped apples. Cover and simmer for 5 minutes.

Add in the chopped cabbage and at this point, add in the salt and pepper.

Stir well and I add in a splash of white wine. Stir everything together, cover and let it cook down for a few minutes until the cabbage becomes soft, stirring from time to time.

Once the cabbage has completely softened, increase the heat and cook while stirring occasionally, letting the cabbage caramelize at the bottom. Once the wetness has evaporated and the cabbage has caramelized considerably, turn off heat and serve piping hot.
The sweetness from the apples and the piquant caraway seeds complement the fragrant spicing of Nuremberg sausages so well. Paired with a glass of cold beer, and maybe some potato wedges and beer battered onion rings, well that's my Oktoberfest right at home!
These Elephant House sausages are available at Spar and Arpico supermarkets as well as via https://www.meathouse.lk/oktoberfest-range
Also, did you check out my other Oktoberfest recipe? I used Weiswurst sausages in this one and served it up with mashed potatoes. So so good! Try and let me know what you think :)