Mushroom are mysterious things. They sprout from the ground for no apparent reason, round, soft and spongy, smelling of wet earth, burnt clay, grass and   all sorts of undiscovered things. I don't consider them as plants – they certainly don't taste like them. They taste like the earth, the sun that nourishes them and they taste like water, if water ever had a taste. I had always been obsessed with mushrooms – their texture, taste, colour, shape, how they grow. I have never been able to describe it. They are meaty and a little bit gamey, probably why we don't really mind when there are mushrooms around. And this dish, I consider this my tribute to mushrooms, where they have a chance to shine in all their wonder and glory.
I thought, since I love them so much, what could bring out their character, their originality in a dish. And then I came up with this. This is my tribute to those wonderful things, those mysterious woods-growing fabulous fungies that we call the shrooms.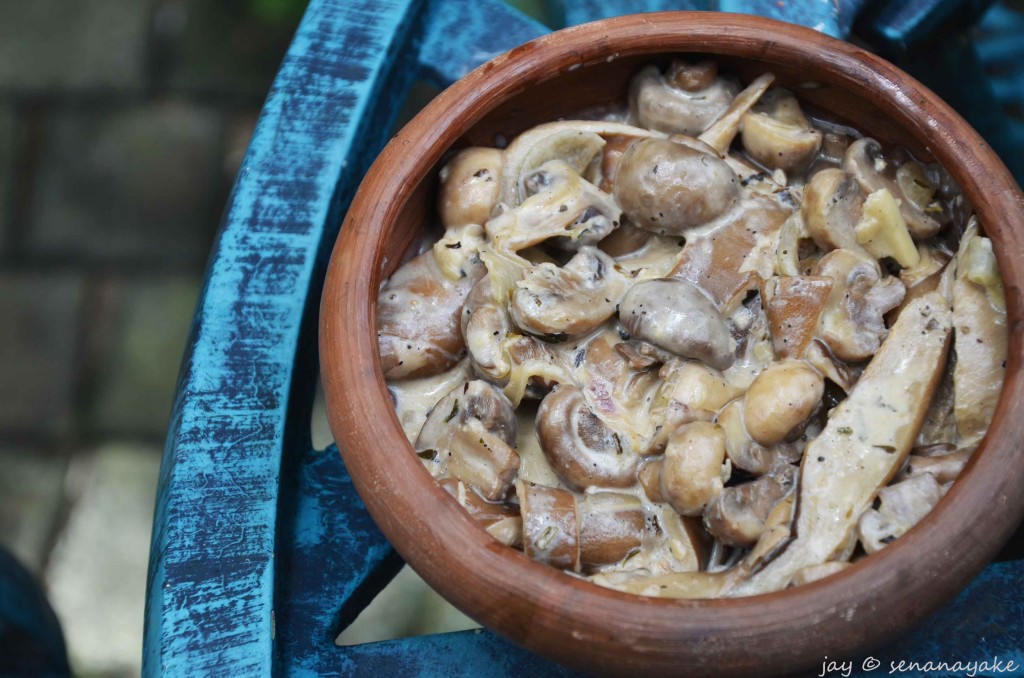 Mushrooms in cream sauce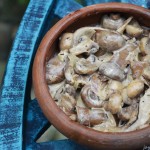 Prep Time : 10 minutes
Cook Time : 20 minutes
Yield :

4 servings
Instructions
Heat a nonstick pan. Add the olive oil. Once the oil is heated through add the garlic. Sautee until golden brown.
Add to this the chopped onion. Sautee until slightly brown and translucent.
Tip in the mushrooms. Sprinkle salt, pepper, oregano and thyme. Sautee until most of the water has evaporated.
Add to this the fresh cream. Stir well to combine. Adjust seasoning as required. Leave on low heat for about 5 minutes until the mixture thickens and take off heat.
Print
Serve it with some white rice. We had this with steamed fluffy basmati rice and my mother's honey grilled chicken. This would be great with these Barbecued pork ribs too!
Satiny smooth, deliciously creamy. The hero of this dish is definitely the humble mushroom.
Luxuriating in a lovely thick broth, I can almost hear the mushrooms rejoicing. The gravy glides upon the tongue with velvety smoothness, having absorbed the earthy complexity of the mushrooms, the tang and the zest of the oregano and the thyme, piquing the tongue in places with little sprinkles of pepper. When bitten into, the button mushrooms are thick and pops in your mouth with flavour – a delightful sweetness that combines well with the fragrant oregano with its underlying sweetness and the tanginess of the thyme while the salt simply brings out its natural flavours, lifting it above the usual spheres of taste. The differences between the two mushrooms is rather remarkable. The button mushroom has more of a bite while the abalone is mushy and chewy – both being meat-like in their texture. This is quite a lovely surprise in between mouthfuls of creamy rice, this difference of texture playing havoc in your mouth and influencing the  taste buds.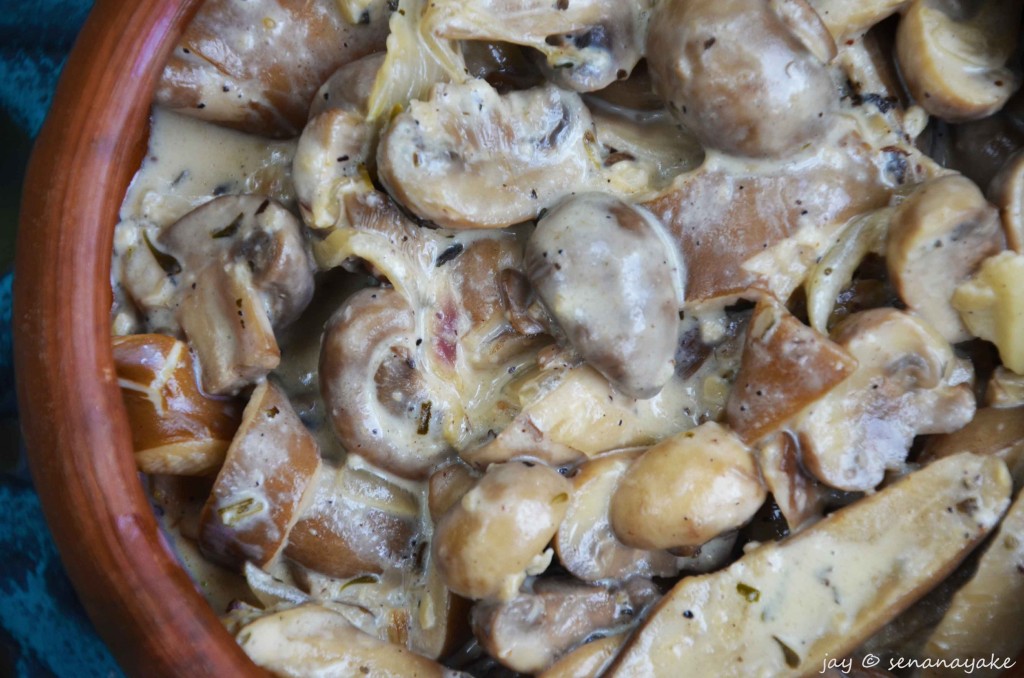 Cooking tips
Soak the mushroom in salt water for about 15 minutes before use. It is necessary to wash these lovelies thoroughly as there tends to be worms and sometimes even soil on them.
Dry the mushrooms thoroughly before using it. Mushrooms give out a lot of water as they cook and therefore it is good to let most of that water drain before adding the cream.
If you feel that the broth is too thick or is not enough, feel free to add some milk.
Garlic burns easily in hot oil and therefore, when sautéing the garlic, make sure you don't burn it.