I love polenta. Such a sun shine-y colour. Happy food. But cornmeal is a difficult thing to come by, especially in our locality.
And polenta chips for me, are a healthy alternative to french fries any day.
Although, this recipe is a bit more trouble than I would like to admit to. But I am willing to go the extra mile for that deserving dish. So here is how it goes.
Ingredients
2 cups cornmeal
4 cups chicken stock
5 tablespoons chopped herbs (parsely, rosemary, etc)
300 g grated Parmesan (alternatively, you can use cheddar)
Salt & pepper to taste
Oil spray
Method
– Boil 2 cups of cornmeal in 4 cups of chicken stock with the herbs, cheese and seasoning to make polenta.
– Line a baking tray with cling film and spread out the polenta mixture at about 1 inch thick. Leave to cool and gradually set. (about 1 hour)
– Once set, cut the mixture into thin strips/chips of your desired size.
– Line a baking tray with baking paper. Line the chips carefully. Spray/dab them with sufficient oil.
– Bake on medium heat for about an hour. Or till the chips are firm and brown.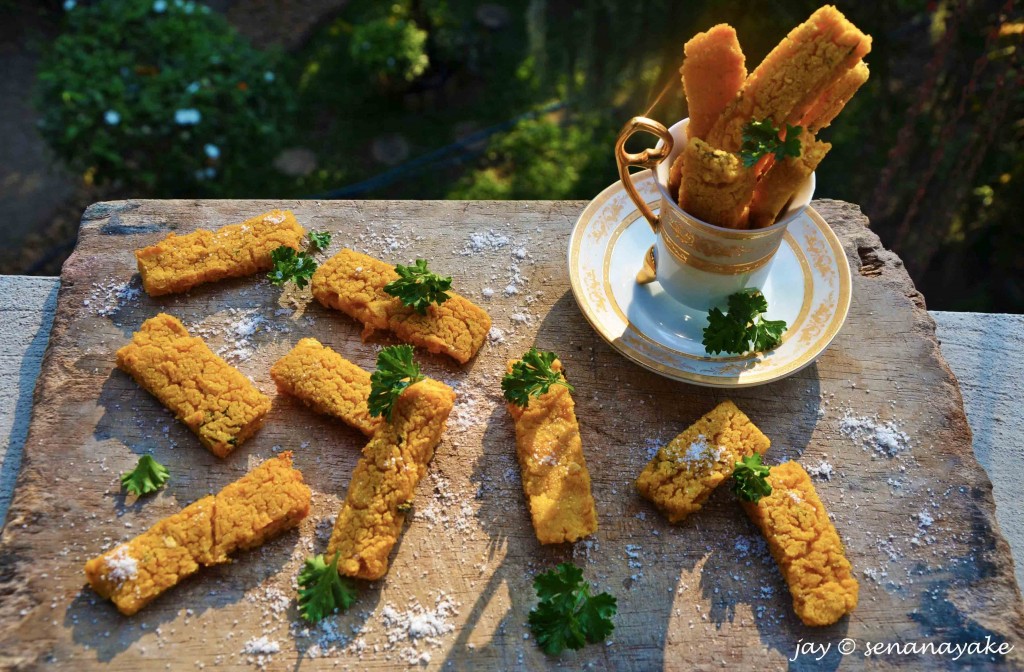 These chips are crispy on the outside and gooey and flavoursome on the inside. As you bit into them as you very well will not be able to resist, your palate will first encounter a firm unyielding texture giving way to a beautifully mushy, creamy centre. But can it really be a substitute for french fries? Oh yes, definitely!
Some tips from the hungry writer –
You can replace the herbs in the recipe with whatever spices you like. I also use the Sri Lankan five spice and add a bit of chili powder and curry leaves in sometimes.
Alternatively, you can deep fry these chips. Of course it wouldn't be healthy anymore now, would it.
Serve it with a dip or a salsa of your choice. You can also serve it for all the dishes that are usually accompanied by french fries.
If you want to store and keep the chips, do not use cheese as they tend to spoil. Also, store the chips immediately in an airtight container if you wish to keep them, as soon as they cool down enough.
It's best to just consume then and there. It would be an achievement to actually save some for afterwards!
Try it for the weekend. And be ready for raving reviews afterwards.
Photography – Jayani C. Senanayake. Copying, downloading these images and using them in any which way is strictly prohibited.