Another one of regular household treats that I whip up every once in a while for teatime. One of the simplest recipes that is a breeze to whip up and is ideal to serve up if suddenly you are told that friends are coming over for tea. Not a sultana lover? Then don't try this at home.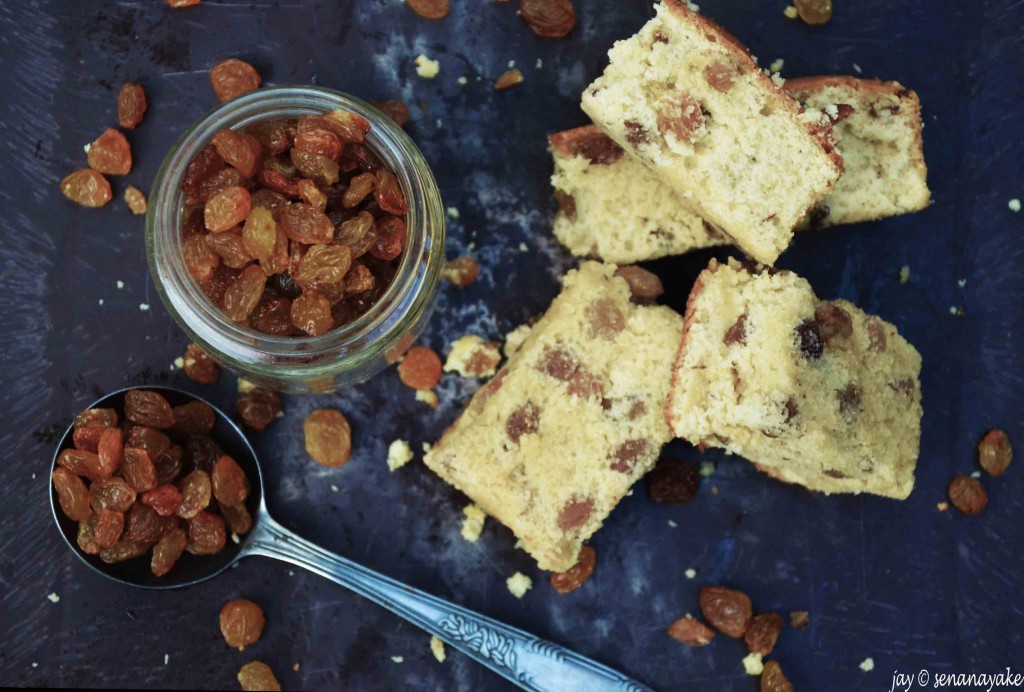 Ingredients
250g butter (room temperature)
500g Sugar (I use large granule brown sugar in almost all my cakes as I like the sort of caramelized crust that it gives to cakes)
6 eggs
250g Sultanas (To adjust the quantity as you wish. If you are a sultana lover like me, then more the merrier. But if you are not, even 100g will do)
450g plain flour (sifted)
1 tablespoon ground cinnamon
1/2 tablespoon ground nutmeg
5 tablespoons milk
1 tablespoon vanilla essence (or one vanilla pod)
Method
Sift together the flour and the baking powder.
Cream the butter and the sugar together. I usually do not cream it together till the sugar dissolves completely because i) I am lazy and ii) because the undissolved sugar granules give the cake a caramelly crust that is simply, beautiful.
Add to it the eggs. Beat well until everything combines.
Add the vanilla essence, ground cinnamon and nutmeg to this mixture. After the addition of each ingredient, mix well before adding the other.
Add the flour gradually in about 5 parts. After each addition, mix well. Add the milk.
Add the sultanas. Mix well.
Line a baking tray with oil paper and butter it well. Pour the mixture onto the tray. Bake for 1 1/2 hours on moderate heat or until a skewer inserted to the middle of the cake comes out clean.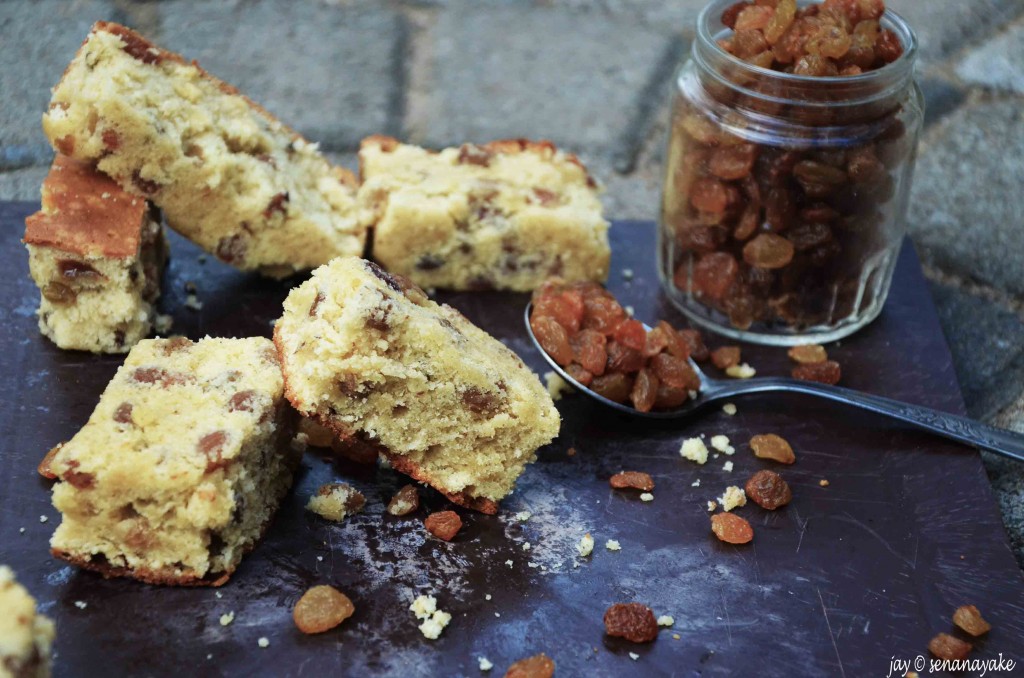 This cake is very moist and somewhat sticky, so if you are expecting a light and fluffy cake, this will not be it. It is quite crumbly too, so watch out when you are cutting it and use a very sharp knife. The caramelized crust on top of the cake gives it a crunchy top but with a soft and rich middle making it a delight to bite into. The sultanas having absorbed some of the moisture from the cake have become nice and plump in the middle and when bitten into, squirts a sweet-and-tart juice into your mouth that blends beautifully with the rich, creaminess of the cake, creating that fine equilibrium between the sinful and the necessary lusciousness. Oh I could go on about the wonders of this beautiful cake. But the fact that there is only a few pieces yet of this only after a day of being baked in a household not known for its sweet teeth is testament enough methinks.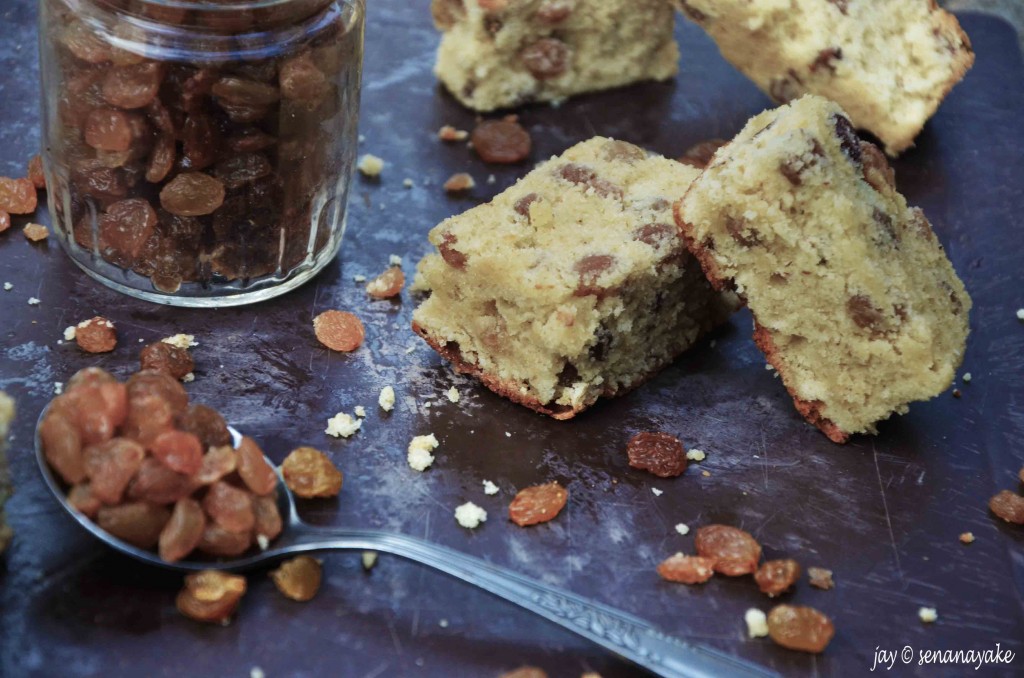 Some Tips
You can either shower the cake with sultanas or occasionally dot it here and there with one or two. The amount of sultanas added is completely up to you.
Choose good quality, large sultanas that are beautiful on their own. Taste the sultanas before choosing them and if possible, choose the seedless kind. And wash and dry them well as sultanas often have sand and other impurities in them.
Adding cinnamon and nutmeg is entirely at your discretion. If you are not a big fan of spices, you omit it entirely and opt for a vanilla cake. Me being me loving the cinnamon all too much, love to incorporate it wherever possible.
The only thing I hate about baking is lining the baking tray (that and cleaning utensils prior to beginning). I have found a less cumbersome method for this – cooking spray. If your cake tin is a super nonstick one (we all know how hard it is to come by one of these) you only need to spray it with this. But it's good to be on the safe side and line the dish anyway.
No oil paper? No problem! Use regular A4s well oiled.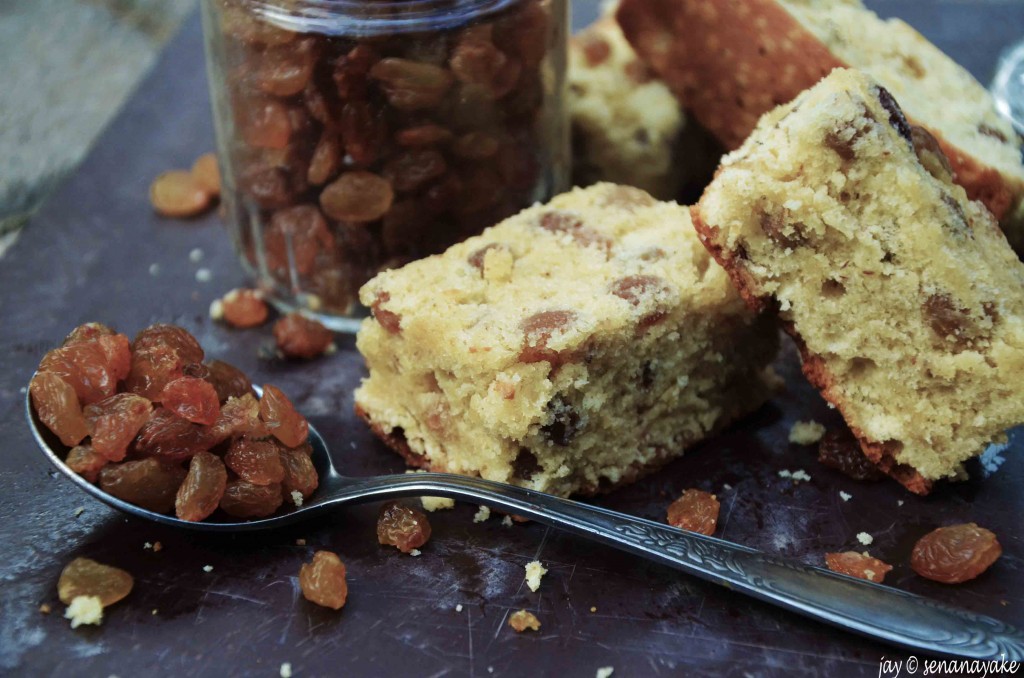 So there you have it. Try it and let me know what you think :)