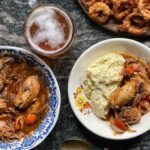 Yield: 04 servings
Prep Time: 10 minutes
Cook Time: 20 minutes
Print
An Oktoberfest Recipe
The weather is just the right kind of Oktoberfest-ish so I was tempted to have my own Oktoberfest right at home. Tried this beer-braised sausage recipe with Elephant House Weiswurst sausages just out in the market (these are simply magnificent by themselves as well) and I'm absolutely loving it!
Ingredients
Instructions
Fry the Weiswurst in butter lightly (do not cook fully, lightly sear the outside) and set it aside
In the same pan, sauté the sliced onions. Add the minced garlic and saute until slightly caramelized. Add the bay leaf
Add in chopped tomatoes and let this simmer covered until the tomatoes are soft and makes a nice juicy compote
Add salt, pepper and some paprika to taste.
Add the sausages to this and sauté for a few minutes, adding in the beer. Let simmer for about 5 minutes
Transfer to an ovenproof dish and bake for 15 minutes at 120 degrees C.
I served these up with a creamy garlic mash which was the perfect accompaniment for the braise. The kick from the beer combined with tomatoes and caramelized onions creates the perfect flavor palette for the gamey Weisswurst to shine. It was absolutely perfect for the cosy weather, paired up of course, with a mug of cold beer.
Instead of beer, you can substitute chicken or beef stock (but I it would not
And also, these Elephant House sausages are available at Spar and Arpico supermarkets including online at https://www.meathouse.lk/oktoberfest-range