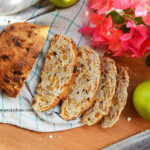 Yield: 1 loaf
Prep Time: 2h 00 min
Cook Time: 20 minutes
Print
Wholemeal Dried Fruit Bread
Ingredients
Instructions
1.       Combine the honey with warm water.
2.       Combine the flours, the dried fruit you are using, the walnuts, yeast and salt in a large bowl. Make a well in the center and pour the warm water and honey mixture into the center. Knead slowly for about 3-4 minutes to form a soft, sticky dough.
3.       Brush a bowl with olive oil. Place the dough in the bowl for proving. Cover and place in a warm place for about 2 hours until the dough is double in size.
4.       Turn the dough into a floured surface and knead for about 2 minutes more.
5.       Brush a baking tray with oil and dust with semolina. Mould the dough into a round or an oval shape and place it on the oiled baking tray. Using a knife, make 3 incisions at the top of the loaf. Cover and leave for about 45 minutes until doubled in size.
6.       Preheat the oven to 200 C.
7.       Brush the loaf with egg wash and sprinkle more chopped dried fruit if you wish. Reduce the temperature of the oven to 180 C and bake for 20 minutes until baked. How would you know? Tap the bottom of the loaf and you will hear a hollow noice. Also, the loaf will be golden on top.
Here's something to keep your hands busy with while you sit out the Corona.
I've lost the count of times I've made and remade this bread at home – with apricots, sometimes with dates, raisins and prunes and everytime it yields a wonderful read. But I've kept one ingredient as a constant – that is the walnuts and of course the wholewheat bread. While being an absolute delight to bite in, this walnut bread is also a healthy snack whenever the munchies set in.
This recipe came to me at a time when I was trying to heal a deep soul gash – and as always, I had turned to baking. This recipe is especially special to me because I consider this particular bread as a part of that healing process, because baking, especially bread has always been therapy. And that taste will always be a proud reminder of how I've overcome those confusing times with no one around to help.
Now about the recipe…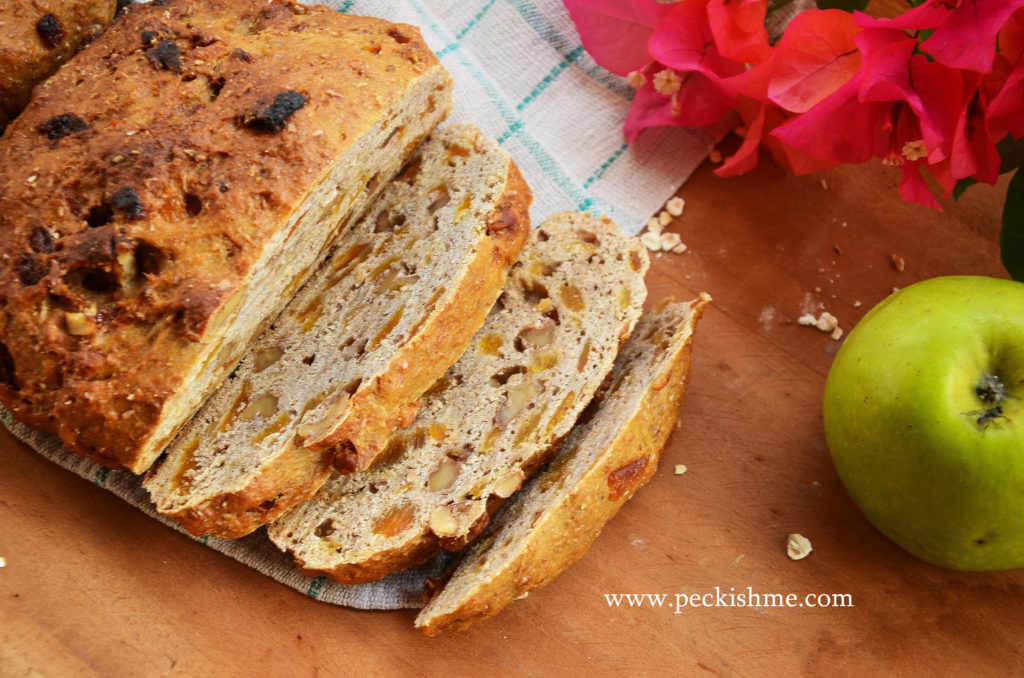 Those of you who are aware, I do have a penchant towards Italian fare and this particular bread, especially the walnut and the olive oil, has Italian origins. Close your eyes and one bite will take you down a cobblestone paves path in Tuscany kissed by the evening light. Remember to serve it warm though with a generous slathering of butter. I guarantee you, this bread will warm you from the inside out, making you glow from within.
This is one of the most satisfying breads you will ever bake. I love the smell of baking bread and it is extremely satisfying to have that smell emanating all over the house. Turns every "house" into a home, in my opinion. Slice in and every slice reveals pieces of dried fruits and walnuts and soft, coarse bread that is perfect to be slathered with oodles of butter and served warm. I love serving this warm for breakfast or toasted with butter the day after. It keeps very well in the fridge too. All you need to do is take the loaf out, slide, toast and serve the next day!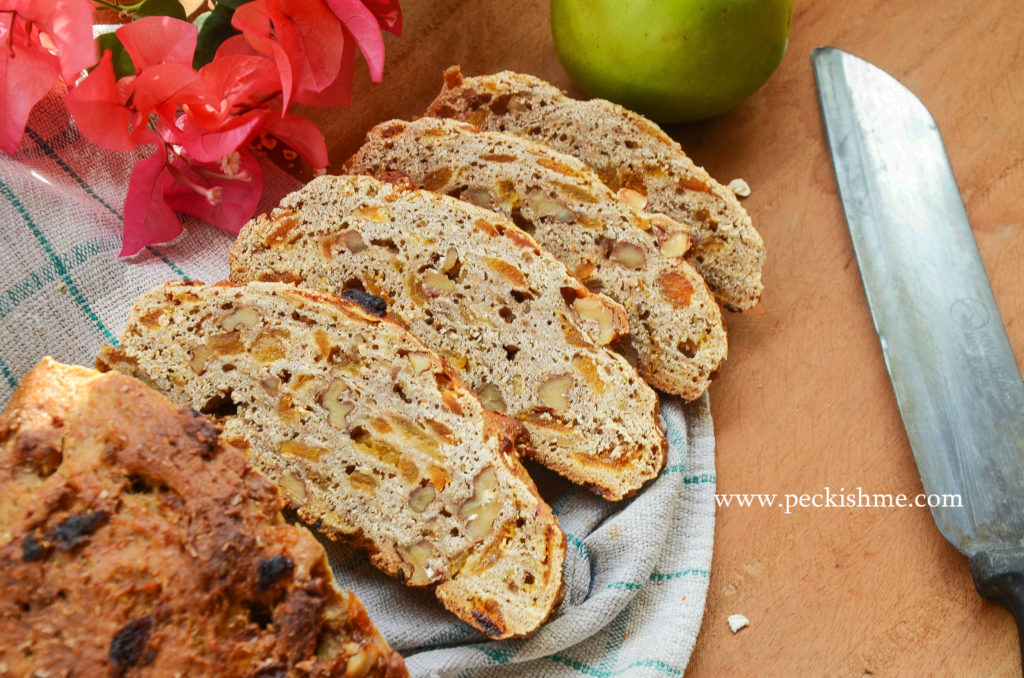 You bite into a crunchy crust and then into a soft, coarse, earthy middle sprinkled with delicious explosions of soft, juicy dried fruit, the walnut provides an unmistakable crunch and a nuttiness that creates a wonderful textural difference that goes well with the dried fruit. This bread is reminiscent of warm, sunkissed afternoons without a care in the world, just lounging about, reading. Which is exactly what the next few days will be about.
Come on, quarantine ain't so bad. Aren't you just tired of running around looking into this and that and basically feeling restless? Now that we are forced to take a step back and slow down, I am beginning to appreciate this time off more. Read a book for God's sake. And eat bread.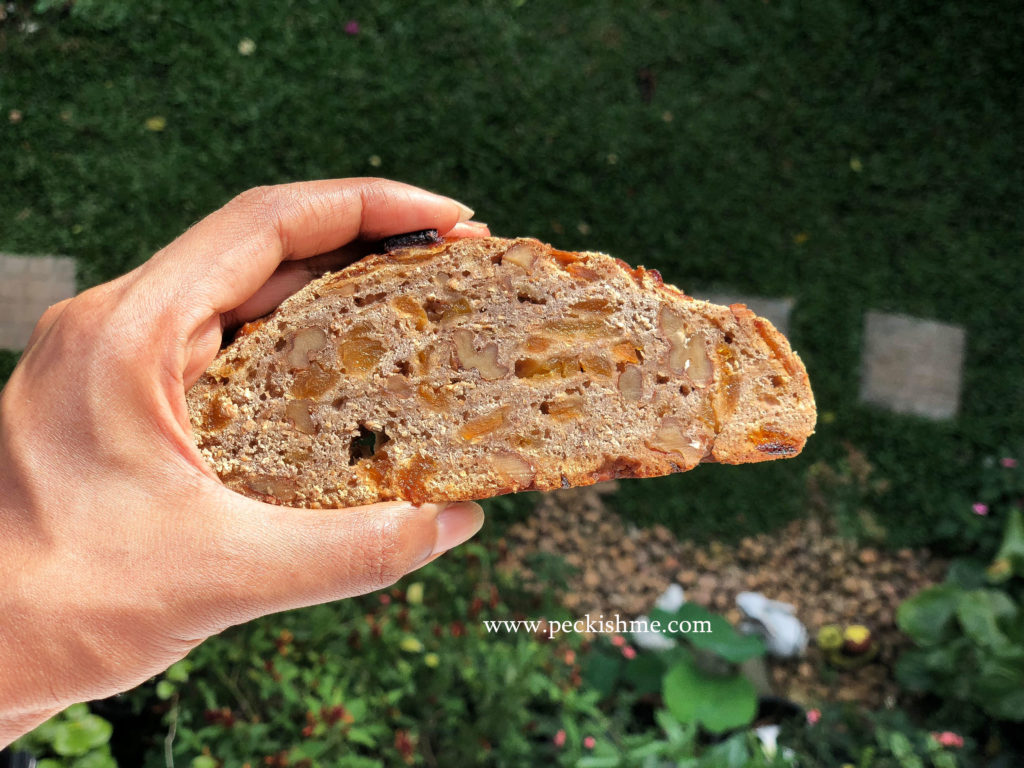 Baking tips
Keep an eye out on that dough while it bakes. Baking times will vary based on your oven and we don't want a burnt loaf now, do we?
As I said, you can use any dried fruit you want in this. My go-to is dates or dried apricots or figs. You can experiment too.
Nevertheless, I do not recommend substituting walnuts. You can try pecans but that is about the only substitution I can think of right now.