This place caught me by the heartstrings.
What struck me the most about this Kandy hotel, The Theva Residency is how exclusively private it is. Tucked away amidst the peaceful slopes of Hanthana mountain range, this is the ideal hideout if you're tired of the crowds and just want some quietude to let your soul let down her hair and unwind. It was certainly just what I needed at this point in time!
I am truly impressed of their COVID-19 screening process. I try to avoid walking into hotels and the like these days because the amount of harassment and manhandling that you go through is horrendous but here, much like everything else, the process was gentle, friendly but very, very thorough.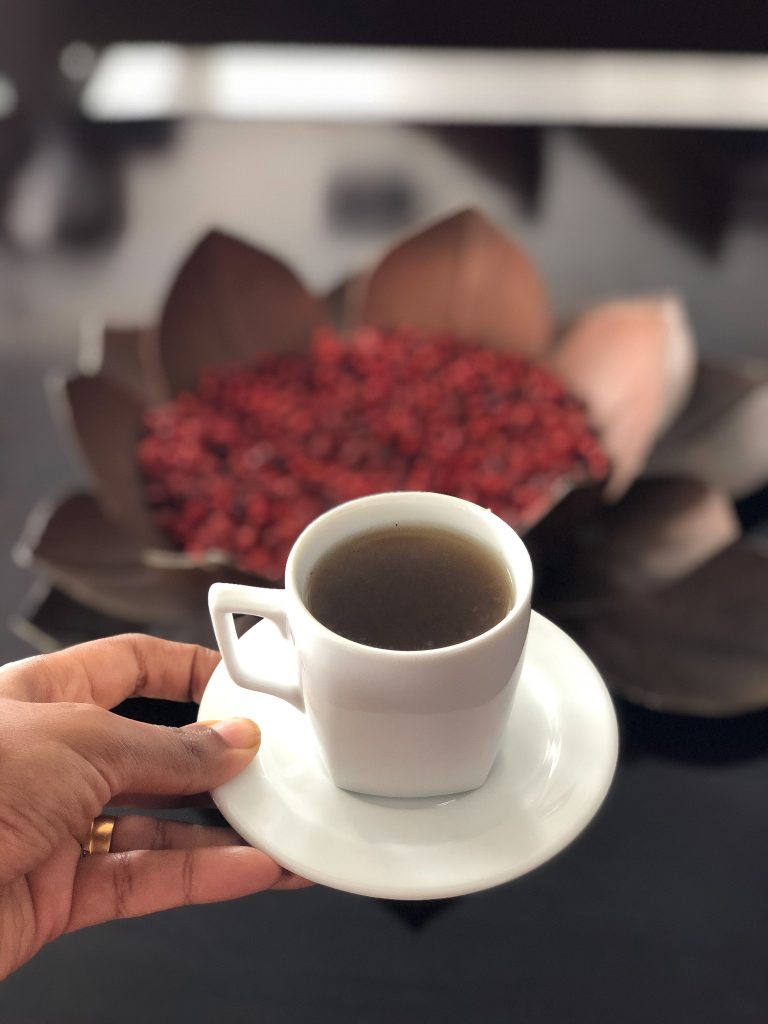 At the lobby (which served beautiful vistas over the mountain tops), we were served steaming tumblers of boiled coriander water with a piece of kithul jaggery which I thought was quite unique and very, very thoughtful. Now us Sri Lankans are no strangers to koththamalli or boiled coriander water. Known for its anti-inflammatory, antioxidant properties, this elixir is trusted by Sri Lankan mothers all over the world as the ultimate cure for the flu, the common cold and basically any ailment of the respiratory system. Coriander water is what my mother forces down my throat every day since this catastrophy struck and it was a very sweet and caring gesture, and only fitting for as a gesture of the world famous Sri Lankan hospitality.
The (not-so) Secret Garden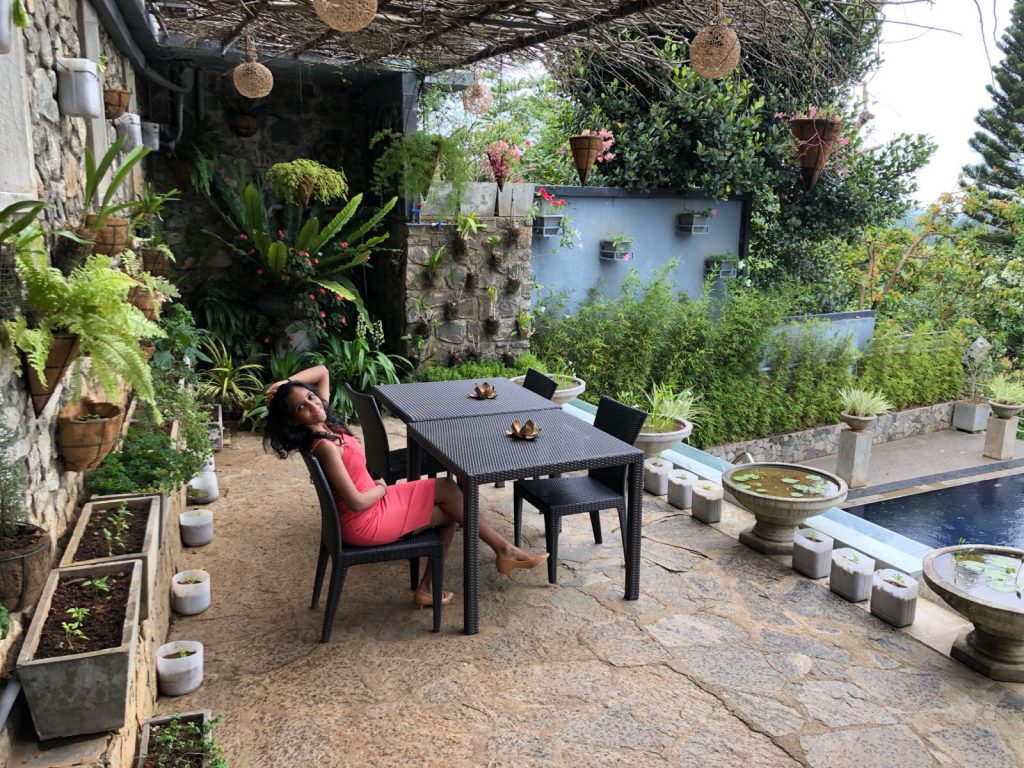 This here is my favorite place in the entire haven. It's has a certain magic to it, like a secret of your own, a secret garden and I was thrilled to see all my favorite herbs grown there – parsley, lavender, rosemary, basil, etc. This place overlooks the infinity pool which in its turn overlooks the hills and the city.
More vistas of this magical space.
Our Gorgeous Room
You had me at in-room jacuzzi!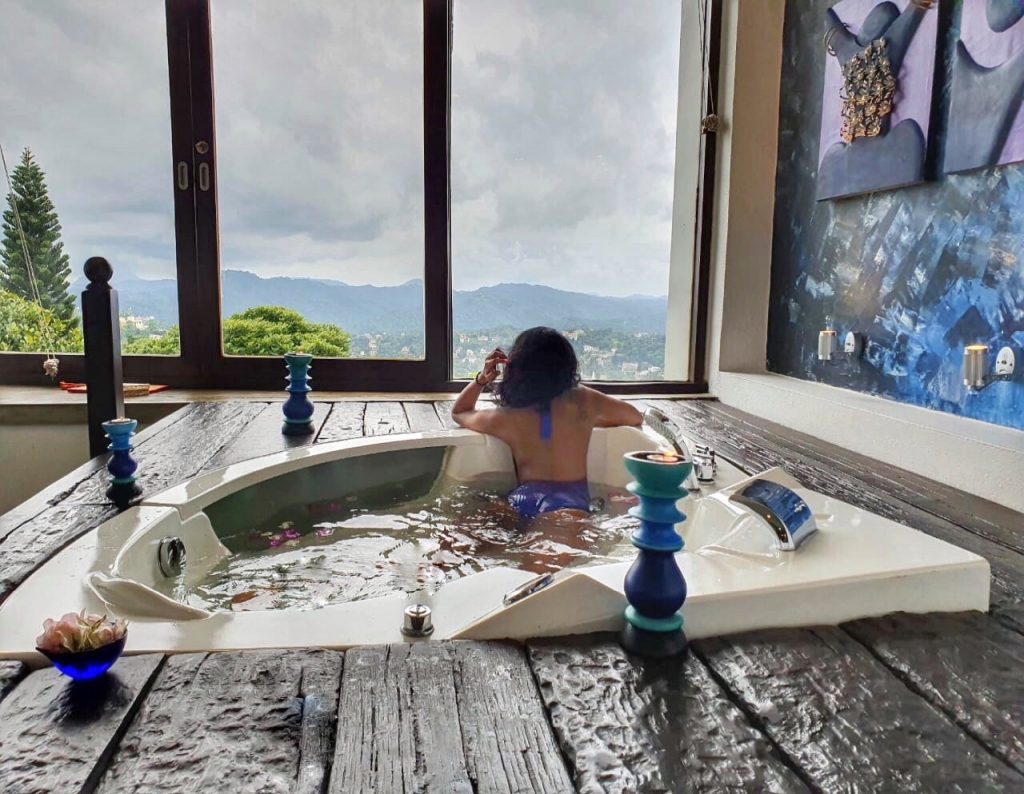 It was a rainy day and roads were closed due to the Perahera and so we decided to stay in. And we were so glad we took this decision. The in-room jacuzzi was just heavenly. Just splashing about in the warm, frothy waters watching the rain cascade over the mist-covered hills is an experience that is incomparable. I'd highly recommend a glass of wine too. A bath with a view!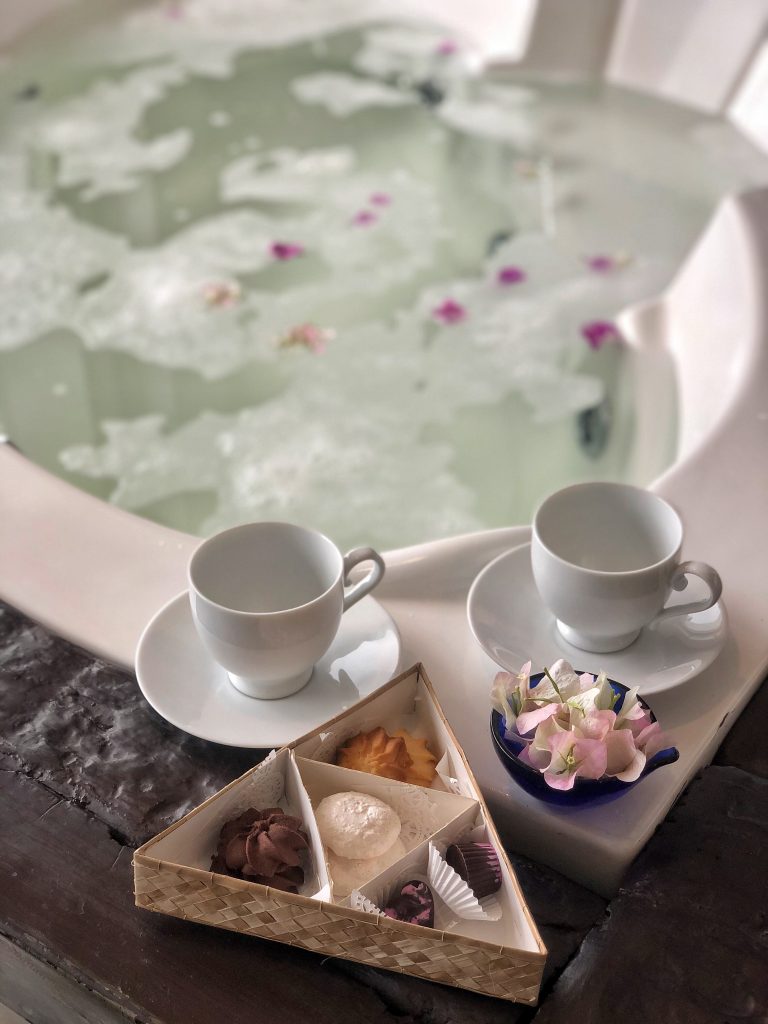 To say that the room was sprawling is an understatement. Theva really does know how to let your soul breathe. It spoils you with generosity, gives you plenty of room to be yourself and leaves you feeling absolutely relaxed.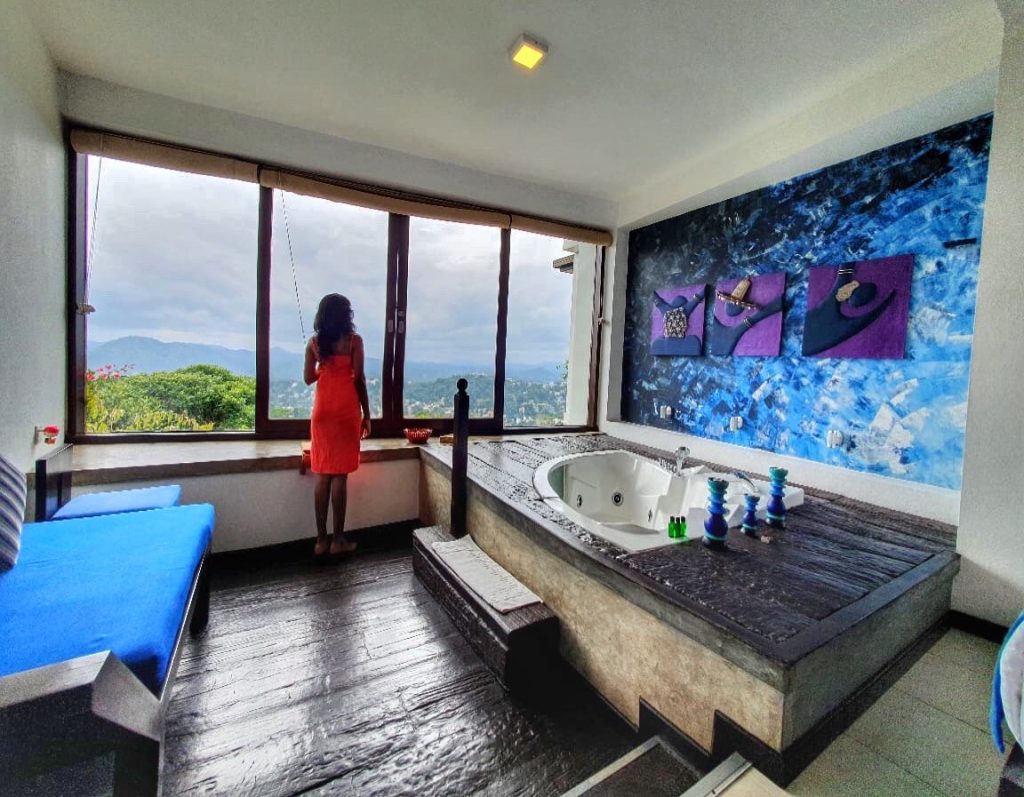 The Food!
This is something I would tell you with absolutely no prejudice or partiality – you are definitely missing out if you haven't tasted the food at The Theva Residency. If you happen to be in Kandy even for a few hours, I'd definitely recommend this place for a meal and maybe even a quiet high tea at sundown. The flavors are spot on and just go 'pop' in your mouth like it was magic.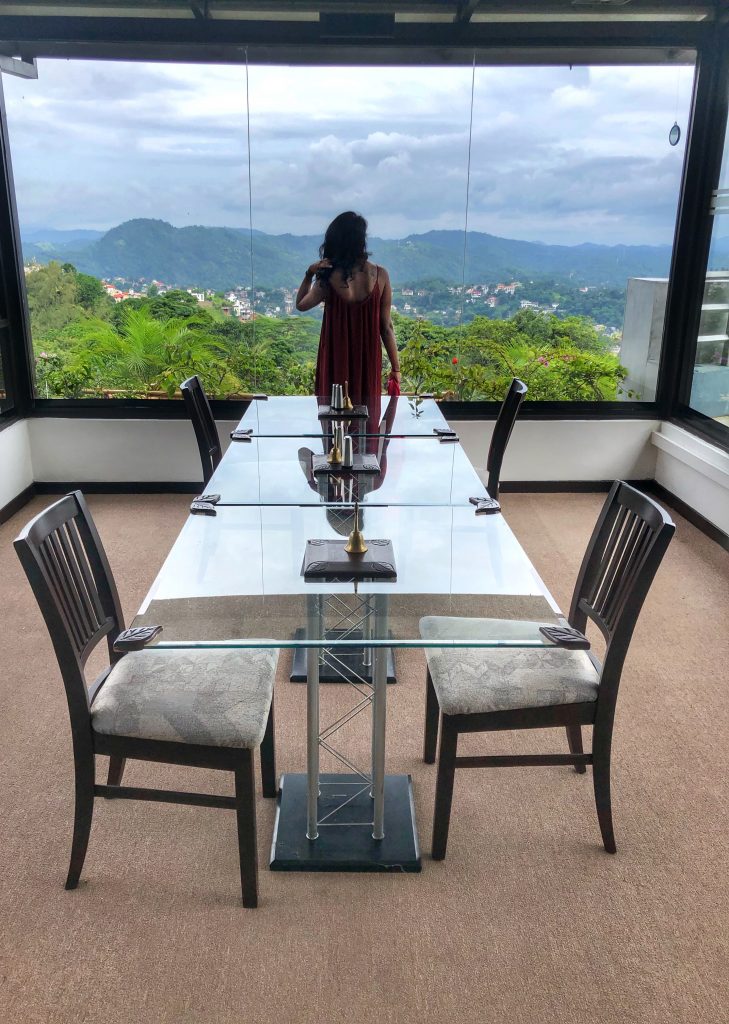 Did you know that Theva Residencies is perhaps the only hotel in Sri Lanka that is meat-free? The in-house chef likes to get creative with local ingredients. (polos burgers or polos sausages anyone?). I had their polos sausages and I was quite literally, MIND-BLOWN! Even being a die-hard carnivore, I could eat those polos sausages all day every day without ever craving for anything remotely meat. And coming from a carnivore, you gotta believe that stuff.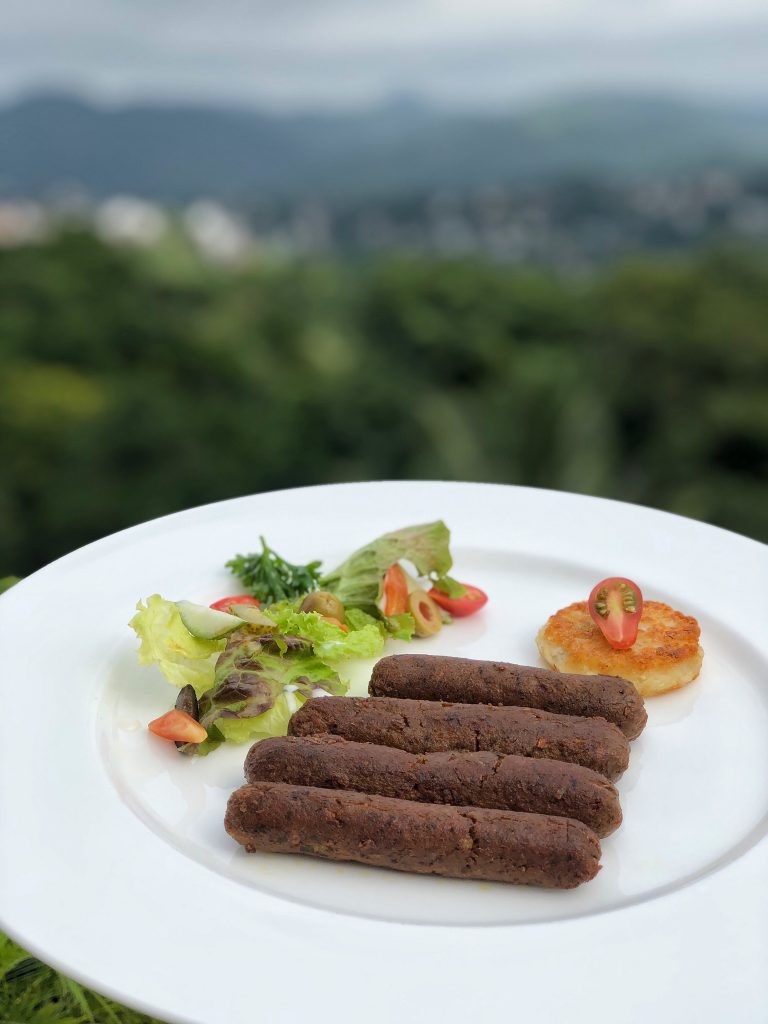 The dinner was a grand affair. We started with two of the most amazing detox blends – one with butterfly pea flower and the other a blend of orange and turmeric. So, so good! For starters we had the soup of the day in a bread bowl which was a hug in a bread bowl basically (so creamy and full of flavor) and the butternut hummus with lovely crusty homemade pita bread. (Forgive the quality of the pictures because the hard drive where I copied the original photos was corrupted. I felt like crying when I found out. Trying to recover them and will share them on Instagram if I manage to. This is the secondary lot I usually take with a secondary camera as backup).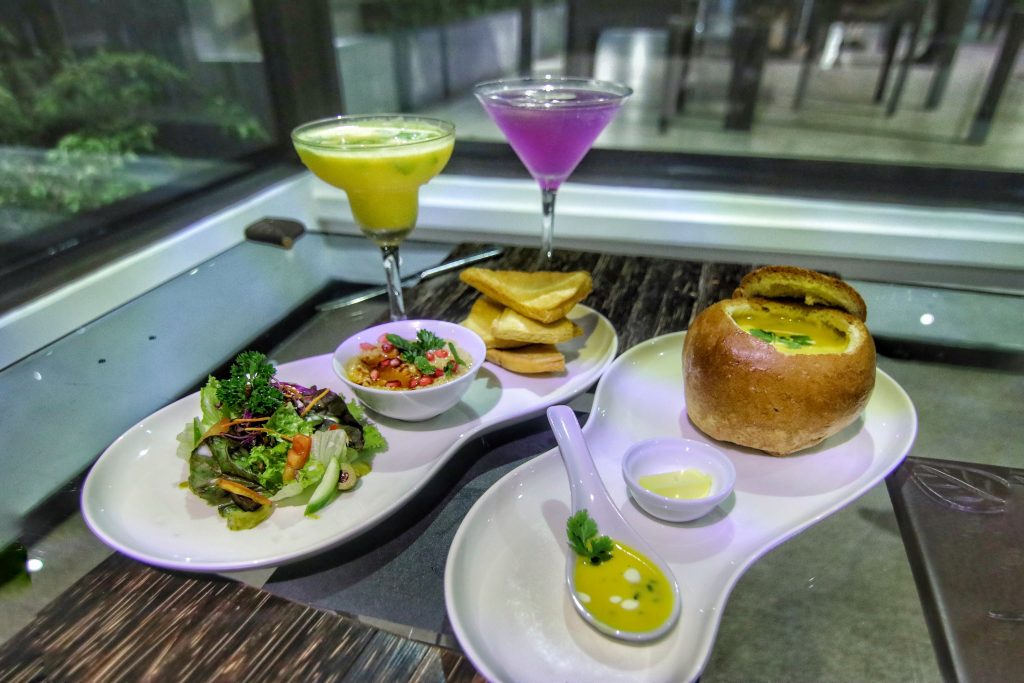 Hubster took the grilled norwegian salmon served with buttered spaghetti, marinated avocado, sautéed spinach and saffron citrus cream sauce and I went for the seafood platter. The salmon was the most well cooked salmon I've tasted in a while and the seafood platter was just how I liked it – simple and elegant (grilled seer fish, jumbo prawns, cuttlefish, salmon cutlet served with garden greens). I loathe how some restaurants load delicate ingredients like seafood with too much spices and sauces and do not understand the cooking process and overcook these delicate treasures in the process. But the chef at Theva understands this perfectly and what I got was a plate of fresh seafood goodness, basking in their own glow, perfectly cooked and seasoned just the way I like it. I'm sorry, I have lost that picture as well in the corrupt hard drive :(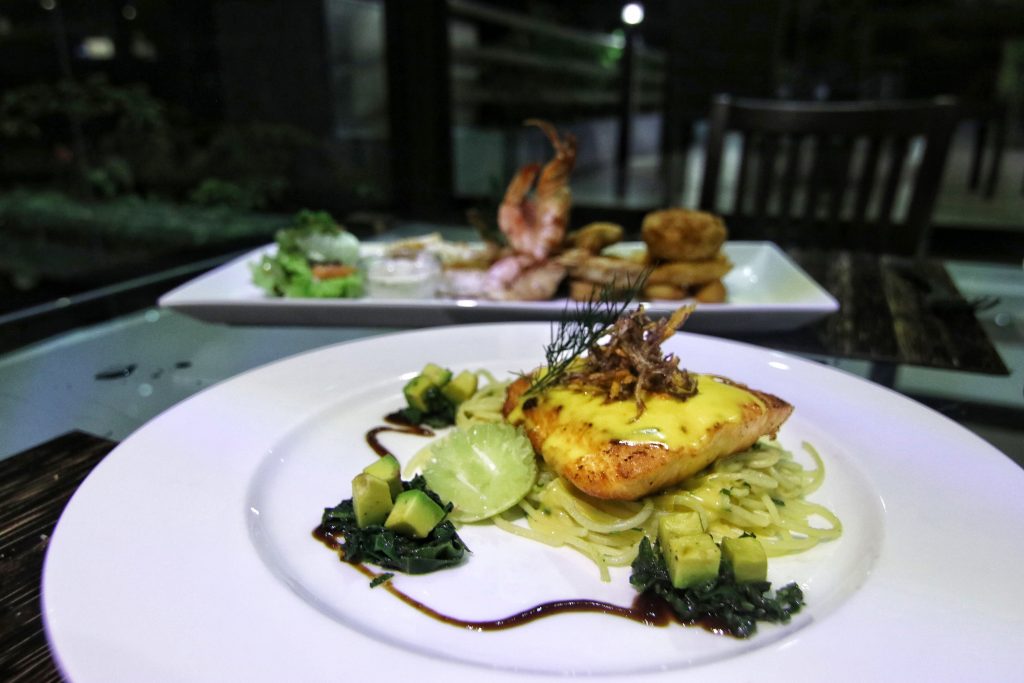 If anyone wants to try properly cooked seafood in Kandy, you must definitely make a stop at The Theva Residency.
I also simply MUST rave about their homemade ice creams! I had the cinnamon poached pears with coconut semifreddo  while the hubster had the rhubarb and pear crumble pie with custard kasa kasa and blueberry ice cream. Suffice to say we were floored. The pears were perfectly poached but the real highlight for me was that incredibly creamy coconut semifreddo. Blueberry ice cream was also very good but I'm going to stick by the coconut and say that it had properly won me over.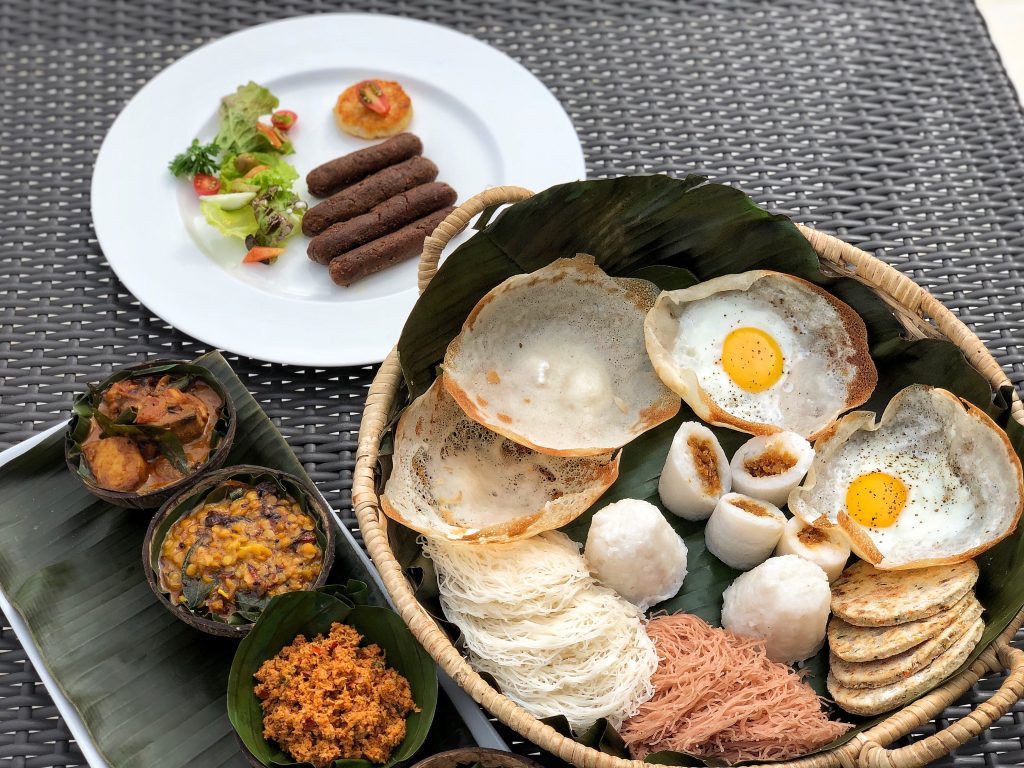 We tried the Sri Lankan breakfast the following morning and boy, it was a feast! We had hoppers (plain and egg), coconut roti, string hoppers (white and red), milk rice and imbul kiribath – a Kandyan specialty which is asically milk rice encircling a syrupy, pani pol (grated coconut caramelized with kithul treacle) middle. What accompanied this feast was pol sambol, a lovely creamy fish curry and an onion badum. We were also served a generous fresh fruit platter of tropical fruits and also fresh fruit juices of our choice. Everything was perfect to a T. And we left, tummies full and content like happy cats.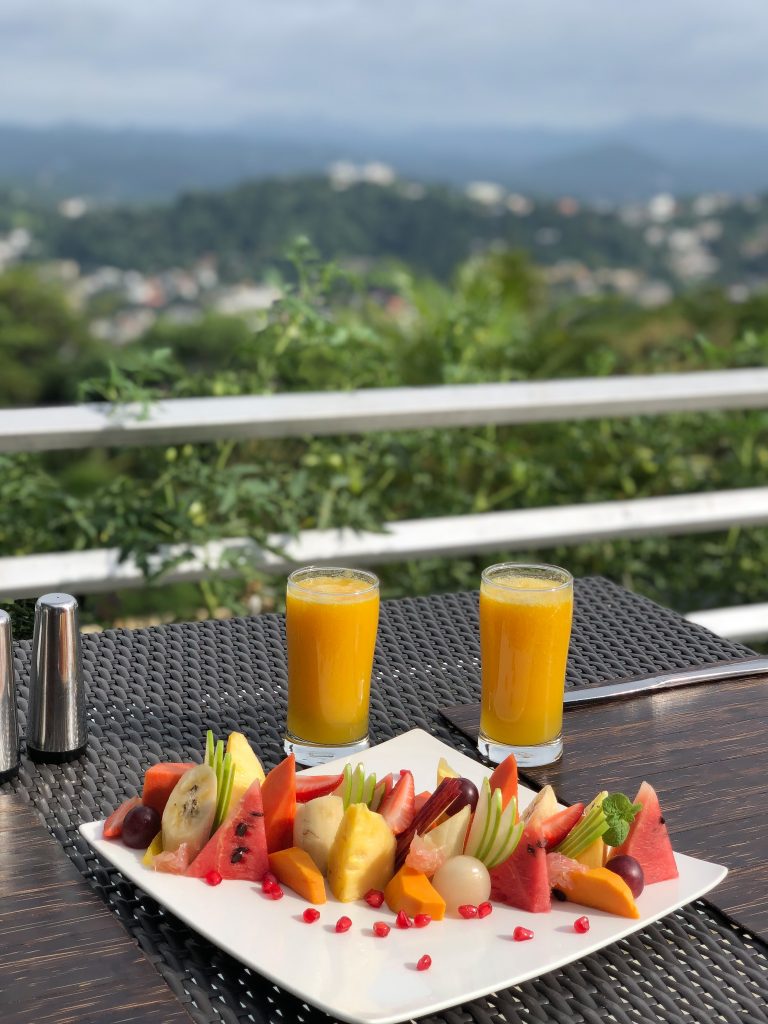 The Details
There's a lot of precious little corners in this unique hotel. From the brass bo leaves hanging at the edges of the ceilings making pretty little tinkling sounds in the wind, that quirky little elephant footstool in the corner to the Kandyan dancer artwork on the walls, everything is so precious. We also noticed a lot of eco initiatives taking place – plastic bottles being reused for planting and legumes being planted at all available spaces – we saw some tomato, aubergine and chili plants all over the place.
Toiletries used right across the hotel were Spa Ceylon products and I couldn't be happier. Little touches like this definitely matter. I believe in vibes and this place has the sort of ambiance to really soothe your soul leaving you with a sense of peace. The attention to detail in the smallest of things is what I think makes this a luxurious experience – from the attentive staff alert to your smallest need to the little detail in the room that has been perfected to a dot, The Theva Residencies is indeed luxury at its finest.
Would I go again? Definitely! You should too!
Website – https://www.thevaresidency.com/
Facebook – https://www.facebook.com/thevakandy
Instagram – https://www.instagram.com/the_theva_residency/