This one's for the boyos. And gals like me who like their pub snacks meaty.
Have you ever wolfed down a plate of chicken wings while having a drink with a bunch of friends, almost crying because those wings are so good? Have you ever forgotten your drink while wolfing down the said chicken wings? I know I have.
It is on one such occasion that I picked up this amazing sticky chicken wings recipe. After we've done licking our fingers, we've licked the whole plate clean too. And we still hadn't had enough. Although we did (ahem) had a jolly good time that night, so much so that we were pretty much riding into oblivion, I did carry the flavors of those chicken wings with me home.
And I recreated it! I imagined it to be a gargantuan task but turns out, pub style chicken wings are the easiest thing in the world. just toss 'em up and push 'em in the oven.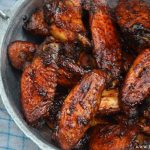 Yield: 4 servings
Prep Time: 4h 00 min
Cook Time: 30 minutes
Serving: 4 servings
Print
Sticky Chicken Wings – A pub style chicken wings recipe
Ingredients
Instructions
Wash the chicken wings and dry them with paper towels.
Cut off the wing tips. Separate the wings at the joint so that you have a little drumlet-like part and the wing
In a bowl, combine all the ingredients including the chicken. Leave to marinate in a fridge for at least 4 hours (the longer the better)
Heat the oven to 180C. Oil a baking tray with extra virgin olive oil.
Drain the marinade off the wings and line them on the baking tray in a single layer. Bake for approximately 20 minutes.
Turn the wings. And this time, use what is left of the marinade to coat the wings.
Bake for another 10 minutes or until that side of the wings is nicely browned.
Turn off oven. Let the wings sit for about 15 minutes. Take them out and rest for another 15 minutes.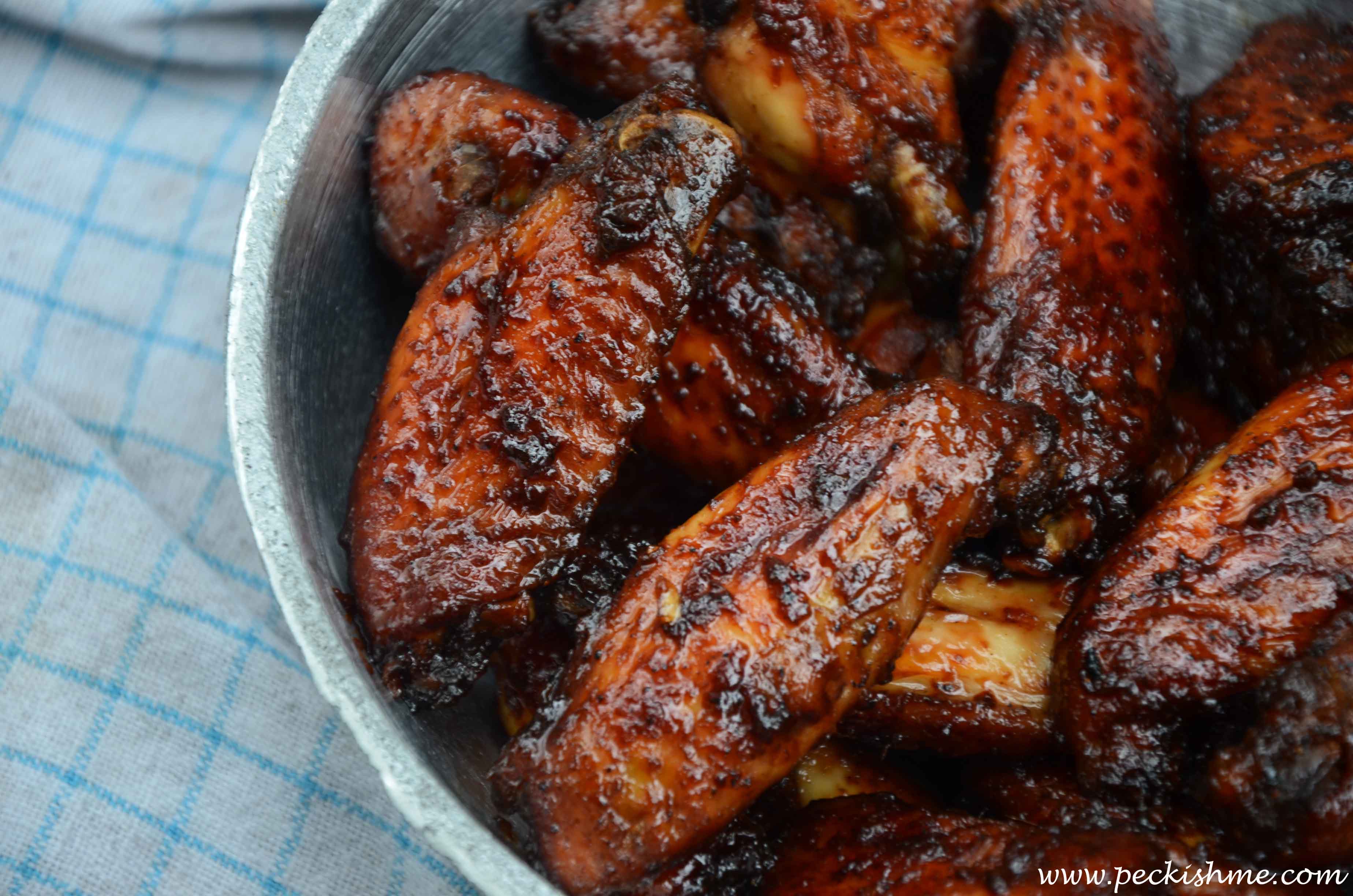 Et voila! Your order of chicken wings is served!
That wasn't so hard now, was it?
Honey and soy sauce are natural best friends. But here, they combine to conjure up something even more magical. Honey, soy sauce, garlic, ginger and just a hint of chili come together to give you that wonderfully baffling, tongue-twisting flavor that spins you over and pulls you under its enchantment. At first the sweetness of the honey, so sticky in your hand seduces you and then comes the bite of the chili, at the same time making it a love bite perfumed with the garlic and the warm oriental embrace of the ginger. The meat is soft and tender, the skin with a hint of smokiness is slightly crunchy while inside the meat falls off the bone. The outside of it all is just beautifully sticky that you want to stick your fingers in there again and again. Couple it up with a  cold beer and you've got yourself a the 7th heaven of delight.
Also, it's kinda sorta healthy-ish. Knowing how you don't use oil, flavors and all.
I intended to post this in time for the Game of Thrones Season 7 Finale, but alas, life got in the way and here I am posting it one day after. Oh well. You will find this recipe useful when you are rewatching all the previous seasons while you lie in wait for the next season to commence!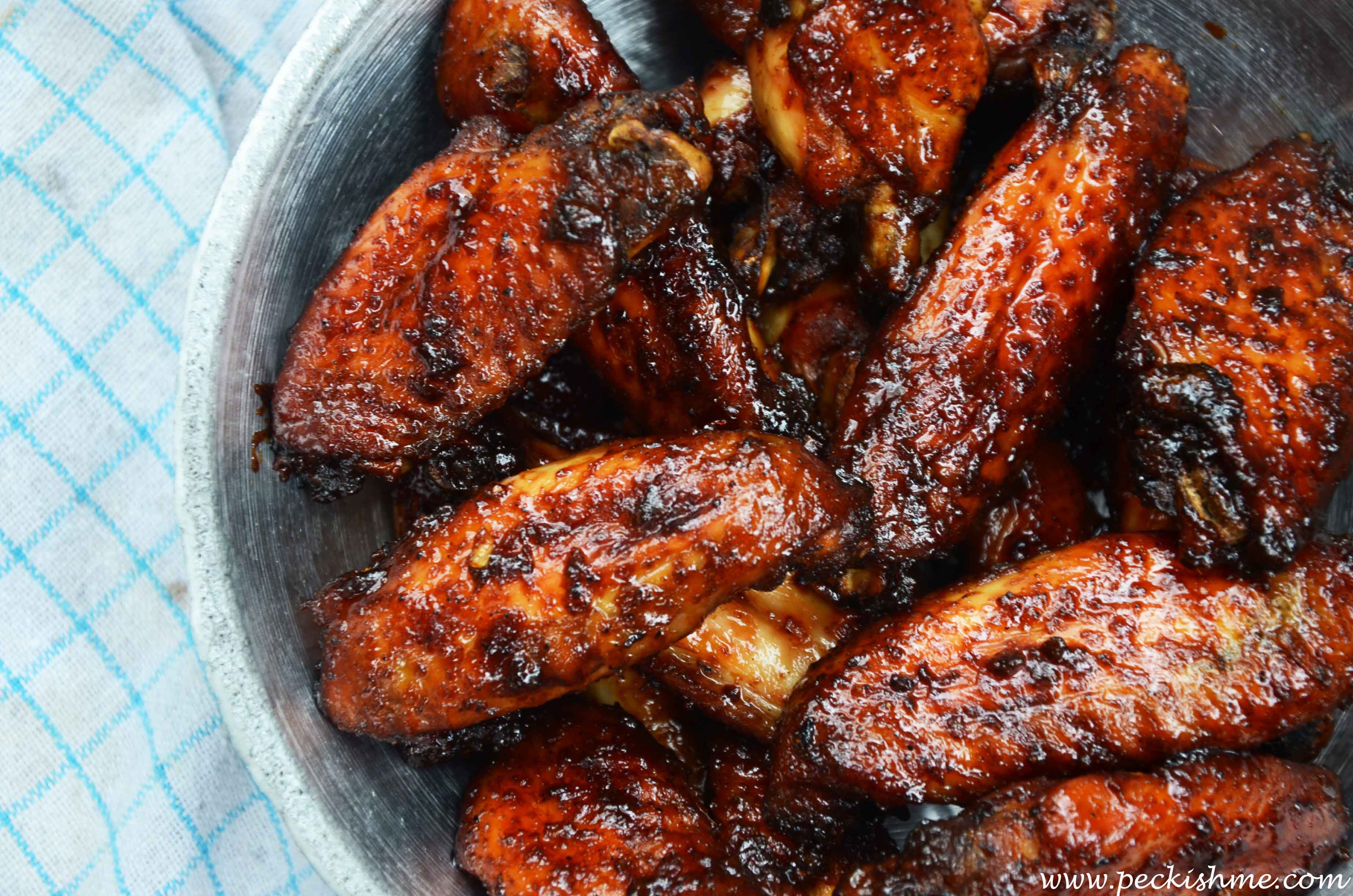 Some tips
Please feel free to adjust the seasoning as you wish. This recipe is as per MY personal liking.
Freshest chicken wings, first and foremost! That's all.