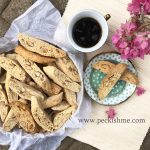 Yield: 30 pieces
Prep Time: 10 minutes
Cook Time: 30 minutes
Print
Almond Biscotti with chia seeds
Ingredients
Instructions
Toast the almonds lightly in the oven. This should take about 3 mins in a heated oven. You will know when you start getting that slightly toasty smell.
Preheat the oven to 200 C.
Beat together the two eggs, one egg yolk, sugar and the salt until fluffy. Stir in the wine, flour, baking powder and oil until they reach a smooth but crumbly dough.
Fold in the almonds and the chia seeds by hand. Divide the dough into 4 pieces and on a clean, flour-dusted surface, roll each piece into a sausage shaped roll appox. 8 inches long. set the dough on a baking pan and bake for 15 mins, remove from oven and let cool for 30 mins.
Once cooled, cut the logs into 1 inch pieces. Arrange the pieces on a baking pan and bake for about 15 more minutes until they are firm and golden.
Cool completely. If sealed in an airtight container, they can be stored up to 3 months!
I am back baby!
It's been a long time since I posted one of my recipes here. Life has been hectic and in the midst of it all, it's 2020!
2019 was literally a roller coaster – TV shows, events, collaborations, poetry events, various partnerships, all while working a demanding full time job and I barely had time to breathe. It really took a lot out of me. I'm by nature, an introvert. I treasure my alone time. So being forced to take on extrovert roles over and over again has taken a toll on me in ways that I haven't even realized.
So this year I'm going to be a lot more quiet. Slow and steady, I am going to again focus on recipes, kick start my writing which has been ailing for some time and I am also working on a surprise cooking project that I hope to perhaps unveil by the end of this year. Let's see how it goes shall we. The whole point of this year is that I am not going to push myself. Gonna go proper potato mode and just chill – feet up, wine glass in hand, without a care in the world.
But then you know me – always up to something. I just can't seem to sit still *eye roll*
So starting off 2020, I'm going to take you to Tuscany today with these lovely Tozzetti cookies with chia seeds and almonds. This is my favorite almond biscotti recipe.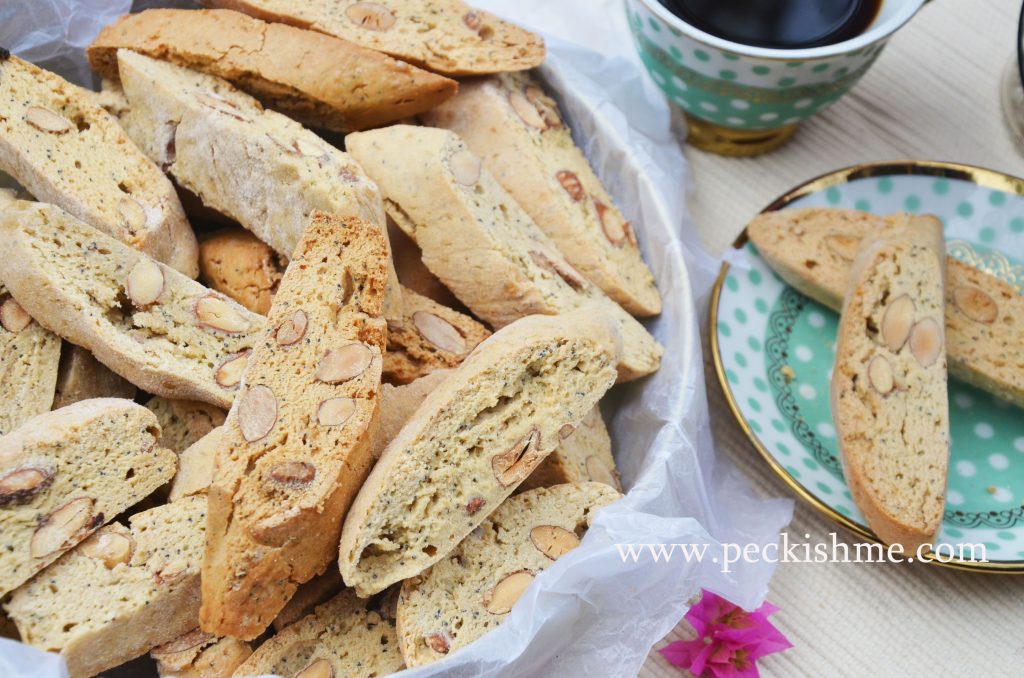 These crunchy beauties are absolutely wonderful to keep in a tin for any occasion really – I love dipping them in sweet wines or coffee for a midday snack or basically as a pick-me-up whenever I feel that I need it. It's also a fancy addition to your tea or wine party – keep a tin of this around and feel like a domestic goddess while you're being showered with compliments.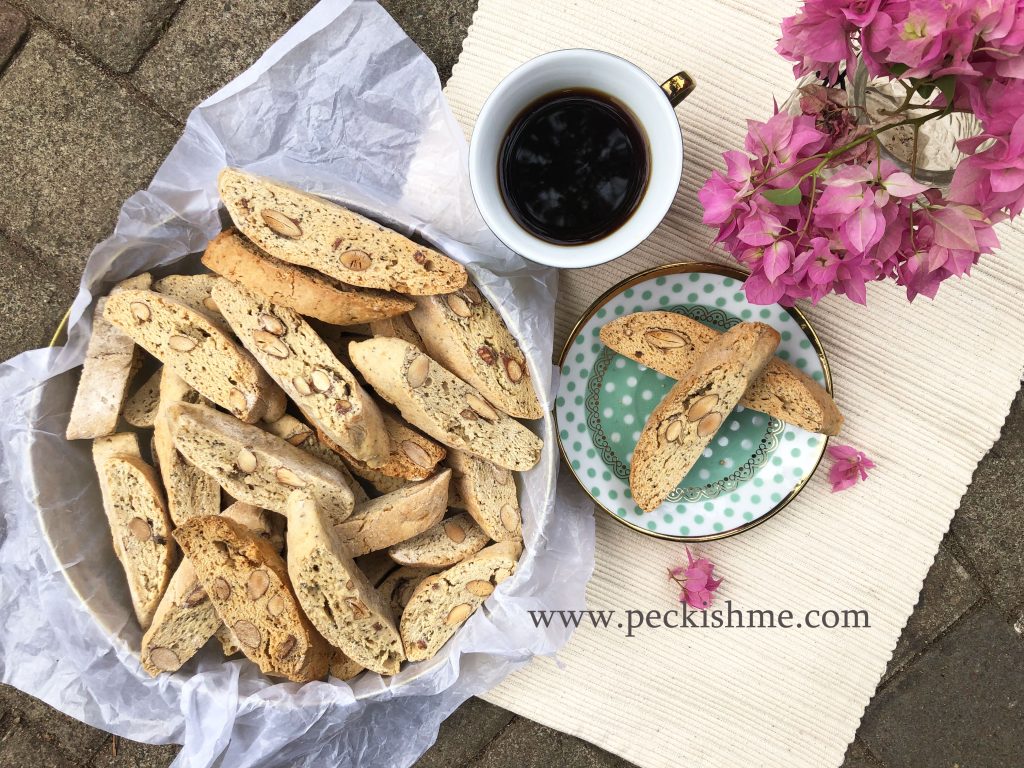 purerecipe]undefined[/purerecipe]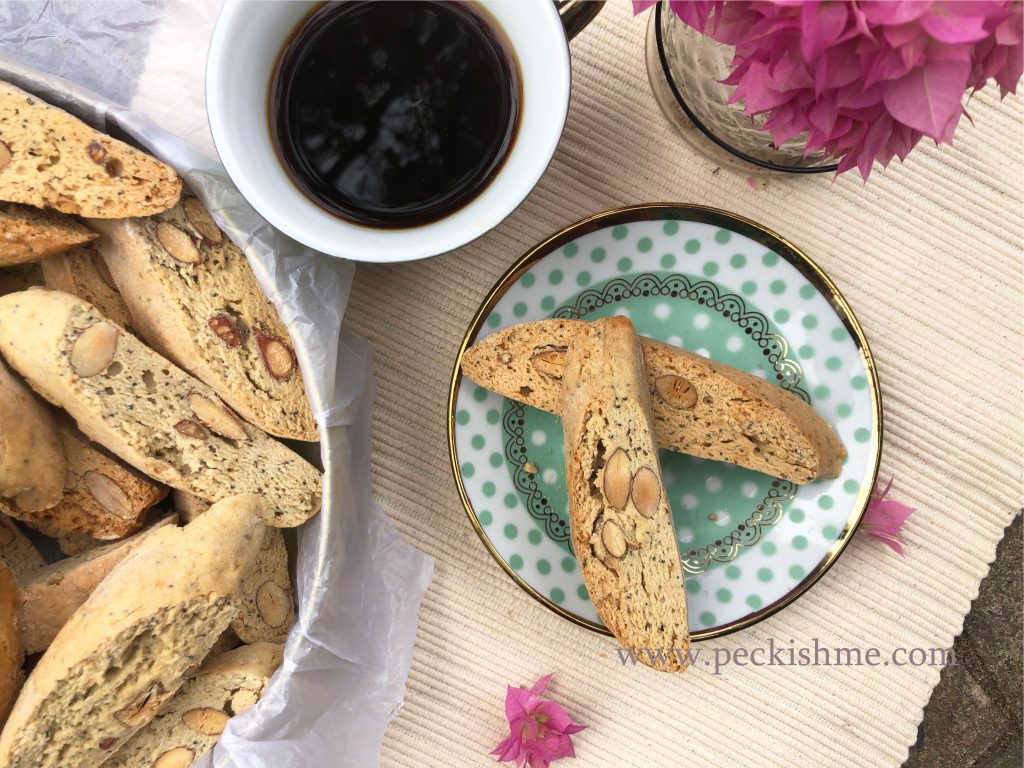 Crunchy, nutty goodness. I can bet you anything that they will take you down a lovely sun-kissed path in Tuscany as you bite into one of these beauties.
There's a wonderful rustic quality to it all. The texture is warm and crunchy with the nuts providing that surprise bite hear and there. The olive oil flavors the dough while the sugar and salt work together to enhance the clean, natural flavor of the olive oil and the sweet wine to work its magic. Sounds wonderful? Wait till you taste it.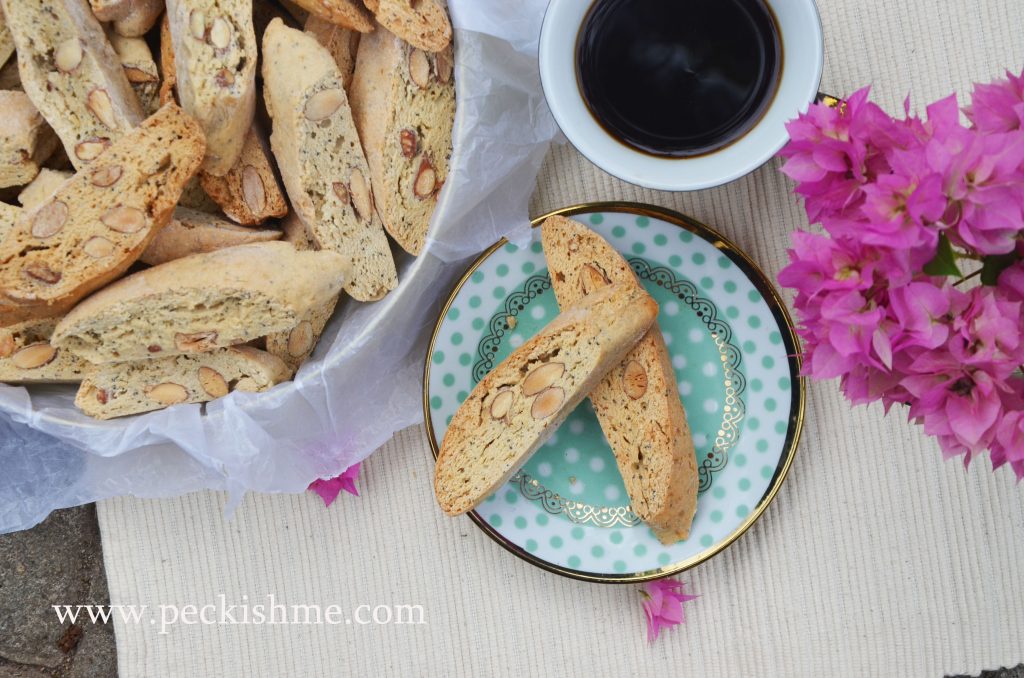 Recipe tips
If you don't have chia seeds, you can easily replace them with basil seeds (kasa kasa) or poppy seeds