I had strawberries, I had condensed milk, I had white chocolate. Something had to be done.
An experiment that was intensely pleasurable. I also discovered that according to the time that these babies spend in the oven, you can produce different desserts that taste completely different from one another. What sorcery is this!
It happened like this – I made two pies – same ingredients, same method, just for the heck of it. I took one out just after it had set and is baked about just right and I left the other in for a bit longer until the strawberries lost their colour and got caramelized.
This is no ordinary strawberry pie. Thanks to my experimenting nature (and my mother practically tearing her hair out that I might burn the pie), I discovered a small mouthgasmic miracle!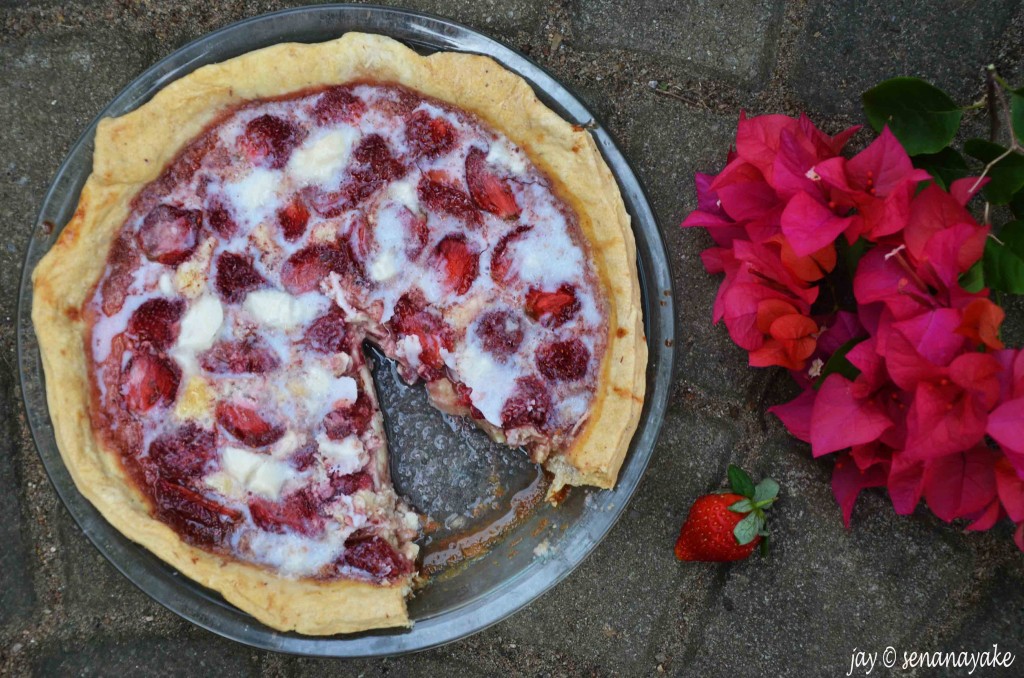 I shall explain. First the recipe.
Vintage strawberry Pie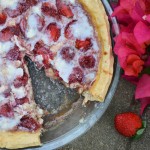 Prep Time : 20 minutes
Cook Time : 30-60 minutes
Yield :

12 servings
Instructions
To make the pie crust
Combine flour, salt, sugar and nutmeg in a large bowl.
Cut the butter into this mixture and rub it through using your fingers until the mixture resembles bread crumbs.
Drizzle 1 tblsp of iced water at a time and knead using fingers until the mixture comes together. Wrap in clingfilm and refrigerate for about 2 hours.
Oil a pie dish well. Roll out the pie dough to about 0.25cm thin and line the pie dish with this.
Bake for 30 minutes until the dough is light golden.
To make the filling -
Melt the white chocolate. Keep aside to cool.
Beat the eggs in a bowl until it becomes frothy.
Add to this the condensed milk, the cooled, melted white chocolate and a small drop of rose essence (remember - SMALL)
Pour the condensed milk mixture into the prepared pie crust. Bake for 20 minutes until the mixture is just about firm but still wobbly.
In a separate bowl, combine the strawberries, brown sugar and the nutmeg. Toss till the strawberries are properly coated.
Take the pie out of the oven and spread the prepared strawberries on top. Bake on moderate till the strawberries have just about sunk in and integrated (about 3o minutes) or bake for 1 hour, until the strawberries have lost their colour due to caramelization. Roses and cream or Strawberries and fire - you decide.
Print
The one that got less oven time is simply, eye candy. At the first glance I fell in love. It was all red, pink and white and the smell was just one of a beautiful rose garden! One bite and I was in love – it was all roses, cream and romance, everything sweet and nice. It's creamy and light with a dominating rose note pierced occasionally by just a hint of the nutmeg, enveloped in a white, creamy, mouth-coating embrace with an occasional bite into a lovely tart piece of strawberry, like an unexpected kiss in the rain. This would be the ideal for Valentines day – a sort of a young and tender love, a most innocent type that is all roses, gentle kisses and sweet, sweet nothings whispered in ears.
The one I let caramelize, oh my! Very red rose-vintage, very Dita Von Teese. Not quite a feast for the eyes as the earlier one but this is strawberry, spice and wild, wild fire! With only just a hint of rose, it is gutsy and bold with the nutmeg dominating, taking over, playing with your senses just the way you like it. The caramelized strawberry is tart and juicy with the nutmeg whiplashing through, plunging into a creamy white-chocolate custard laced with teasing kisses of rose soothing those spicy encounters with gentle caresses, wonderfully complementing, mischievously contrasting. Sensually mystic with a touch of the orient, fiery and intense yet very feminine in a tenacious sort of way, it is pure beautiful passion recreated on your palate. It makes a statement – love me or die trying.
Really, it's two very different experiences. You will have to try it to know what it feels like really. The latter is like the maturation of the first dish – literally, metaphorically and flavourwise – all puns, connotations and reading-between-the-lines intended.
Useful Tips
When baking the pie crust, always, ALWAYS weigh down the pie crust with baking beads or a suitable ovenproof weight. Else it tends to puff up.
Go easy on the rose essence. Too much can kill this dish. Just a tiny little drop will do. No more.
For a veg option you can omit the eggs and beat in 4 tablespoons of cornflour instead. Be mindful not to leave any lumps in. Lumps in custard are so off putting.
Serve the dessert hot. Like all spiced desserts and pies, it's best when it's hot. Maybe with a scoop o ice cream. Yum!