I am not exaggerating or tooting my own horn when I say that my brownies are famous. It has so far been my signature dish. Among those who have tasted it, they have been ranked up and above all brownies that they have tasted so far – be it the countless brownie homebakers, exorbitantly priced commercial bakers and etc in the island today. Well, it is no surprise because you know, when you cook for yourself and your loved ones, you are more generous with the ingredients and that extra amount of love which inevitably goes into it helps too.
Its only recently that I realized that I have not posted the brownie recipe here. Well the truth is I've gotten tired of making it. Its popularity had resulted in me having to turn out batch after batch of these goodies and there was no real challenge in it for me anymore. So I decided to try something new this time. I shall post the recipe for my signature brownie some other time.
Dark & White chocolate Brownies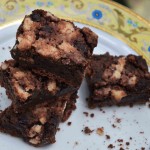 Prep Time : 15 minutes
Cook Time : 30 minutes
Yield :

20 pieces
Instructions
Melt the butter, 200g sugar, 150g of dark chocolate and milk in a pan. Once everything is melted and combined, add to this the cocoa powder. Stir well. Remove from heat and leave to cool once everything is well combined.
Sift together the flour and the baking powder. Keep aside.
Beat the eggs in a separate bowl until light and fluffy. Add the sugar. Beat well until combined.
Roughly chop the dark chocolate and the white chocolate separately. Keep aside.
Combine the egg mixture and the chocolate mixture once cooled. Beat well until well combined.
Add to this the flour, a little at a time making sure it all combines well. Give it a good mix.
Fold into this the roughly chopped up chocolate.
Pour the mixture into well lined baking trays. Bake till a skewer inserted into the middle of the cake comes out gooey yet with the potential to set once cooled.
Print
How can I describe this…. It is very moist, with pure chocolate oozing out the middle, with a delicious caramelized crust on the outside. The combination of dark and white chocolate is brilliant (if I may say so myself), with the dark chocolate giving it a bitter edge while the white chocolate gives it a sublime and tender creaminess. It's gooey, it's oh-so-rich, so rich that you are convinced that it's bad. It would basically have your chocolate cravings silenced for quite a while but you'l soon be craving for these before long. Because it is so effing good!
Why pay exorbitant amounts for dry, insipid brownies when you can make your own? Try it. Its so very easy.
Useful Tips
Use good quality chocolate for a good quality brownie. The secret is just that.
Be careful with the sugar. The sugar amount indicated in the recipe is for chocolate that is not very sweet. So if you are using sweet chocolates, use less sugar. If you are using bitter chocolates, use more sugar.
It is easy to underbake or overbake this. Always bake in moderate heat. And take it out when the top of the cake is completely baked and dry, and a skewer inserted in the middle comes out gooey yet when left out for about 5 mins, solidifies.
Line your baking trays well with oil paper. Use double layers if you have to. Even if your baking pans are nonstick, for heaven's sake, line em! This is a sticky devil and chances are, it will stick on for dear life when it comes out of the oven.
When turning the cake out, wait for it to cool a little and turn. The advisable time is between 1 hr and 45 minutes.