It is just recently that I realized that this blog is full of sweet things and that savouries are lacking dearly. It's not that I don't make savoury things, I do. I mainly make those for dinner and since my dearest darling camera is not much of use at night, I don't bother taking photos. But I have decided to change this. This dish is one small step towards the spicy arena.
The Red Rice Risotto – if you can really call it a risotto, is a one pot lazy dish that I like to make when I am lazy and simply cannot be bothered. The beauty of this dish is that it can be as vege or as meaty as you like it to be – without the additional fuss. Although it is a simple dish, it packs a punch in flavour and is healthy and wholesome in itself. The best part is, you can even pull this off from fridge scrapings when you've forgotten to do your groceries for the week!
Ingredients
3 cups red rice (I like the really dark red rice here. But do feel free to use white rice if you wish)
200g Chicken (optional)
200g Abalone mushrooms
200g Oyster mushrooms
2 large onions
1 garlic, chopped
1 small tomato, chopped
1 small piece of ginger, chopped
Salt & pepper to taste
2 tablespoons olive oil for frying
50g grated Parmesan/Ricotta or simply, cheddar
50g Scallion, sliced
Method
Boil the chicken with some salt and pepper. Remove the meat from the bone. Keep the stock aside.
Sautee the chopped garlic and ginger in olive oil. Add to this the chopped onions and sautee till translucent. Add to this the chopped tomato.
Add the mushrooms. Keep on heat until the mushrooms are nicely browned. Add the chicken and let it fry slightly.
Add the washed and drained rice. Mix everything together. Add the chicken stock that was previously kept aside. Add some water. At this point, the liquid layer must stand up to one phalange from the layer of solids.
Mix everything together. Add salt and pepper to taste. Cover and let simmer till the water has evaporated.
Test to see if the rice is cooked. If not, add more water and let it simmer on low heat.
Take off heat and add the grated Parmesan/cheddar/Ricotta. Finish with a good sprinkle of chopped scallion.
I love this dish for a lot of reasons. 1. It is unarguably healthy. 2. It is just so delicious! 3. It's so easy to make. 4. There is no fuss of making any curries, etc to complement this dish. The solid, grounded taste of red rice resounds and echoes oh-so-well with the earthy taste of mushroom, heightened by the caramelized chicken. The garlic, the onion and the ginger act as the canvas upon which these key players play while the pepper is piquant and delicious, emerging from amongst this harmony like a standalone note that is essential in this somewhat creamy and cheesy composition. The scallion at the end gives the dish a fresh note, lifting it above. Texturally, you get the abalone mushroom which is rather meaty and chunky, the rice soft and mushy, the oyster mushroom soft yet stringy, the chicken, slightly fried and giving a good bite in a creamy sauce that is satiny smooth. Your taste buds have never been busier!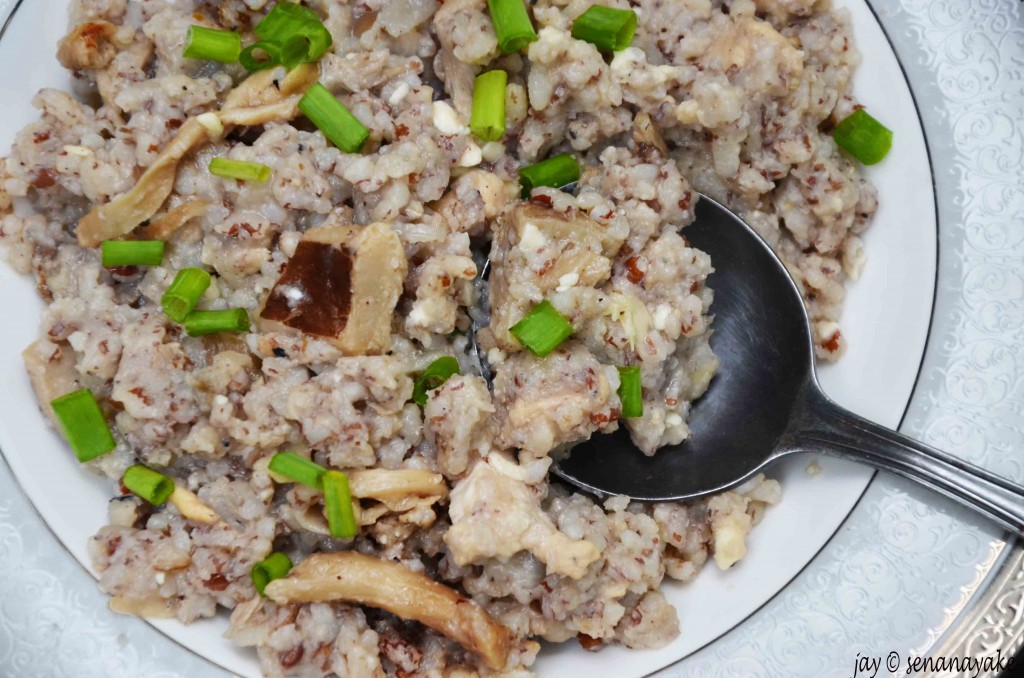 Useful tips
If you are a vegetarian, omit the chicken altogether. Boil some odds and ends of carrots, leeks, cabbage and the like and get the stock for the rice. It will be just as delicious.
Can't bother to make the stock from scratch? No problem. Dissolve a soup cube in some water and voila! Your stock is served.
I like using two kinds of mushrooms in this for texture and taste and also since I am a bit of a mushroom fan. You can make do with one if you like.
Substitute the red rice with any other rice you like. Only thing, choose a rice that is slightly starchy so that it won't get too dry.
Be careful, it is very easy to overcook this dish. If you are not familiar with the rice that you are using, add a little bit of stock at first and add more as you go, just to be sure.
You can make your own Ricotta cheese at home. Access the recipe here.
Try this, you will love it. Apologies for the delay. It is not easy juggling a full time job, further education, a love for food AND  food blog all by myself.