Yes, yes yet another overnight oats recipe. I am obsessed with oats these days, an ingredient that seems so bland and boring but never have I come across such a versatile ingredient! Of course, some are turned off the moment they hear the word oats (I am facing this issue at the household right now), but offer them the oats creations without mentioning what's in it and lo and behold, your plates (and jars) are licked right clean!
This is yet another favourite of mine – apple pie oats. There's apple, there's oats and for those of you who are not aware of my love affair with cinnamon, of course there's cinnamon in it too. Without much ado, here is the recipe.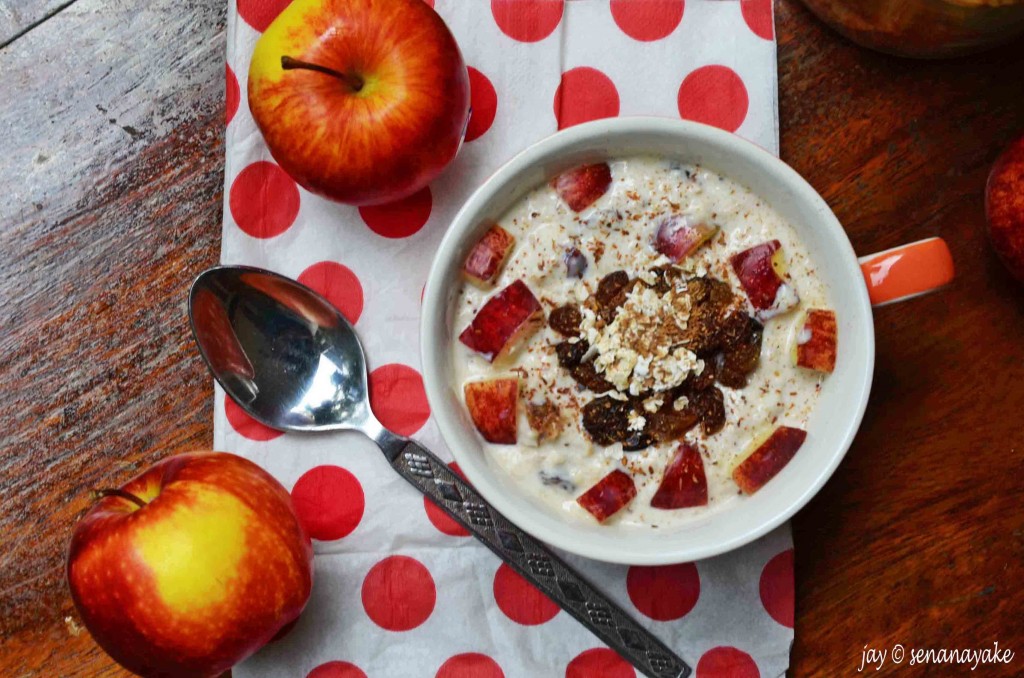 Apple Pie overnight oats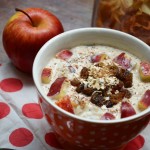 Prep Time : 15 minutes
Yield :

2
Instructions
Combine everything in a large bowl. Add just enough milk to cover the mixture and mix well. Keep a thin layer of milk still remaining at the top as the oats tend to absorb moisture as it sits.
Refrigerate overnight and dig in the following morning.
Print
There you have it, apple pie for breakfast! The apples remain crunchy in the milky, cheesy mixture laced with the warmth of the spices while you bite into the nuts and raisins, each giving sweetness and lending flavour. Sprinkle some homemade apple chips on top and you got yourself a breakfast fit for a really hungry king. Although a cold dish, it warms you up from the inside and brings out that glow. It's a happy dish. It makes me happy every single time :)
Put it in a jar and you can even take it to work. That's what I intend on doing as I start work again from tomorrow onward. And don't be deceived by the small servings, because it is quite filling and effectively keeps the munchies away for longer.
Have I, or rather have oats gotten your attention? Well then, check out my carrot cake overnight oats recipe right here.
Helpful Tips
After mixing everything together, add enough milk to make the mixture somewhat watery. This is so that the oats must absorb the moisture in order to bloom to its full potential. Alternately, you can add more milk in the morning as per your liking when you take it out.
Feel free to adjust the quantities as per your liking. Lesser spices, more fruit or vice versa, it really is up to you. Me being me am obsessed with the spices so I tend to add a wee bit more than mentioned here.