I think I will never go back to regular ice cream again.
Let's put it this way. I have never been a huge fan of ice cream. Strange but true. Even as a child I had no special affinity to ice cream the way little children have. I disliked how watery it became at the end, how it offered nothing to chew on was exasperating. I am, and have always been a chunky-chocolate kind of gal.
There is one exception to the rule though – that is soya ice cream and cookie cream. These I'd finish by the bucketful.
I chanced upon this recipe a good many months back that I cannot even remember where I saw it (I am truly sorry). I thought about it and quickly dismissed it thinking nah, not possible. And just the other day, I came upon this comb of bananas just sitting there (the husband creature is not an enthusiastic banana eater you see) and over-ripening itself that it came back to hit me in the head. The bananas are going to go to waste anyway, so what the heck. I cut them up and popped them in the freezer. Even if I don't make ice cream out of them, I'll at least be able to make banana cake with it later.
The next morning was relatively a slow one and that's when I remembered the bananas in the freezer. Minutes later, there I was staring at the food processor with a dripping spoon in my hand, trying to collect my jaw for the fear of dislocating it. Really it was the most amazing this I have ever seen inside a food processor.
I like to believe that I am a better ice cream maker than I am an ice cream photographer. It was an utter nightmare, photographing ice cream this in this tropical heat. Those beautifully fluffy scoops of ice cream melted as I watched, melting my heart with it. Yes, yes I know that trick with dry ice, but hello, do I seem like I have a hidden laboratory in my backyard? Nah, I didn't think so either.
Anyways.
The bottom line is, for those with lactose intolerance, or those who are simply looking for a healthier/low calorie substitute for ice cream, this be it. Remember this the next time you are ready to mope over some silly boy with a humongous ice cream bucket enough to fit your head in, remember this recipe and keep some at hand. Not only will drowning out your sorrows in a bucketful of this will save you from a couple of extra pounds that will sit uncomfortably in your midriff and make you feel even more unattractive, bananas also contains high amounts of  tryptophan, which converts itself to serotonin. To cut a long story short, bananas are full of happy, happy stuff that will make you feel happy and basically put you in a good mood.
If you read this well written post on the health benefits of banana, you will have a better idea of how good bananas can be for you.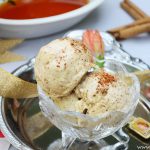 Yield: 3 servings
Prep Time: 10 minutes
Print
Healthy Ice Cream
Ingredients
Instructions
Peel and cut the bananas roughly. Freeze overnight.
Place the bananas in a food processor. Process on high speed while scraping down the sides until the lumps are gone and it makes a creamy semi-solid mixture, like soft serve ice cream.
Add in the pinch of cinnamon. Process for a short while.
Serve immediately for soft serve texture. Freeze for a more solid version.
As the mixture is being processed, you can see the creaminess unveiling, swirling and you just cannot stop staring at it.
The texture is that of soft serve, with a baffling creaminess that feels frothy, light and surprisingly milky. The concoction is sweet with the ripeness of the bananas with the sensual warmth of the cinnamon lacing through, softly but firmly making its presence known ever so subtly, weaving a touch of caramel through the elusive milkiness. The cloud-like texture sits weightless on the tongue, fragrancing the senses and evaporating into a soft, lustful sigh that is sensual in its subtlety. The cinnamon lingers, pungent and memorable while the banana remains a wisp of a dream on the tip of the tongue.
No, I don't think I will ever go back to regular ice cream again.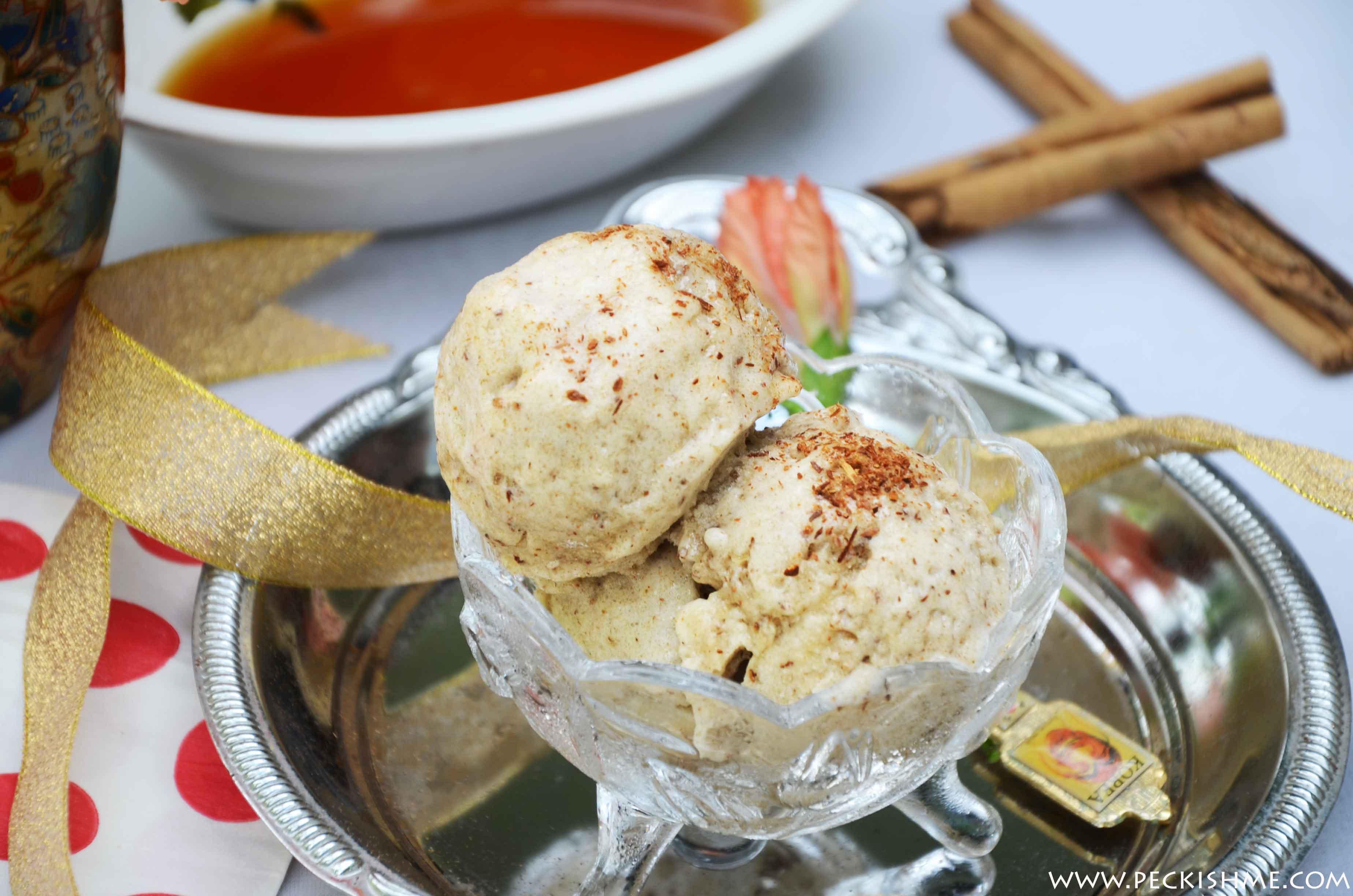 Useful tips
Cinnamon is optional. Lose it, use it, completely up to you.
If the sweetness of the banana is not enough, you can use a sweetner of your choice. I of course wanted to preserve the natural goodness so I didn't add any. And I don't think you should either. The bananas are sweet enough!
I read somewhere that other fruits like strawberries can be added to this to create different flavour ice creams. I haven't tries that yet and the water content in strawberries worry me, but it is apparently possible.