The best things in life are simple, uncomplex and clean. Just like these beautiful vanilla chocolate chip muffins. The pictures are a bit old, but this recipe, a regular favourite of the household, never gets old. And honestly, any lazybum (such as myself) can make it.
Vanilla-choc chip muffins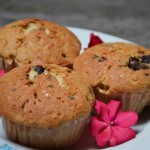 Prep Time : 15 minutes
Cook Time : 30 minutes
Yield :

16 muffins
Instructions
Sift together the flour and the baking powder.
In a bowl, cream together the butter and sugar. Once combined, add the eggs. Beat well until the mixture rises by half.
Add the vanilla. Mix well.
Add flour little by little. Once mixed well, add the milk, taking care to integrate it all into the dough.
Once mixed, fold the chocolate chips into the mixture.
Oil a muffin pan. Place cupcake cases into the muffin holders. Spray the cupcake cases well with oil or butter.
Spoon the batter into the cupcake cases until 3/4 full. Bake in moderate heat until the muffins have risen and are golden brown in colour on top.
Print
Beautiful, beautiful muffins that sing of vanilla with little surprises of gooey chocolate at every bite. The flavours are clean and simple and in this simplicity lies its sophistication. The warm and sensuous vanilla provides an elegant background for the deep dark mysterious tones of chocolate, while the two work together beautifully upon the palate providing mouthful after mouthful of deep satisfaction. If that doesn't send you running for your muffin tins, I don't know what will.
So try it. Really, all it takes is a single mixing bowl and a muffin tray.
Useful tips
Don't have chocolate chips? No problem. Chop up some cooking chocolate and you are good to go.
Make sure you butter up your muffin tray well. Sprinkle some flour before placing the cupcake cases in the tray. This makes your life much easier when it comes to sliding them out of the tray.
Get good quality chocolate and good quality vanilla. This could either make or break your dish.
If you liked this, try my

strawberry muffins with a chocolatey centre

here!