2017 had the most unpleasant surprise waiting for us. Just as we were getting things back in track for the blog and whatnot, life ladles out calamity. This time, calamity comes in the form of dengue – a potentially fatal fever carried by a tiny mosquito that dwells in the tropics – which Sri Lanka is. And this time, one happened to bite my husband.
More than a week in the hospital, 4 days in the Intensive Care unit and after a battle between life and death, I am relieved to say that he is on the way to recovery. Which gets me to the point why Peckish Me has been silent as of late. Hubster must rest and is therefore on a small vacation, confined to my room in my maternal home, facilitated by moi. Which leaves very little time for myself let alone managing a food blog.
Things are however calming down. In the midst of all the hullabaloo, I forget to eat, I forget myself and as a result, I have lost more than 5 kilos in a week. So this recipe comes in handy quite a lot these days, to keep me full and to keep me going.
Anyways,
Mangoes are in season and it's hard to avoid these beautifully green-gold elongated fruits pretty much wherever you go these days. Laden trees heavy with unripe deep green promise so much juicy flesh on branches heavy with opulent plumpness. There's just so much mango this season, so much of that golden sweetness going around that the whole of this exotic island seems drunk and indolent
So here's me incorporating this beautiful Lankan goodness into something healthy and nutritious that is ideal as a breakfast on the go. I am calling it a breakfast smoothie although I pretty much have it right throughout the day.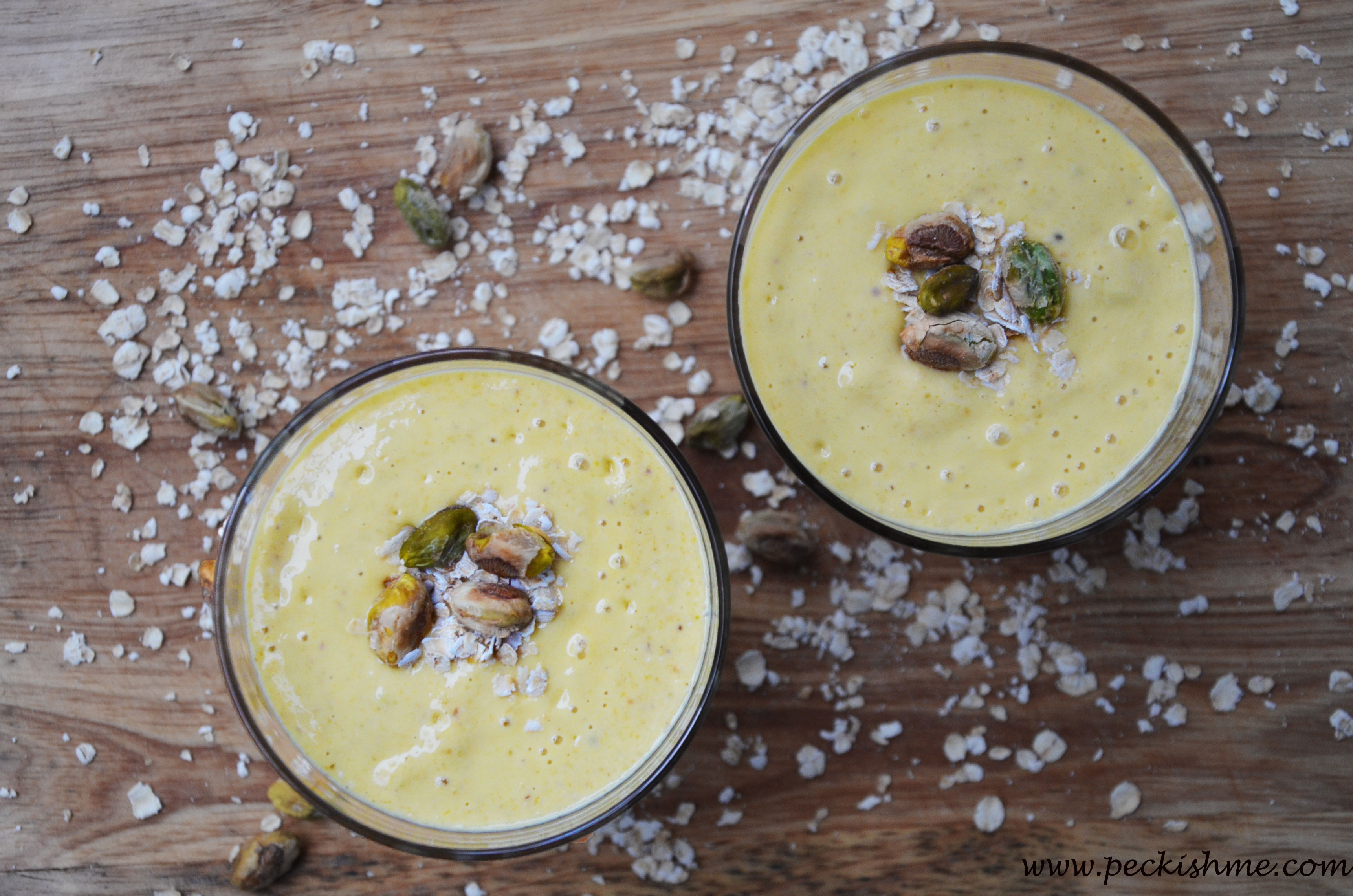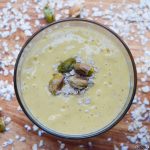 Mango breakfast smoothie
Ingredients
Instructions
Peel and cube the mango. Extract all the flesh
Add all the ingredients into a blender and blend until combined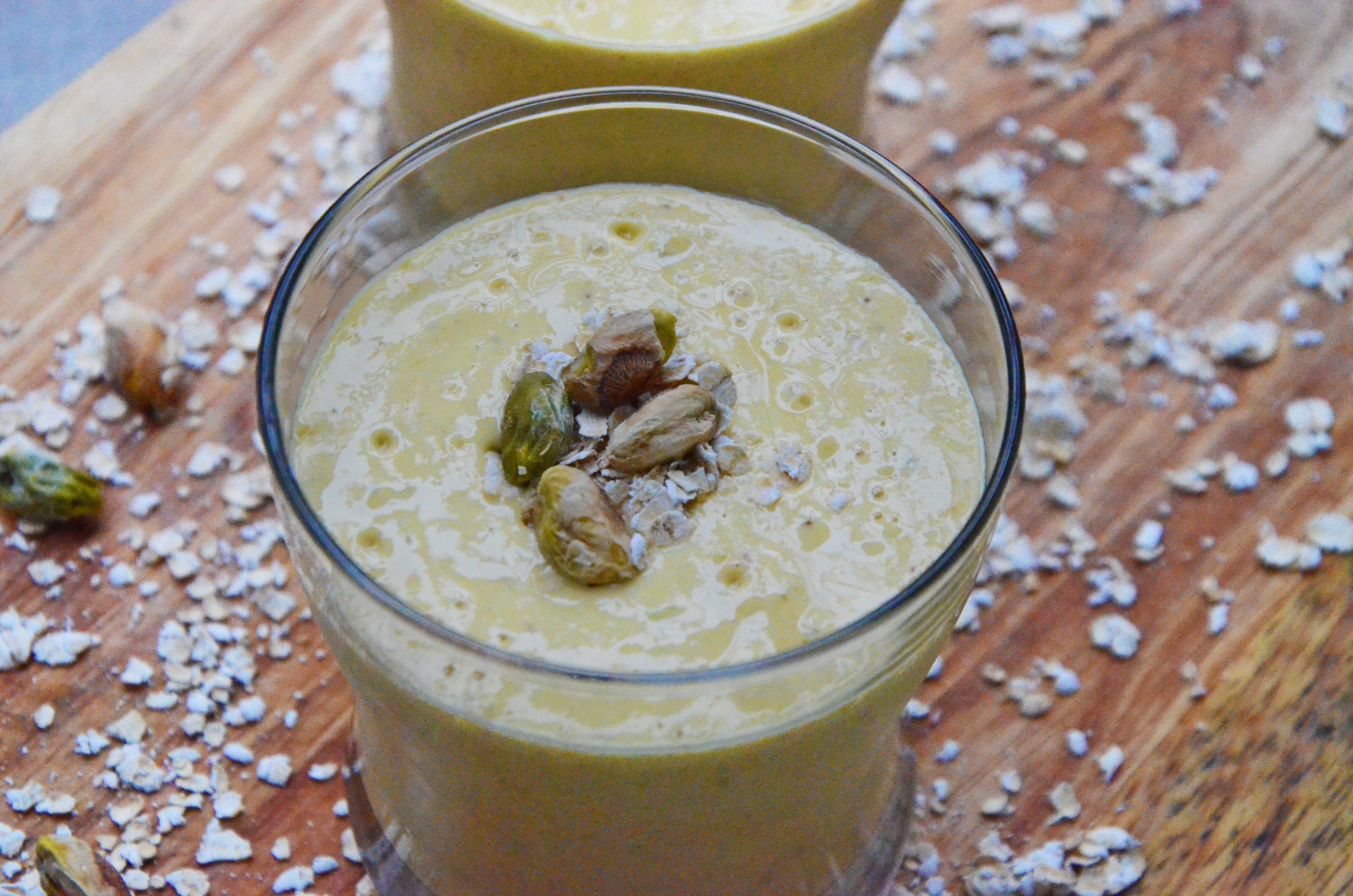 There you go, a fulfilling and nutritious breakfast on the go.
There's your fruit quota for the day as well as your nut quota. Oats keep you full while the yogurt provides you with the essential probiotics. Protein, vitamins, energy, you name it. It really is the whole entire breakfast for you in a cup.
This is proof that healthy can be tasty. The thick smoothie is somewhat chunky with the grainy almond pieces and oats soaked in milk thickening it up. The yogurt provides the creaminess while the milk thins the mixture, allowing the flavors to merge and melt into one another. The mango is pulpy and rich, its sweetness and tang complementing the slight tang of the yogurt. The pistachios are nutty and echo the oats well with its soft floury texture reminiscent of comforting porridge bowls that you were fond of as a child. Simply put, satiating and you will find yourself purring like a satiated cat after a glass of this.
If this works for me, it should work for you. After all it's a toss-and-blend recipe, so why not give it a try?
Tell me if it works. Would love to hear your comments J
Few tips & tricks
No pistachios? Replace with almonds, cashews, walnuts, pecans, etc. I myself mix it up every once in a while to make things more interesting.
Get good quality ripe mangoes. The fleshy kind. Avoid the ones with a lot of fuzz as this would ruin the smoothie for you
For a completely vegan version, substitute milk with coconut milk or a nut milk and substitute honey with maple syrup or any other sweetner