How would you like a creamy, chunky, fragrant curry spotted with vibrant pieces of red chili and little flavoursome mustard seeds popping with flavour at every bite? That is what this Sri Lankan Chickpea curry really is.
My palate is one that loves creamy textures and flavours – I like my food thick, gooey and milky. Probably why I am in love with dairy. This particular dish contains nothing of the sort – still this is one dish that I absolutely love with which I could literally polish off entire pots full of rice!
Chickpeas or "kadala" as we Sri Lankans know it, is popular as breakfast food as well as a healthy snack. Mother Dearest prepares boiled chickpeas for breakfast usually on weekends and me being the late bloomer that I am, often miss the breakfast having woken up at around 10 AM. As a result, there's quite a lot of chickpeas leftover from breakfast – we don't stirfry them on most days for health reasons – so when I am not making hummus out of the leftovers, I badger my mother into making a kadala curry for lunch!
Sri Lankan Chickpea curry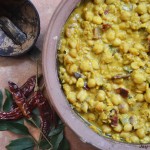 Prep Time : 10 minutes
Cook Time : 20 minutes
Yield :

4 servings
Instructions
Mash the chickpeas partially. There can be whole chickpeas as well as partially smashed chickpeas at this point.
In a saucepan (although I prefer a clay pot), heat some oil. Once the oil is heated enough, add the mustard seeds. When it pops add the ginger, the curry leaves, tomato and the chili flakes and toss till fragrant.
Add in the onions and fry till translucent. Add in the curry powder and mix well. Finally add the mashed chickpeas. Sautee for about a minute and add the thin coconut milk. Cover and simmer on low heat for 15 minutes.
Finally add in the thick coconut milk. Stir well to combine. Simmer on low heat until the mixture thickens.
Print
Serve up with some steamed plain rice and you've got yourself a plate of heaven!
Beautifully golden and inviting in its colour, this literally is a pot full of sunshine. The curry is decadently creamy and lusciously silky upon the tongue and chunky with full but soft and yielding chickpeas studding the velvety gravy. The coconut milk with its sun-kissed tropical creaminess reminiscent of breezy evenings by the sea is the background upon which these vibrant players play – the chili flakes flavourful and piquant, the onions browned and caramelized, the ginger zesty and piercing all cozily wrapped in a warm blanket of the spices, powdered with a light touch of wonderfully bright turmeric uplifting the dish. Once in a while your teeth encounters a mustard seed and it pops in your mouth releasing mild explosions of flavour. The chickpeas delightfully nutty yet mild and cushiony disintegrate into a silky powder without a fight at the slightest application of pressure. A beautiful display of clean, sharp flavours, yet wonderfully intricate and sophisticated in this amalgamation of the simple and complex.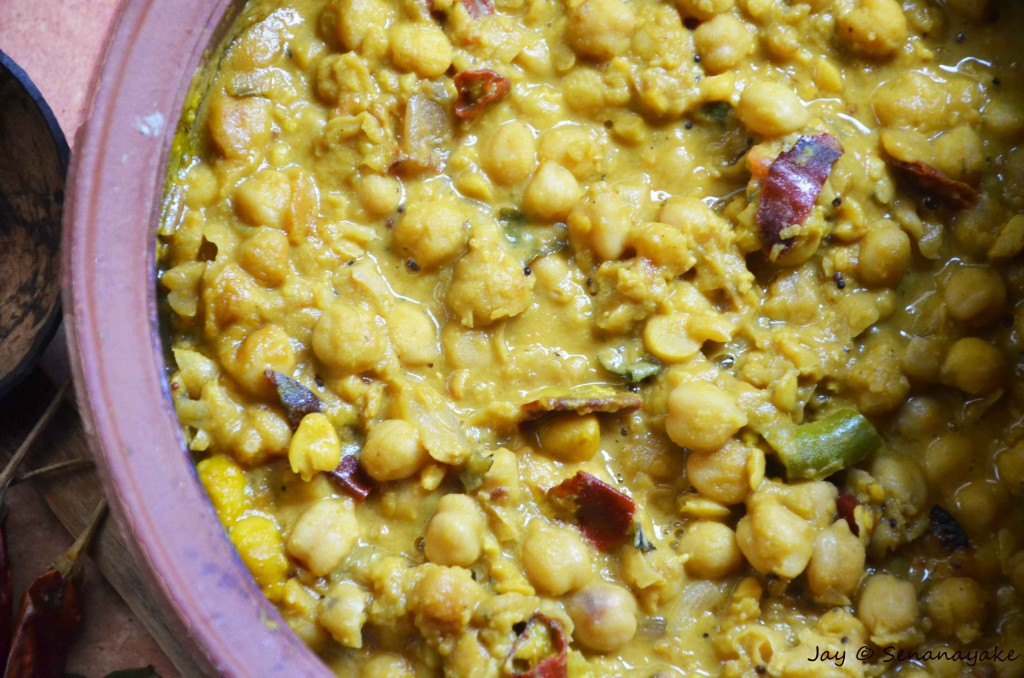 Cooking tips
To boil the chickpeas, rinse the peas well and remove any that floats. Soak them overnight, cover them with water, add in some salt and boil them over a low heat for about 1 hour. Once the chickpea is soft and easily mashable between your fingers, they are ready. In the pressure cooker, I usually wait for 5 whistles and they are done.
The Sri Lankan curry powder is made up of ground coriander seeds, cumin seeds, fennel seeds, cinnamon, cloves, cardamom, dried curry leaves and black pepper corns all fired over a high heat until fragrant and ground to a powder. A jar of this, often homemade is available in every household at all times. If you can't go into all the trouble of making it, this is available in all Sri Lankan groceries and spice stores.
Adjust the chili as you like. For a spicier curry add more chili. If you like flavour as well, chili flakes is the next best option that enhances the flavour without making it too hot.
Thin coconut milk is usually the milk gained from the second squeezing of coconut flesh with water. If you cannot find fresh coconut to squeeze and obtain milk, add 2 tsps of coconut milk powder in