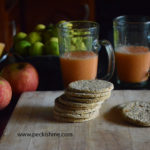 Yield: 20 pieces
Prep Time: 20 minutes
Cook Time: 20 minutes
Print
Scottish oat cakes
Ingredients
Instructions
1.       If you are using whole oats, place the oats in a food processor and process until crumbly but not powdery. If you are using instant oats, simply use as is.
2.       Combine the oats and seasoning together in a bowl.
3.       Stir in the melted butter. And then the hot water.
4.       Knead together until a soft dough forms. It would seem too sticky at first but as you go on kneading, the oats will absorb the moisture and form in to perfect pliable dough. 
5.       Roll out this dough to about quarter of an inch thickness and cut out disks. I cut out disks a little smaller than my palm. Remember, the thinner you roll, the crunchier they are.
6.       Bake in a preheated oven at 200C for about 20 minutes until the disks feel firm and are slightly browned.
Scotland – the land where myths and legends are part and parcel of everyday life, where passion reigns its people and also, where the national animal of the country is a unicorn. The land of my dreams – ah Scotland! It wouldn't be wrong to say that this is one country my soul resonated with so passionately.
I still remember starring bewitched at those gigantic mountains and those open skies and thinking that if I died then and there I would have died happily, knowing I've witnessed such splendor. The undulating hills and the dales spanning out as far as the eye can see, waterfalls cascading down to sea – this was the stuff of dreams.
I can go on for pages and pages. But I will stop now.
Apart from the scenery (and its delightful people with that delicious accent), the other most remarkable thing that struck me was its food. Hearty, wholesome, simple and honest food just like its people – there is no pretense in its food. This is food that fills you up, heart, tummy and soul and it's exactly the kind of food that resonates with me.
Oat cakes are something that I encountered on one of my journeys there. I've not always been a fan of oats but having had the opportunity to taste Scottish oats absolutely transformed me from someone who wrinkles face at the mention of oats to someone whose face lights up. Ever since then, I've always made it a point to stock up on Scottish oats and this is where I am now – a fridge full of Scottish oats at this very moment when we are all under house arrest.
So why oat cakes? Because staying home means getting extra munchies and munchies means snacks. Not just any snacks. Snacks that fill you up.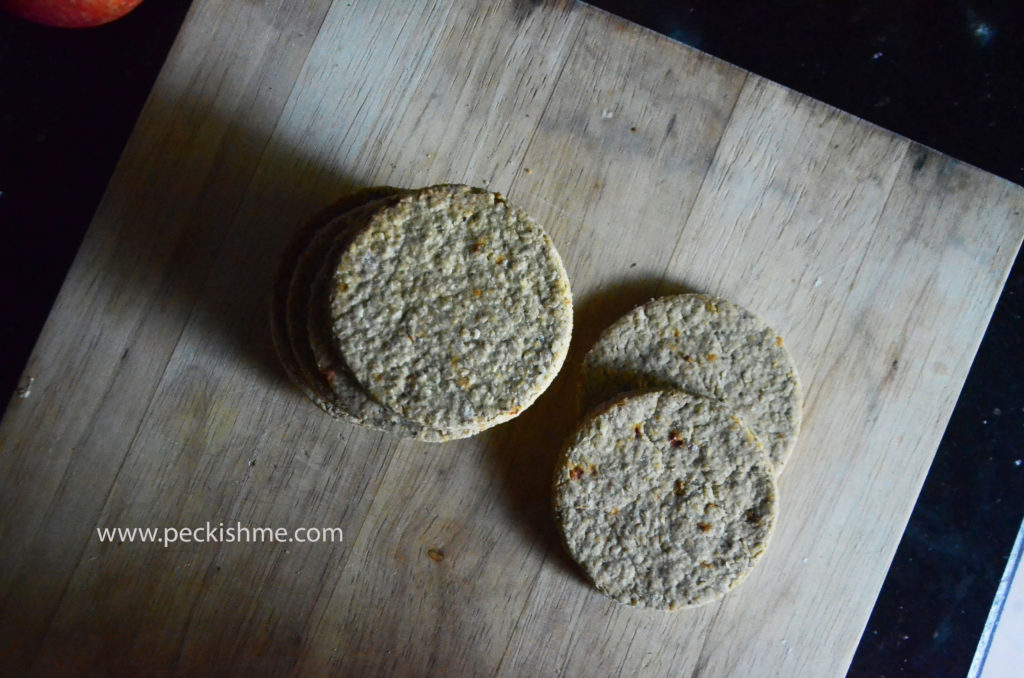 Oat cakes are one of the simplest, not to mention healthy type of snack that you can simply bake up. It involves just 4 simple ingredients – oats, seasoning, hot water and a bit of butter, all of which can be found in your pantry.
The traditional oat cakes does not even have salt, but I like to test up my batches with a bit of pepper or chili flakes here and there. It's really up to you to choose what you'd like to include.
These are Perfect disks of yumminess.
I like them a bit thick so you won't really get a crunch if you roll them to the thickness I've prescribed here. I love the fact that they are so elegant in their simplicity and the oats flavor really rings through heightened by the kick of the chili and the pepper. I love having this for breakfast, with a bit of cheese, eggs or simply, with a side of fruits and milk. It's also the perfect wine companion or your best friend if you have a case of munchies. Healthy too.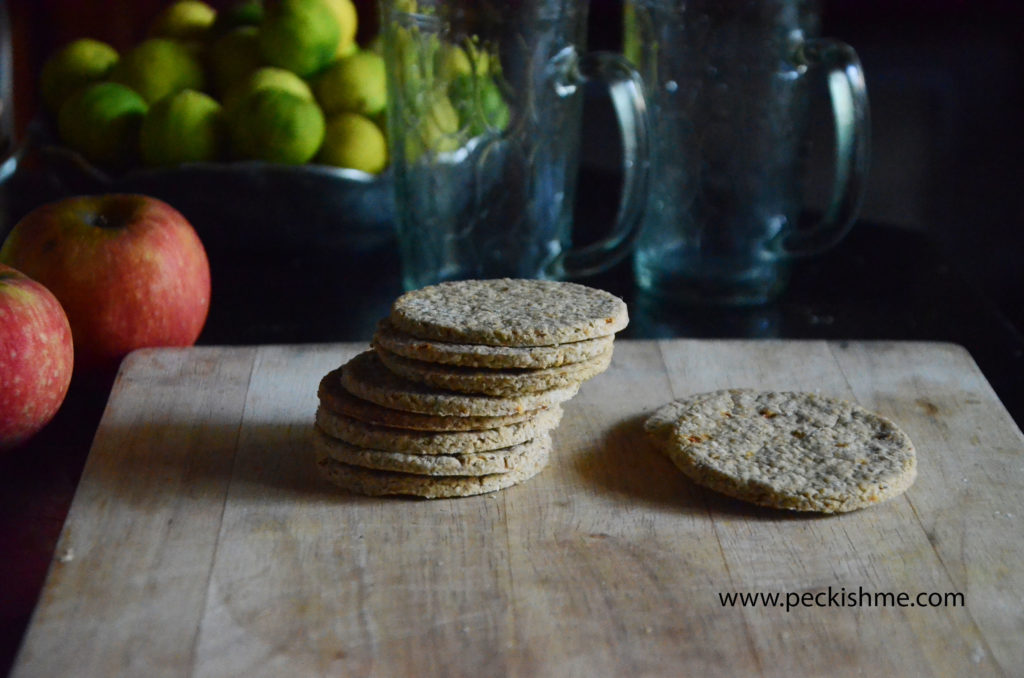 Peckish Me tips
The amount of water you add depends on the type of oats you use. For example, I sometimes use a mix of steel cut oats and rolled oats and for this mixture I need more water to knead a smooth dough. For instant oats, the water amounts may be lesser. The end result should be a smooth dough that can be rolled out without any cracks or crumbling.
Experiment with the spices. My favorite combo so far are chili flakes and salt but I also love rosemary and pepper. So Scottish.