There are many woes of not being able to stay at your own place after marriage, especially when you are a foodie like I am. First and foremost I miss my mother's cooking. I may have mentioned this earlier, but I come from a family of exceptionally gifted cooks, my mother being one of the most astonishingly gifted ones, and at my place, almost every meal resembles a small feast as anything less is simply not acceptable. When I come home after work, I am embraced by the delicious smells wafting out of the kitchen – various nuts and spices, curries and stir fries and sometimes, a little something sweet to temper the hunger up until dinner time. You also miss the usual gadgematics that you are used to having around to make your food taste perfect, the occasional super-sized food grinder, the oven that you are so used to that you can operate with your eyes closed and the funky bowls you used to present your food in – the list is truly endless. What you miss the most however, are your mother's wise words to guide you through those difficult spots. Being away from home has this way of making you realize what is really important to you.
Well, I am still getting used to this marriage thing and being the perfect daughter-in-law and etc and I must admit that it is not easy. Coming home after work, you really don't feel like doing anything much. So you end up whipping up an easy dinner, hardly a feast and sinking into bed to get up at 5 am the next morning to prepare food for both yourself and your husband to take to office. It's a never ending cycle and anyone who knows me knows that I am SO not a morning person. It takes a whole lot of getting used to and I am not even close to getting there yet. There are so many unspoken expectations which you are in constant pressure to fulfill, which really are a matter of human emotions rather than set norms and rules. Not everybody understands, not even your partner with whom you've spent nearly 7 years together. It is difficult to explain. These emotional, unspoken expectations, these are the hardest to breach. William Blake goes "Mind forged manacles I hear" in my head.
Anyways, the point being this was my very small attempt to comfort my homesick self with a taste from home. With this dish I imagine I am bringing a little bit of my mother into my husband's home. I miss home. This dish helped. And despite the absence of a stone mortar and pestle, I must say that I made my mother proud by replicating the dish pretty darn close to the original.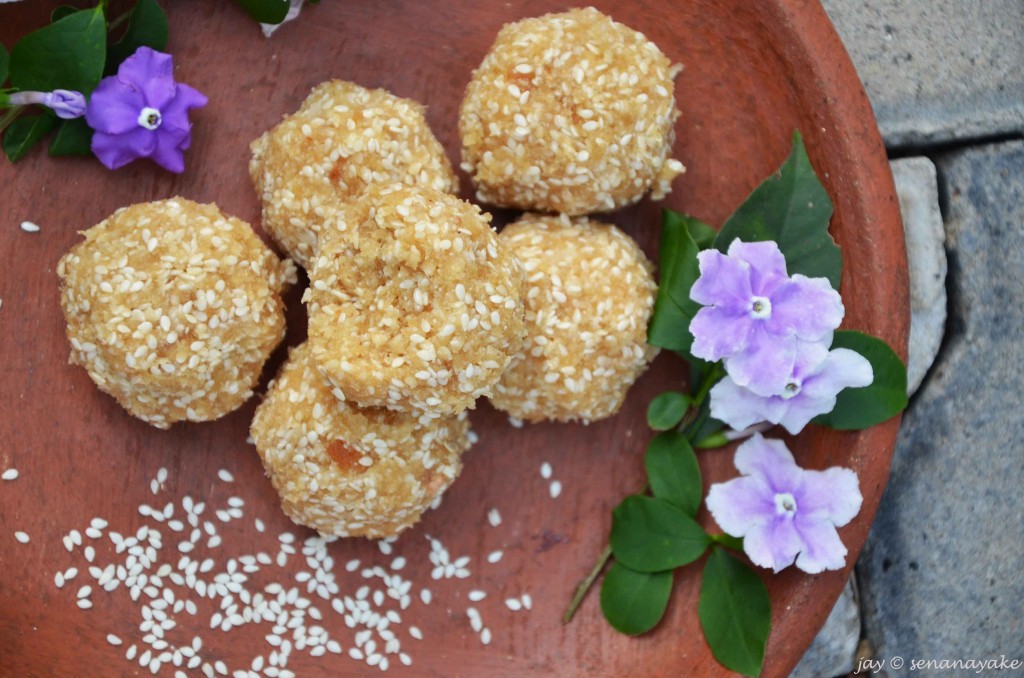 We were on our way from Kandy and we happened to stop in Ambepussa for lunch. Hubby boy was craving thala guli but I had neither faith nor the stomach for the kind that Jinadasa produces these days. I presented him (the hubby I mean, not Jinadasa) with an alternate option; we shall get some sesame seeds from the supermarket and I will make sesame rolls for him when we get home. It worked! Hubby boy finally settled down to being the semi adult that he usually is, under the pretext that I make sesame rolls for him when we get home.
Gingelly rolls or 'thala guli' as we know it, is a popular Sri Lankan sweet that is an absolute favourite among the Sri Lankan population. Birthdays, Avrudu, anniversaries, New Year parties, Christmas parties, kiddies parties, farewell parties, alms givings, you name it, the humble thala guli makes its presence known in all occasions without discrimination. Walk into a supermarket any day of the year and you shall see the universally popular thala guli in many forms and under many brand names – none of which equaling the stuff that my mother makes at home.
My mother makes the stuff with the best quality palm jaggery and sesame seeds available and in the humongous stone mortar and pestle that we have in our kitchen. There is a certain charm and a certain unique flavour that the stone mortar and pestles lends this dish but unfortunately I had to make do without one as I was at my in-law's place when I made these. I ground these in a grinder – you know, the teeny weeny thing that one grinds seeds in? Yeah you guessed it, it was pure torture. I had to grind it multiple times in order to finish the whole batch.
Anyways, the point is that no store-bought sesame rolls can beat the stuff that you make at home.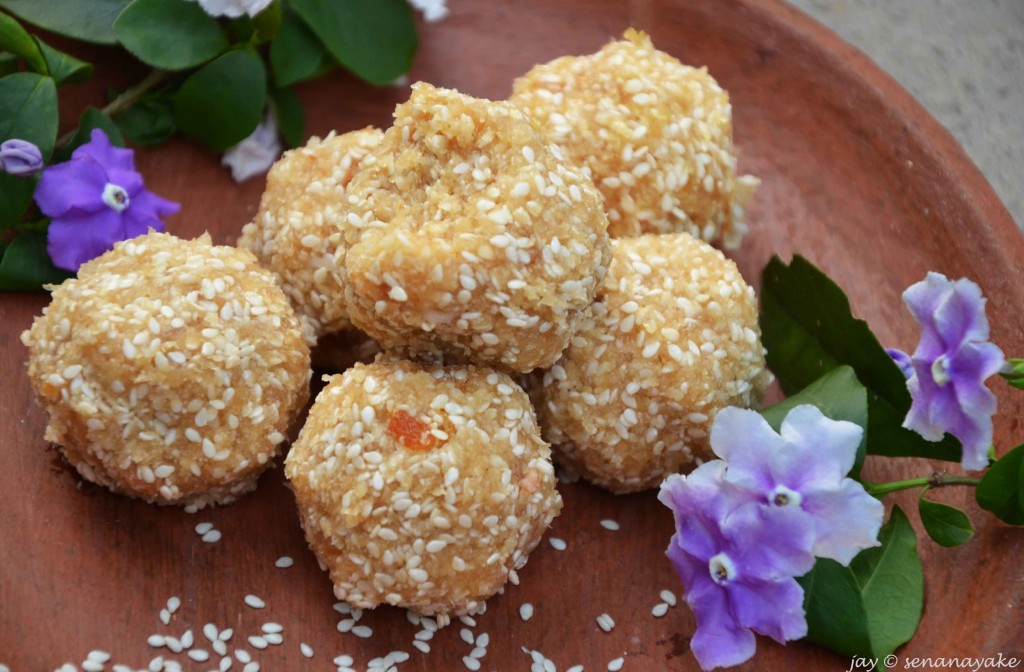 Homemade sesame rolls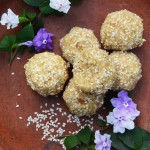 Prep Time : 15 minutes
Yield :

10 servings
Instructions
In a stone mortar and pestle, grind together the sesame seeds, the grated kithul jiggery, the coconut and the salt.
Add in the pinch of salt.
Mix well and form into balls.
Print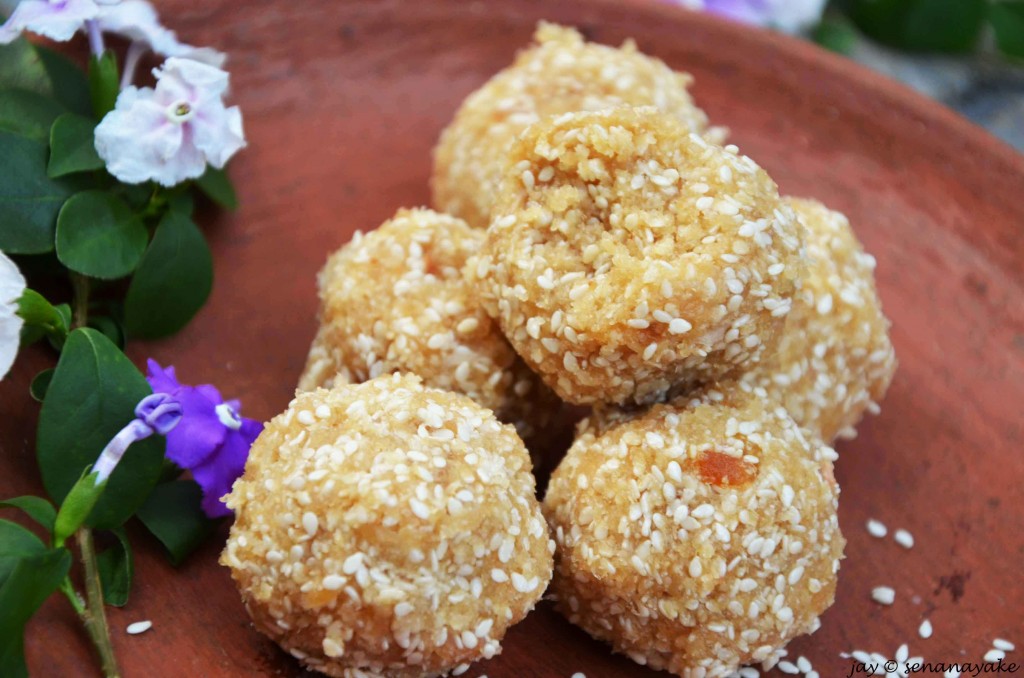 Yes really. That's it!
The sesame balls are soft and yielding to the bite, with your teeth encountering little bits of kithu jaggery that explode in little bursts of sweetness in your mouth. The coconut and the ground sesame combine together to give it a surprising milkiness while the salt brings out the nuttiness of the sesame seed, each bursting with a vivacity that makes you smile. The caramel of the kithul jaggery ties the whole thing with a lively zest, bringing the whole dish to life. It really is a mouthful of nutty, coconutty, caramelly heaven. Really, there is no comparison. Homemade sesame rolls are simply the best that one can have.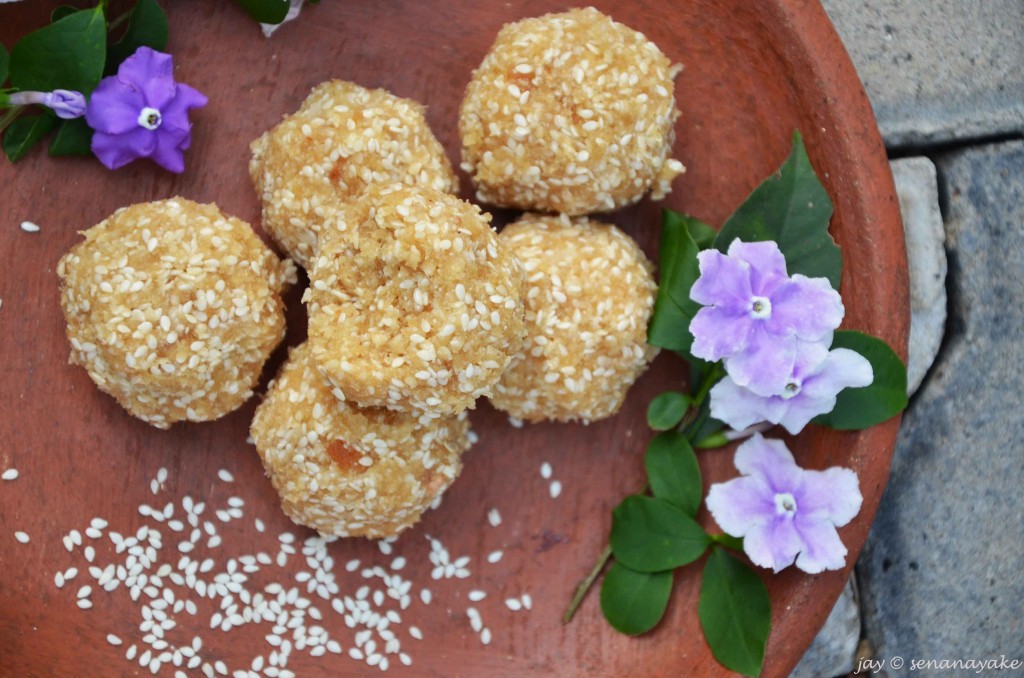 Tips
Good quality ingredients – that is the golden rule. Good kithul jiggery, good sesame and freshly grated coconut. It makes a world of difference.
I used white sesame seeds in this one but you can use either the black one or the mixed one.
When getting sesame seeds make sure it is clean devoid of any sand, stones or dirt. If it is the raw, uncleaned type you typically get from any place other than a supermarket, make sure you wash, sort for sand and dry them in the sun properly prior to using them. Once I purchased a packet of sesame seeds and only after biting into a mouthful of sand did I realize that I have to clean it first.
If you don't have a stone mortar and pestle, use a grinder – the type you use to grind grains. I can't promise you the same quality but it does the job.
That pinch of salt is necessary to bring out the flavour. It's amazing how something so little can make a world of change isn't it?