Large, bulbous and purple – that is Raja Ala for you.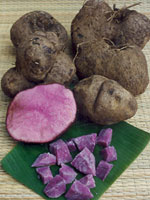 I was on my usual Sunday morning Farmers' Market visit the other day, casually strolling through the aisles, dodging hoards of sweaty men carrying heavy boxes on their shoulders and aunties swinging their heavy shopping bags and umbrellas sticking out from under the arms when I saw these beauties. The floor was covered with them. Muddy, humongous and gorgeous, they took my breath away. When inquired the price, that knocked the breath out of my lungs too. Rs 100 for 500g! It made me laugh. Back in the day, these free-growing purple tubers used to be dug up and distributed among the neighbours when clearing the gardens, apparently unaware how much they would be worth today!
If you are a Sri Lankan who frequent the Sunday Farmers' Market, this purple beauty may be no stranger. A dirty dark purple bordering on brown on the outside, these nutritious tubers are light purple when cut but become a dark, pulpy purple when boiled. Boiled with a little salt, we usually serve this yam with a bit of grated coconut and kata sambol – a combination of maldive fish, onions, chili and lime. Add some fish ambul thiyal or some Sri Lankan pork curry to this and you will easily go through a whole pot of these.
Raja Ala is known for its nutritional content. A starchy tuber known for its filling properties, it is also known for its protein, mineral and also the Vitamin C content. Perfect as an immune booster, it is also known as anti-inflammatory and serves as an excellent antidote against abdominal and intestinal cramping. When menstrual pains get a little too out of hand, our mothers serve us a breakfast of Raja Ala and they have been known to bring considerable solace in those troubled times.
So far, we have only known one way of consuming these – boiled and served. I wanted to try something different with these (very expensive) purple yams that I bought the other day. So far we've been eating these, so why not try drinking it? Inspired by the Filipino Ube smoothie, this is not only delicious and nutritious, but due to its filling nature, would make the perfect breakfast on its own as well.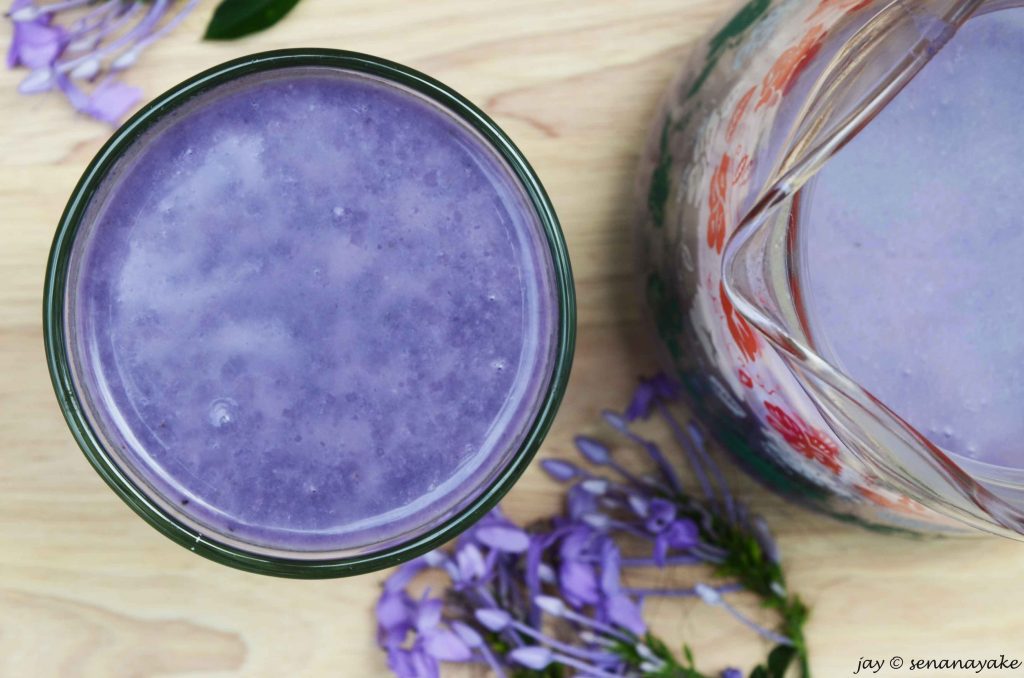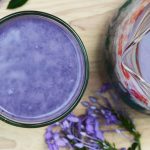 Purple Yam smoothie – Raja Ala drink
Ingredients
Instructions
Boil Raja ala in a pot of water to the point when pricked with a fork, the yam gives away easily. Drain and set aside to cool.
Combine all ingredients in a blender until smooth. Add more coconut milk or water to achieve the thickness (or thinness) that you require.
Serve cold.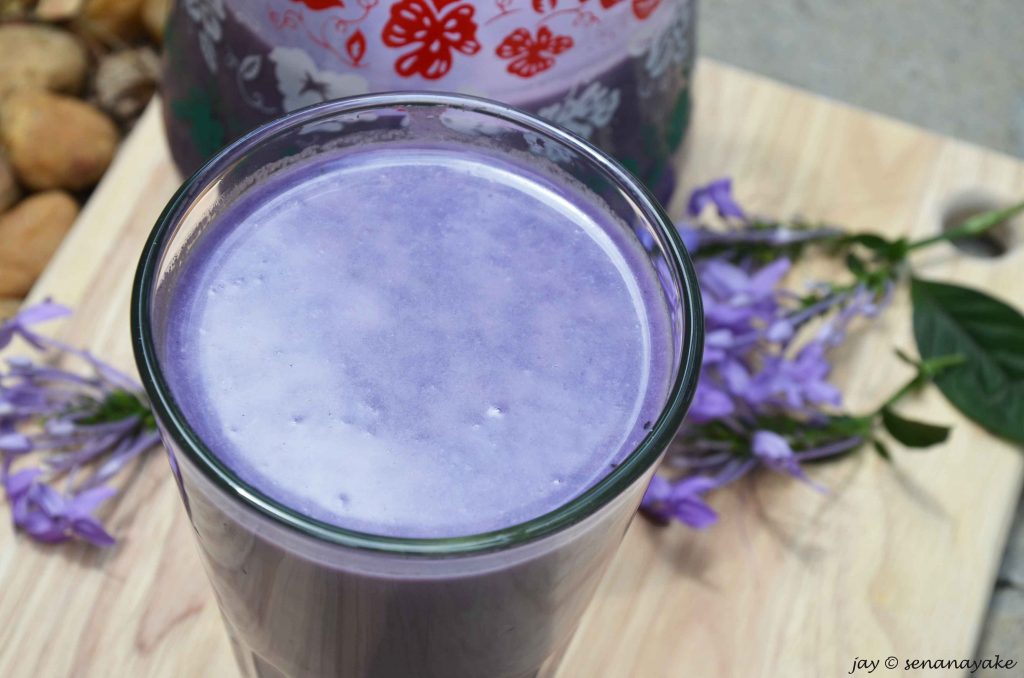 Look at that colour!
Beautifully smooth and thick, the liquid glides along the tongue. The coconut milk is fragrant and toasty and combining with the yam, it doubles in creaminess and overwhelms you with its sumptuous exoticness. The coconut treacle joins in this extravagant union, sweetening it with its unique caramel-like flavour, lacing the liquid with an underlying complexity. The clove comes through distinctly with its piquant notes, piercing through the creaminess of it all, standing out and blending in, making the combination all the more uplifting, all the more fragrant and refreshing. A spicy, sweet treat to set your taste buds swooning, only to recover and drift away in a cloud-like dream.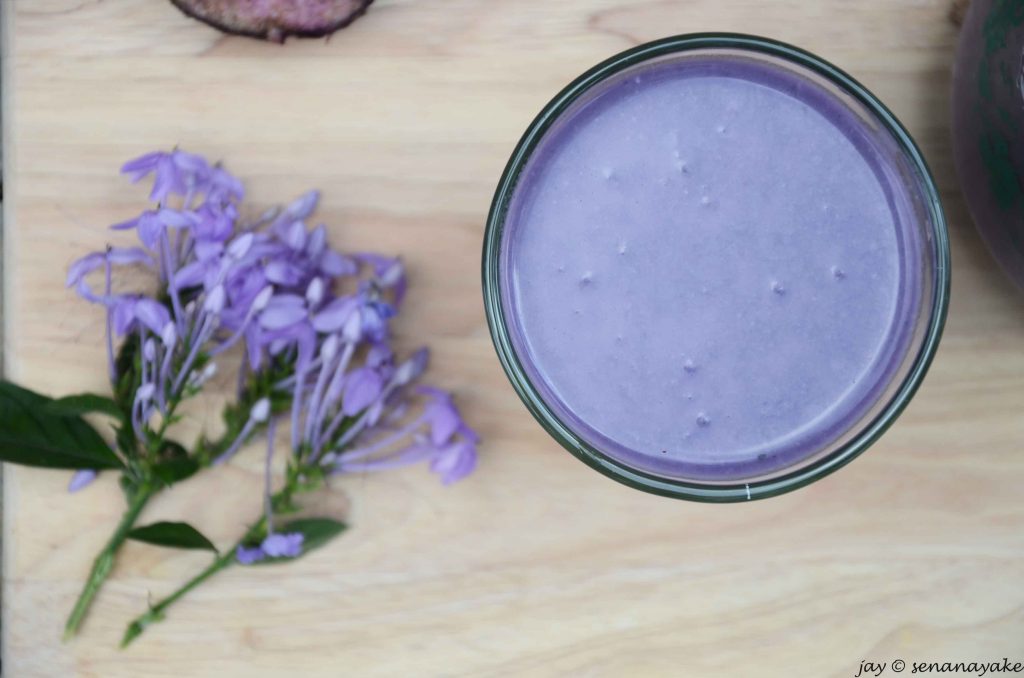 This is ideal as a breakfast smoothie, being absolutely filling and containing the nutrients that it does. And on a drab workday morning, this beautiful colour will instantly cheer you up!
Now isn't this a lovely thing to wake up to?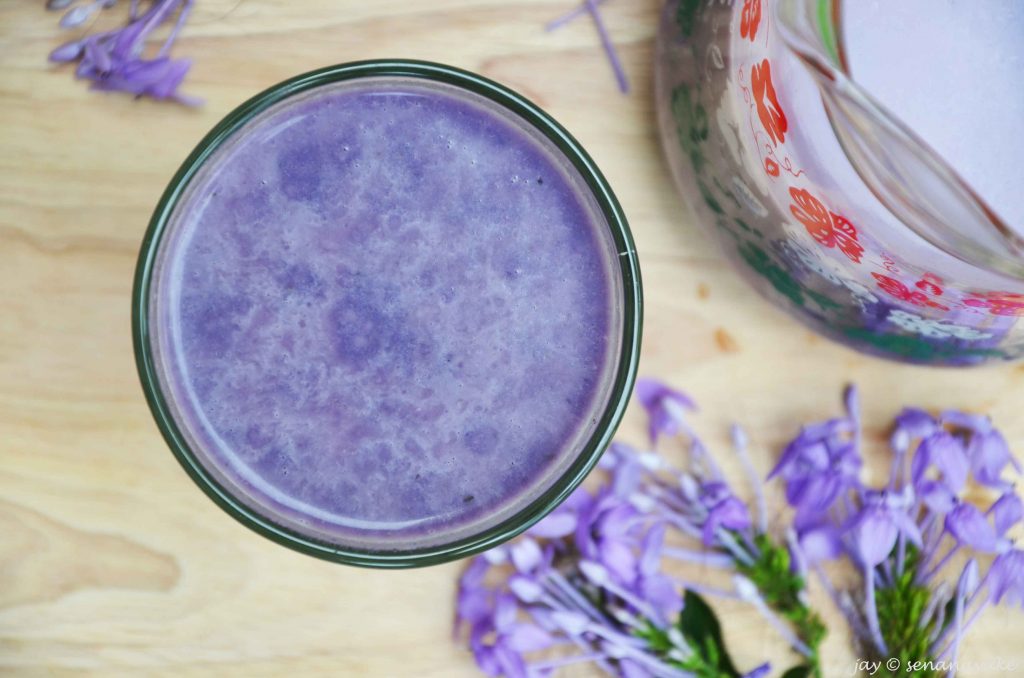 Useful tips
Peel the yams before boiling and cut them into equally sized pieces. This allows equal boiling across the whole pot. Different sized pieces of yam would mean they would boil at different times.
To get coconut milk, scrape fresh the coconut using a coconut scraper and blend it together with some water. Sieve out the milk and the pulp. Voila, your coconut cream is ready!
When buying raja ala, make sure they are plump and basically wrinkle free. Wrinkled skin means the yams are rather old. As with any produce, they taste best and most amount of nutrients are preserved when they are freshest.
If you are blessed with a sizable garden, I suggest you cut off a small end of the yams and plant it. It grows easy and once it's time to harvest, you will have enough purple yams to feed the whole town!