Walking through a market space in Sri Lanka is a rewarding experience. Multicolored hues greet you jubilantly in the form of dewy fresh vegetables and lusciously ripe fruit while vendors announce their goods in singsong voices urging you to purchase, to enjoy. Ripened mangoes fit to burst saturate the air with their delicious fragrance while papaya gleams golden in a corner right next to piles and piles of majestically crowned pineapples, watching, waiting, enticing. Multicolored roots – manioc, sweet potatoes, and purple yam piled on top of one another and if you look very carefully, you will also see sacks of sparkling red rambutans and little piles of curious things that if dared venture, would prove to be absolutely delicious.
And among these piles of curiosities you may come across little globules that wink at you in a pleasingly translucent green. These are Indian gooseberry or what we Sri Lankans refer to as "Nelli", a tiny unassuming fruit nevertheless containing so many health benefits to those who consume them.
Nelli or the Indian Gooseberry is a tart little berry that grows in medium sized trees ranging from 8m – 18m. With a smooth and hard exterior, the gooseberry is described in ancient Ayurveda as having 3 tastes – the tart, the bitter, the sweet all merged into one astringent fruit that grows on a commonly found backyard tree grown in Sri Lankan households.
Rich in antioxidants and Vitamin C, Nelli is either eaten raw or used in cooking. It is also used in the preparation of myriad Ayurveda remedies. The tree itself is considered sacred and almost all parts of it – the bark, the leaves, the roots are used in Ayurveda. As told by Ayurveda, the ancient healing art of centuries on end, Nelli is said to have a myriad of health benefits such as promoting longevity, treating constipation, purifying blood, stimulating hair growth, enhancing digestion, strengthening the heart, benefiting the eyes, alleviating asthma, enhancing intellect and etc.
Nelli is usually available all year round and can be found at any farmers market. The Sri Lankan nelli is not round but has ridges around it while the Indian gooseberry is perfectly round and more translucent. What I found much easier to work with were the Indian gooseberry which are larger and of which the flesh came off easily. It is a fruit that is mostly overlooked by those who are not aware how mean a jam they make.
So here is a jam recipe that perhaps you are not aware of. While not typically found on supermarket shelves, this jam recipe can be prepared right at home and is rather delicious as well!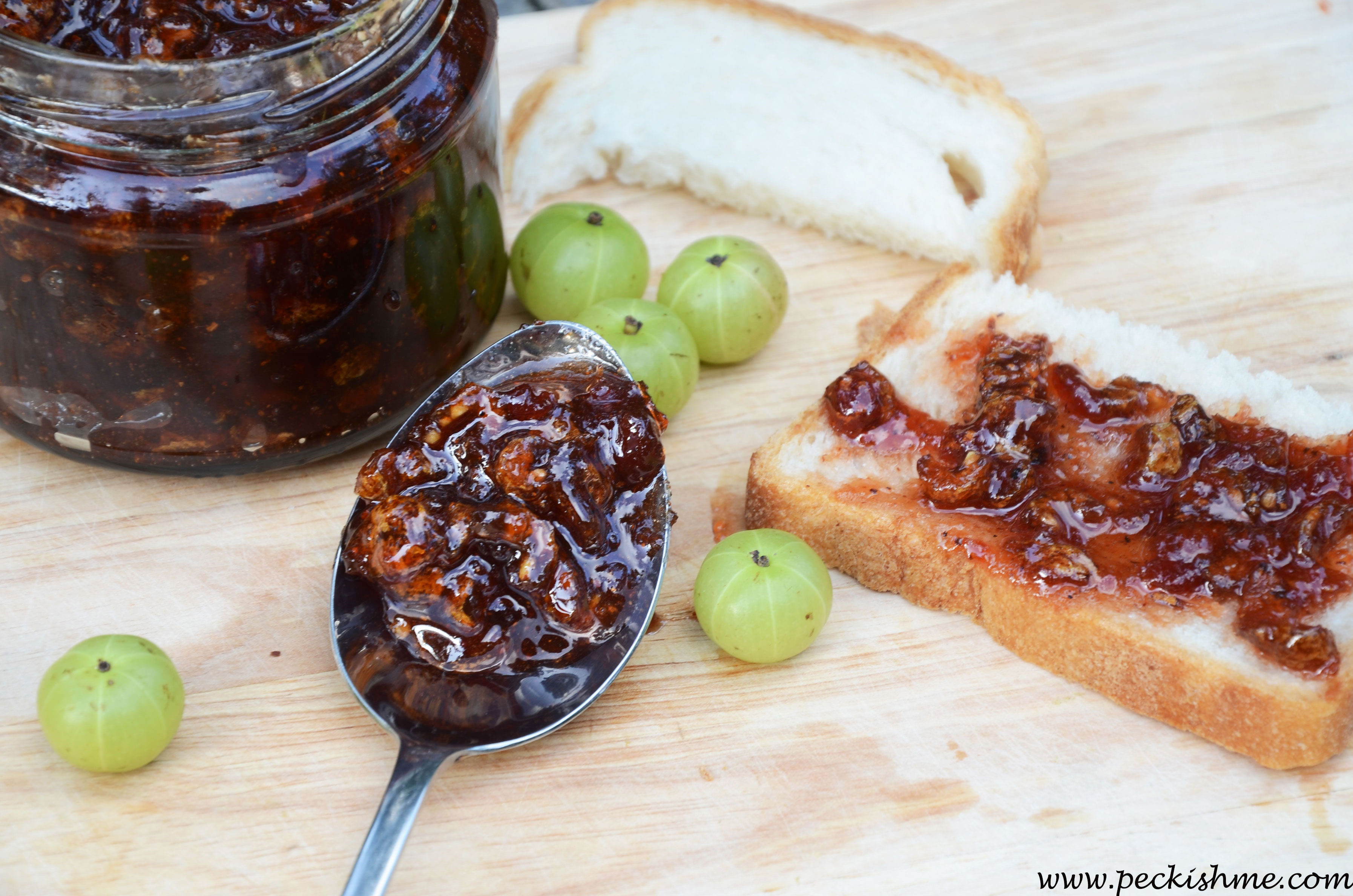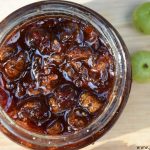 Yield: 3 large jars
Prep Time: 30 minutes
Cook Time: 40 minutes
Serving: 3 medium jars
Print
Nelli (Gooseberry) Jam – A Sri Lankan Jam recipe
Ingredients
Instructions
Wash the gooseberries thoroughly. Fill a pot with water and boil the gooseberry until tender.
Once tender, strain the gooseberries and halve them and take out the pit. Mash the flesh lightly
In a separate pan (preferably nonstick), combine the gooseberry flesh, the sugar and the spices. Stir on low heat until the water evaporates and the mixture starts to thicken. You will see the mixture leaving the sides.
Tasting (my favorite part) is important. Keep tasting the jam. When it starts sticking between the fingers like jam, your gooseberry jam is done.
Take off heat and let it cool. Once cooled, stir in the honey and the salt. Combine well.
Store in a sterilized glass container.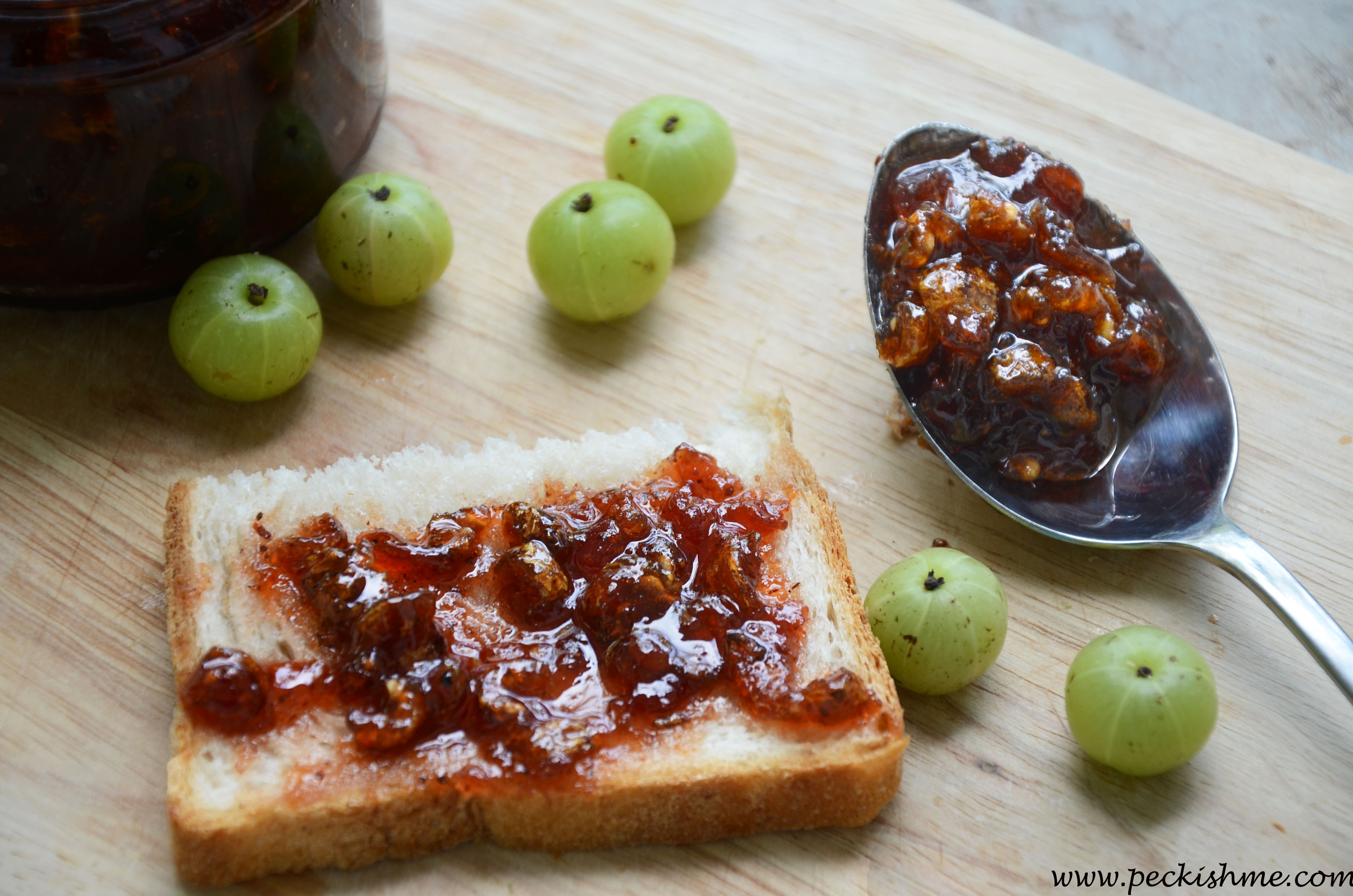 Serve with bread, rotis, buns and basically anything – this sweet and sour darling is sure to be a favorite among those who taste it. Combined with the caramel of the brown sugar, these tart berries lend an interesting flavor profile. The astringent quality of the gooseberries is curbed by the saltiness, unveiling the many layers within the signature flavor of the fruit. The clove spikes the jam with a piquant goodness while the cinnamon warms and fragrances, sweetening the concoction with added vigor. The honey adds a floral note and adds extra sweetness, counteracting against the astringency of the gooseberry. Come rain or sunshine, this is a jam that you can rely on that will warm you from within with just the right amount of sweetness and tart, balancing, enhancing, enlivening.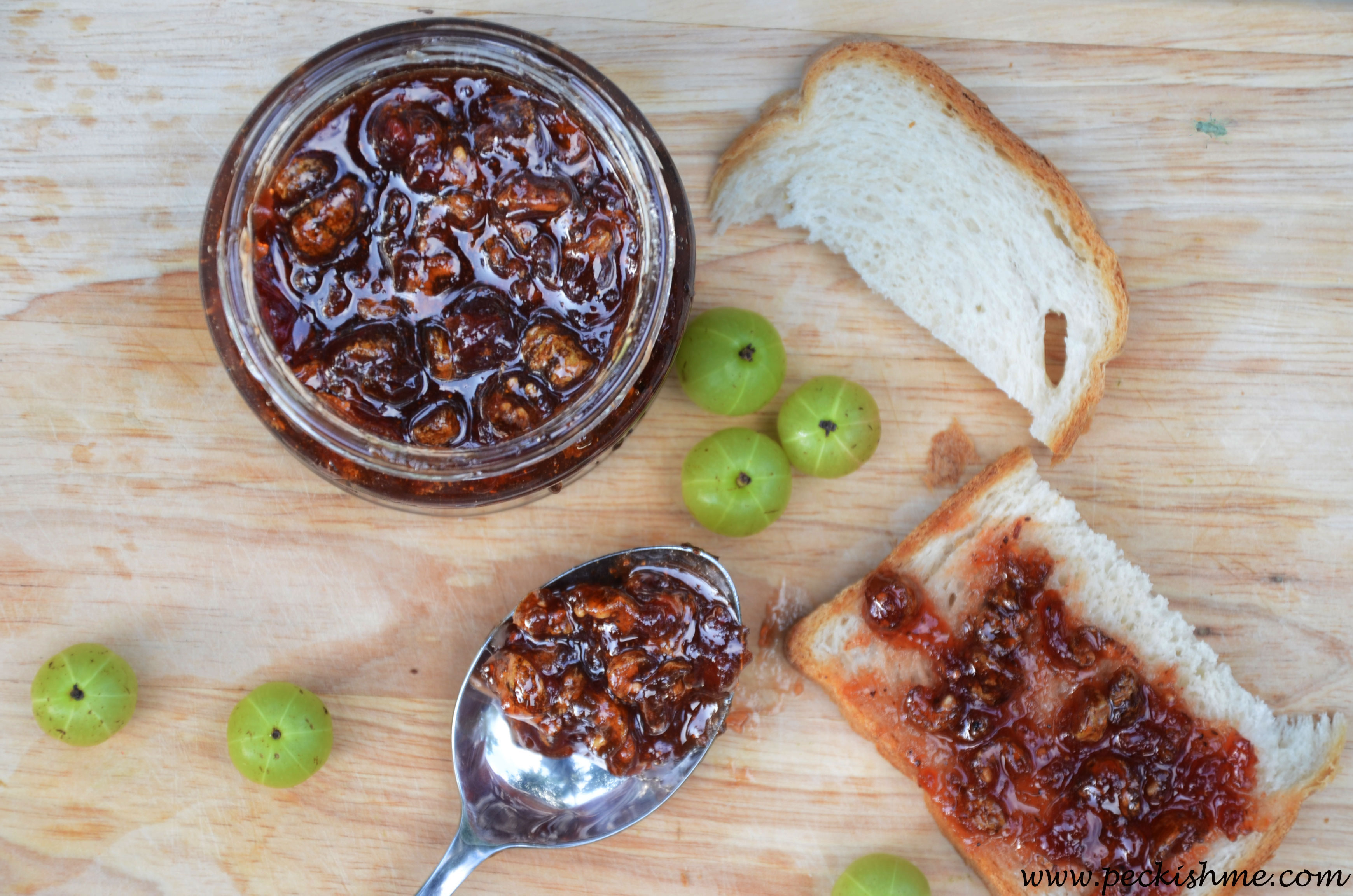 Some tips
I prefer using the Sri Lankan gooseberry than the Indian version, but I find that the Indian version of the gooseberry rather than the Sri Lankan ones because the pit is easier to remove.
When you boil the gooseberry, don't throw the water away. Drink it. Our mothers used to give us the water in which gooseberry is boiled believing in the medicinal quality of it. Although I am not quite sure what exactly it is.
To sterilize glass jars, either put them in a hot oven or soak them in boiling water. If using water, make sure they are properly dried. I like to soak mine in boiling water and finish drying in a hot oven.