Here's something for you to chew on.
The easiest, butteriest caramels that you have ever eaten. No one has ever stopped at just one of these babies.
Growing up, the highlight of my day was when my father came home from work. At 8pm I would wait near the door for the sound of the gate being unhinged to open the door to greet my father who would come swinging his leather bag with tired face and sparkly eyes. I would immediately reach out into his front pocket – because I always knew that there were treats in there waiting for me – lollipops, toffees, little candies. But the one thing that excited me the most was the sight of small candies wrapped in gold with red and blue swirls at the twisty ends.
Delta toffee. Wherever you went, the shop fronts had large bottles of the lot on the display taunting you, teasing you. I remember pestering my parents for a taste and they will grudgingly buy me a few – not a lot so as not to spoil my meals. The chewy, buttery taste just glues your teeth together but nevertheless you chew away greedy for more. I'll give you a hint – this buttery caramel recipe will take you back to your childhood of stealing 1 rupee coins to eat Delta toffees after school.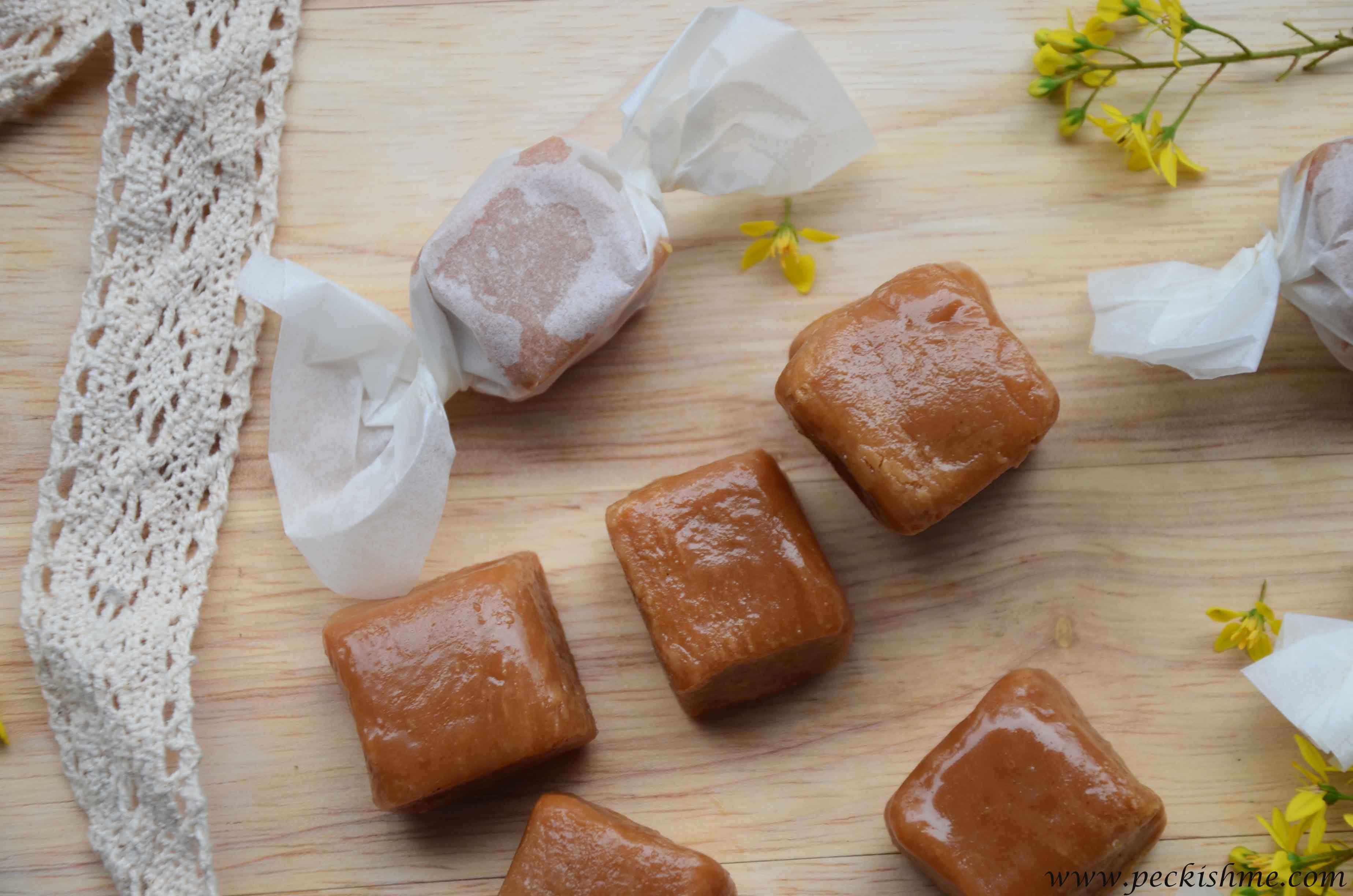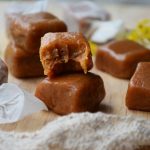 Homemade caramels
Ingredients
Instructions
Prepare a baking pan with well oiled parchment paper. I used a square pan that was 13 x 9 inches.
Melt butter in a saucepan over low heat. Once melted add the rest of the ingredients and simmer on low heat while constantly stirring.
Keep stirring until the mixture thickens and takes on a darker caramel color. Once this consistency is reached, pour the mixture onto the prepared pan. Allow to cool completely.
Once cooled, cut the caramel into desired sized cubes. If you wish, wrap them or store the unwrapped squares in a container with a lid. Enjoy!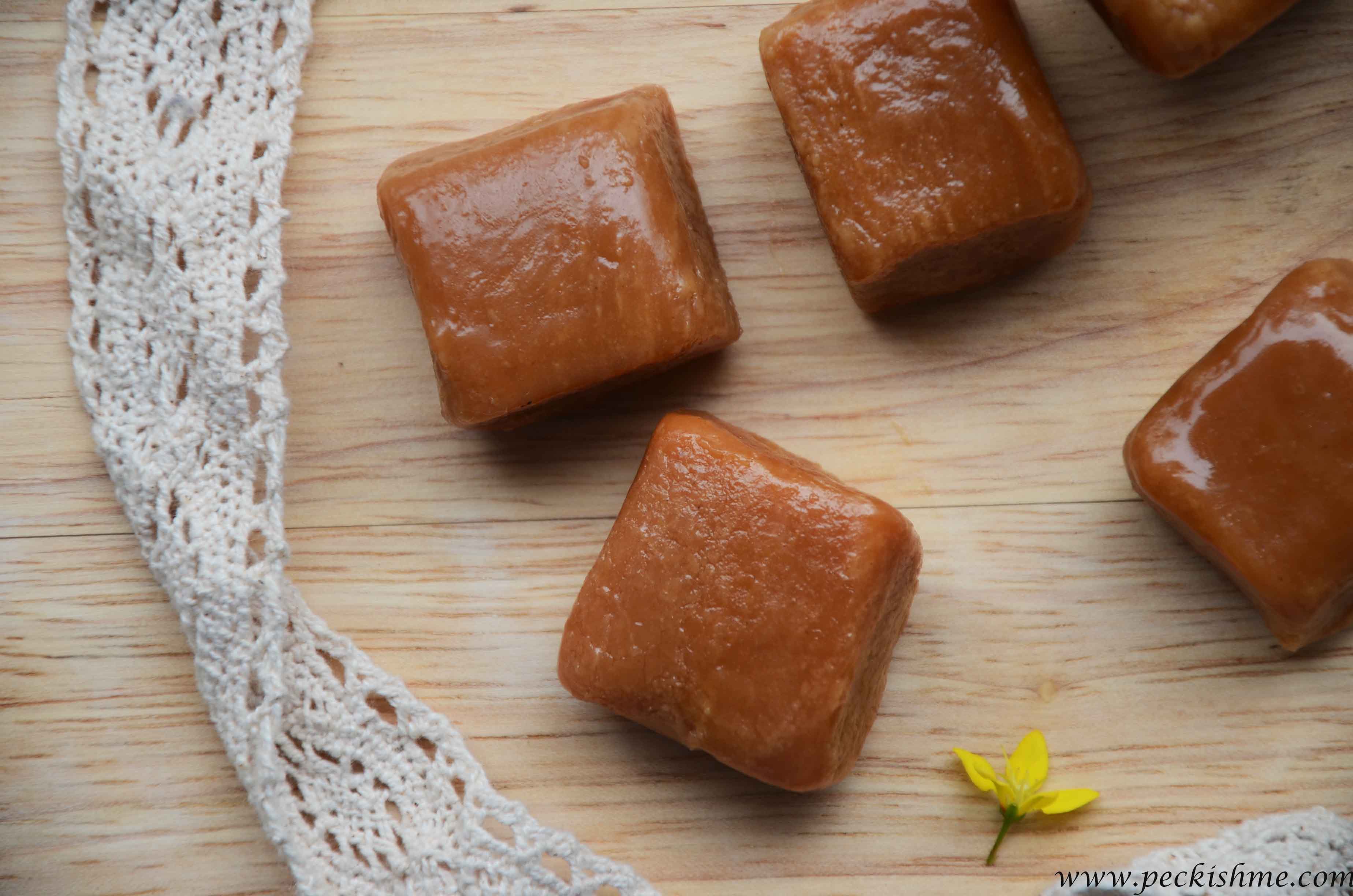 These are cubes of pure caramel heaven. Strangely enough, they are not too sweet and has that signature deep caramel to it that you cannot resist popping a few more pieces. The butteriness simply coats your senses in a blissful cloud of softness while the burnt caramel punctuates the sensual blanket of mellow with its bold, characterful nips. It looks humble enough but all it takes is one little nibble for you to fall head over heels with this wonderfully rich little tart.
Make a gift of it or better yet, make a jar of it all to yourself. Because once you've tried it, you wouldn't want to give it away.
Cooking tips
Stir, stir, stir! This isn't a recipe that you can walk away from as you need to make sure that you don't burn the bottom. But I promise you, that bit of babysitting is completely worth it!
I used brown sugar. It gives it this deep brown that I so love.
Use a nonstick saucepan. This prevents the mixture from sticking.
Be warned that the mixture is VERY hot. As tempting as it seems, DON'T just lick the back of the spoon until it has cooled completely.