Imagine Victorian ladies with their frilly little parasols and poofy gowns having a title-tattle over their afternoon tea. Imagine the tea table with scones, clotted cream and whatnot to nibble at in the meantime. Very Jane Austen noh?
Teatime, for us, is almost always something of an occasion. There is always something special for tea – whether it be a cake, cookies, sandwiches of sorts, some sort of finger food. Teatime is funtime. Today was no different, what with the sun shining so beautifully, we had our tea outside under the mango tree.
Thought I shall make scones today. When I am upset, I bake and today was one of those days. I remember a comment that a friend made once "What does Sylvia Plath and Jayani C. Senanayake have in common? They both bake when they are upset and write depressing poetry". I, of course, did not find this very funny.
All that aside, I find baking to be therapeutic. It's a good way to vent – so good that you can eat it!
As old fashioned as they are, scones are still a household favourite. And this is a recipe that has been perfected over a number of years. If not for anything, I like baking scones just to get that beautiful baking scones smell wafting through the house. Sri Lankan households are usually large and airy and therefore, the cooking smells do not go putrid here. They waft about, mingled with the fresh air from the outside, perfuming the entire place. So cozy, oh-so-homely! It is a wonderfully warm feeling that makes you feel great instantly :)
Ingredients
400g Flour
2 tsp Baking powder
200ml Milk
100g Butter (Cold & cut into cubes)
4tblsps Sugar
Pinch of salt
Dash of vanilla.
To serve 
Jam
Butter (or clotted cream if available)
Method
In a large bowl, combine the flour, the baking powder and the cold butter cubes with your fingers until the mixture forms a texture like bread crumbs.
Add to this the sugar and the salt. Combine well.
Make a well in the centre of the mixture and add to it the milk. With a spatula, mix until well combined. Add the vanilla. The mixture should form a dough.
Knead the dough into a ball. Flatten the mixture on a flat surface to about 2cm thickness. With a round cookie cutter of about 3″ diameter, cut out circles.
Place the cut dough onto baking trays scattered with flour. Brush the tops of scones with butter or a beaten egg. Bake until golden brown.
Serve with jam, butter or clotted cream. Best served while warm!
These scones are rather soft with a crusty outside and are delightfully crumbly. Having risen a great deal in the oven, they are flaky and are somewhat between a bun and a cookie, leaning towards the bun side. The vanilla comes through the slightly sweet taste, mild and mellow, never overpowering. It's an overall pleasant experience, and dare I say, very much refined? You can have these plain if you like or as recommended, with jam and butter. Ideally strawberry jam, but I am going to be very Sri Lankan here and serve them with woodapple jam instead. Or if you are feeling really British, (or if you can get your hands on some) you can easily replace the butter with clotted cream!
The beauty of this recipe is the fact that you can churn out a batch of scones in no time whenever you have visitors coming. They will sure appreciate the freshly baked scones, just out of the oven!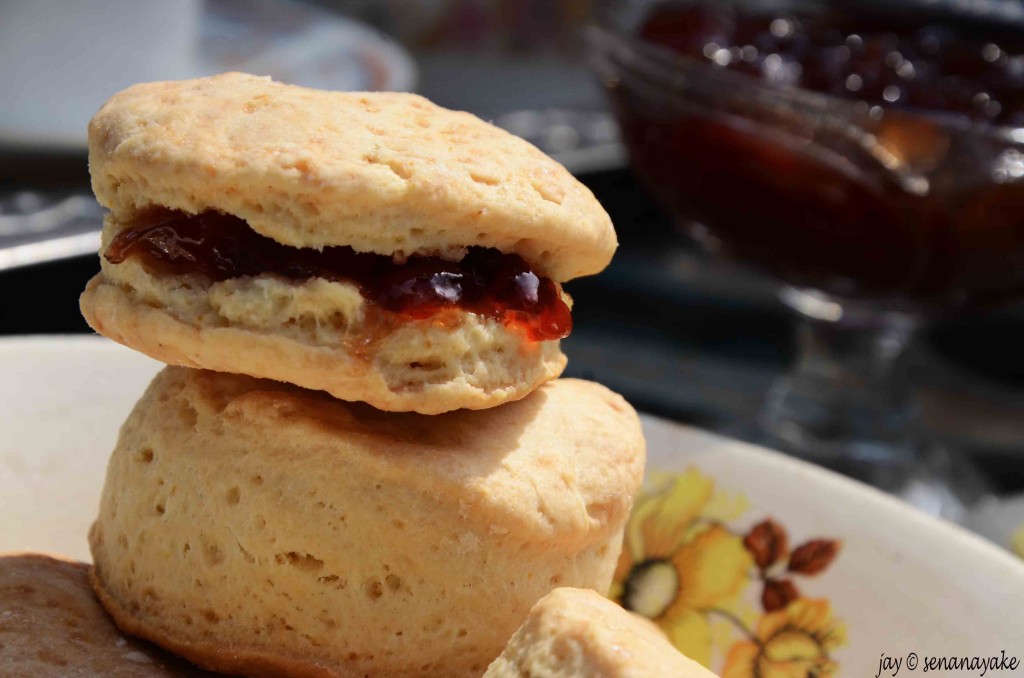 Useful Tips
If you are up for it, add a squeeze of lemon to the milk to slightly sour it. This would imitate the sharp taste of buttermilk which are often used in classic scones recipes. However, omit the vanilla if you are doing this as the vanilla tends to overpower the subtle buttermilk-like flavour of the scones.
Dust the scones with some powdered cinnamon for additional taste. However, they are just as nice plain.
You can add whatever you want to the scones – raisins, blueberries, strawberries or make it savoury if you like. I prefer mine plain. Anything other than plain scones would actually offend a die- hard British high tea militant. But we are Sri Lankan and can add karapincha in our scones if we like!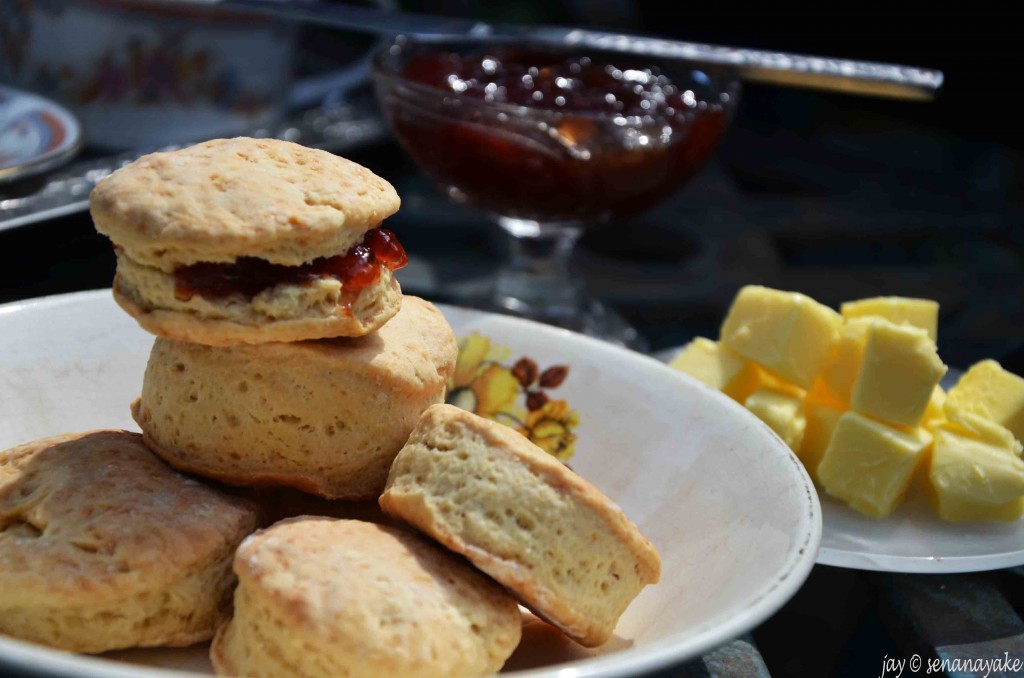 And now for some Etiquette
Never cut a scone half down straight with a knife. Break off little bits with fingers, apply cream and jam and eat with dainty bites.
Do NOT dip the scone into the jam or cream pots and neither are you allowed to take the jam and the cream straight from the pots. Serve little amounts on to your plate and proceed from there.
Use the knife to spread the jam on the scone. Never your spoon.
Eat your scones with your fingers. Using forks to eat scones during high tea is a strict no-no.
Whether you apply cream first or jam first, it doesn't really matter. Just do it delicately and daintily.
At a high tea table, you should eat your savouries first. Scones come second and sweets, last.
Do not gobble. Sip and don't slurp your tea. Take dainty little bites and sips and just be considerate about everybody around the table.
Oh how civilized! You can put on a frilly-summery dress and turn the whole event into an occasion! Invite your friends or make your family participate too. I shall write a post on high tea etiquette separately one of these days. It really is a fascinating affair!
*hums* "Picture me upon your knee, tea for two, two for tea…….."