This recipe is actually my mother's finding. In her mission to feed us all healthy, she is always conjuring up numerous things, always out of ingredients in her own garden. She has her own herb garden upstairs and almost all the greens we consume come from there.
This cashew and gotukola relish can be had as a side dish to dish, in sandwiches or as a snack in itself. It is nutritious, it is healthy, organic, all natural and most of all, delicious! What more can you want from food really?
Cashew & Gotukola relish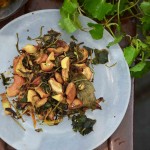 Prep Time : 20 minutes
Cook Time : 15 minutes
Yield :

15 servings
Instructions
Airfry/oven toast the cashews till golden. Set aside.
Dry the washed and picked gotukola on kitchen towels. Once dry, spray them slightly with olive oil. Sprinkle salt and pepper and mix them gently so as not to crush them too much. Airfry/oven them till crisp.
Toss the onions in olive oil, salt and pepper. Airfry/oven toast till golden and crisp. Follow the same procedure for garlic separately.
Mix the cashews, the onion, garlic and the greens together. Store in an airtight container and enjoy. Keeps months literally
Print
A crispy, crunchy treat to add to your regular meals or to be had as a snack in itself. The cashews are wonderfully chunky and crunchy, adding a creamy taste to all the crispy ingredients while the fried onions add a beautifully caramelized, piquant taste to it all. The gotukola and the curry leaves are distinct tastes all in themselves which somehow go very well with all this. In simple words, this small jar packs a world of flavour. Gotukola as we Sri Lankans know, is full of goodness and nutrients. Same goes for curry leaves. Regular meals with these two ingredients are said to keep your blood sugar, cholesterol and all other elements well in check.
All you health nuts, you won't be sorry if you kept a jar of this in hand. It is great for a nibble and it instantly uplifts dishes, such as rice, sandwiches and even noodles and pastas. Who knew that something so healthy can taste so lovely!