I love cooking and baking in December. Everything smells like aging wine, spice and ripening fruits in honey and your heart is brimming with a joy that you cannot define. It's amazing, this Christmas feeling. And sometimes, I wish that every day is December so that we can have this 'something in the air' feeling forever.
I also love how the house smells when Christmas baking is going on. You don't really need any air freshners during this season. The richly spiced fruits plumping up in all that booze, the herbs and the wines – oh so divine!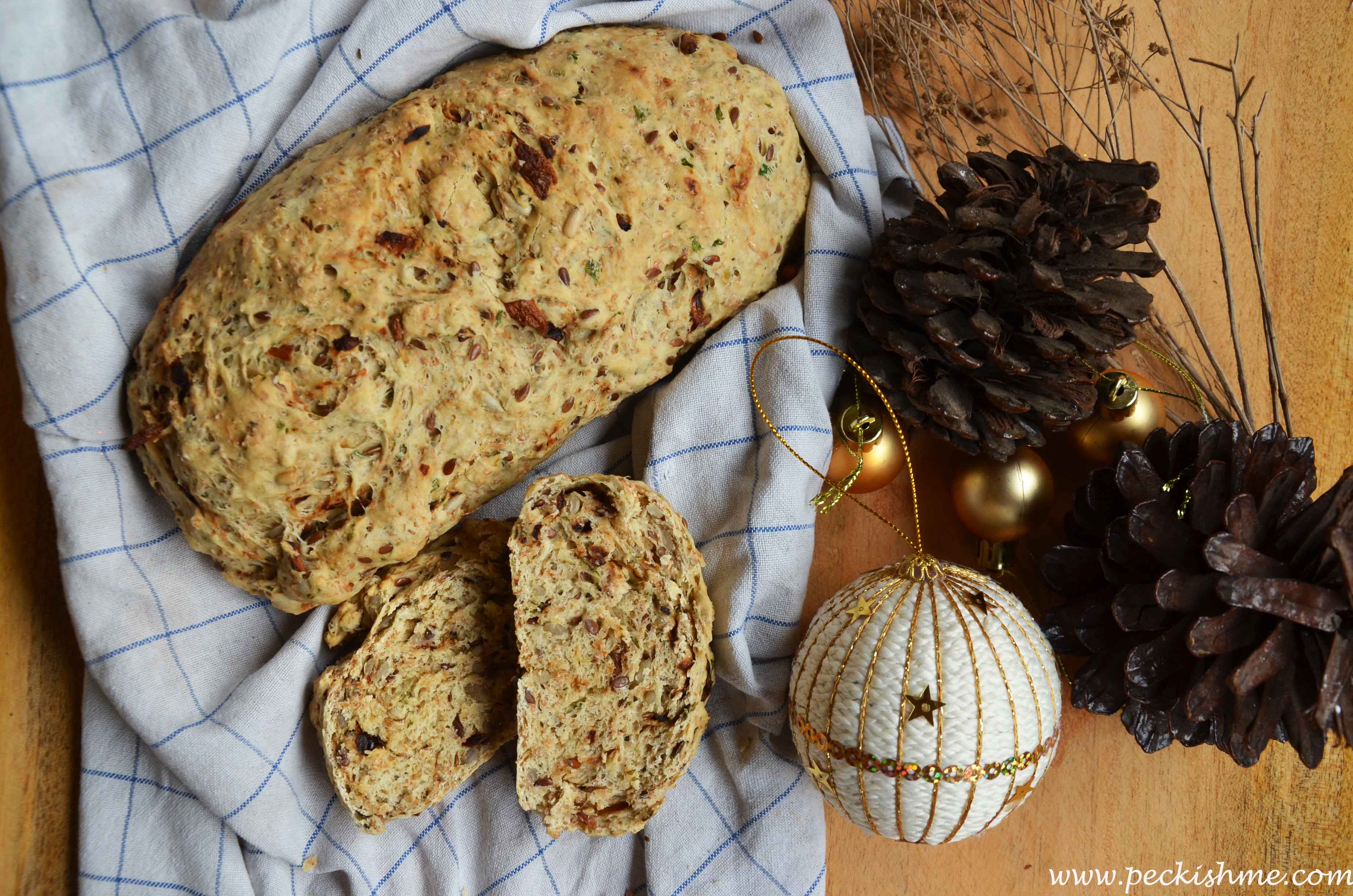 So here is another dish to ramp up that Christmas feeling in your house. Readers of this blog may be aware of how much I love bread baking so yes, this is yet another bread, but a bread with a twist that you can serve at your Christmas table. I stumbled across this recipe at food52 and was instantly drawn to it, but changed the recipe slightly to suit my taste and nutritional needs. It tastes like stuffing. Yes, stuffing, with all those herbs and spices that are traditionally used in stuffing, you can look forward to that wonderful smell of pure joy and honeyed afternoons when this bread is baking in the oven. I for one, did not budge from the kitchen, but settled down with mug of this special white hot chocolate right in the kitchen itself.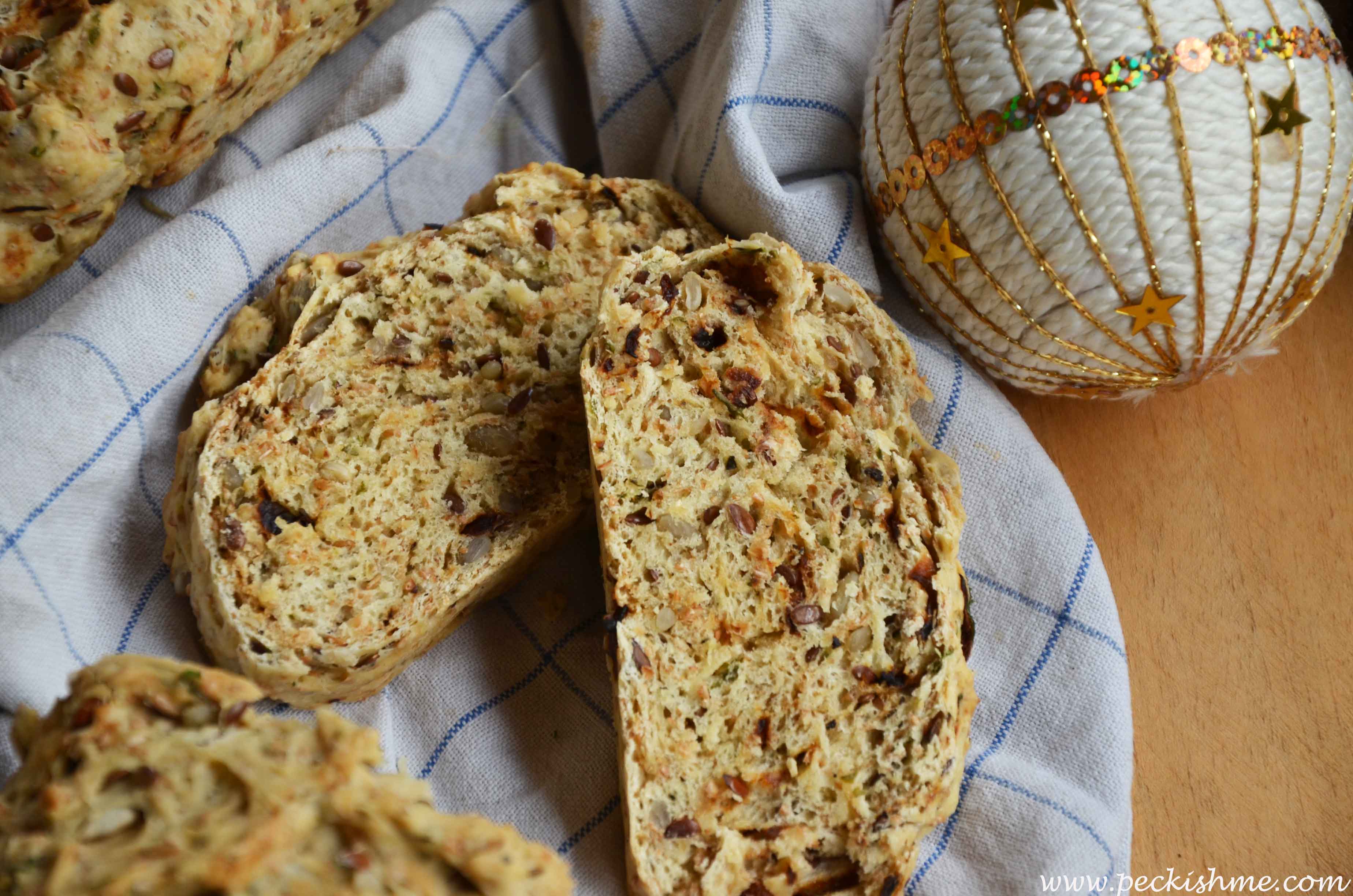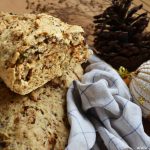 Homebaked herb bread
Ingredients
Instructions
Mix together 2 cups of flour (1 whole wheat and 1 plain), the herbs, onion, yeast, pepper and salt. Set aside.
Heat the butter, the milk and the water. You can do this in the microwave or over a stove top. Add this mixture into the dry mixture above.
Mix well by hand or with a mixer adding the remaining flour. Knead for about 5 minutes. Keep aside covered in a lightly greased bowl in a warm place until doubled in size. This should take about 1 hour.
Divide the loaf in two. Or you can choose to divide the dough into 12 equal pieces to make individual rolls. You can even bake the entire thing as one loaf. However, if you so wish to divide, shape the dough to your preferred shape and let rest until slightly puffy for about 30 minutes.
Preheat oven to 375F.
Bake for about 35 minutes until the loaves are starting to turn a golden brown. For individual roles, the timing should be around 20-30 minutes.
Serve warm!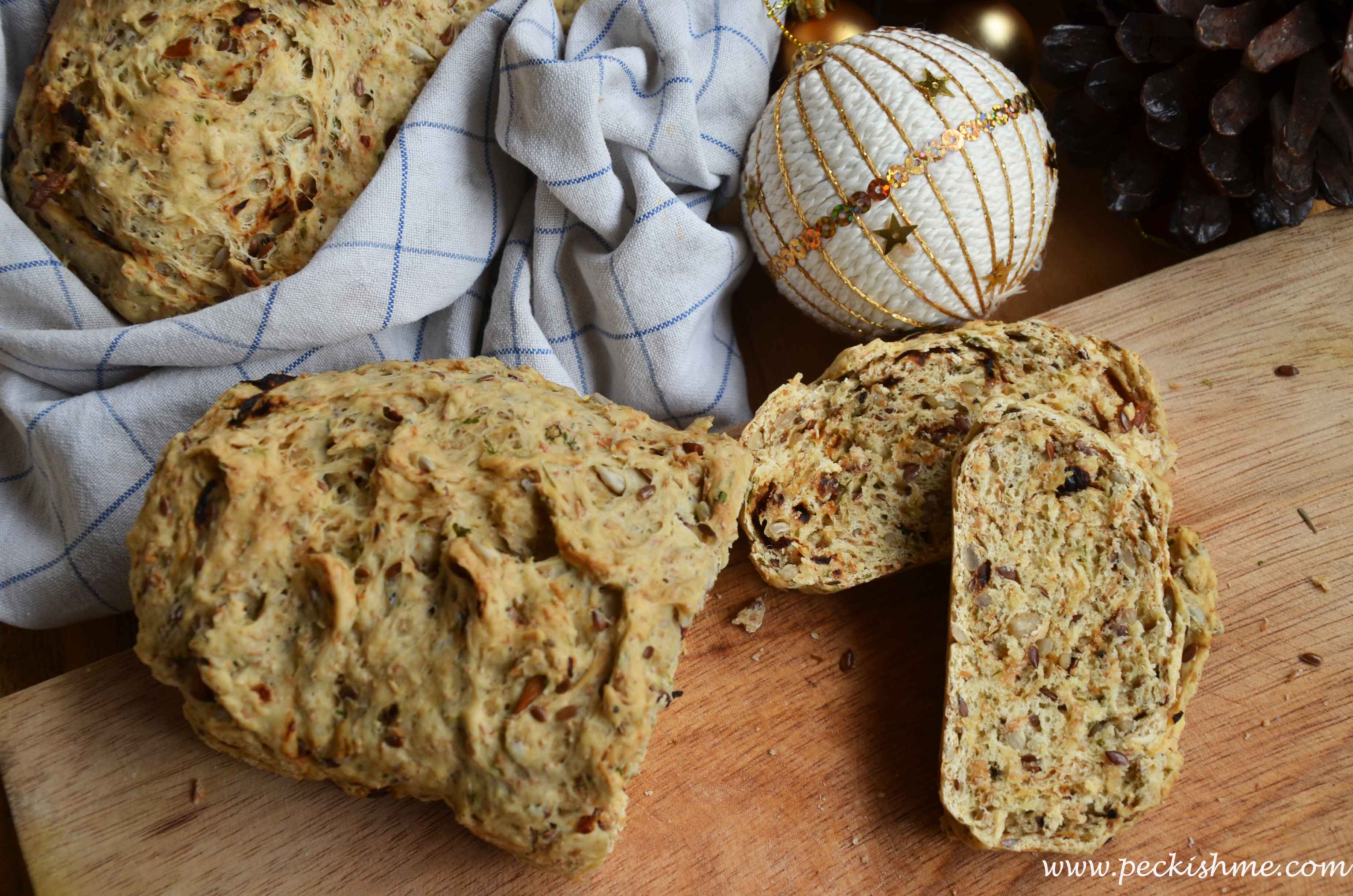 Ah the smell! This smell I will never get enough of.
Whiffs of delicate rosemary, the spunky thyme, the sage, the parsley, the fragrant oregano all combine and serenade the nose first. As your teeth sinks into the soft pillowy bread, your tongue shall be enveloped in a caramelized onion embrace. Then slowly but surely the herbs will follow, enchanting, piercing, alluring, each poignant and coming together in perfect harmony. The sunflower and the flax seeds will provide you a bite while the crunchy crust will contrast beautifully with the soft, moist bread inside, the warm interior steaming with the luscious aromas of the herbs, laced with spice. It's peppery, its salty, it's deliciously herby and oh-so-satisfying. Dab on some butter on the warm bread and watch as you are transported to heaven and back into a warm and fragrant kitchen.
So easy to make and so easy to impress your guests with too! Try it. You will probably want to eat it whole year.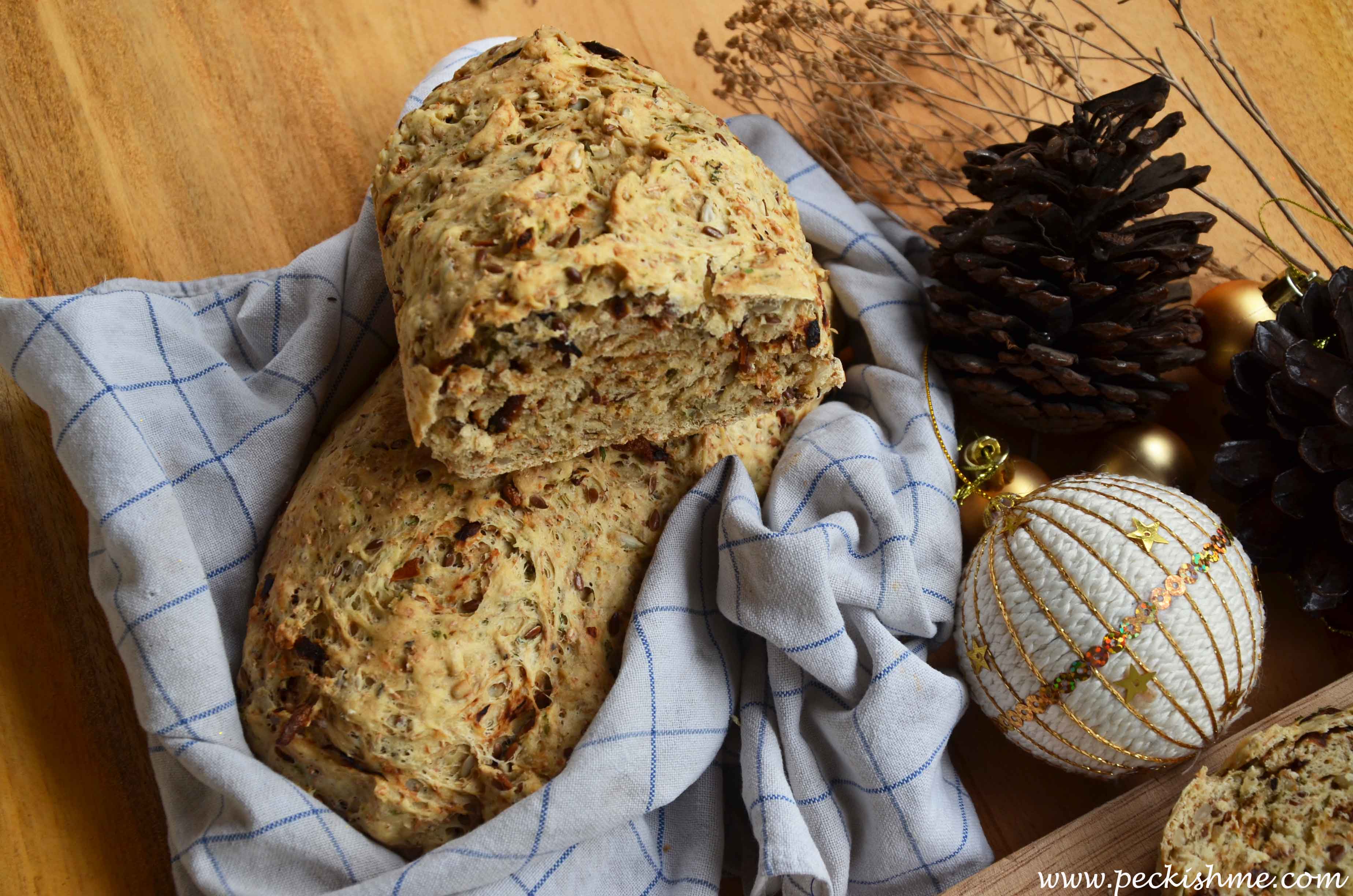 Baking tips
The original recipe called for plain flour. If you are not a fan of whole meal flour, you can try the plain flour as well. This is guaranteed to give you a softer and much fluffier bread.
Omit the seeds if you want to. I am genuinely fond of seeded breads and therefore, the seeds.
If you cannot find fresh parsley, use the dried kind instead. 1 tsp of that would do.
Consume within 1 day. It's important for any home baked bread to be consumed fresh.