Making bread is a wonderful process. It has always been a stress buster for me and an incredibly fun thing to do that boosts my mood even on the saddest days. I am the happiest with my hands knuckle-deep in a warm gooey mess eventually forming into beautifully supple, silky smooth dough, taking life right at my fingertips. You can almost hear the dough breath – it's a living breathing thing, multiplying, creating, expanding as it waits. A tiny bit macabre of me to pop this living breathing thing in an oven afterwards, but I've always imagined that it makes the dough happy to be fashioned into such beautifully decadent things afterwards. Sort of like a caterpillar metamorphosing into a beautiful butterfly. Oh well….
And I'm so Sri Lankan that I have to put curry leaves in everything. Just sayin'. I thought that it would lend flavour to the buns and was I right!
The Other Half came visiting the other day and as is usually the case, the hungry one needed to be fed. I made these healthy and easy dinner rolls as a teatime snack rather than for dinner because well, the boy sure does love his carbs.
Oh and don't try this at home if you are afraid to get your hands dirty. Making bread is not for the faint-hearted OR the finicky type.
Easy dinner rolls with curry leaves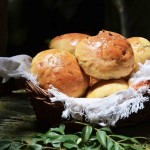 Prep Time : 2h 30 min
Cook Time : 45 minutes
Yield :

20
Instructions
Soak the yeast in the warm water for about 10 minutes till tiny bubbles form.
Place the flour, salt and the chopped curry leaves in a bowl and mix well.
Make a well in the centre of the flour mixture. Add to this the yeast, milk, butter and vegetable oil. Mix well until combined with a spatula.
Now begins the fun part; Start kneading. Make sure that all the ingredients are well combined. Add more flour if the dough is still watery and sticky. Knead for about 5 minutes, form a ball with the dough, cover and leave for about 2 hours and let the yeast do its magic. After about 2-3 hours, the dough may have doubled in size.
Form the dough into equally sized balls of your chosen size. Form the balls into any shape you desire - the simplest and the easiest is the lumpy bun shapes I have baked them into.
Grease a baking tray. Place your formed dough balls on the tray about 1 inch apart. This is so that the dough expands as it bakes and tends to stick together if there is not enough space to expand.
Brush the tops of the buns with the beaten egg. Sprinkle some pepper and some finely chopped curry leaves on top.
Bake in moderate heat for about 1 hour or until the buns turn golden brown and are bouncy to the touch.
Serve warm with lots and lots of butter!
Print
Soft warm bread with butter melting at the top – the very sight of it is almost sinful. It's soft and moist and absolutely flavoursome with the herbful zest of the curry leaves coming through beautifully. You cannot make out individual ingredients separately – everything is combined in perfect harmony that it all becomes one after the heat of the oven. The subtle fragrance of the curry leaves, the salt, the richness of the bread – everything overwhelms you at once. Who wouldn't want a mouthful of this warm, soft bread that overwhelms all the senses in a heartbeat? Why would you need to buy bread rolls when you can create beauty like this right at home!
Really, don't you feel guilty just by looking at it?
Helpful Tips
The beauty of this is, you can make the dough in advance and freeze it for about 2 weeks afterwords. Whenever you want dinner rolls, take it out of the freezer, let it come to room temperature and bake!
If you don't have access to curry leaves, you can easily replace that with rosemary, thyme or any other herb of your choice. But curry leaves have recently been declared a superfood so, why the heck NOT use it?
Don't be afraid to get your hands dirty. Dig right in with your fingers into the dough and give it all your love. Give it that personal touch. And this kneading process is where the ingredients truly merge and the bread gets its flavour.
If you want to make the dinner rolls completely vegetarian, you can omit the egg and brush the tops of the buns with butter instead. I don't see any harm.
Serve it up as a side or with a soup of your choice. Try it with this delicious pumpkin soup or with this creamy mushroom soup as a starter or a light healthy dinner.