I love shopping for ingredients. Nothing excites me more than going through the market isles looking for the freshest, juiciest most unusual ingredients to work with. The thought of a market visit alone is enough to brighten up my day. On a bad day when I am feeling particularly down, I go ingredient shopping just to cheer myself up. The challenge of thinking about what I can make with the things I find is an enthralling challenge. Handpicking the ingredients ensure the best dishes and I try to do this all the time.
The other day right after work I went looking for Arborio rice and button mushrooms. The goal was to make a risotto – I haven't yet decided which kind but I knew that mushrooms were to be a part of it. But as is the case with many supermarkets these days, I could not find Arborio rice and I was informed that they just ran out of mushrooms – of any type. Disgruntled, disheartened and with a cast down soul I wandered off to the fruit section, quite aimless. The big, red juicy grapes were on sale on that day.
So since I came and there was nothing else that I needed, and it felt strange leaving a supermarket of such scale empty handed, I grabbed two kilos of the stuff and exited not having an inkling of an idea what I was to do with all those grapes. I supposed we could eat it but we only managed to get through barely a kilo of it with another kilo lying around untouched. It is then I found this recipe for this olive oil & grape cake and was intrigued.
It would be uncharacteristic of me to stick to a recipe and therefore, I took it and turned it around albeit to make it healthier. There's extra virgin olive oil replacing the fatty butter, so hello! How can I resist?
Oh and I used rosemary from my own garden for this, as I already am doing for all my dishes these days. I started a herb garden not such a long time back and it is thriving! The pleasure that you get from planting your own produce cannot be compared to anything in the world – and the benefits are numerous too! But more about that later.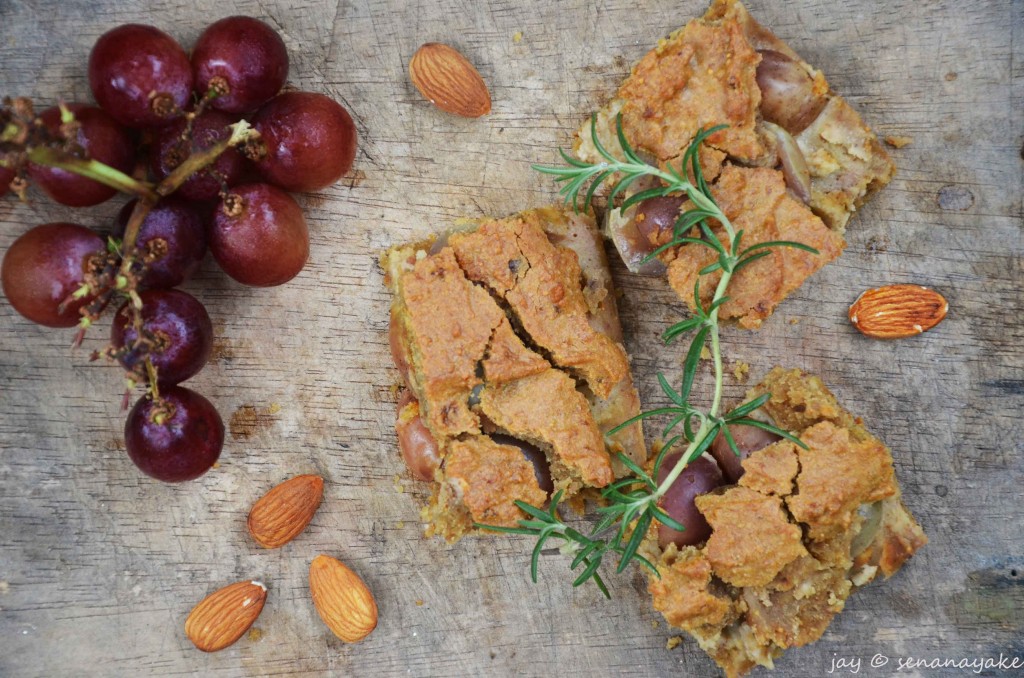 Olive oil & grape cake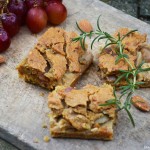 Prep Time : 20 minutes
Cook Time : 40 minutes
Yield :

20 Pieces
Instructions
Wash the grapes and dry them well on paper towels. If they are the big kind, halve them and take out the seeds. If seedless and small, use them as they are.
Beat the eggs together until thick and frothy. Add the honey, milk, rosemary and lime rind. Slowly trickle in olive oil. Combine until it becomes thick.
Add in the ground almond and then the flour. Combine well.
Add half the mixture to a prepared baking tin. Bake for 15 minutes. Take off the oven and lay the halved grapes to fully cover it. Pour the rest of the mixture on top of it.
Bake for about 40 minutes on 200C until a skewer inserted into the middle comes out clean.
Special note – be careful when flipping the cake out of the pan. Since the grapes in the middle are not quite set, when flipping out the cake there is a tendency to break.
Print
Softly fragranced with rosemary and lime with juicy, succulent grapes in the middle, this is a light and healthy cake that is even ideal for breakfast! The soft, light dough is pierced through with the zesty lime and lifted by the fragrant rosemary with a hint of honey coming from within. The grapes inside had been cooked to a soft consistency and yet holds the shape, only to burst forth in full flavour – a caramelized sweet and sour explosion in your mouth. The almonds make their presence known with their nutty and grounded nuances while the olive oil coats them all in a herb-like embrace that is green, lively and carries you off to a quaint Italian countryside and sends smooth Italian music, a pastoral divertimento tinkling in the background of your mind.
This is really a healthy cake, more of a bread even, made with all natural ingredients. You can almost taste the healthiness here, and it all sings like a beautiful melody. So here's a sweet something that is guilty-free, although sweet it is not too overpowering either and is delicious and complex in its many shades and hues. Really, you should just try it out.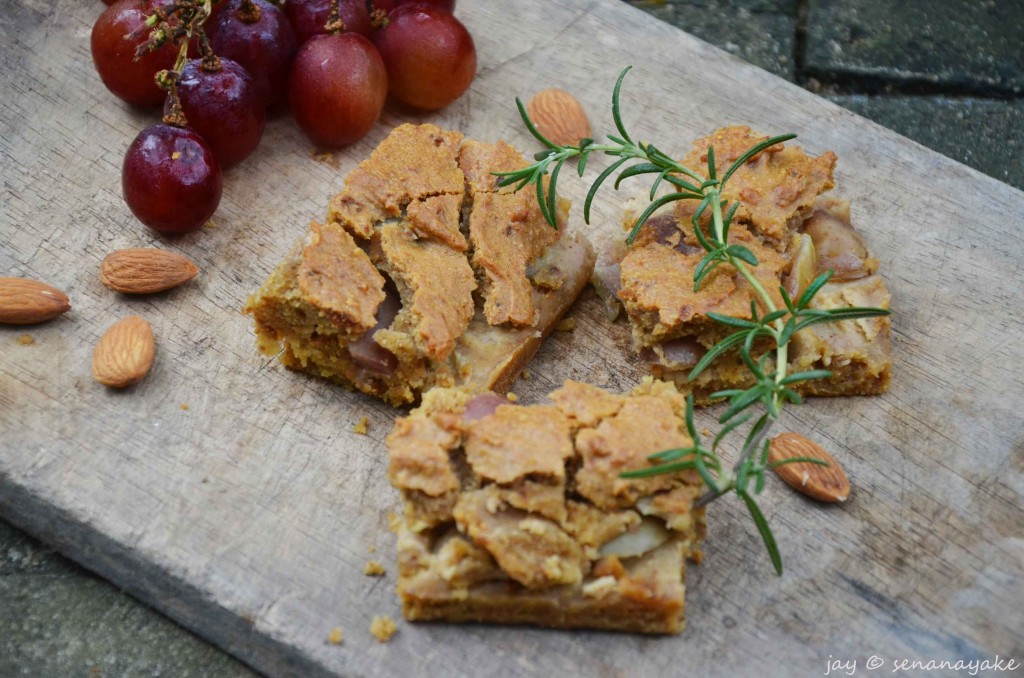 Cooking tips
Use a grape that is flavourful. Something on the sour side would be best.
Wash the grapes well. Place them in a colander to drain the water. Do not squash them. It is important that they remain firm.
When grinding the almonds, I don't grind them to fine powder. I like mine to have some pieces so that it is pleasant to bite into.
For a gluten-free option, try a combination of rice flour and corn flour. I tried with chickpea flour too and although I am quite pleased with it, it becomes a bit crumbly and is not as light as it is with wholegrain flour.