'Tis not only the season to be jolly, 'tis the season of utter and absolute decadence as well!
Decided to go with yet another sweet treat for the Christmas table. Chocolate fudge. We won't be celebrating in the usual shamelessly ostentatious manner as the earlier years this time since we are mourning the bereavement of a dearly beloved but we will be comforting ourselves with food nevertheless.
So chocolate fudge. Not traditionally a Christmas treat but it embodies all that is Christmas (at least to me from a foodie point of view).
Being Buddhists we do not celebrate Christmas in the traditional sense. But we are still foodies and do not let up a chance to toast the occasion with good food. In any case, I have been blessed with parents who had always encouraged learning of other religions and cultures and we have always had a Christmas tree put up for Christmas and mother always cooks up a storm of Christmas goodies for the 25th which we enjoy with those who are closest to us. There was this box of Christmas decorations – filled with red, white and gold glistening tinsel, multicoloured baubles, bells, angels in various forms, stars and fairy lights. The opening of this box, stored away in a cupboard under the staircase opened just once a year was really an occasion that we wait with palpitations and fluttering hearts. Once opened there's this unique smell that wafts out of the box, followed by the jingling of the bells, the soft ruffling of the tinsel and the hollow thumping of baubles. Decorating the tree takes place on a designated time with the participation of all the members of the family and whoever friends that wanted to participate. It was always followed with food and drinks – sandwiches, Kraft cheese and crackers, homemade cutlets (no not the meat cut, this is type of a croquet) and assorted imported toffees and lozenges (they were all the rage those days and we get plenty of those in hampers) apple juice, Ribena, sherbet and sometimes, iced tea. Oh such happy times!
So now you understand why I associate Christmas (and December) with joy and happiness.
So chocolate fudge. It was my idea to add chocolate fudge to the usual table of Christmas cake, Love cake and Milk wine amongst other things. And it is a very good match! What's more, make more of these, put them in jam jars, tie it up with a pretty ribbon and there you have a perfectly cute Christmas gift to take with you when you visit your friends and relatives for Christmas. And it takes even less than half the effort of shopping for gifts!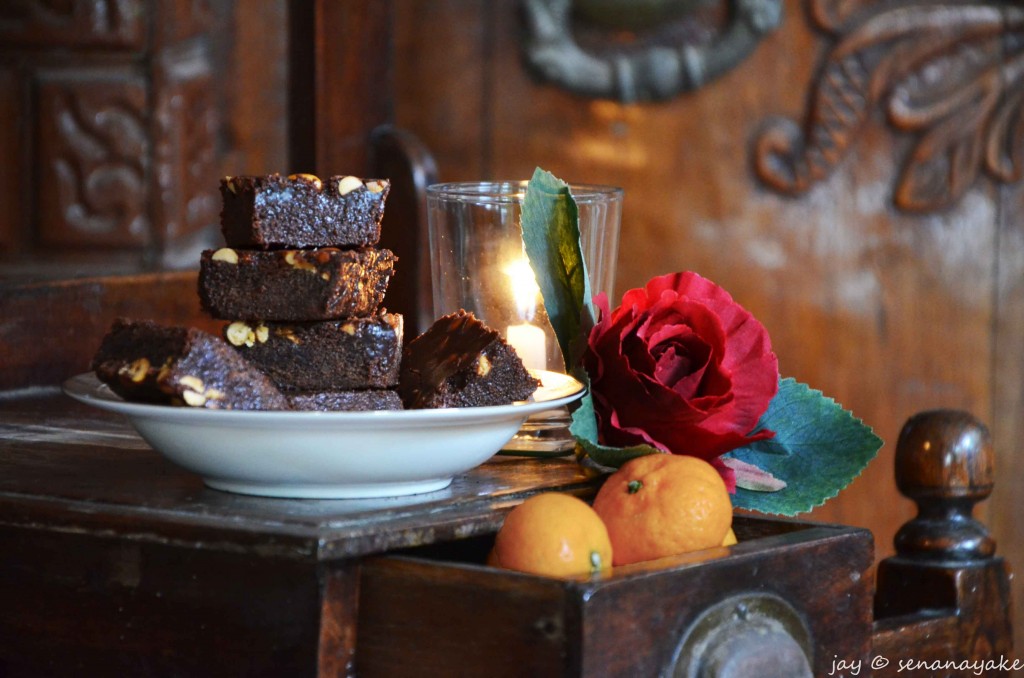 Chocolate fudge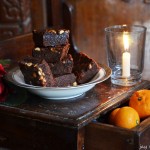 Prep Time : 5 minutes
Cook Time : 10 minutes
Yield :

20 pieces
Instructions
Break the chocolate into pieces and put it in a nonstick pan with butter and condensed milk. Heat over a low heat stirring constantly until the chocolate has melted and the mixture is smooth and satiny.
Sift in the sugar and the nuts. Mix well. Turn off heat and let it cool slightly.
Prepare a 3 inch deep tin, line it with cling film and slather butter over it. A 20cm square pan would do.
Pour the mixture into this. Let cool and refrigerate for about 3 hours. Cut into pieces and serve.
Print
For a more Christmassy look and feel, finish with some glitter or some silver or golden edible balls!
This is pure chocolate decadence. Yes, you may think that it's just chocolate but you can't be more mistaken. This fudge is more complex in flavour than you think. The butter is ever present there with a delightful creaminess and that burnt caramel flavour comes through the dark, deep richness of the chocolate. A smokey roasted nuttiness permeates through the entire thing, lent to the chocolate by the presence of the roasted nuts within. The texture is smooth and creamy and practically melt in the mouth with pieces of nut giving you that divine contrast of soft and crunchy. Frankly, you just can't stop at one piece. But if you do care about your weight, you probably should.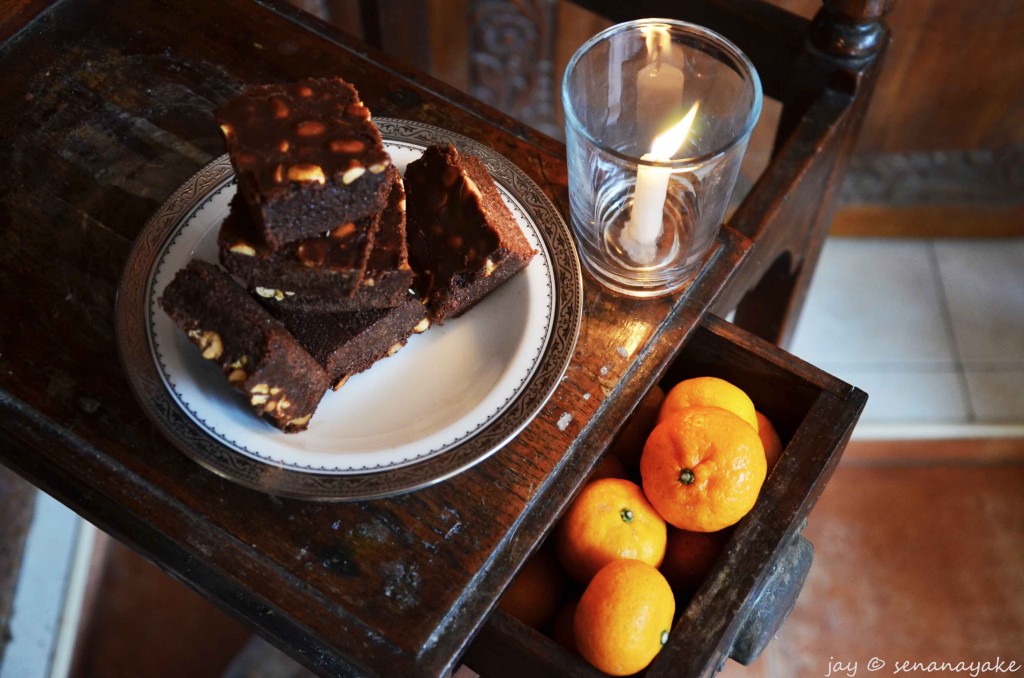 Cooking tips
Use a chocolate with 50% or higher cocoa content for the best results.
You can omit the nuts if you wish. It will be just as good but without the nuttiness of course.
Keep in the fridge. Since it is soft, the chocolate tends to melt under the temperature.