If ever there was guilt-free indulgence, this would be it.
Exotic, Middle Eastern, Arabian Nights. The first three words that came to my head upon taking the first bite. It's a lovely, lovely snack, if I may say so myself.
I love dates. A few dates with a glass of cold milk being my all-time favourite bounce-back snack, I thought, why not make dates into a snack while I am at it. This is wholesome, energizing and nutritious, ideal for quietening down those sugar cravings as well, minus the added sugar. This takes literally 5 minutes to prepare (that is if you get already pitted dates from the store). I derived this recipe, rather reinvented it as per my fancy, from the Indian date-based ghee sweet recipe (those who know me know how much I adore Indian ghee sweets), manipulating the ingredients and the processes as per my convenience and nutrition needs. I don't want the added calories and oil and hence, this.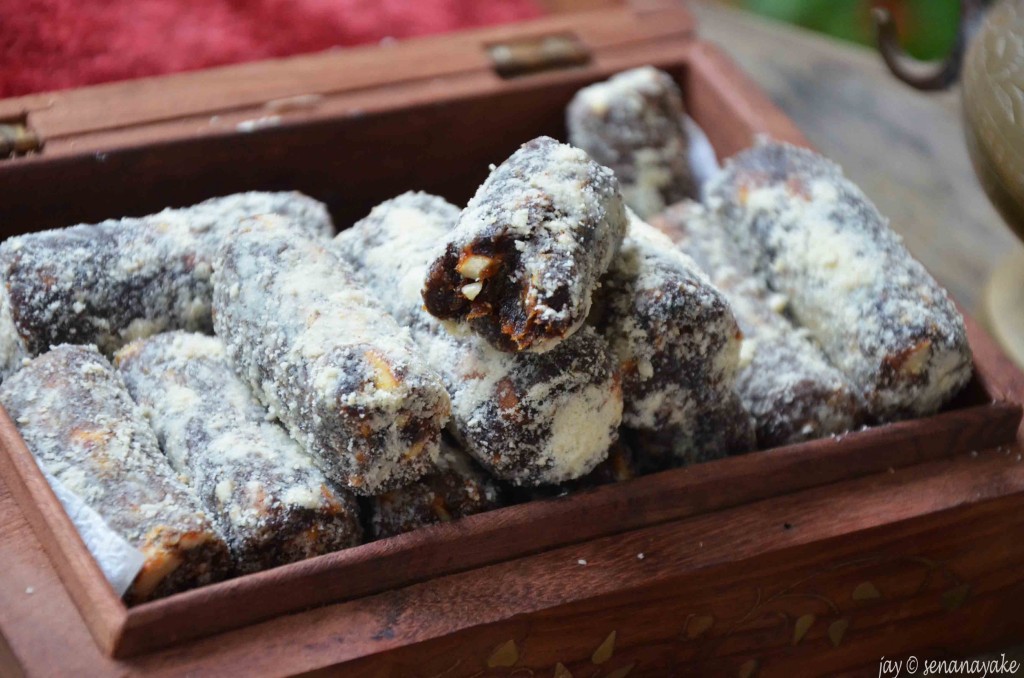 Ingredients
500g Dates (the soft, mushy kind)
250g Cashew nuts chopped
2tbsp Ghee (Clarified butter)
A pinch of Cinnamon powder
A pinch of black pepper
Method
Pit and chop the dates finely. Pulse it a few times in a food processor.
Oven roast 100g cashews and powder it in a grinder. Keep the powder aside.
Heat 1tbsp of ghee in a pan. Fry the rest of the chopped cashew nuts in ghee till golden. Remove the cashews from the pan.
In the same pan, heat 1tbsp ghee. Add the dates and sautee it for about 5 minutes over low heat.
Add to this the previously fried cashews, cinnamon and black pepper. Mix until combined well. Take off the heat.
When the date mixture has cooled, make rolls. (Make several long rolls of about 1/2cm diameter and cut this roll to 3cm pieces). Roll these rolls in the powdered cashew. Dust off excess and store in an airtight container.
You can keep this for about 2 weeks (or more) in room temperature.
Beautifully rich and moist, the flavours are dark, deep and satisfying. It's chewy and has that delightful mouth-filling quality to it. This is a serious snack, none of that flimsy, dainty airiness here. The sweetness is tempered beautifully by the cinnamon which gives it a glowing, all-encompassing warmth while the pepper gives it heat, piercing through the richness of it all. Oh the cashews! Wonderfully crunchy with a curiously creamy quality quality to it which complements the richness of the dates perfectly. I reckon if they were humans, they would be great friends. And all this is enveloped by the creamy smokiness of the ghee and it's oh-so-marvelously exotic!
The great thing about this is, once you make it, you can keep it for eons (well ok, maybe not eons) and it does not spoil! And while you are tempted to gobble down a biscuit or two, you could easily reach for one of these and your munchies would be satiated for a great while afterwards. For me, this is the ideal. And dare I say, it can even replace chocolate? (Yes, I said it!)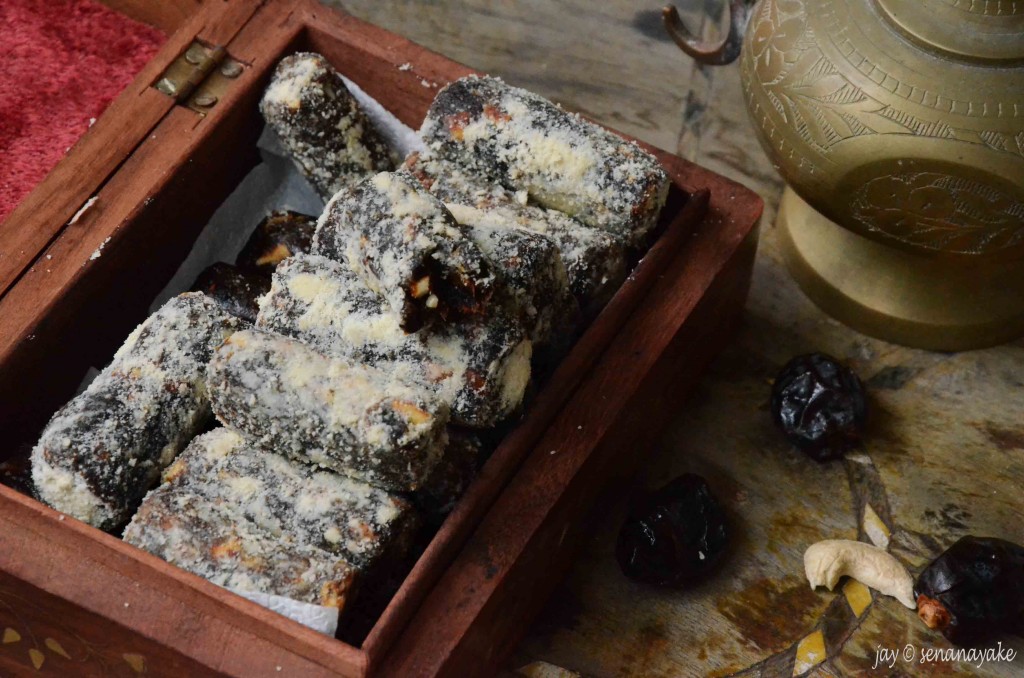 Useful Tips
Get the mushy, moist dates. They give the date rolls that necessary stickiness and chewy texture whereas the dried ones really don't.
If you find the date mixture to be a bit too dry, add a spoon or two condensed milk to the mixture. Although this would tamper with the all-natural, healthfulness of the dish but would add another dimension of flavour.
You can omit the pepper and cinnamon altogether if you wish so. Also, dried chili flakes or a pinch of chili powder is also a good alternative for the pepper.
If the date mixture is too sticky and tends to stick to your hands while rolling it, add some of that ground cashew nut into the mixture. Alternatively, you can scatter some ground cashew onto your working surface and make the rolls on that to avoid sticking.