With so much of junk food around playing the devil with our senses with temptation, it's takes an extra effort to stay healthy these days. Although trying to stick to a healthy diet, the occasional slice (or half the entire thing) of pizza, a stray hamburger, various pastries and Chinese rolls wander their way towards my mouth occasionally (well more than just occasionally *blush*). It's even worse at home. It's just scandalous how all kinds of cookies, murukku, sweets and fried stuff and constantly munched! Although often homemade, the amount of sugar, butter and oil in these things always worried me. So this was a humble attempt on my part to create something that doesn't make me regret eating it afterwards – healthy oatmeal cookies. To be quite honest I wasn't quite sure how this would turn out – but what I churned out was pretty darn amazing, if I may say so myself.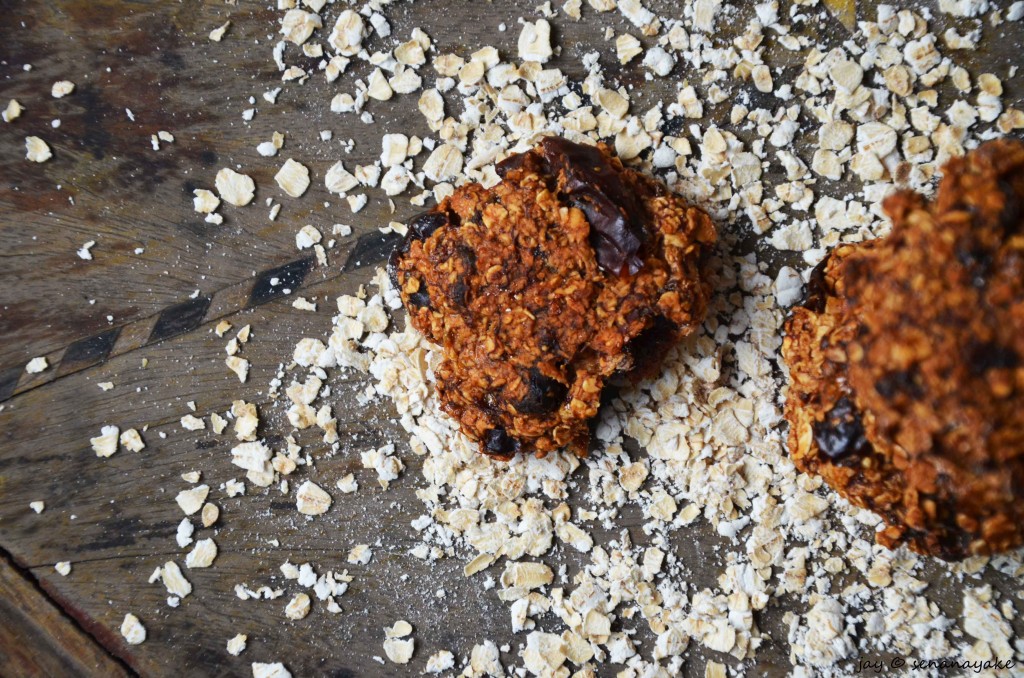 Banana oatmeal cookies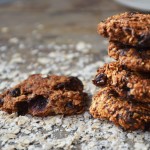 Prep Time : 5 minutes
Cook Time : 20 minutes
Yield :

16 medium cookies
Instructions
Combine everything in a bowl. Grease a baking tray.
Drop spoonfuls of the batter on to the baking tray. Flatten with the back of spoon.
Bake on moderate heat for 20 minutes.
Print
And you've got thick, juicy and quite filling cookies!
Crispy around the edges, moist and cakey in the middle, once you bite into these healthy oatmeal cookies you are biting into a banana-honeyed slab of pure goodness. The chewy dates will provide delightful bursts of extra sweetness, contributing to the honey-banana with their special caramely flavour. This cookie is quite a mouthful and will satiate your sugar cravings and your hunger pangs, without compromising your diet plan at all!
Add to this my famous toss everything together and toss it in the oven method. This is every lazy health freak's dream come true.
It doesn't get any cooler than that!
Cooking tips
If you are absolutely insistent on the no-sugar factor, you can avoid the honey altogether. The banana and dates together provide enough sweetness for the not so sweet-toothed. Similarly for the sweet-toothed, increase the honey if you wish by all means!
If you are not too fond of honey, you can use brown sugar instead.
Use a sour type of banana if you are not too much into the whole banana-sweetness thing. I use ambul most of the time.