I have a prettiness for you this Christmas :)
For all of you craving for something other than the traditional tastes of fruit cake, Christmas pudding and the like, this star-studded cake is for you.
It's star fruit season. And our star fruit trees are heavy with gleaming green-gold fruit :)
Star fruit, or as we Sri Lankans call it, Kamaranka is a fruit that is locally grown and has a taste profile that is both sweet and sour. Once in season, it bears so much fruit than you know what to do with. Which is what has happened to us now.
So the cake.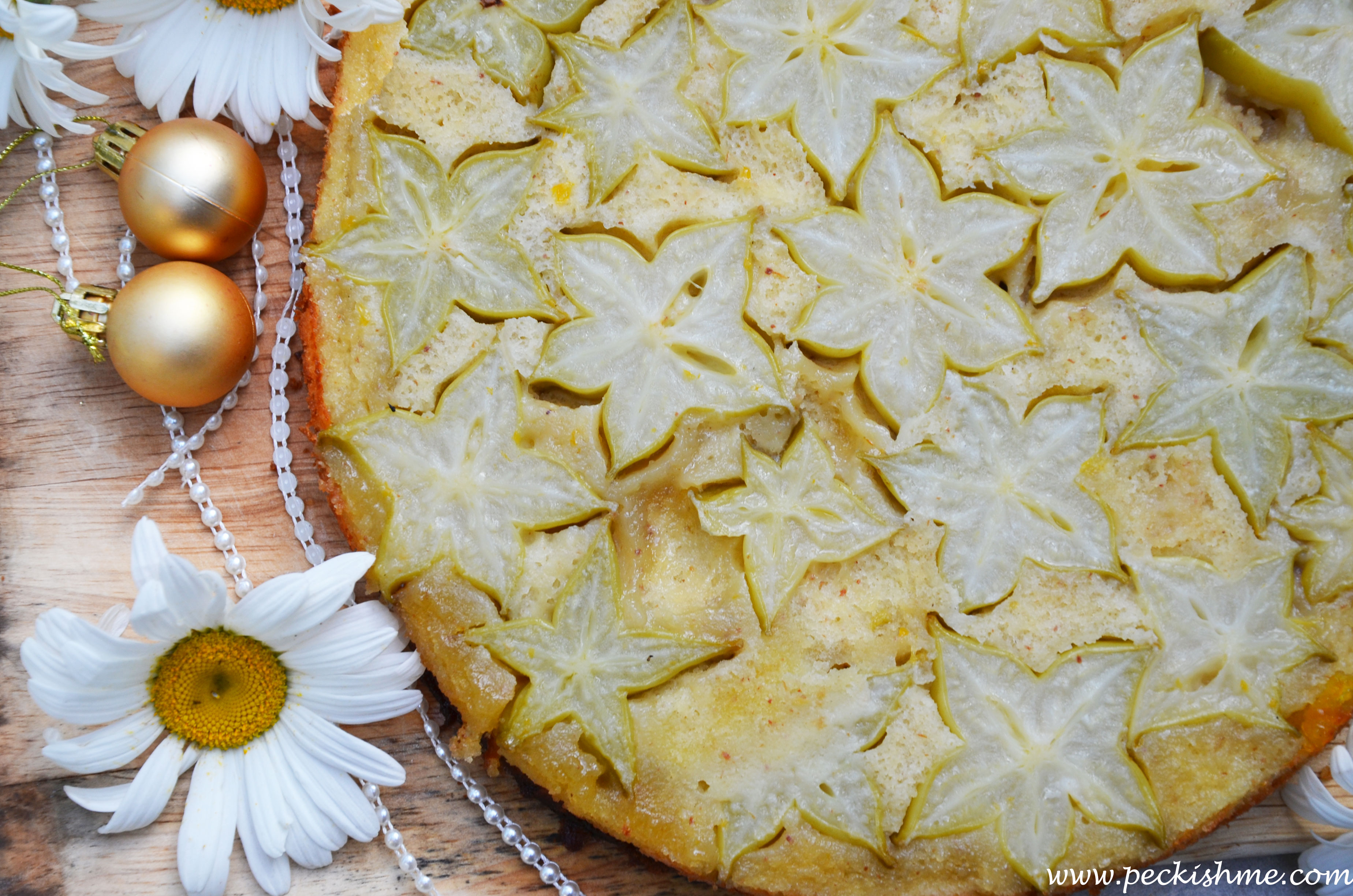 The star fruit upside down cake can be served as dessert with a dollop of cream or with ice cream. It can be served to guests for tea, whatever you like. It's light, moist texture and mild sweet taste allows it to be used either way and I am completely in love with this cake.
Side note – the cake was over within a day.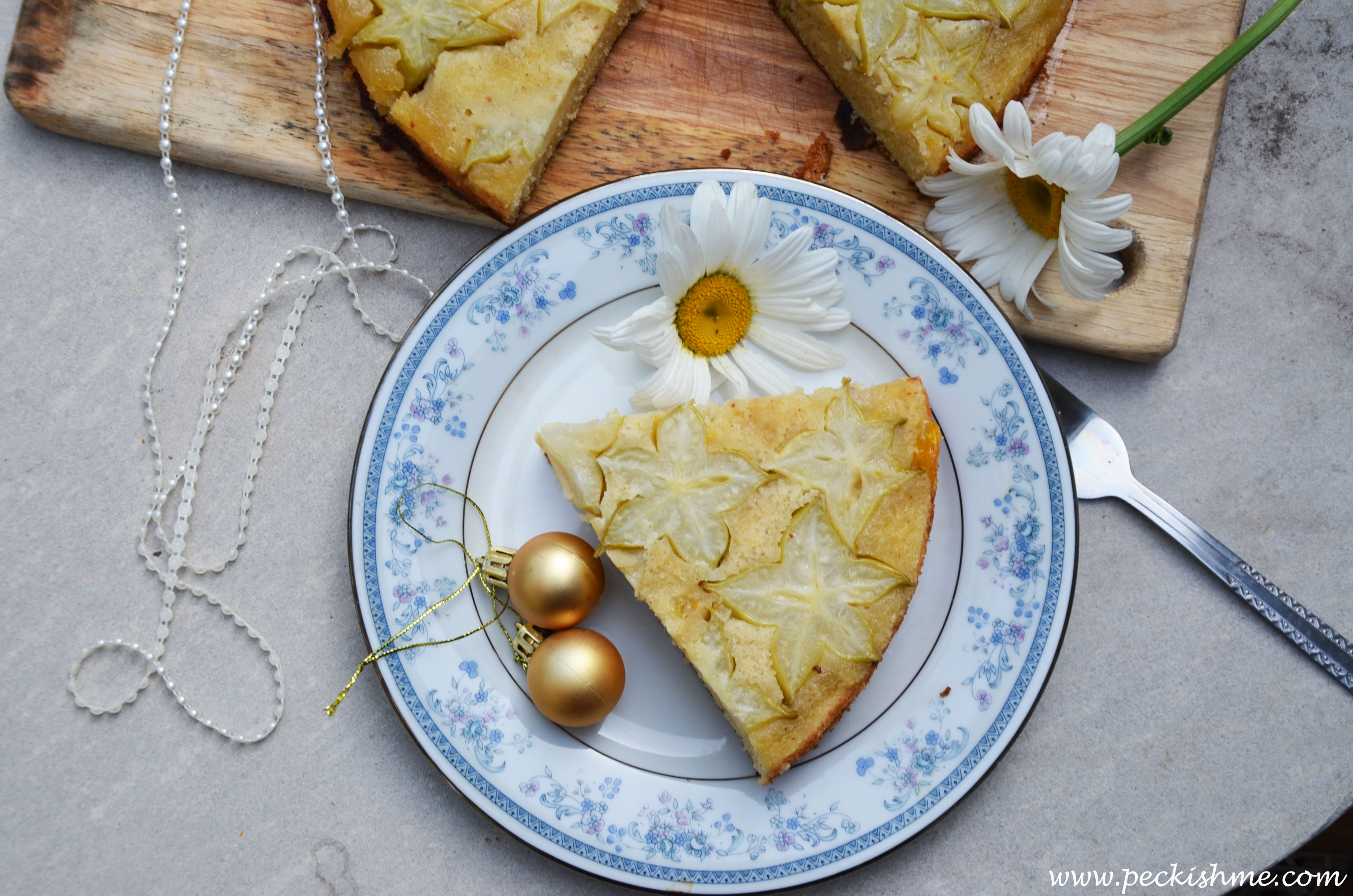 Yield: 8 servings
Prep Time: 20 minutes
Cook Time: 20 minutes
Serving: 8 servings
Print
Star fruit upside down cake
Ingredients
Instructions
Preparing the pan
Melt butter, brown sugar, lime juice (or rum) on medium – low heat over a stove stop until the sugar is melted and the mixture caramelizes. If you have added alcohol, heat on low.
Pour the caramel to the bottom of the cake pan. Once cooked, arrange the star fruit on top of that. Best crowd it together as the fruit tends to shrink as it cooks.
Making the cake
Beat together the butter and the sugar. Add to this the eggs. Beat until light and fluffy.
Add in the yogurt and the vanilla. Once mixed, add in the flour and the baking powder.
Pour in the batter over the star fruit and smooth it over. Bake at 250C for 15 -20 minutes until a skewer inserted in the middle comes out clean.
Once the cake is cooled, carefully turn it upside down and remove from pan.
The syrupy star-studded top will be beautifully caramelized and will remind you instantly of Christmas what with the stars delicately glinting at you invitingly. The insides are soft and fluffy, its texture light and pleasing reminding you of steamed cheesecake rather than humble vanilla cake in which its base is made. The star fruits on top are tangy and sweet, dancing tango with the vanilla notes, complementing, contrasting its pear-like texture with the soft sponge of the cake. It's mild, it's inoffensive, it's beautifully feminine, its subtle elegant grace outwitting anything that seems excessive or sterile. This is just proof that you don't need fancy icing frills or decadent chocolate fudge to drop the jaws of a roomful of people at a single strike.
Try it this Christmas and see how it changes your perception of what Christmas food should be. Your guests will definitely be floored.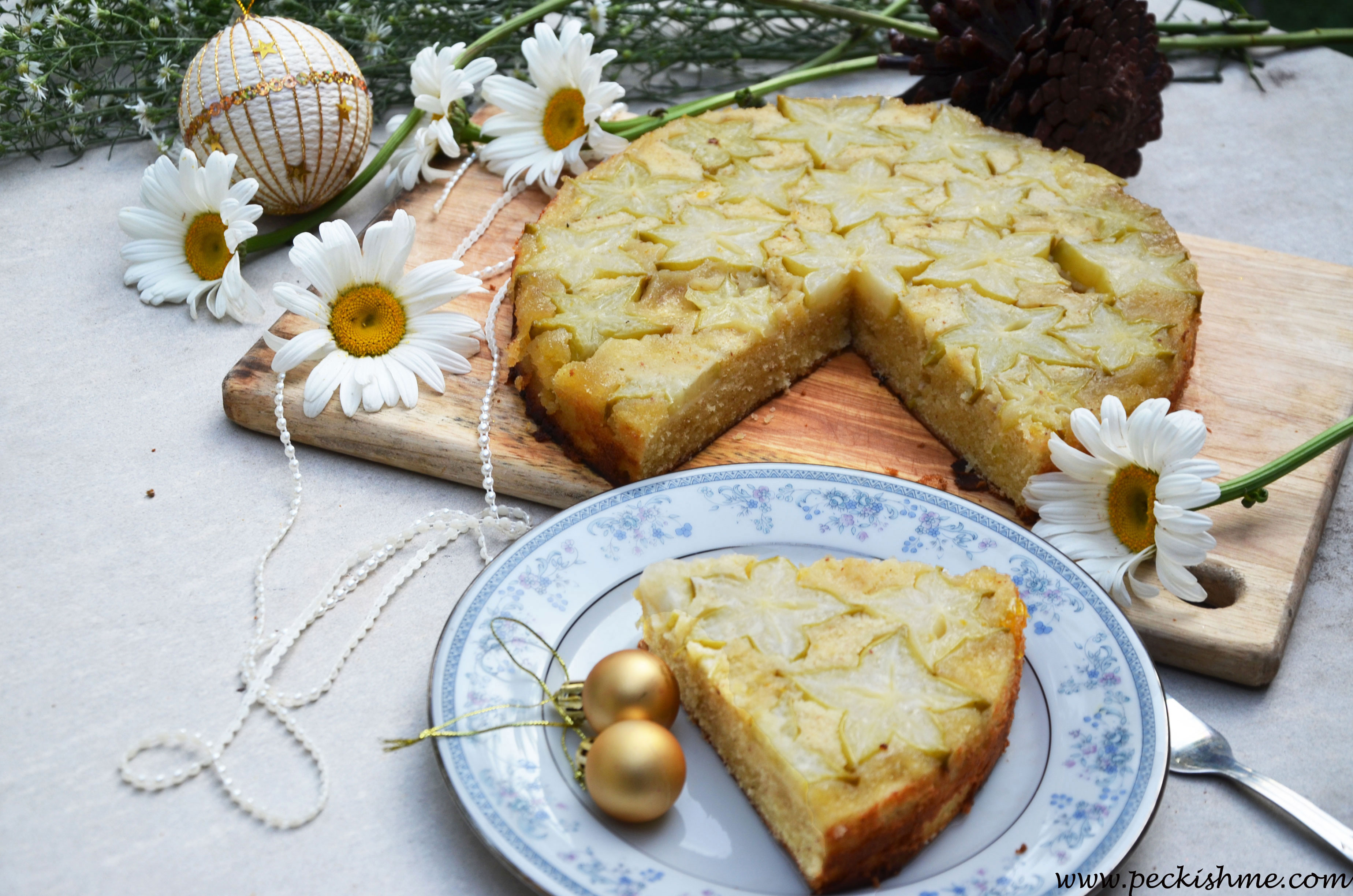 Baking tips
How much of star fruit is used is entirely up to you. I used a 9 inch baking pan and needed more than 5 large star fruits to cover the base. How many you use is entirely up to you.
I would recommend using a bottom-detachable baking pan for good measure. This would enable you to slide the cake out without disturbing it too much.
Wait until the cake has cooled to remove it from the pan. This will stop it from breaking or crumbling.