Yara Galle Fort
Galle Fort – one of my favorite places to be, period. There has always been something that attracts me to this place, something so ancient yet so beautiful that I keep coming back to over and over again. I've always been attracted to old places, places with stories to tell, histories to weep over and secrets enshrined within.  It is on one of these visits that I happened to stumble on the Fortyard Cafe & Restaurant.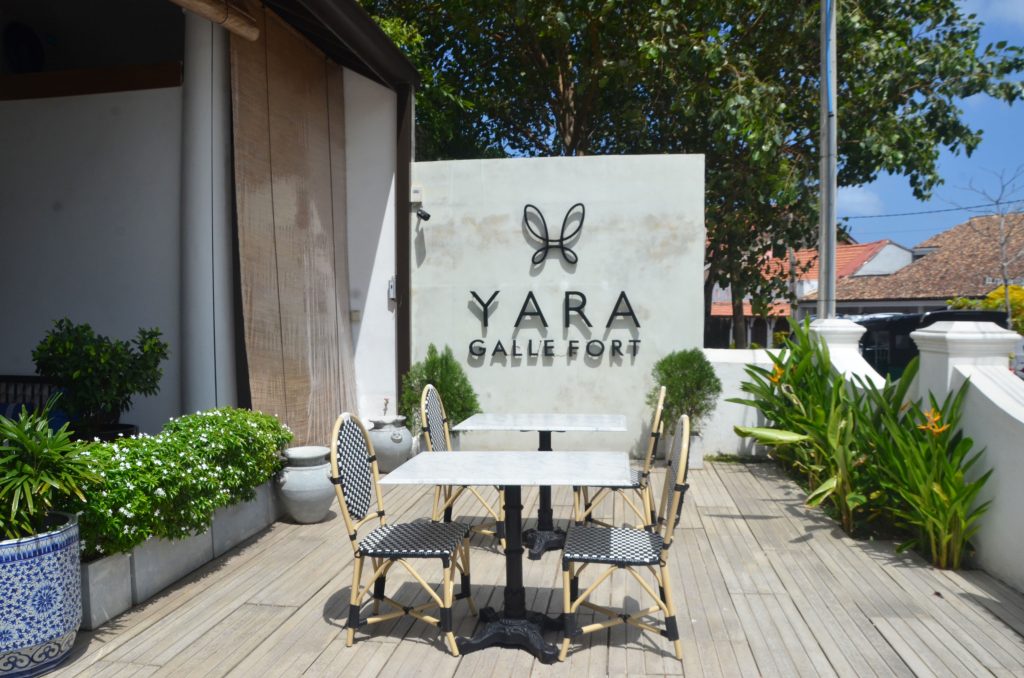 Located on Middle Street, this charming little boutique hotel is not so hard to find. The place is relatively new yet encompasses all the old world charm that the Galle Fort is acclaimed the world over for. The Fort Yard Café is its dining venue which offers both in house dining and outside dining, both of which are commendable options as outside dining offers you the chance to enjoy the sea breeze and the overall Galle Fort aura while the inside dining offers you a chance to get overwhelmed by the amazing interiors and the relaxing ambiance.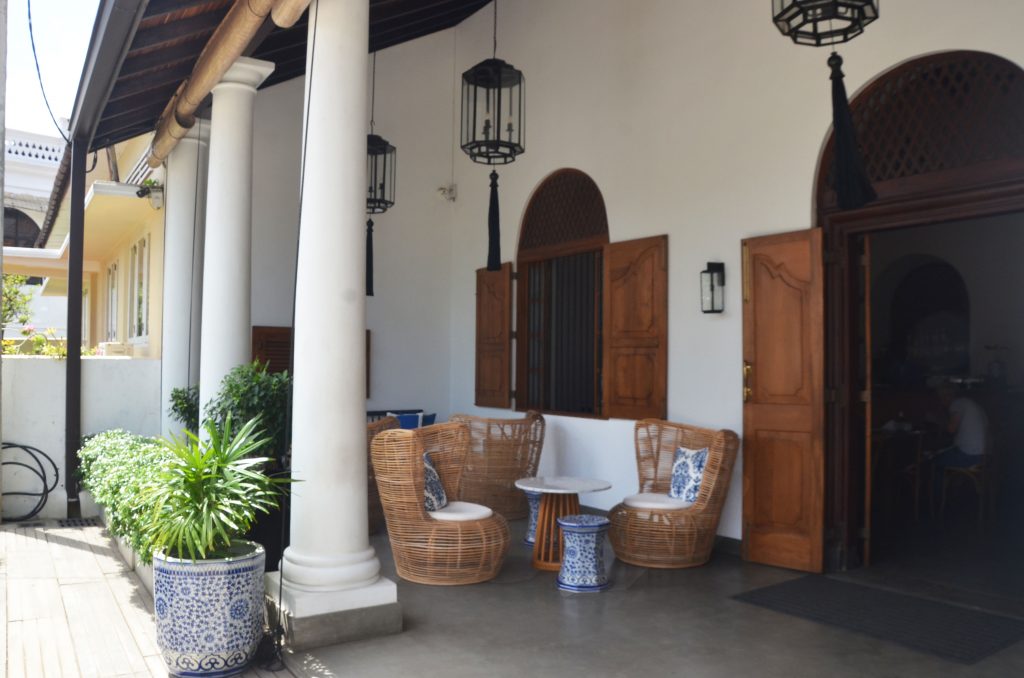 Let's get to the food, shall we?
The seafood chowder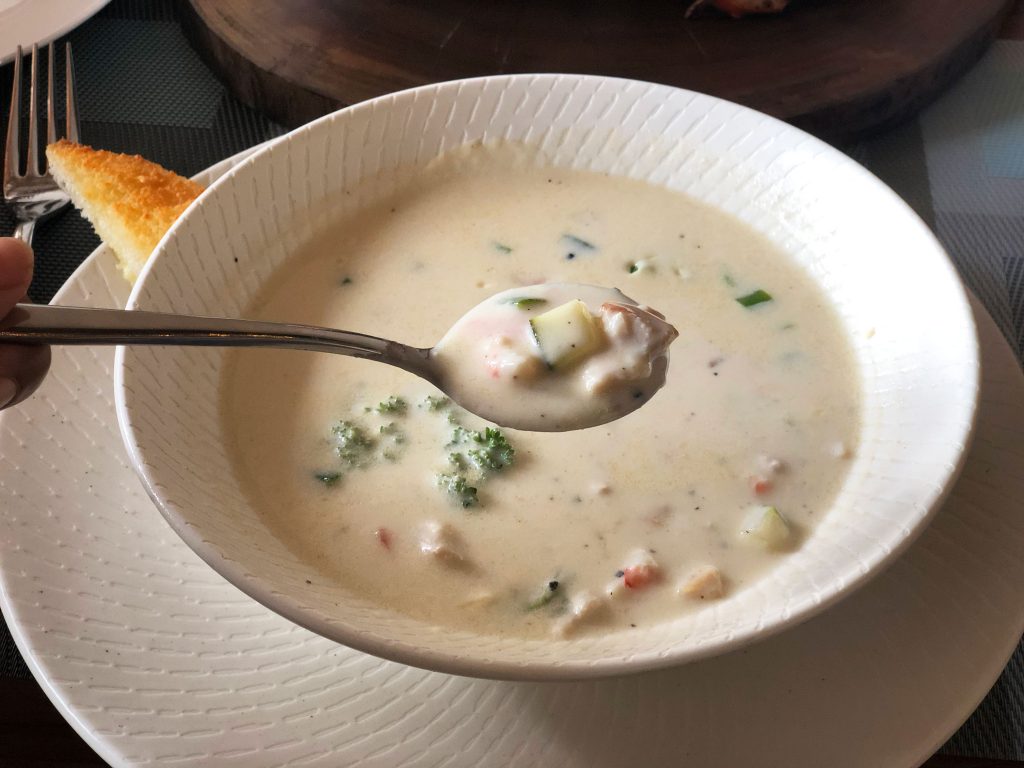 A beautifully silky, filling starter to a wonderful meal. This creamy chowder had loads of seafood (I detected a lot of shrimp, calamari and fish), crunchy bits of veggie and a fair bit of herbs in it which gave it heaps of flavor. I especially loved the play on textures – the velvet sumptuousness of the broth, the bite of the veggies and the massive chomp of the seafood really added to the overall feel of it. Not to mention that big punch of flavor! I was sold at the first slurp. Served alongside a crisp piece of garlic bread, I ended up practically licking it off the bowl. So good!
Let's get to the food, shall we?
The seafood platter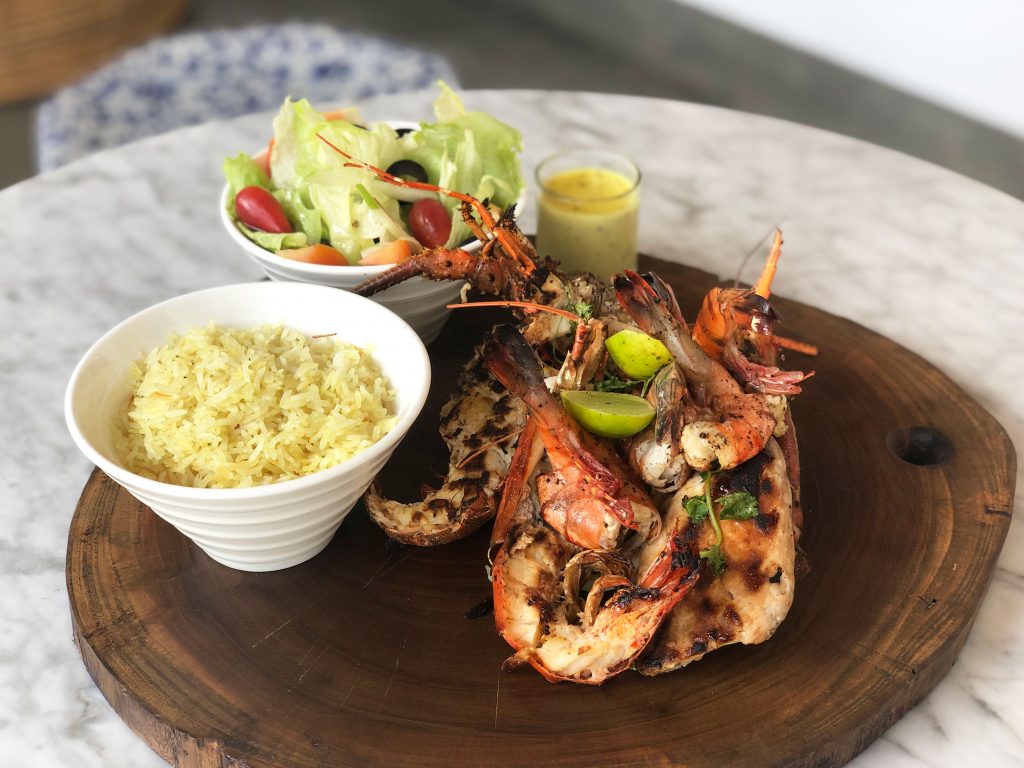 This was a lovely surprise. I got two lobsters, a generous portion of prawns, a chunk of grilled fish and a portion of calamari rings served alongside a savory rice and a massive portion of fresh salad. I loved the flavor on the prawns but the calamari rings were a little chewy and I like my calamari to melt like butter at first bite. The lobsters were nice and meaty but one of them was slightly dry, possibly from sitting out for too long which was completely my fault. I did enjoy them very much though. The flavors were simple and clean and I loved the fact that it was the seafood that really sang through, not being overpowered by too much of spice. Right on point and finger-licking good! And for the price, completely and totally worth it. I'm looking forward to ordering it again on my next visit to Galle!
The prawn biriyani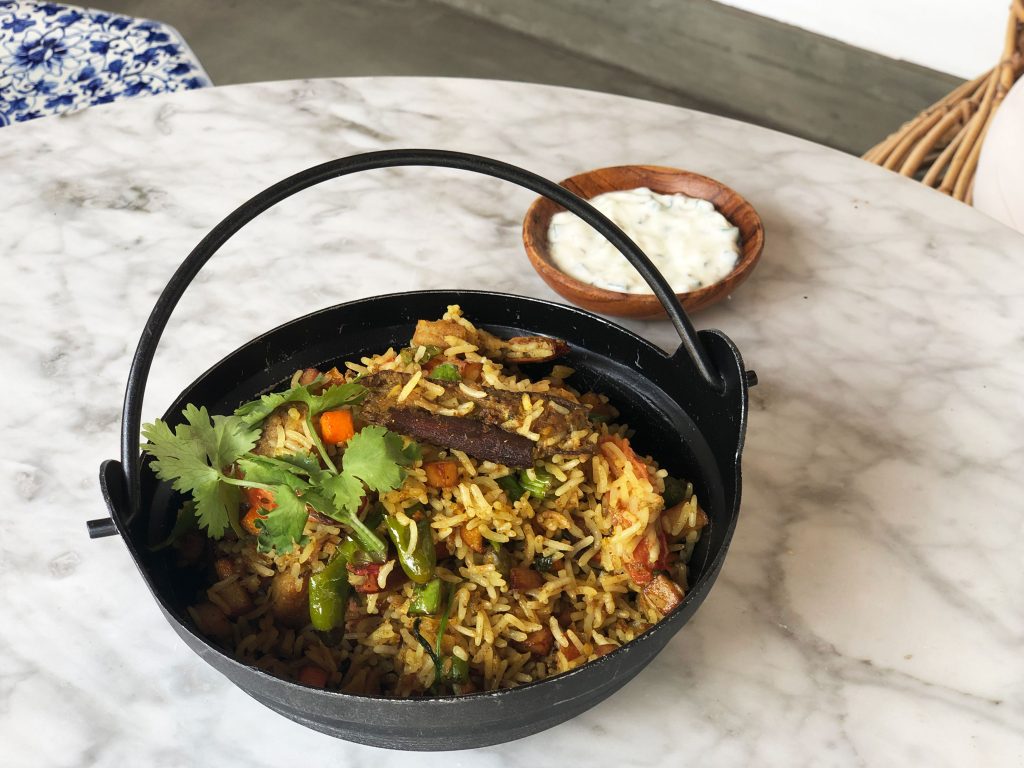 This was truly a treat. Intensely flavored rice rich with aromatic spices and plenty of coriander leaf giving it that extra green kick, the biriyani consisted of pillowy long grain rice studded with plump, richly flavored prawns. It was a very generous portion with rice-to-prawn ratio perfectly balanced. By the time this arrived I was properly stuffed but that didn't stop me from polishing it right off the plate. I was told that it was a Yara Galle Fort special and it truly was.
The Yara Galle Fort fish ambul thiyal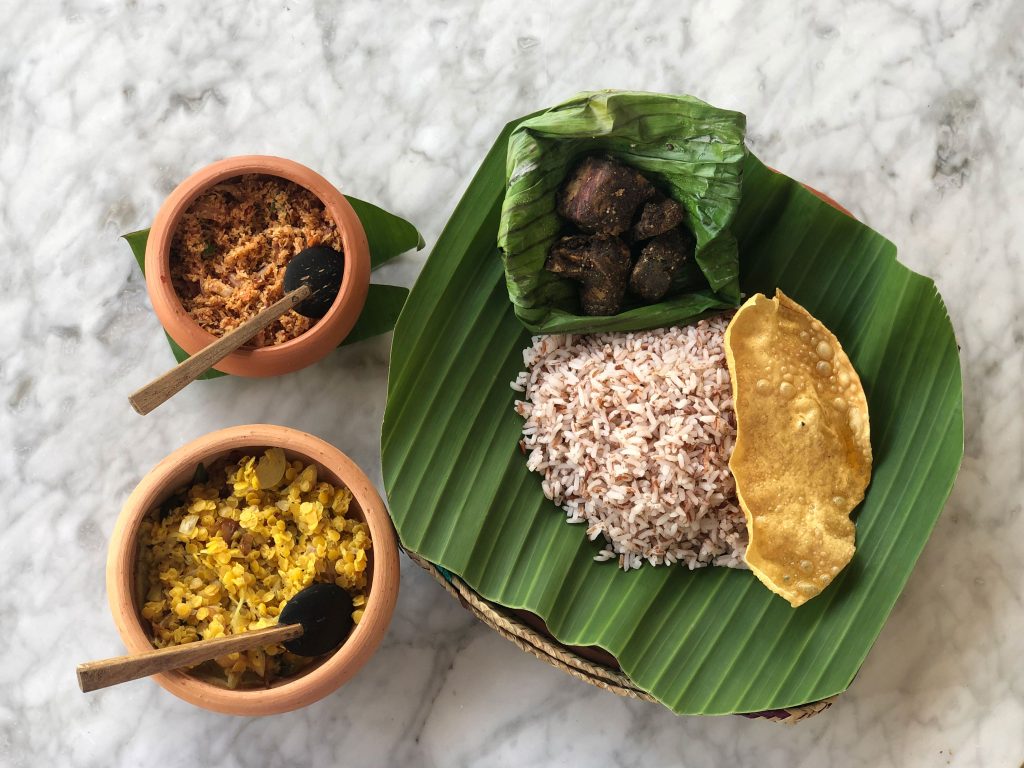 Ah that ambul thiyal, dhal curry and pol sambol combo! Absolute classic! For those craving for a spot of authentic Sri Lankan, this is the real deal. The ambul thiyal is prepared with all the traditional spices and condiments and wrapped in a banana leaf and baked so that it imparts that very special flavor (banana leaf wrapped rice packets anyone?)that we Sri Lankans so love. All this is served alongside a portion of warm red rice – nutrition and taste. Who can say no?
The sticky date cake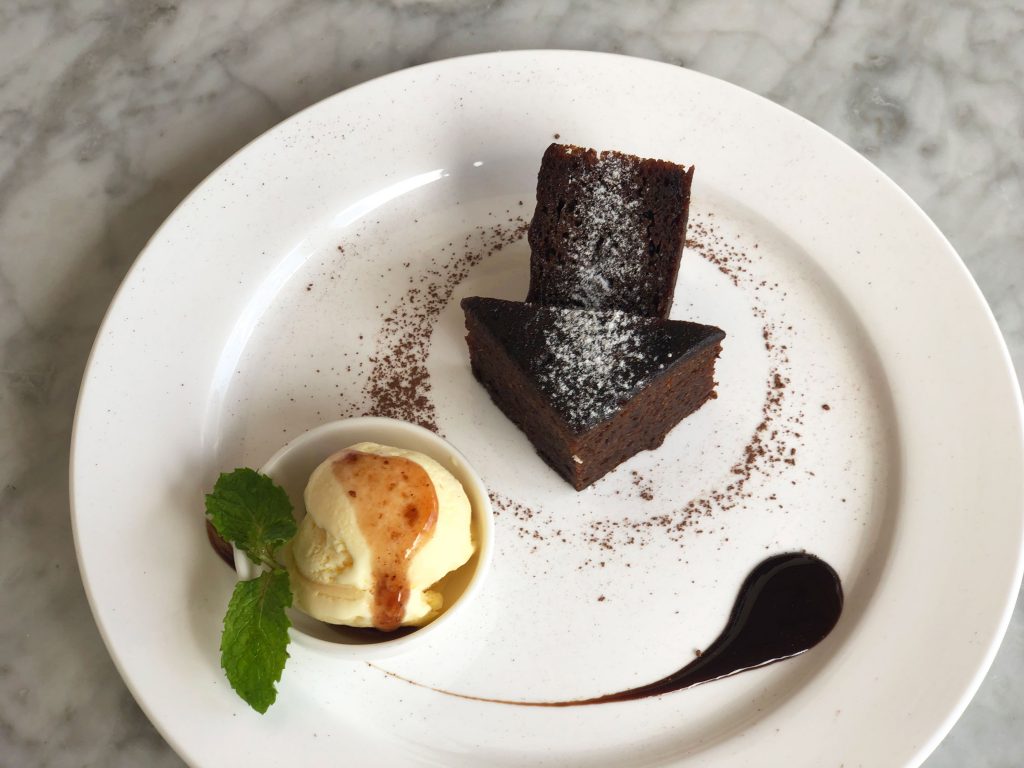 We finished the meal with the Yara Galle Fort special date cake – a choice that we didn't regret. The cake was served alongside a scoop of vanilla ice cream which served the dessert well but the cake itself was super moist and extremely rich that the cake itself would have been enough. Ah but this is no ordinary date cake – it had a certain refined elegance to it, something that you couldn't quite pinpoint and despite us being too full at the time the date cake arrived, we ended up polishing up the entire thing. And it was quite a hefty portion too.
The breakfast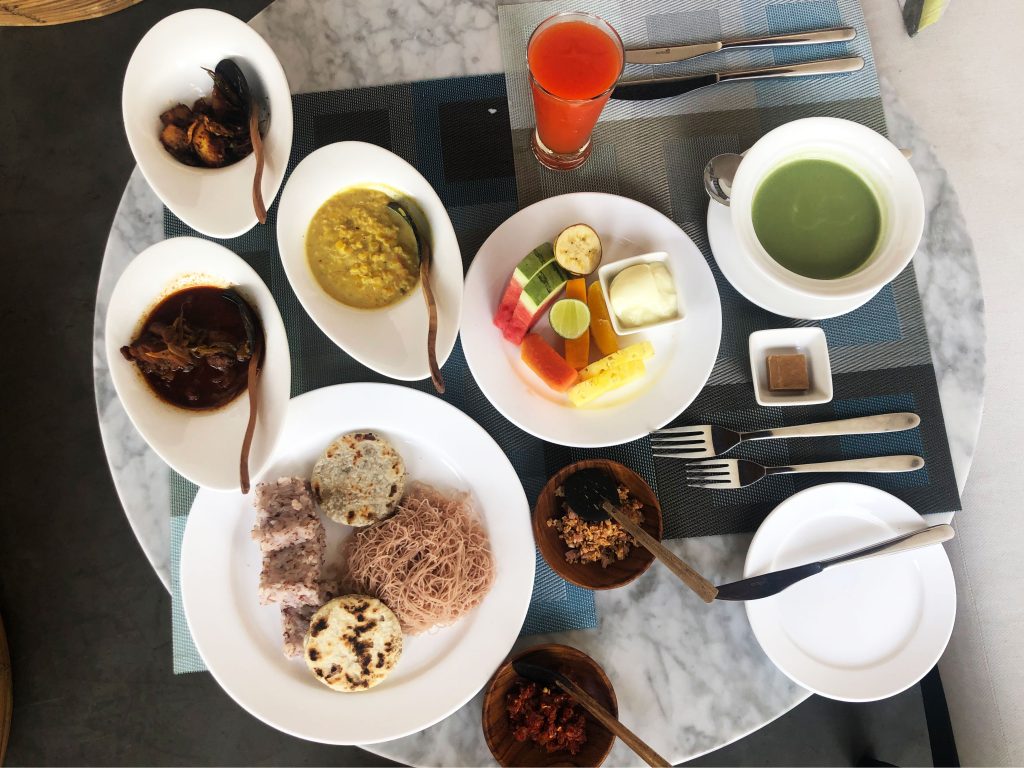 My breakfast was a feast. I opted for the Sri Lankan option which included two mini coconut roti, a few pieces of kiribath and red string hoppers. This was served alongside a wonderful chicken curry, a creamy dhal curry, pol sambol, lunumiris and a lovely tempered potato. I was also served herbal broth with a piece of milk toffee, papaya juice, a platter of freshly cut fruit and also a choice of tea or coffee. I'm sure you've heard the term that breakfast should be had like a king. And this was truly a breakfast fit for an empress.
The service
I need to specially mention the service of this place. The staff is absolutely amazing who will shower you with attention and care when you need it but they are also well versed in the art of being nonintrusive when you simply want to be alone. They are extremely knowledgeable about the menu items and would not hesitate to go the extra mile at any given time. Our time at the Fort Yard Café was indeed pleasurable and they are the ones who made us feel right at home from the very start. A standing ovation for the wonderful folk and their customer care which couldn't be any better really.
If you're taking a stroll around the Galle Fort, the Fort Yard Cafe & Restaurant is definitely something that you should take a look at. I'd say go for the seafood items. And the guarantee is that the folk there will make you feel right at home.