On a day out with myself, it was on a whim that I decided to revisit the Echo Restaurant at Cinnamon Grand, one of the more popular Italian restaurants in Colombo just a few weeks back. It was on the spur of the moment decision that was made out of convenience rather than choice, and I must say that I wasn't disappointed by my decision.
Ambiance
I went for lunch around 12.30 PM and the restaurant was deserted. I made a point to call beforehand and reserve a place for myself and the table reserved for me gave a somewhat limited view of the Galle road and I suspect, was the choice cut of the tables in the restaurant. However, since I was at liberty to move myself around as I wished as there was no one else in the restaurant, I chose a quiet corner for myself where I could leisurely read my book and enjoy my meal, only a table away from what was originally reserved for myself.
The ambiance on the whole was relaxing and I could see right away that in the evening, it would make the ideal venue for a romantic rendez-vous with its dimmed lighting, plush comfortable seats and soft played music. There was nothing uniquely Italian about it, but nevertheless it was elegant and laidback and there was nothing to complain about. However, I felt that it could be improved a bit more in terms of its 'Italianness' what with it being branded as one of Colombo's finest Italian restaurants and all.
Menu & Service
As soon as I got seated, I was presented with the wine menu, an extensive one at that, which also included some fine Chilean wine (I forget which now but I vaguely remember a Malbec being there. I could be wrong though!). I was tempted and the server seemed determined to offer me a glass of wine as well, but in the end I controlled myself and opted for a non-alcoholic cocktail (as non-Italian as it was as Italians) instead.
The waiter who served me was somewhat cold and lacking in the smiles department but was courteous nevertheless. The staff was fussing over me like a group of Mother Hens and I was quite enjoying the attention. The restaurant manager dropped by and we exchanged pleasantries and so did most of the staff which I think was a sign of attentive customer care. I asked the waiter who served me about the dishes in the menu and he seemed to have a good knowledge about it which was definitely a plus point.
Each dish was cleared up promptly, with a respectful time period between me putting down my cutlery and getting ready for the next course. The dishes followed each other in a perfect flow, not missing a beat which was quite impressive. The waiters did not hover – they stood at a respectful distance minding their own business and this was remarkable given that I was the only customer in the restaurant at the time. But whenever I needed their attention, it was very easy to catch their eye and summon them over, so kudos to the staff.
The food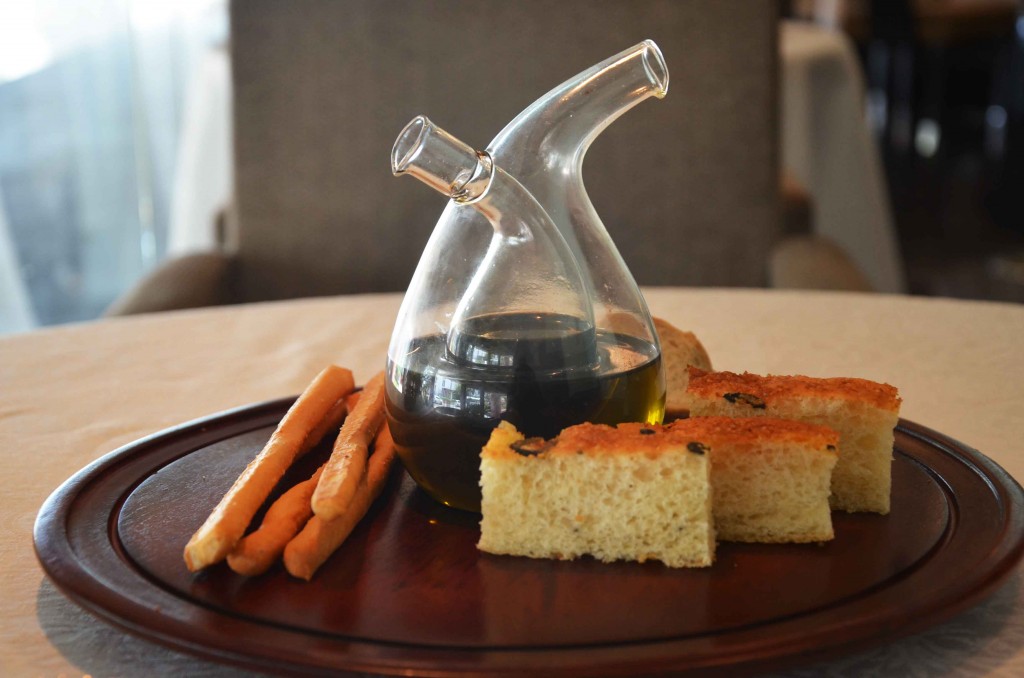 I shall start with the obvious – the bread.
I received a quite generous portion of bread, rather a bread board – crispy and crunchy breadsticks, some kind of an Italian olive bread which was lovely and light and a plain baguette of sorts which was sliced. Now I know that Italians do not serve bread before a meal as it really serves no purpose and only fills you up for the rest of the meal. But give me a basket of bread anywhere and you have a very happy girl. And I know how to keep it to a minimum so that I won't fill up, so no issues there.
The bread board arrived with a lovely glass tumbler (a two in one beaker sort) with olive oil and balsamic vinegar. Now despite the violation of the golden Italian rule of not serving bread and then not serving bread with olive oil, I was glad to see that they served the oil and the vinegar in an easy to use beaker with a small spout that allows you to pour the oil and the vinegar right on top of the bread instead of a bowl of olive oil in which you have to dip the bread in – a very American habit at which an Italian would stare at you in horror. The combination is, needless to say delicious and it is no wonder that the world has lapped up the habit and has not let go if it since. I was glad for the side plate which allowed me to place the bread on it and pour the oil on top. But it would have been nicer if the bread had been warm and toasty.
Antipasto –   Octopus carpaccio – Rs 1500/-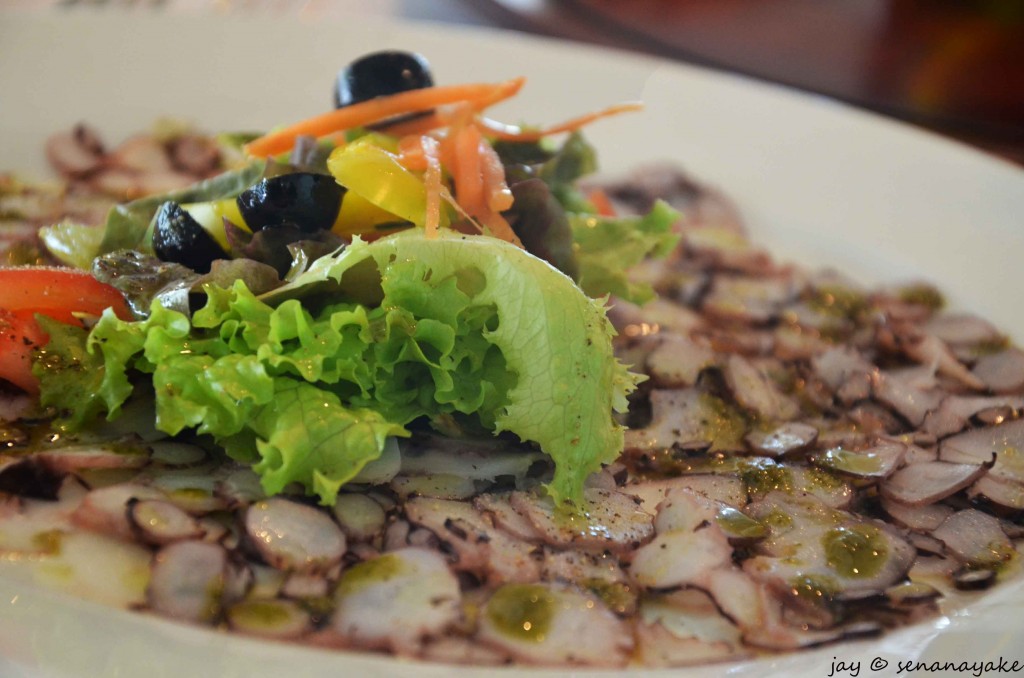 I was torn between antipasti and was contemplating between Instalata Echo, a Salade Nicoise of sorts and something else 'more Italian' and didn't quite know what to get. When I explained my dilemma to the waiter he suggested the Beef carpaccio of Australian tenderloin which I was not too keen on after which he suggested the Octopus carpaccio seeing as I have fixated my intent on the seafood risotto as my main. I received a large plate of thinly sliced octopus, served with some thinly sliced vegetables, olives and few shards of lettuce. It was drizzled over with a dressing made up of olive oil and something else pleasantly tart. One of the waiters came over and asked whether I would like a some fresh pepper ground over my antipasto to which I said yes please. And so my antipasto was served.
It was fresh – no doubt about it and quite generous and a work of art on the eye. The octopus was chewy but not in an unpleasant way and tasted of the sea which was quite lovely and unpretentious. The thinly sliced vegetables went well with it providing a textural difference and a beautiful fresh burst of flavour. It lacked flavour in the way that we know flavour and some would even label it bland, but the thing is, it is supposed to be so. The hero of the dish was definitely the octopus and it shone through.
Recommended as a light, un-intrusive starter, but not for those who are intent on flavour, flavour, flavour!
Primo – Seafood risotto – Rs 1500/-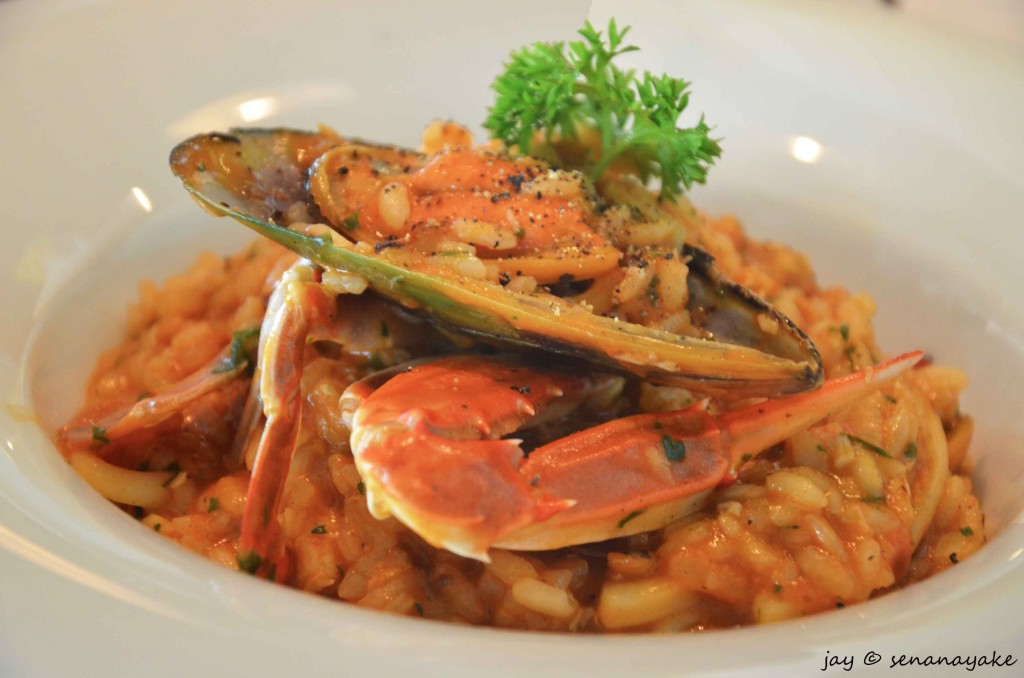 I admit, I have a thing for risotto and I have a thing for seafood – when the two of them are put together, I am quite satisfied. When the seafood risotto at Echo arrived on my table, the first thing that hit me was its smell. It was that particular smell of the sea mingled with a deliciousness that I couldn't quite place. It was topped with a large mussel, half a soft shell crab and beneath it, a mound of creamy, tomatoey goodness. It was piping hot so I attacked the mussel and the crab sitting on top of the risotto first.
The mussel was deliciously juicy and perfectly cooked I wished there was more of it. And the crab, since it was split in half, it was quite easy to get to the soft and flavourful flesh inside. However, I had to reluctantly part with the juicy looking crab claw, as it would have been quite unladylike to battle with a crab  tooth and nail in a restaurant. The rice was perfectly al dente – coated in a tomato puree that is creamy and decadent. I don't particularly like tomato bases, but this was not too overpowering, leaning more on the creamy side so I was perfectly content. Digging in I found the treasures – thinly sliced cuttlefish, not quite melt-in-the-mouth but with a lovely texture, clams juicy and delicious, prawns medium and flavourful. Although mussels are mentioned in the description, I only found one, placed on top of the risotto. Also it could have been more generous but I suppose that is me being greedy because it was simply, heavenly. And I also had some spare bread in hand to "Fa la scarpetta" to mop up all those lovely sauces in the end!
Highly recommended.
Dolce – Tiramisu – Rs 600/-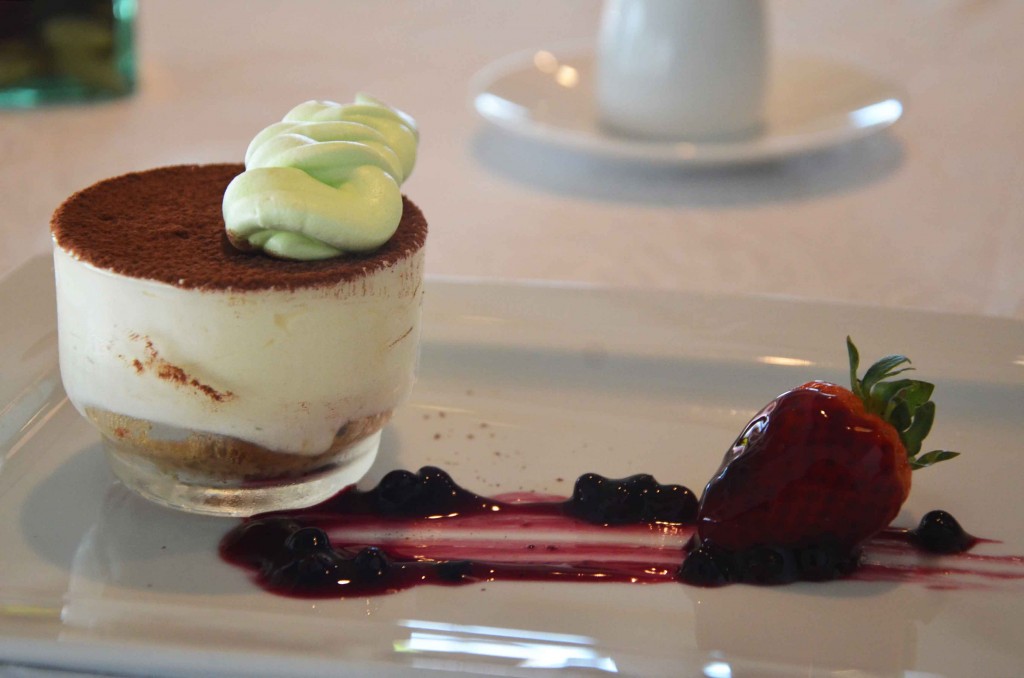 The tasting plate of desserts that I remember from a previous visit to the restaurant was no longer available and therefore, my first and obvious choice was the Tiramisu. At Rs 600/- I was expecting a generous portion but what I received was a glass slightly bigger than a shot glass along with half a strawberry, a berry compote slathered across the plate on which it was served with a few blueberries. I am sorry to say that this was a sorry excuse of a tiramisu. There was no coffee flavour at all and it was simply extremely bland with a white tasteless filling, a vague concoction of no particular flavour and a rather watery cake texture with a thick layer of cocoa powder on top. There was also a piece of meringue on top which I thought was completely unnecessary. The only thing that added some flavour to it was the strawberry and the berry compote which does not belong in a tiramisu dish at all. For me, this was a complete failure – especially since I had high expectations.
Not recommended.
Drinks
Mocktail –  Sunset – Rs 390/-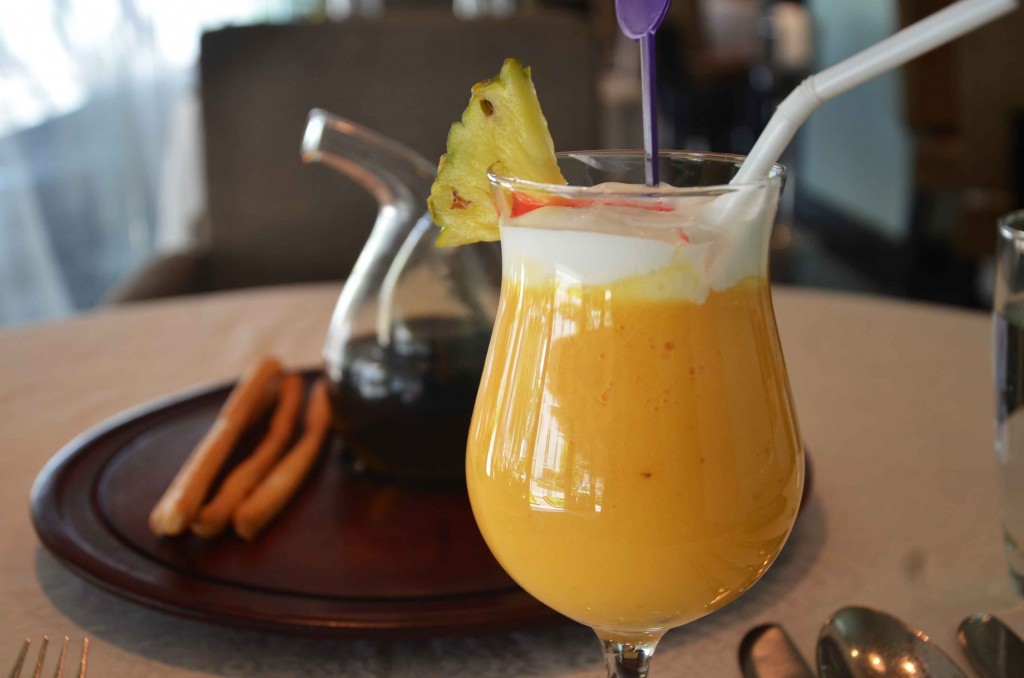 Just one word. Delicious. Mango, pineapple and fresh cream. Do I need to say more?
And it was plentiful and refreshing, not too filling at all. Although having any other kind of beverage other than wine or water is a complete no-no in Italian culinary culture, and despite the fact that it did not contribute in any way to enhancing the flavours of any of the dishes, I quite enjoyed it.
Highly recommended. 
Well, next time, I shall visit Echo in the evening and try a glass of wine!
In conclusion
The food – 3.5 Stars (rating brought down by the dessert)
Price range – Approximately Rs 5,000/- for a 3 course meal for one person with beverages
Drinks – 4.5 Stars
Ambiance – 3.5 Stars
Service – 4 stars
Location – Cinnamon Grand, right next to the Angsana Spa – I recommend a relaxing spa session and lunch at Echo afterwards
Personal note – Recommended for a romantic rendez-vous for two or a solitary indulgence (Like I did the other day), a leisurely lunch or dinner on a weekend. You can really stretch out your limbs and let the time drawl on like an Italian accent