If there is one thing I do properly (and get made fun of doing) during any trip, that is eating.
I like to eat my way around a country and let's just say it is my method of discovering a land. And in this trip exploring British food, I was often seen raiding supermarkets, local butcher's and street stalls in an ultimate mission to bring this article to you.
And I would say I succeeded.
From London to Edinburgh to Bath to Bridport – it was eventful as it was tiring. England is beautiful but Scotland is other worldly – a land of its own – so much so that I will not be covering its food in this article. In another time, in another place – Scotland deserves an article of its own…..that and another trip!
Also, a country of which the National Animal is the unicorn, is my kind of country.
The English Breakfast
The English Breakfast is a BIG breakfast.
Also known as the Full English Breakfast, full breakfast or the fry-up, this included eggs (typically 2 eggs sunny side up), back bacon, sausages, baked beans, fried mushrooms, grilled tomato and toasted bread with butter.  We were not offered a choice of tea or coffee along with this meal and so we opted to have coffee alongside. At GBP 5, this is a meal that will last you the entire day.
The full English Breakfast varies from region to region. Some opt to serve the eggs poached or scrambled while the toast is sometimes replaced with fried or grilled oatcakes as well. The Scottish versions include    black pudding, Lorne sausage, and tattie scones or black pudding and sometimes haggis. Cornish versions feature  hog's pudding and Cornish potato cakes as well as  pilchards and herring or gurty pudding – a Cornish dish made with a combination of milk and bread.
High Tea

The English High tea has gained so much popularity, not just in England but also all over the world that each country and each culture has its own definition of high tea today. Writing about high tea and all the traditions and customs linked to it is akin to writing an entire book on it.
I had a chance to try the famous high tea at the Pump Room in Bath. Here's my take on it.
The room was elegant with heavy drapes and a hanging chandelier and there was a classical band playing. We had to wait in line to get a table as the place was filled to the brim. It wasn't quite the serene, classical atmosphere that I was expecting, but since we were in we could not get out. We got ourselves a table for two in the middle of a crowded, noisy room and I wasn't too comfortable with the seating option as there was no intimacy and no sense of privacy there.
The high tea arrived with the traditional 3 tiers. The first one consisting of scones and clotted cream and jam, the second, savories and third the sweets. There was a choice of teas and I chose the English Breakfast as I like my teas strong and milky.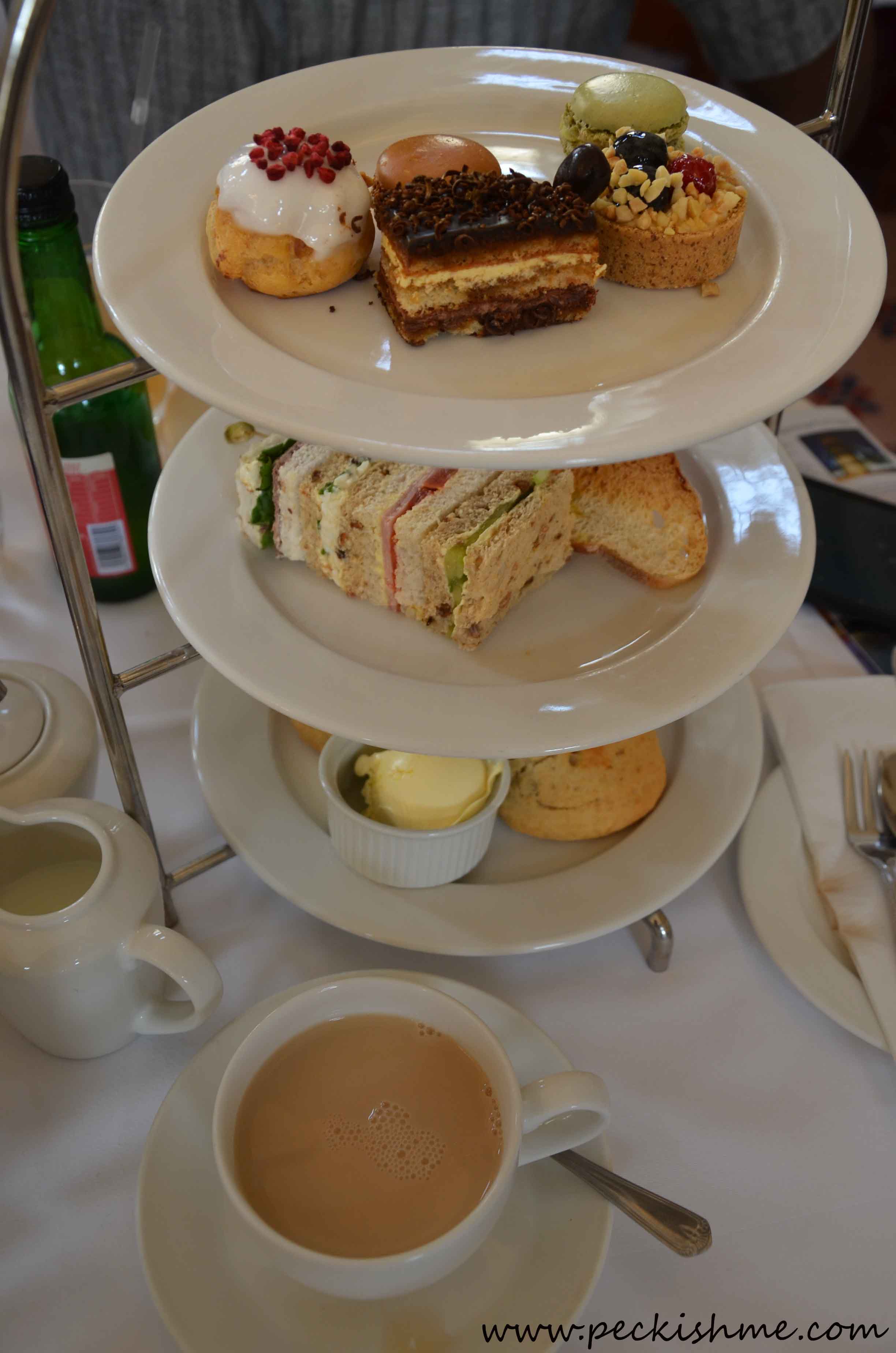 There were 2 scones- one plain scone and one fruit scone. The scones were buttery and with the clotted cream, it was mellow and lovely.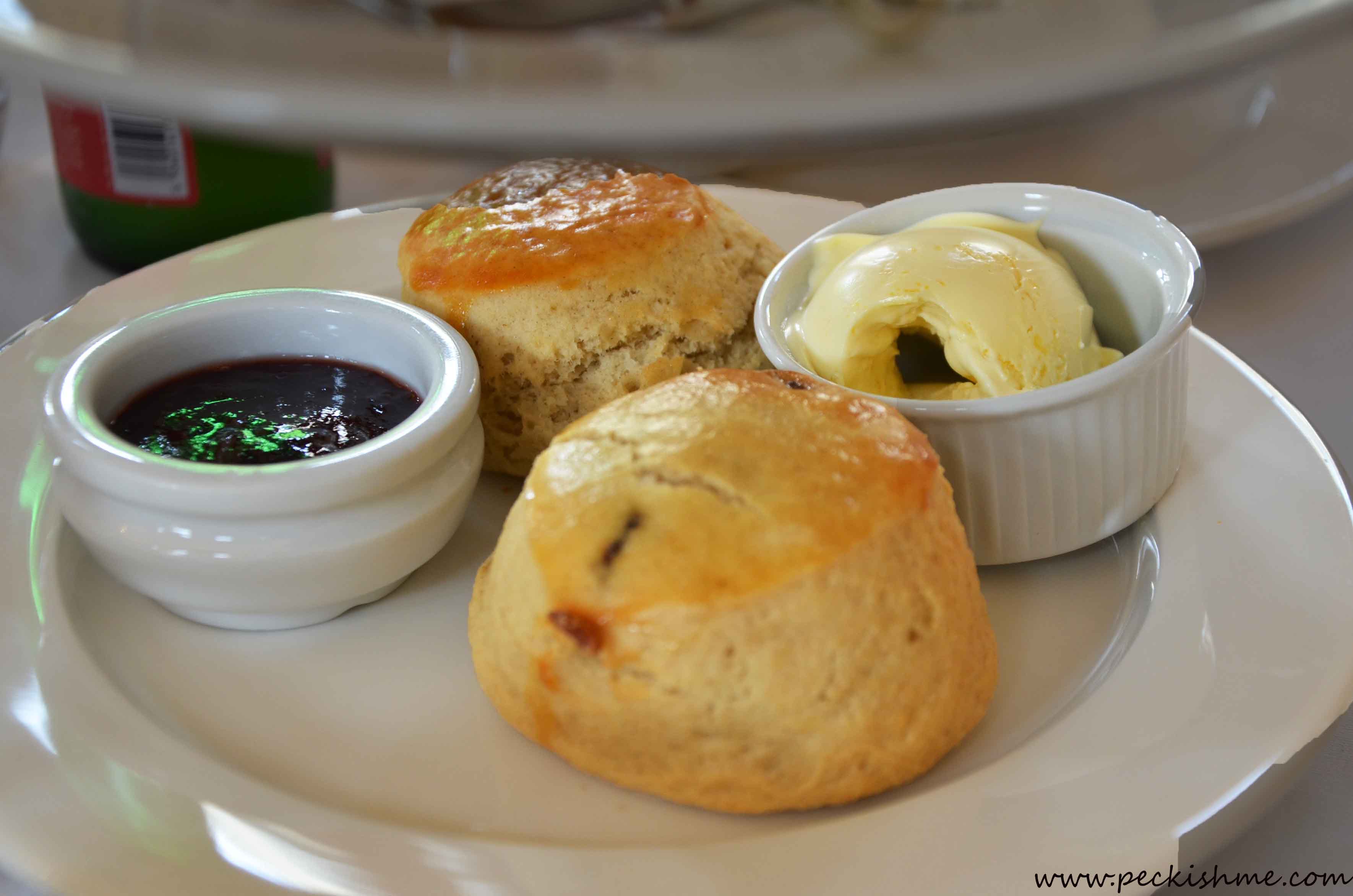 The savories, a salmon pate with crackers, assorted sandwiches and the cream cheese puff was the second tier. The salmon pate was rich and flavorful but the sandwiches were quite bland and lacked flavor. The cream cheese puff was an utter disappointment and quite dry, and I had to gulp it down with some tea just to get it down.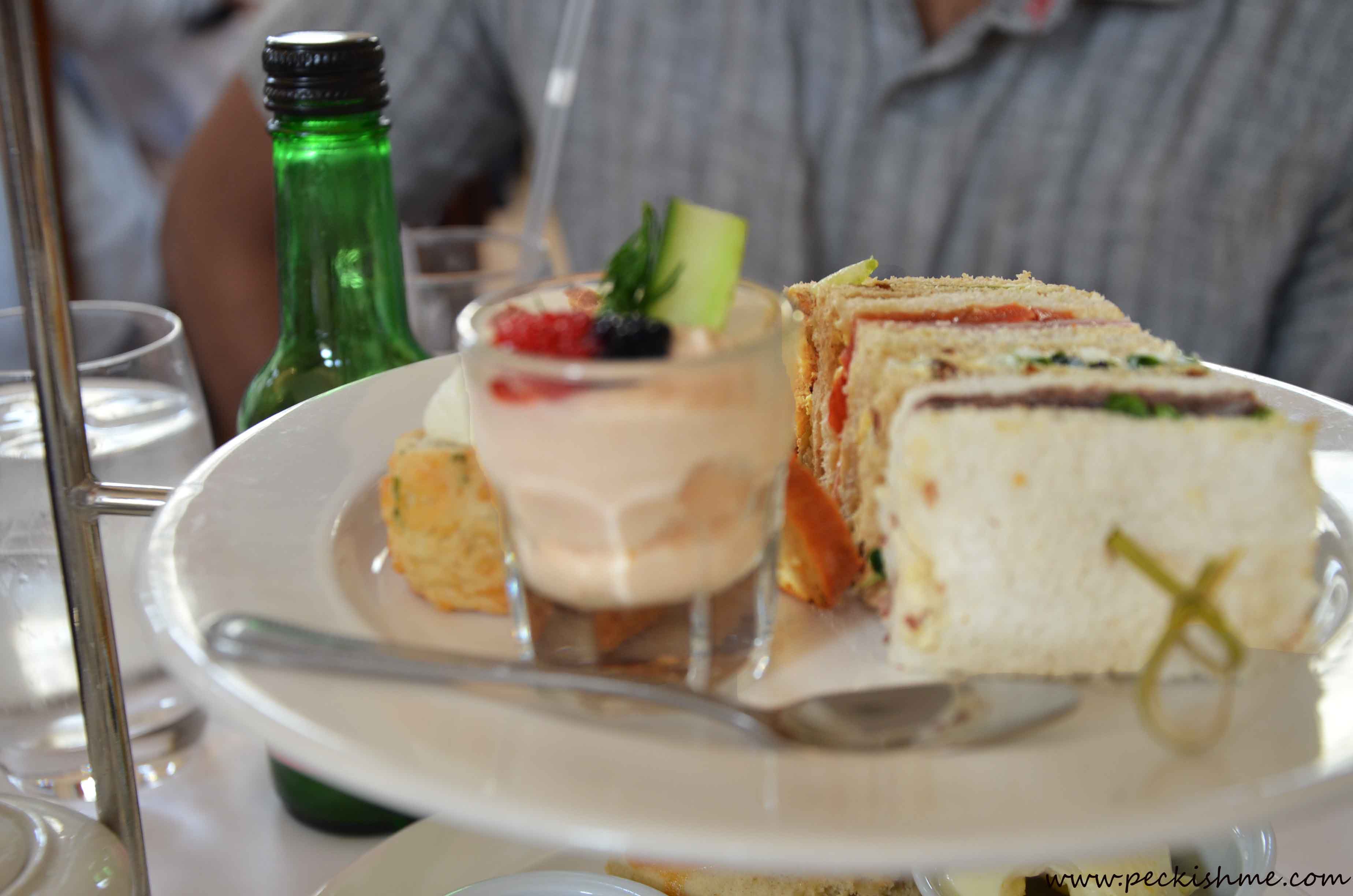 The sweets however were a little better. There were two macrons – one coffee and one pistachio which were quite nice. The opera cake was rich but nothing special, something I could have obtained from anywhere else. The cream puff was dry and not quite to my liking. The fruit tart filled with a custard filling was ordinary. It was more refined than the others however.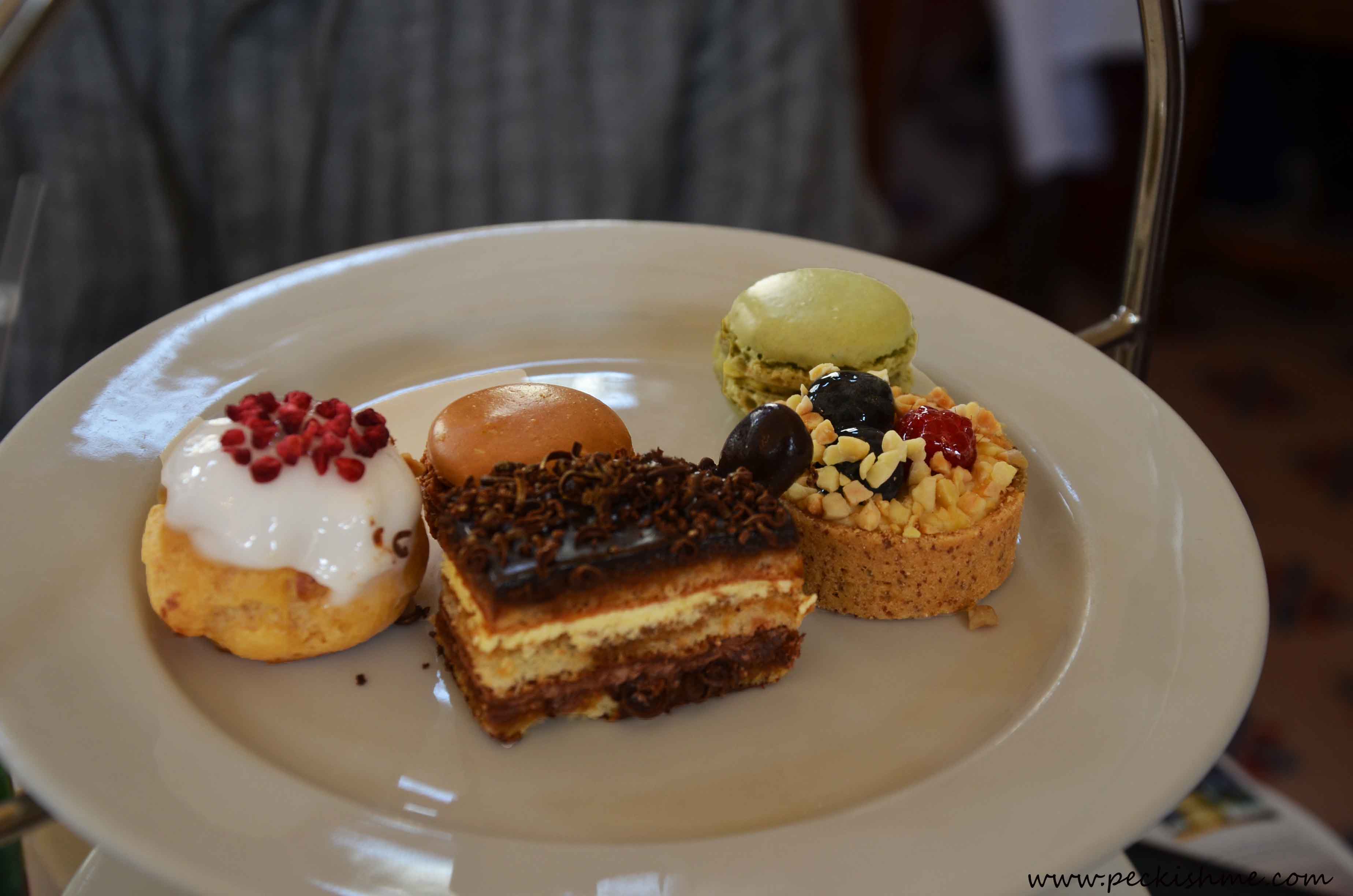 The tea however, was delightful. It was brewed to perfection, and I received a whole pot of it with a separate pot of milk. Sad to say, for me, the tea was the only highlight of that meal.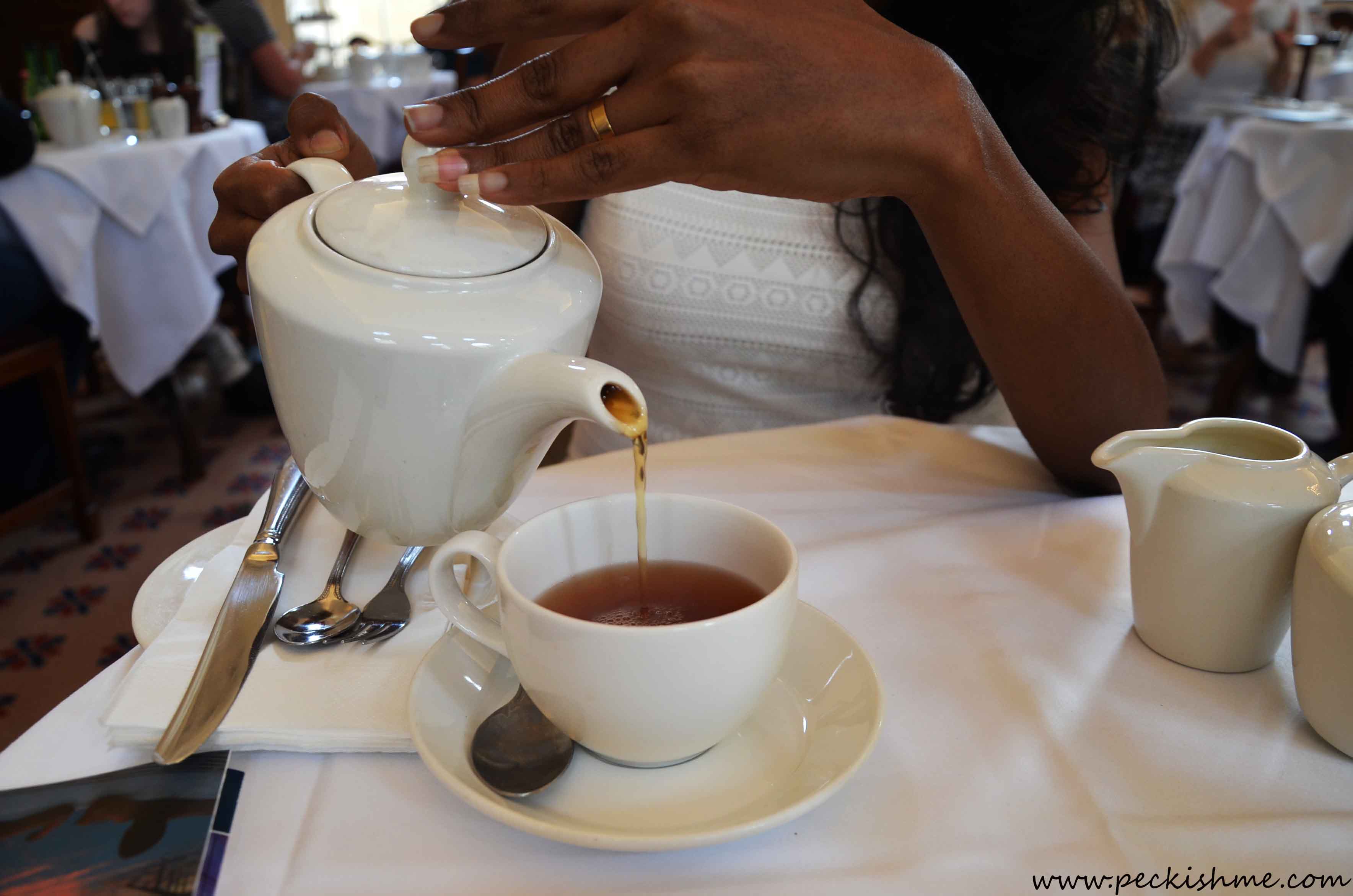 Was it worth it for GBP25? No. would I go back again. Nope.
In any case, an English High Tea in England has been tried and tested.
Fish & Chips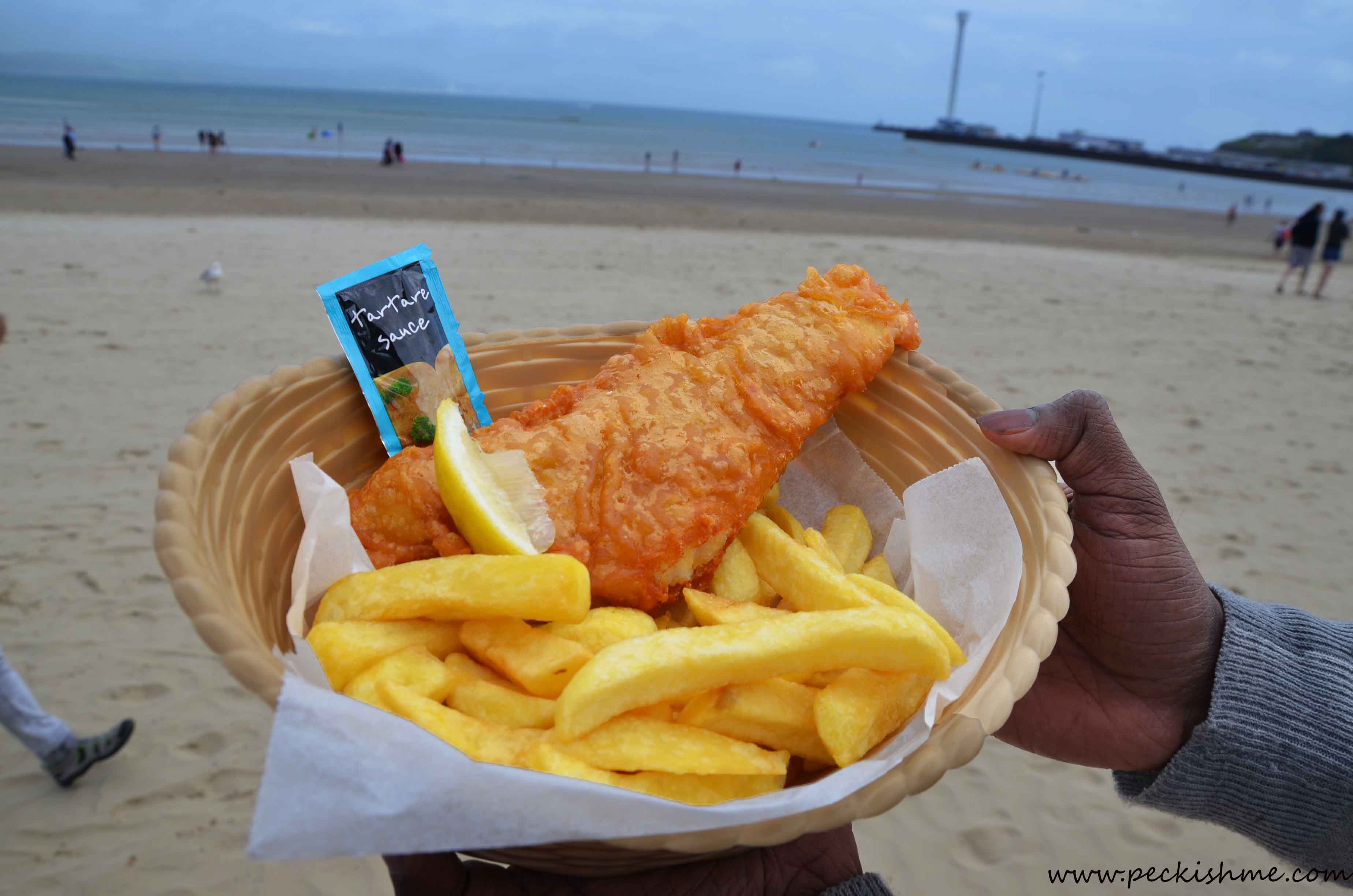 The English Fish and Chips do not limit themselves to the coastal areas – they can be seen all over the place. Generous portions of fish deep fried in a thick, rich batter and copious thick-cut chips served with tartar sauce and vinegar, it is easy to see why this oil-dripping treat is immensely popular among the British with its cold and windy climes. We had this on a sunny summer day on a glistening beach in Weymouth which, despite the sun was still quite cold.
It is said that Fish & Chips first appeared in the UK in the 1860s. essentially a take-away meal often wrapped in newspaper or served in polystyrene cases, fish and chips was a working class meal.
Cod and haddock are the most used types of fish used in this dish while other white fish such as   pollock or coley, plaice, skate, and ray are also used. This is coated in a simple water and flour batter, sometimes enhanced with a little vinegar, sodium bicarbonate or beer or milk batter which lends a certain lightness to the batter.
The chips are thickly cut and are quite chunky, just the way I like it. Traditionally, beef dripping or lard is used for frying but today, mainly vegetable oils such as peanut oil is used in this dish. As simple as it may be, the fish and chips I had in Weymouth, sitting in the sun yet shivering from the cold while my hair whipped about my face in a frenzy is one of the best, most memorable dishes I've had during this tour of England.
I am craving one as I write!
Scotch eggs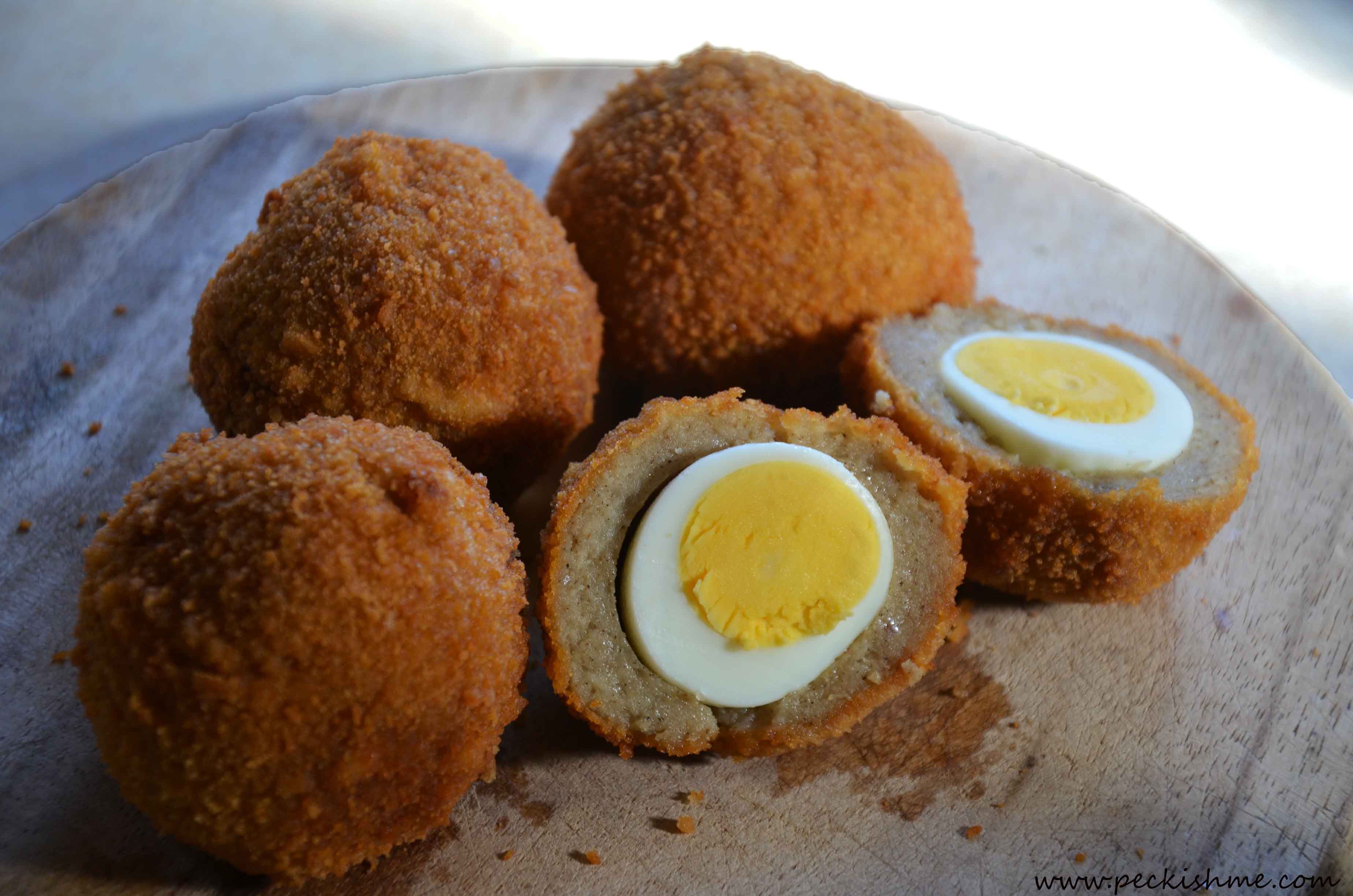 It is said that the London department store Fortnum & Mason invented the Scotch Eggs in 1738 and it was a dish that was served hot with gravy. Today, Scotch Eggs are available in supermarkets as packaged picnic food.
A whole egg wrapped in pork meat or sausage meat and then coated in bread crumbs and deep fried, regional versions also use Lancashire black pudding or white pudding as the egg casing. Some use pickled eggs, quail eggs and even chopped eggs rather than whole eggs. Sounds similar to our humble Sri Lankan egg cutlet? I think so!
The Great British Sausage
Laugh all you want but the Great British Sausage is indeed great! The British Banger, often had as bangers and mash is a British favorite and honestly, one of the best sausages I've had so far.
Made up mostly of ground pork, various seasoning, salt, pepper and encased in cleaned intestine, the British do love their sausages that they have several varieties of it. The ones pictured here are Newmarket sausages which are moderately spicy and packed full of flavor. I suspect that there is a fair amount of pepper in there.
Having said that, the British have a variety of sausages available.
Cumberland Sausage – This is identified by its spiral shape and is bought by length. An amazingly peppery treat.
Manchester Sausage – The flavors of ginger, cloves, nutmeg, mace and pepper come together in this one.
Lincolnshire Sausage – Meaty and full of herb flavor, this sausage is a heady mix of sage and thyme.
Gloucester Sausage – Made with Gloucester Old Spot Pork, it gets its distinct flavor from sage.
Pork and Apple – One of my favorites, the cider in the mix gives this sausage a well loved moisture and a zing
Marylebone Sausage – Sage, ginger and mace flavor this traditional London Butchers sausage
Square Slicing Sausage aka Lorne – Made from a mixture of pork and beef, this sausage is often used in sandwiches
Oxford Sausage – Sage and savoury, a touch of marjoram, lemon pork and veal – a nicely refined sausage
Yorkshire Sausage– Spiced with cayenne, nutmeg, white pepper and mace
Suffolk Sausage – This is a coarse sausage similar to Lincolnshire sausage
Sausage rolls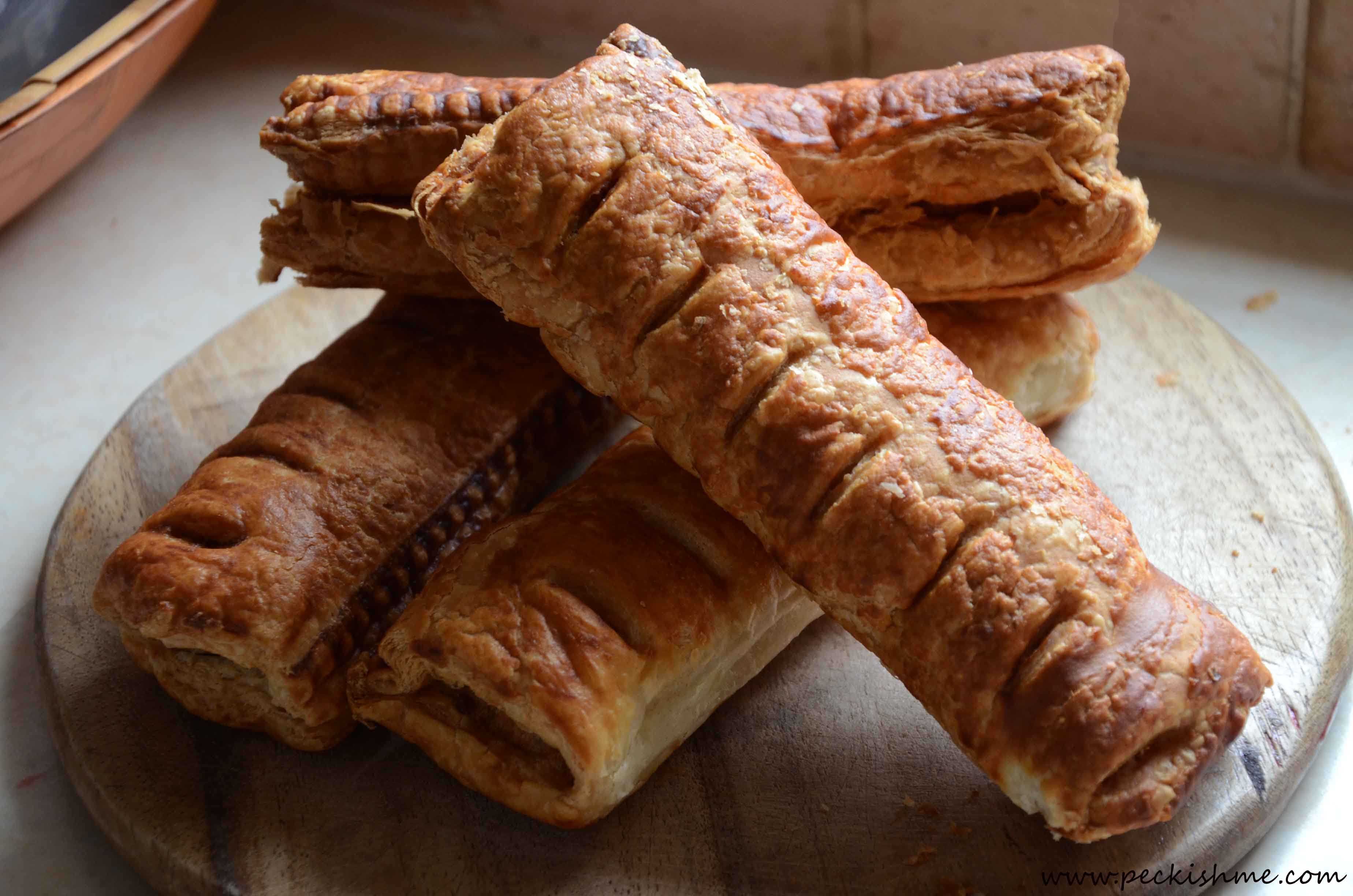 One of the nation's most popular pastry snacks, these sausage rolls are made of a flaky, crusty pastry encasing a juicy, traditional British sausage. They are quite hefty in size and they are all about the sausage, so no other enhancements are added inside the pastry. Comparatvely, I like our own version of the sausage pastry better, what with its light sprinkling of seeni sambol or chili flakes inside!
Sally Lunn's Buns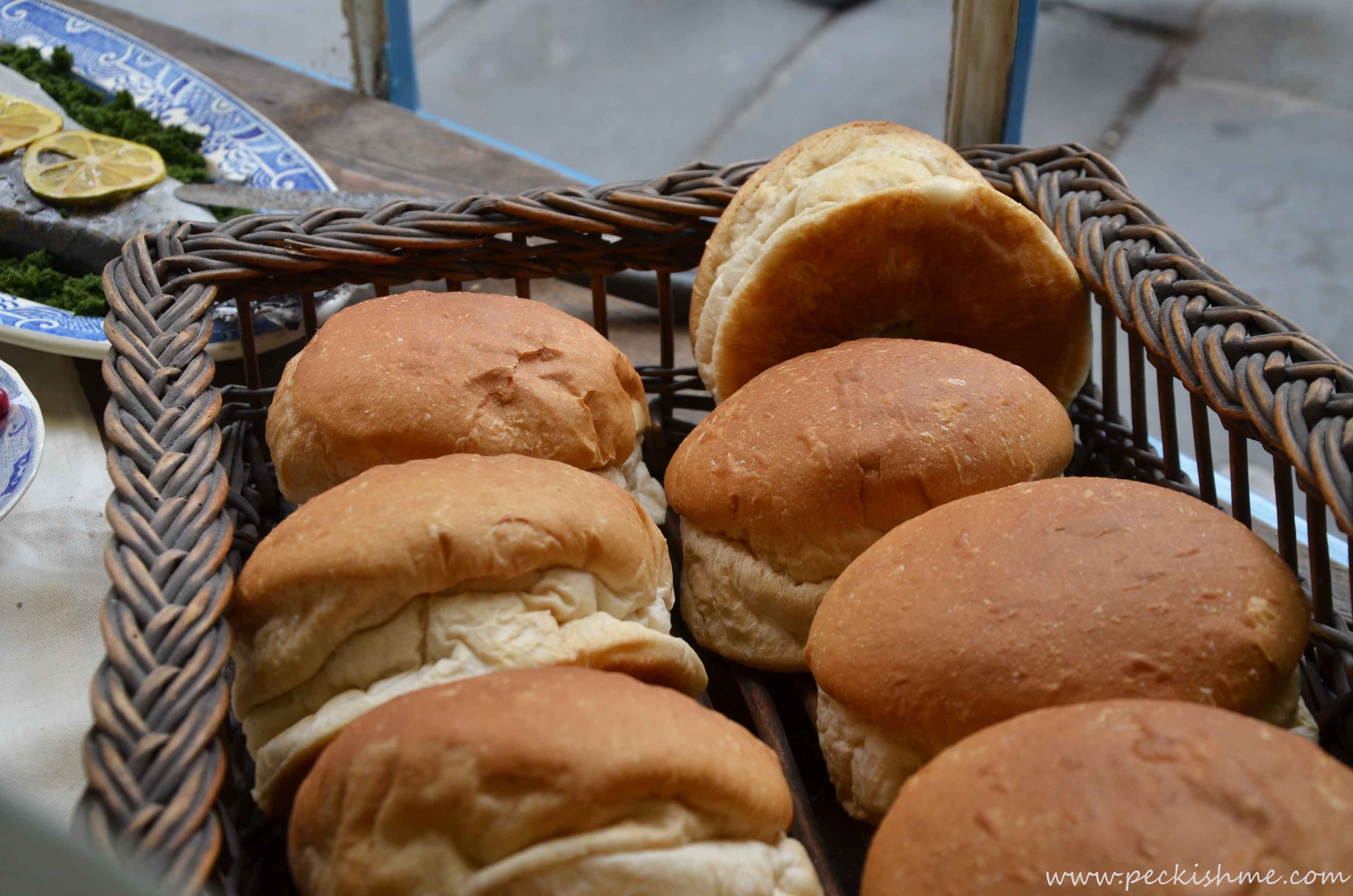 So we visited the Sally Lunn's Historical Eating House while in Bath. Suffice to say, despite the reputation that it has earned over the years, for me, it was nothing special.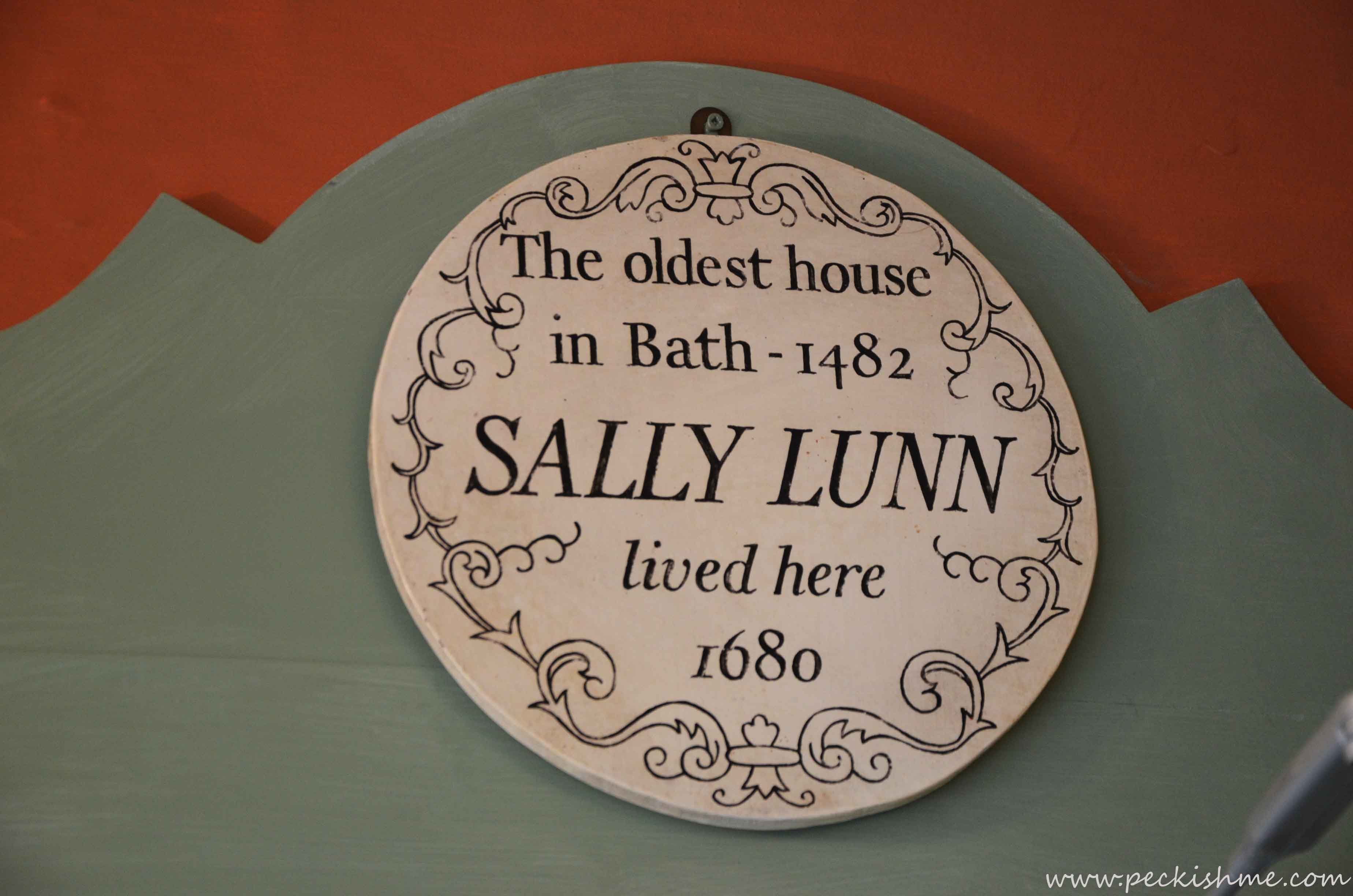 The staff were somewhat haughty and looked down their noses at us – not sure whether because our skin color – whatever the case they failed miserably at the 'making us feel at home' department. At one point, this lady with a somewhat self-important air began speaking to us loudly, spelling out each syllable as if we didn't understand English which needless to say was very annoying.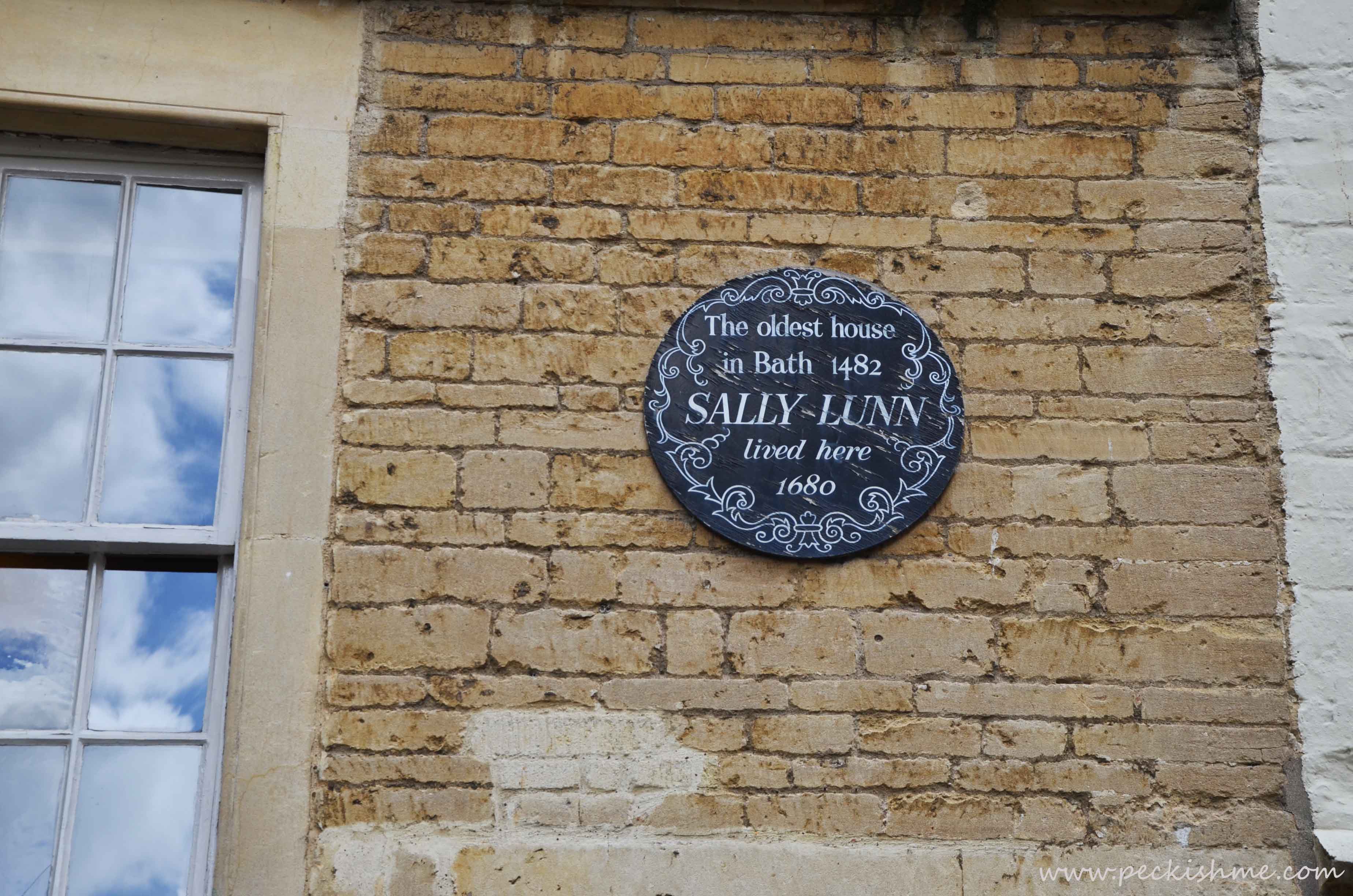 That being said, we hoped the food was good. Let's just say this and get it out of the way – Sally Lunn's Buns are just glorified, overpriced bread. What is usually done is top up these breads (and you don't even get a full bun, you get half) with fancy toppings and serve them at exorbitant prices. Honestly, I'd say buttered up Sri Lankan tea buns taste wayyyy better than these.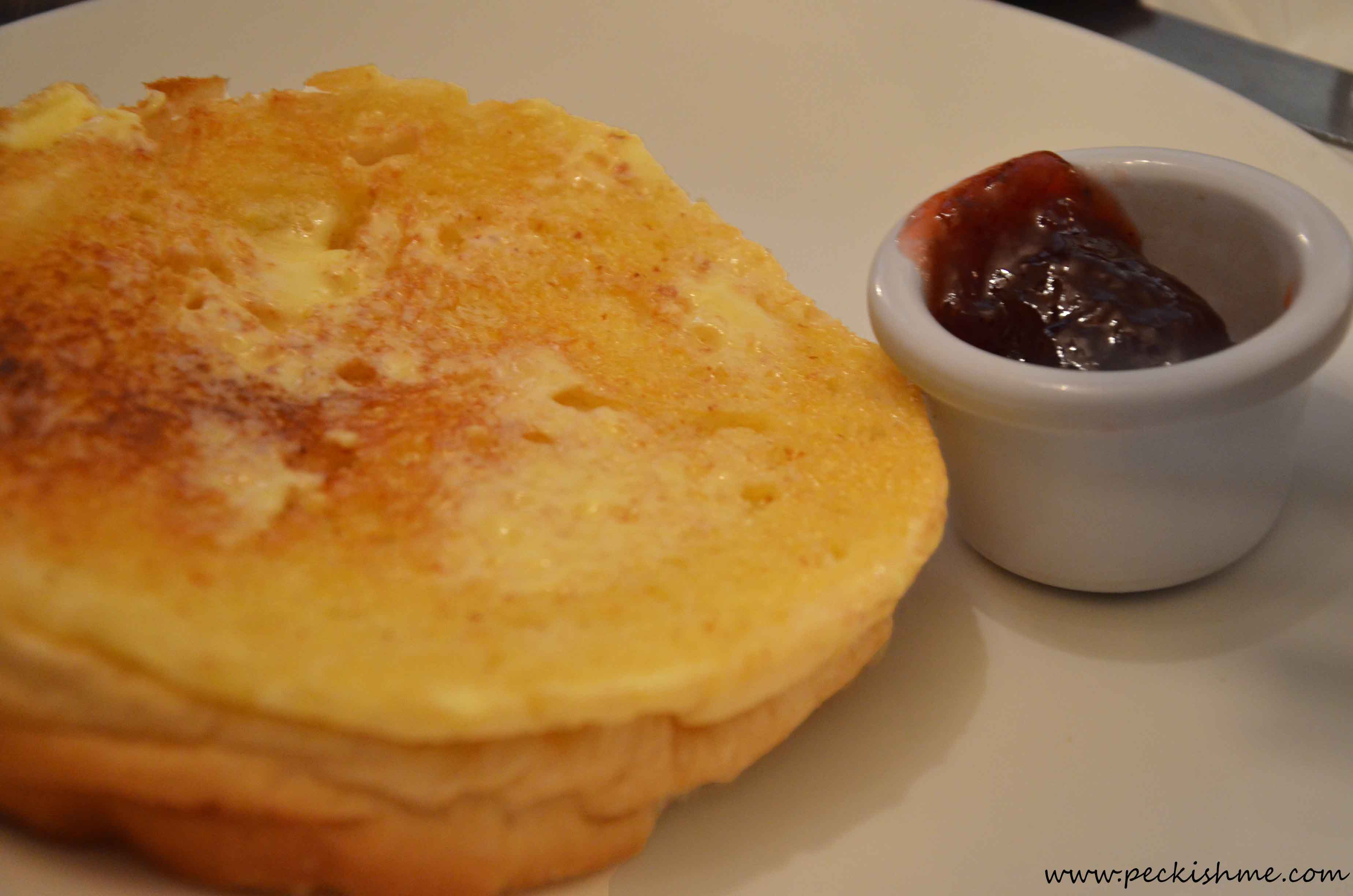 We tried the plain bun with butter and jam which was supposed to be the Queen's favorite.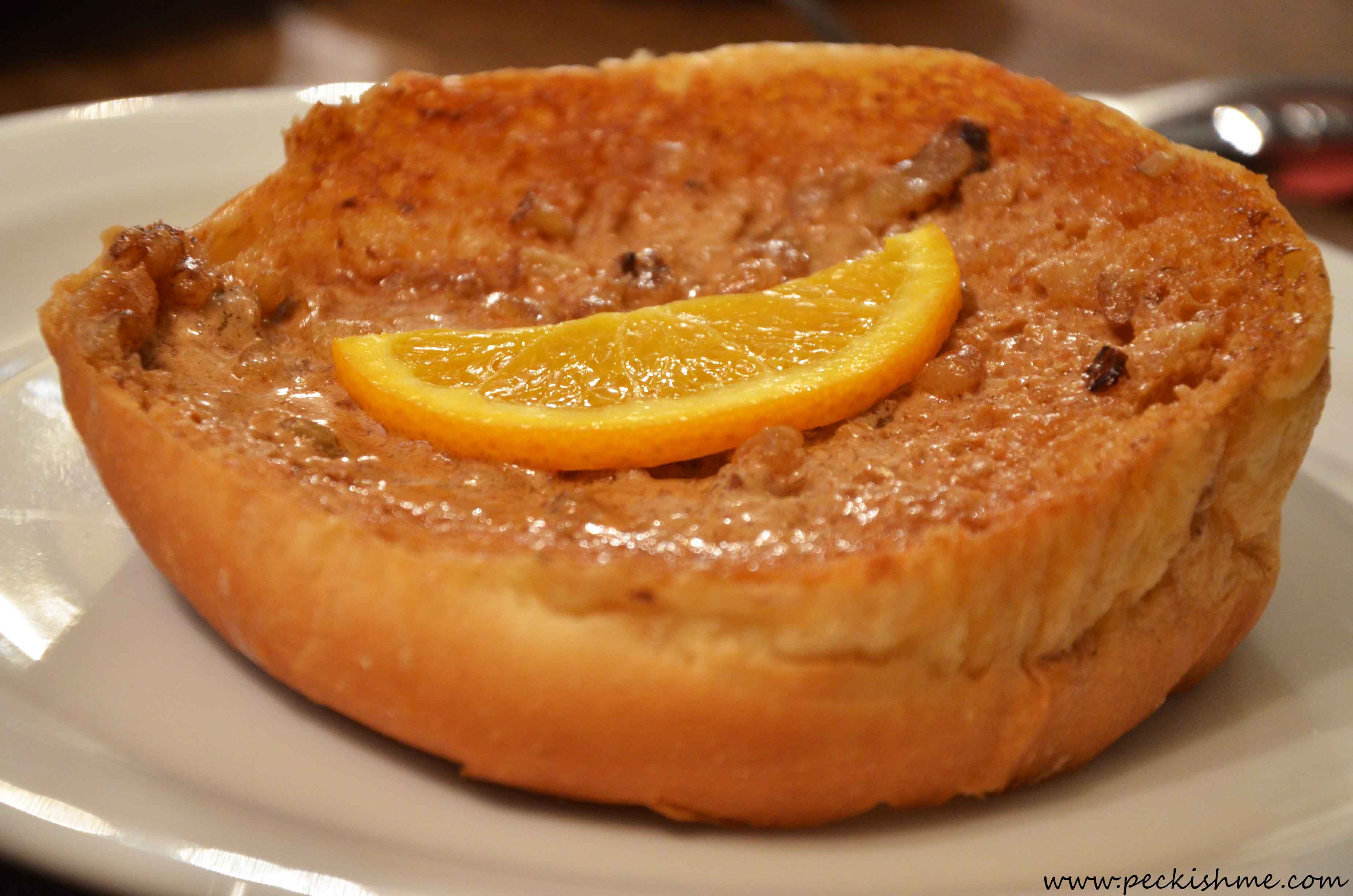 One with Coffee & Walnut Butter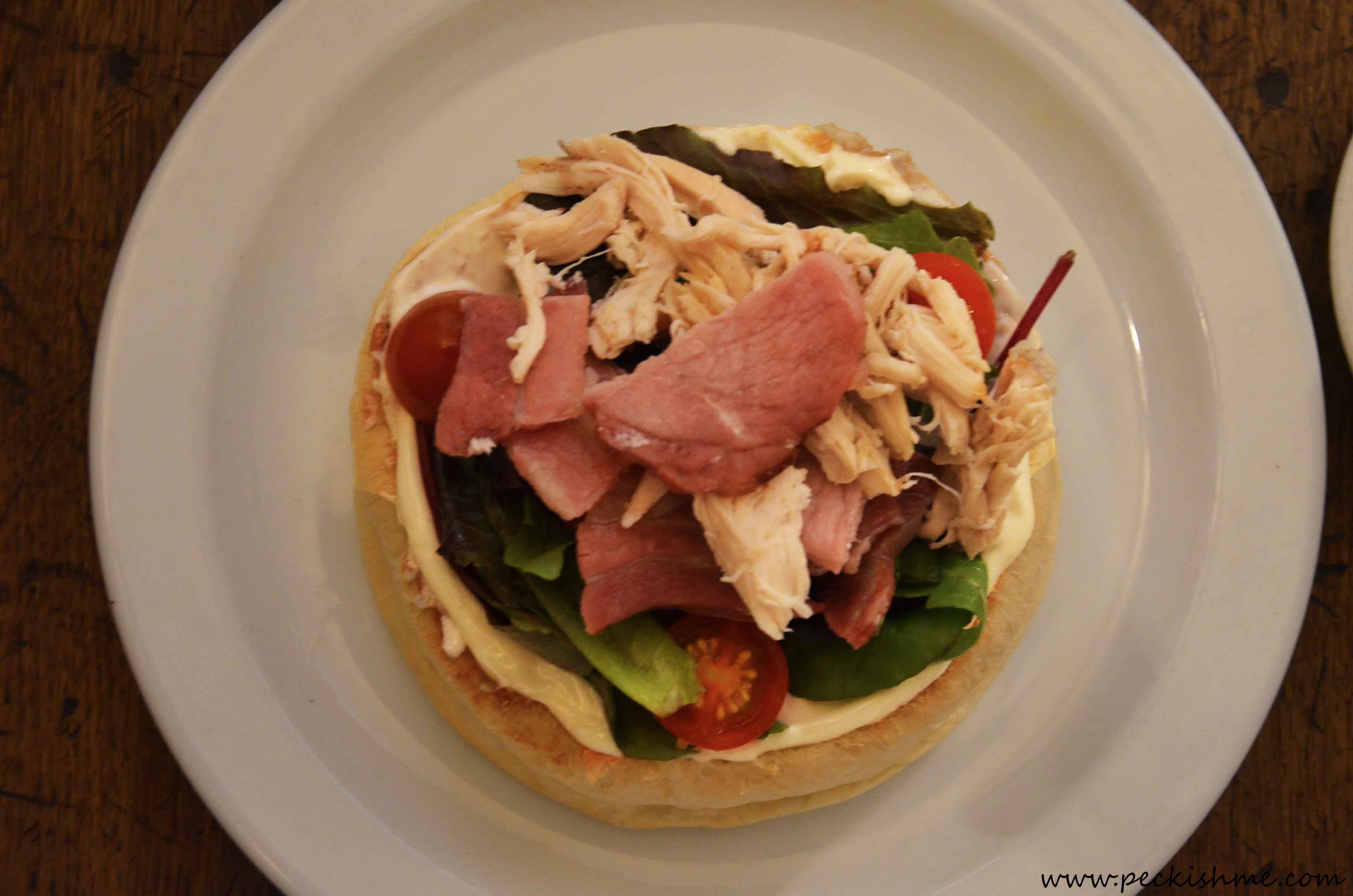 Another with  Traditional Ham & Piccalilli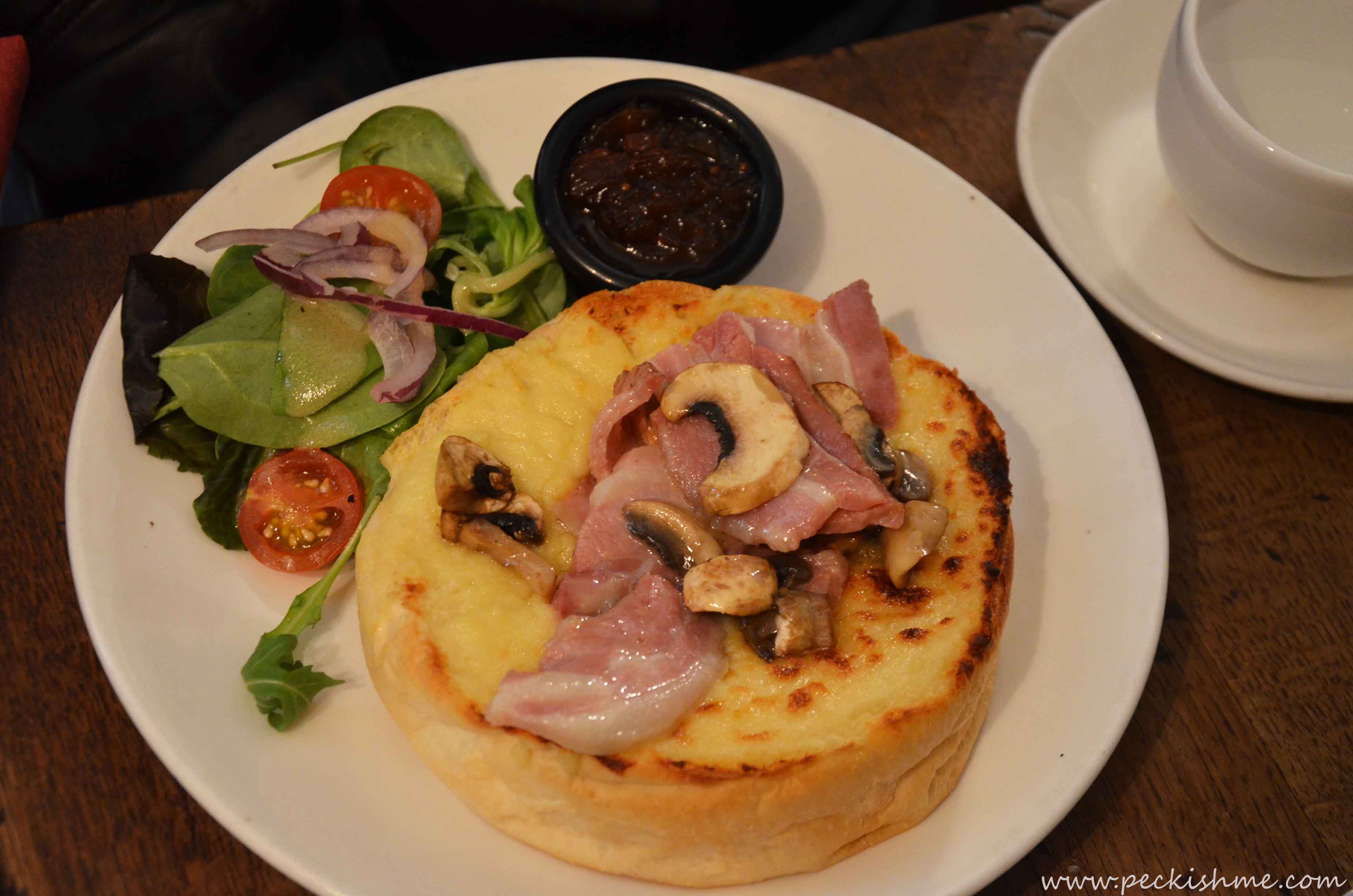 Welsh Rarebit
All in all, this is not something that I would spend as much as I did on these. Yet it was an experience that I as a foodie was bound by law of nature to try at least once. Which I did. And once was more than enough.
Double Yolk Eggs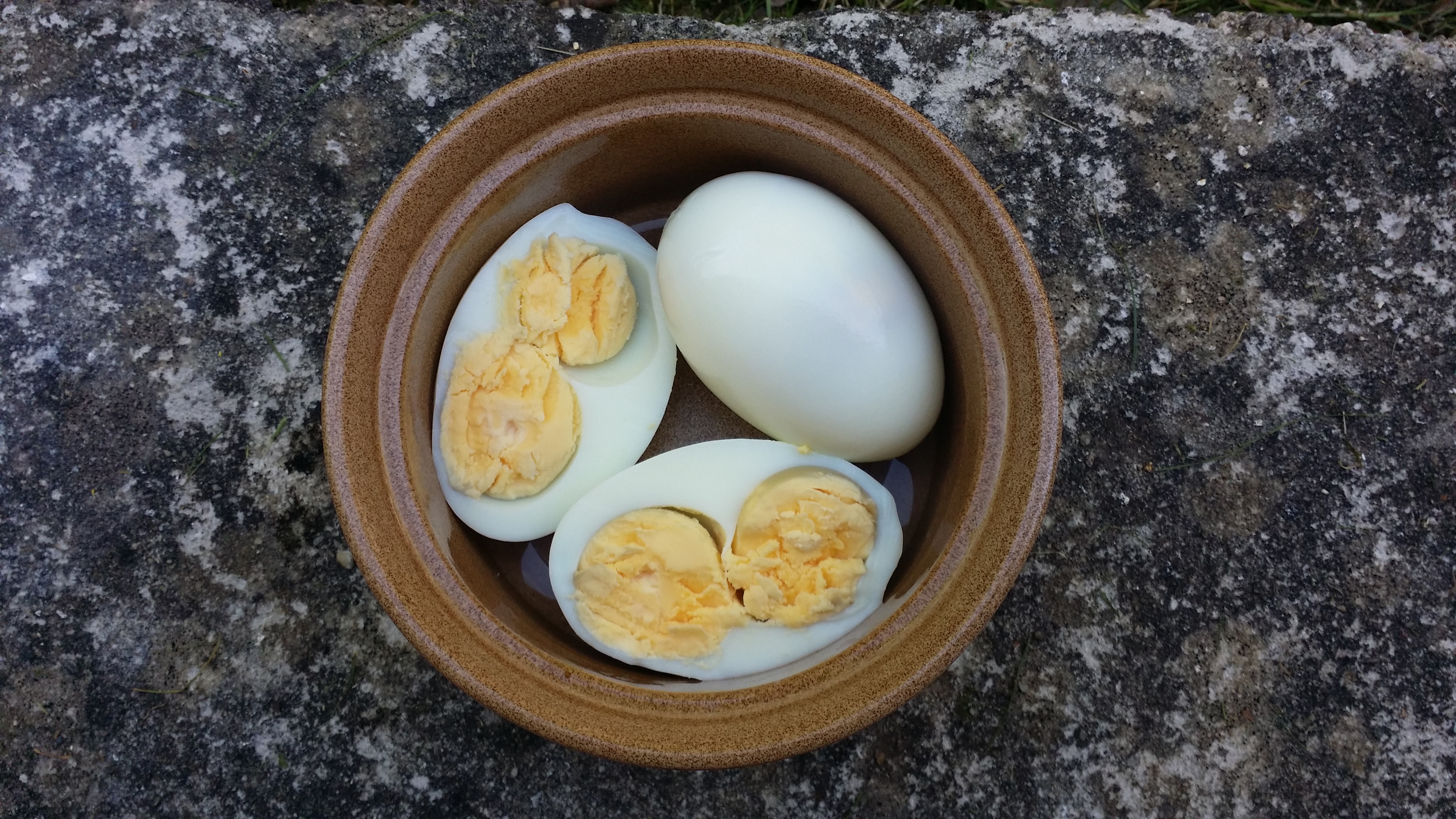 While not being a traditional food per say, the Double Yolk egg is somewhat of a rarity that hubster's amazing landlady managed to secure for us (they ARE rare even for England). They are almost double the size of a regular egg and comes with two yolks – as an egg yolk lover, I'd say that this is my greatest egg dream come true.
Bread pudding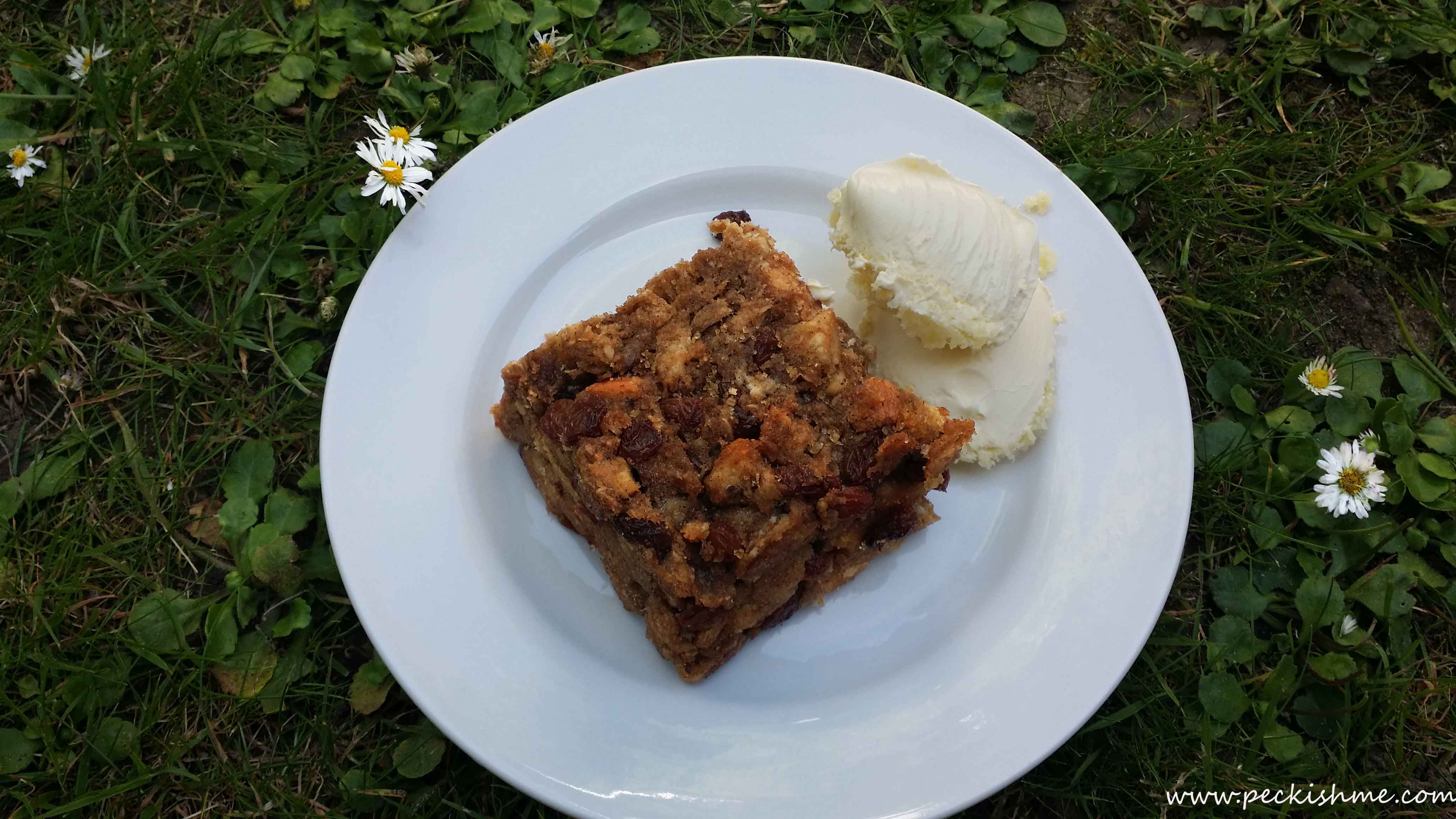 I was very much looking forward to a proper English bread pudding but I am somewhat disappointed. It may look beautifully rich with raisins jutting out and etc but when you bite into it, it's quite dry and off putting. I tried it bit heated up with a little Scottish clotted cream (which is basiclally, THE best!) and was disappointed. Personally, I like our Sri Lankan bread pudding – a sweeter and richer version sans the raisins and the jingbang better.
Dorset Pasty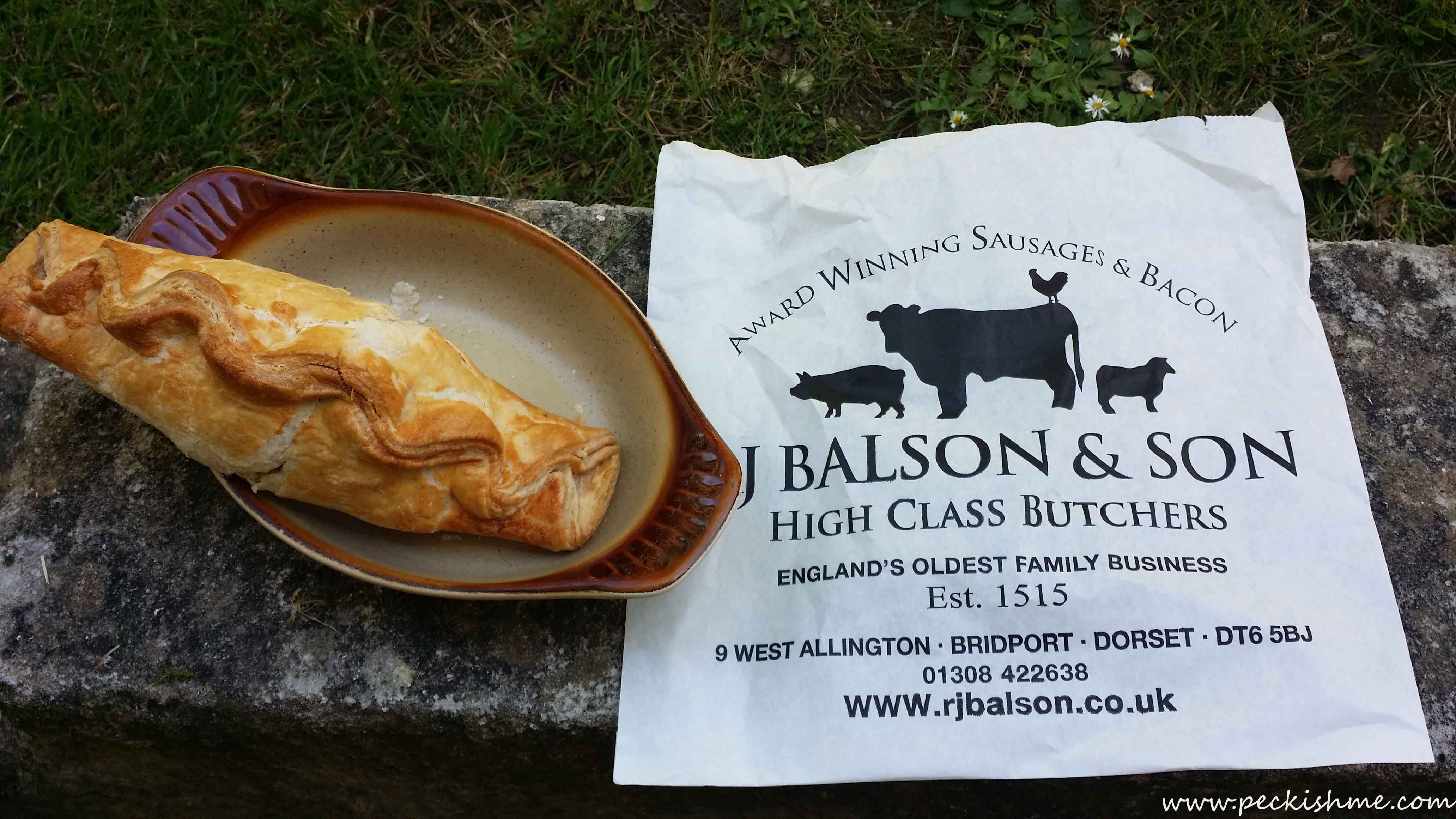 Although I've been trying pasties left right and center right throughout my stay in England, I was told to try one more pasty at the tail end of our journey – the Dorset pasty. And I was fortunate to come across this at J Balson & Son – a quaint little butchers shop reputed to be England's oldest family business in the market town of Bridport. I was glad I tried it.
A juicy meaty filling of ground beef, carrots onions, peas and potatoes is encased in a crusty, buttery pastry and baked to perfection – the Dorset pasty is as huge as it is satisfying. This is a pasty that I enjoyed a lot.
British Fish Pie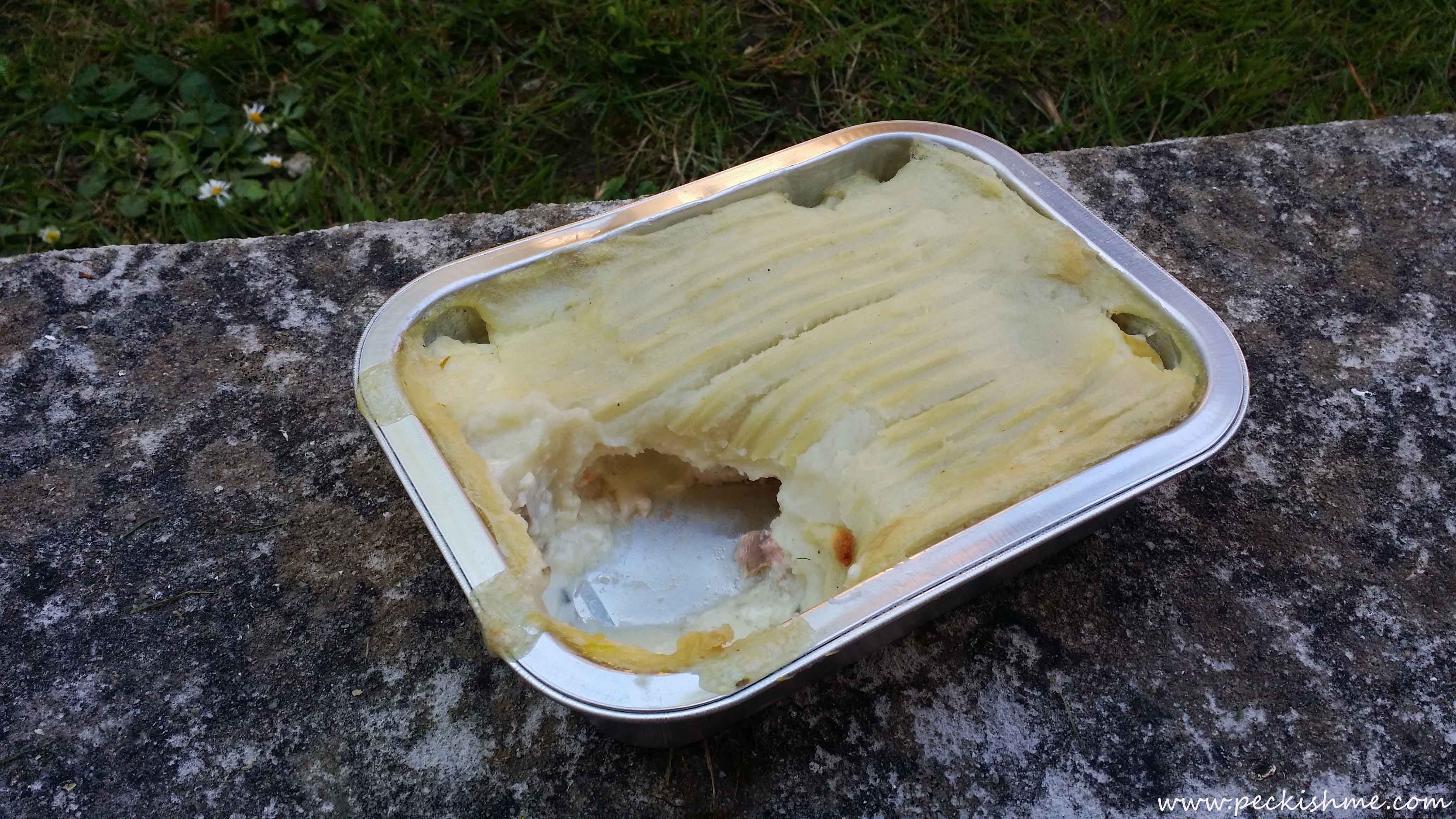 Large chunks of salmon, cod, haddock and whiting in a simple white sauce, topped with mashed potatoes and baked till golden – this is what the British Fish Pie is made of. Being not-so-much of a fish fan, I wasn't a fan but I can imagine fish lovers diving into this dish again and again.
Cherry pie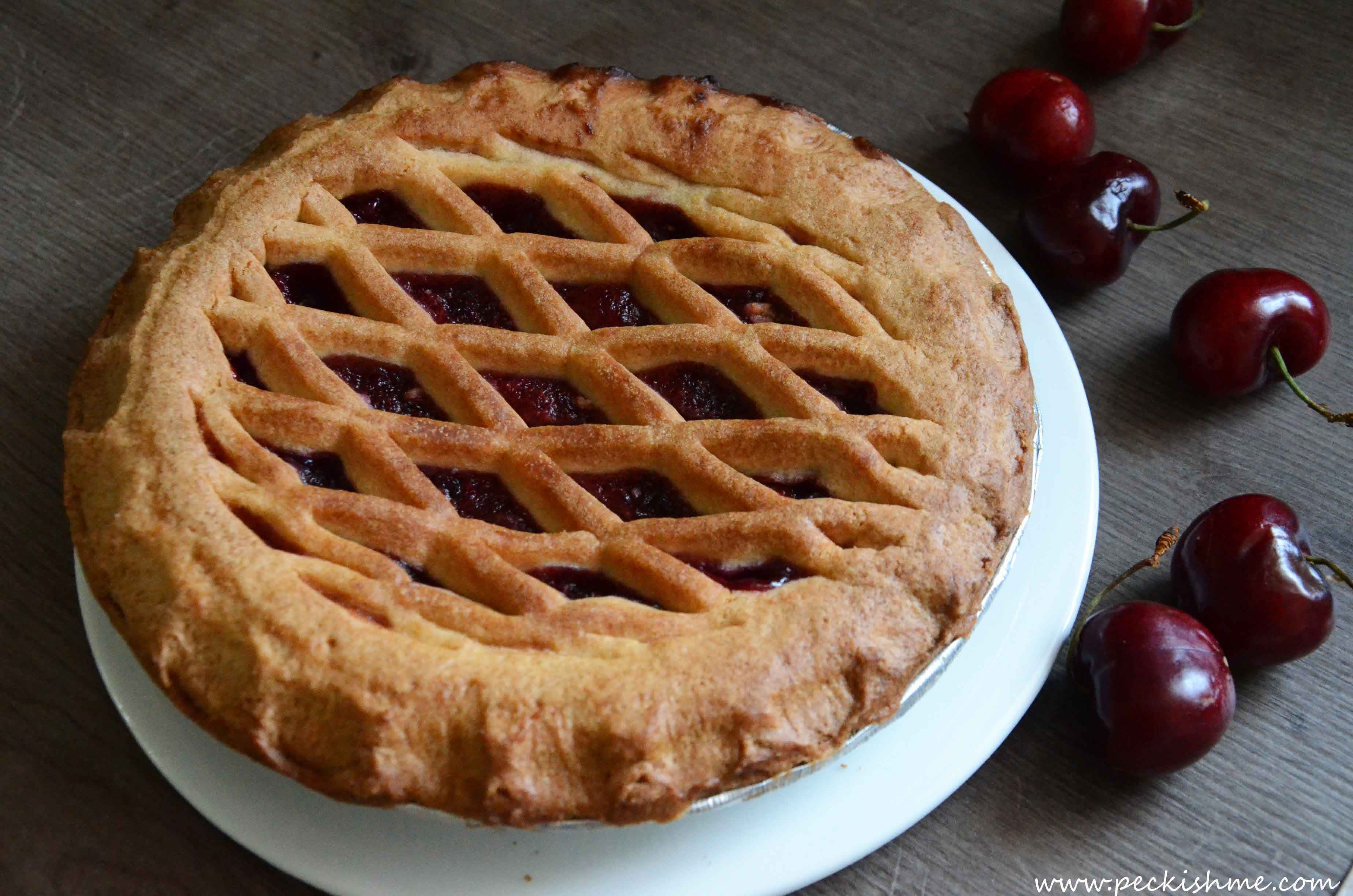 While not traditionally a British treat, this cherry pie was rather delicious. Typically made with Morello cherries or black cherries, the cherry pie is a fine combination of the tart and the sweet with a wonderfully crumbly, sweet and biscuity crust enveloping it all.
Summer Fruit Lattice Pie
Summer is here and summer fruits are on abundance. A mix of at least 3 berries, the summer fruit lattice pie is basically comprised of a sweet-tart berry filling and a sweet crumbly tart base.
Bramley Apple Pie
With beautiful Bramley apples as the filling, this is your basic apple pie with hints of cinnamon running through. Best served with fresh cream or ice cream.
Maple Pecan Plait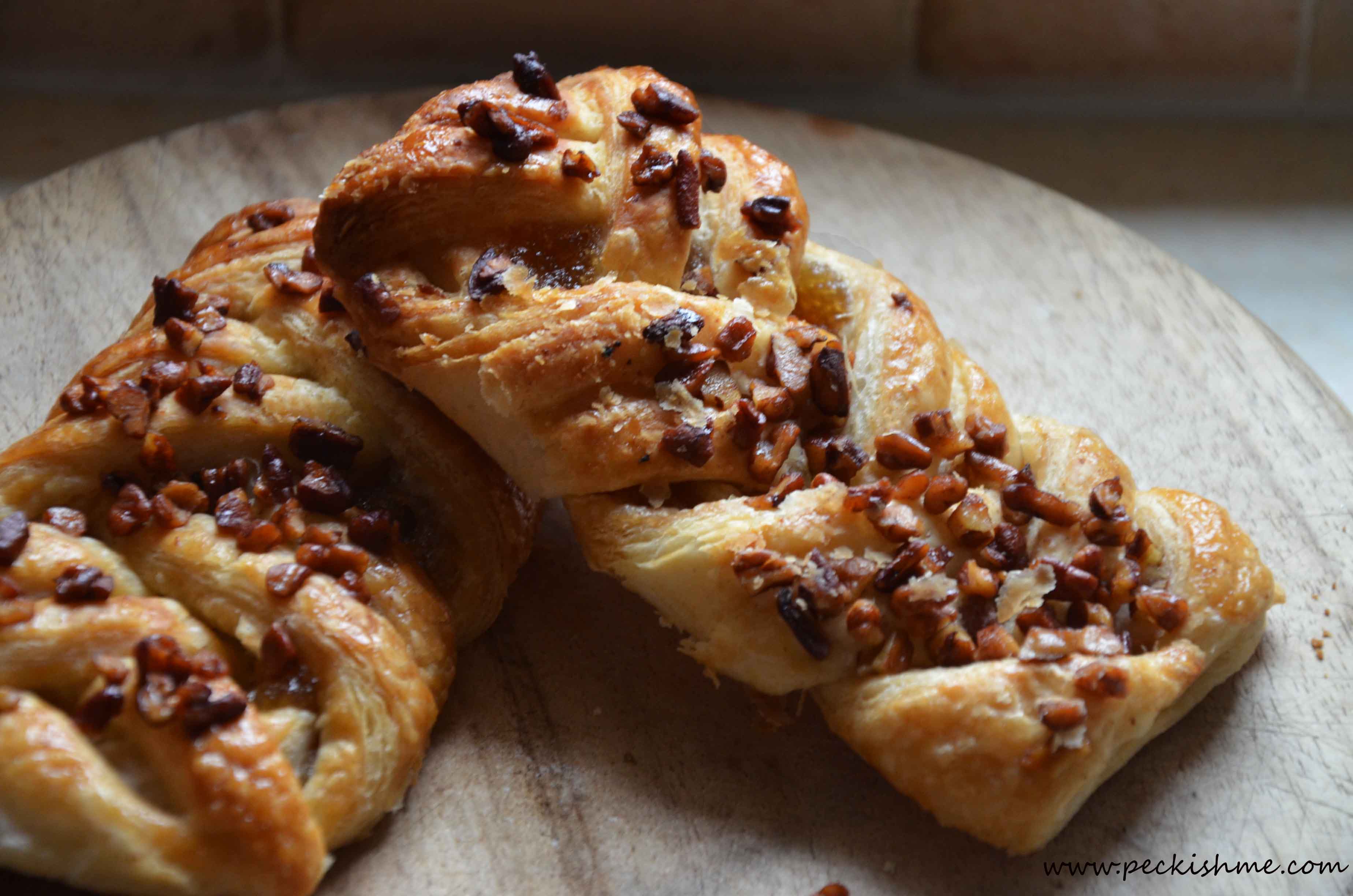 I'll start by saying, I can eat as many amount as I want of this at one sitting.
A beautiful Danish pastry with an almost creamy maple filling and lightly sprinkled with bits of pecan, this is a light and delightful pastry that is – oh so yum.
Muffins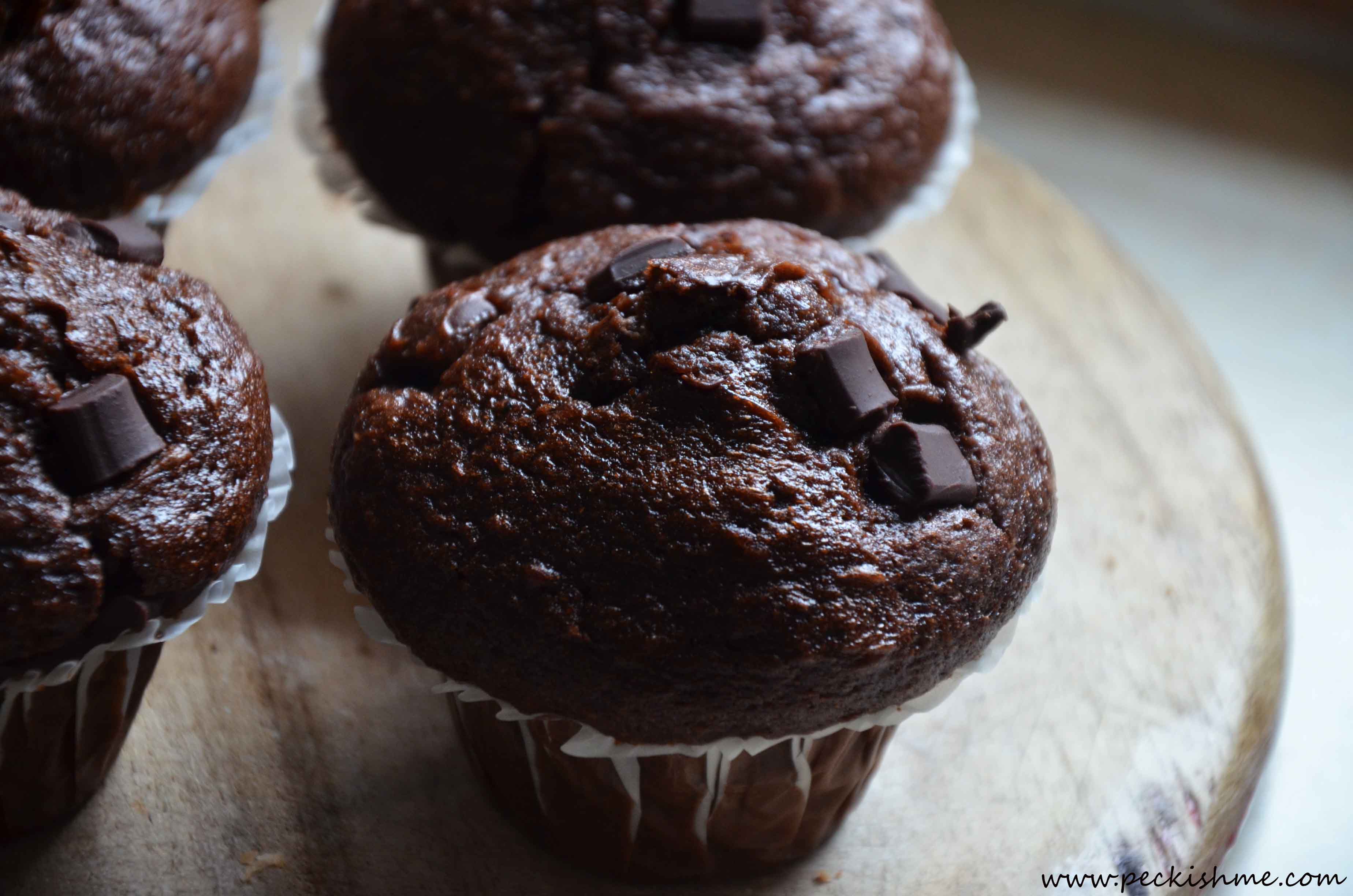 Muffins are a huge deal in England apparently. There are chocolate chip muffins, there are chocolate muffins, there are vanilla muffins, blueberry muffins and double chocolate muffins – all of them rich and delicious.
Congress Tarts
A sort of a Cornish delicacy, congress tarts are in short, delicious. The filling is made of ground almonds while the crust is a short crust pastry. One applies a coat of raspberry jam at the bottom prior to filling in with raspberry jam.
Cinnamon Swirls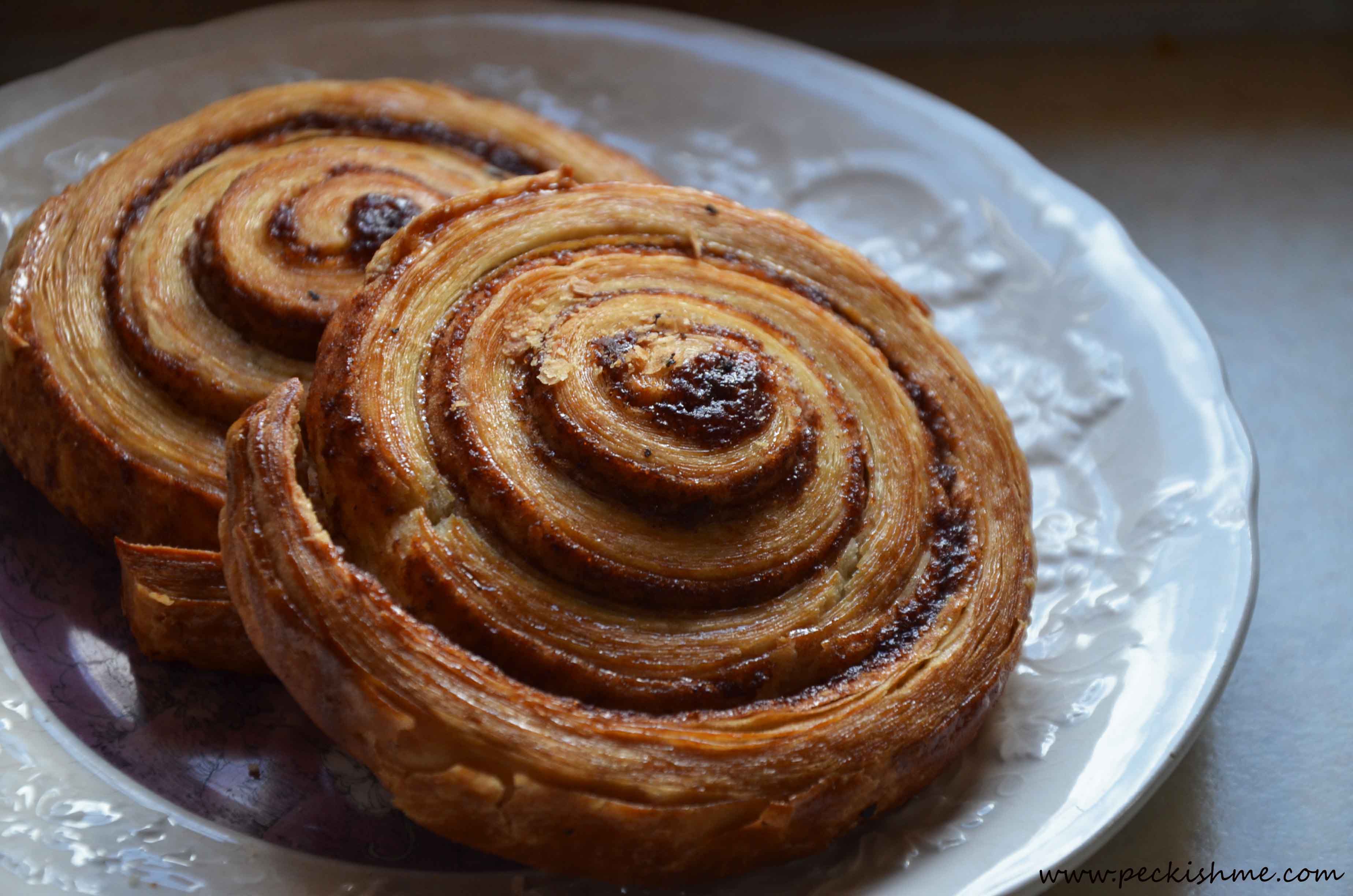 An European teatime specialty, cinnamon swirls are basically Danish pastries sprinkled with a cinnamon and sugar mixture. They are sometimes served as a breakfast food.
Raspberry turnover
A sugared puff pastry covers a tart raspberry filling.
Custard puffs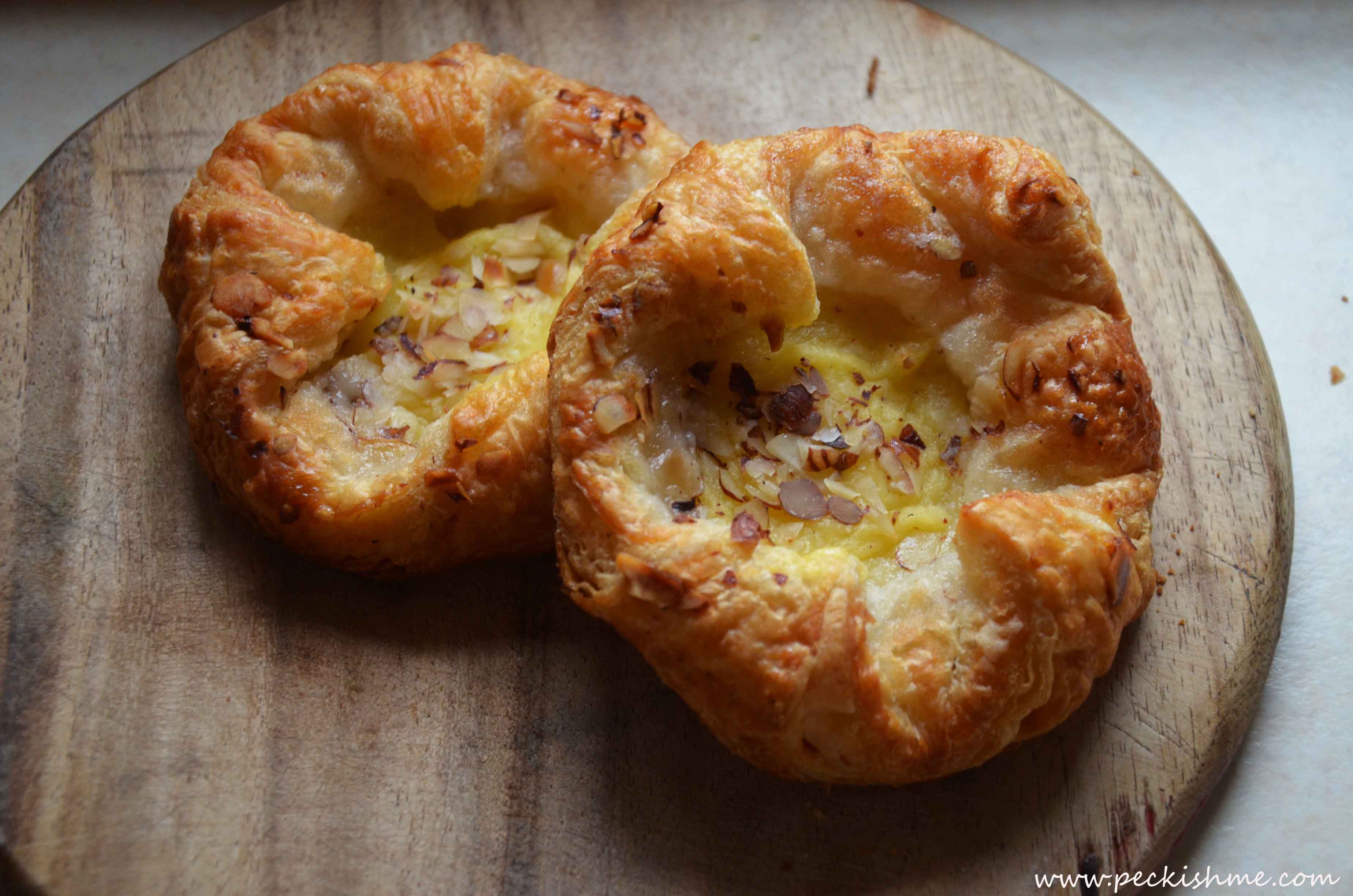 Ok, so I confess I don't remember the exact name of these Danish pastries. I do know that they are Danish pastries filled with a succulent custard filling and for me, they are ordinary.
 Eccles cakes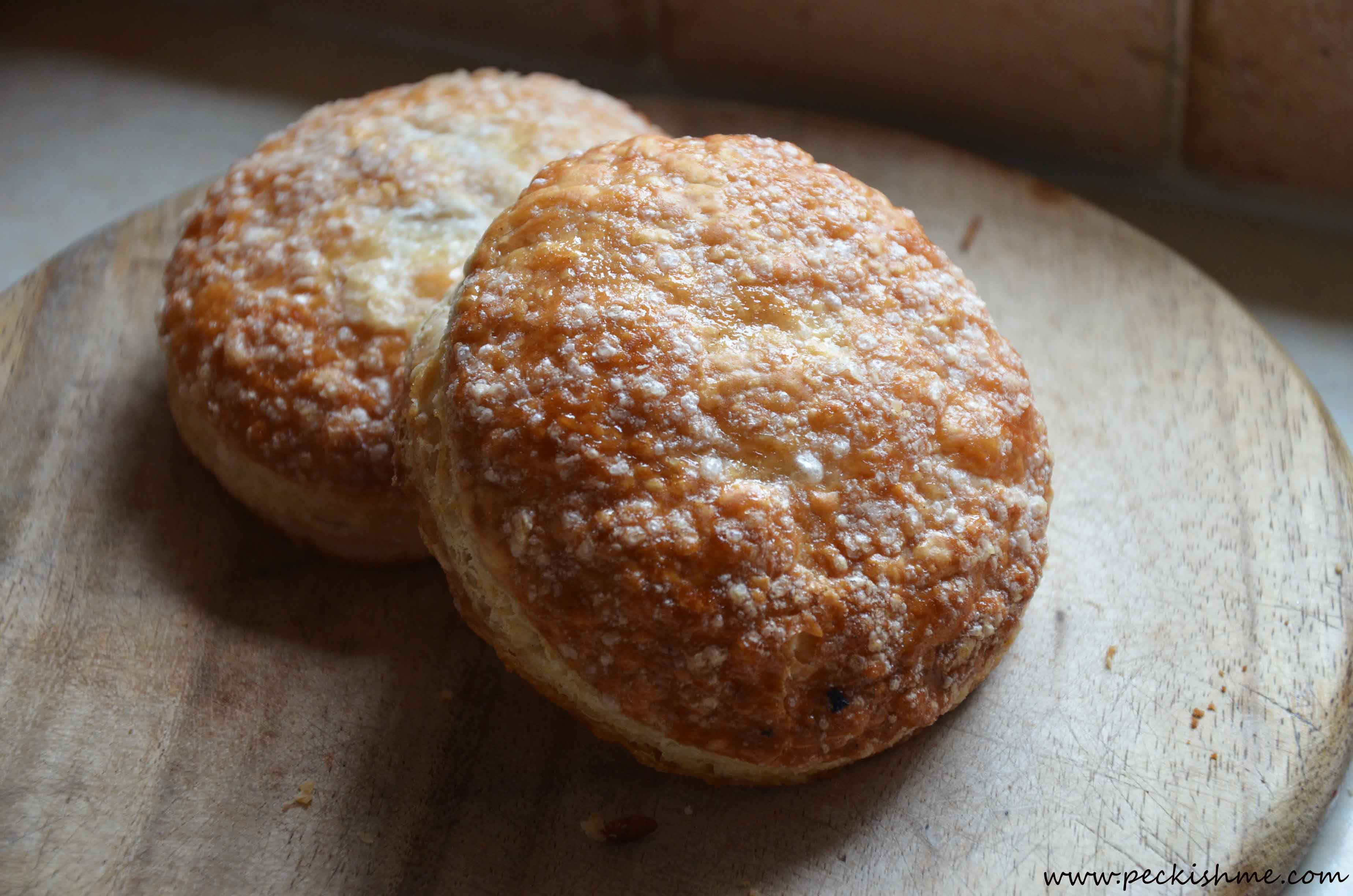 A wonderfully flaky pastry filled with currants, I loved these rich Eccles cakes named after the English town of Eccles. Look out for a recipe because I intend on trying my hand at this.
Ciders & Ales
Ah! The land of ciders and ales! The ciders are sweet and tangy and the ales, as fragrant and refreshing as the days of yore. We tried several types – the sparkling and the still kind and I liked the still ciders the best.
There are hard ciders and there are sweet ones. Made from cider apples, the sweet ciders contain extra sugar so I assume for a low calorie option it is safe to go with a hard cider. In traditional British ciders, the alcohol volumes vary from 1.2% ABV to 8.5%. It is said that 'Real' ciders contain at least 90% fresh apple juice and I whole heartedly agree.
Ale. Of this we drank pints and pints and I still want more. Fragrant with a slightly bitter aftertaste, ales are considered a gentlemen's drink. It is a type of beer that is slightly sweet and fruity and is typically brewed without hops. Ale was originally bittered with gruit, a mixture of herbs or spices boiled in the wort before fermentation, but today, hops replaces gruit as the bittering agent.
I like this medieval drink. Makes me feel like a Viking, beard, pot belly, horns and all.
All in all, memories of downing pints of cider and ale and Scottish whiskeys and swaying hand in hand down streets of Edinburgh, London, Bath and Bridport laughing our hearts out, mumbling nonsense – these are the kind of memories that me and the hubster will cherish for a lifetime.
The Jack Daniels Cider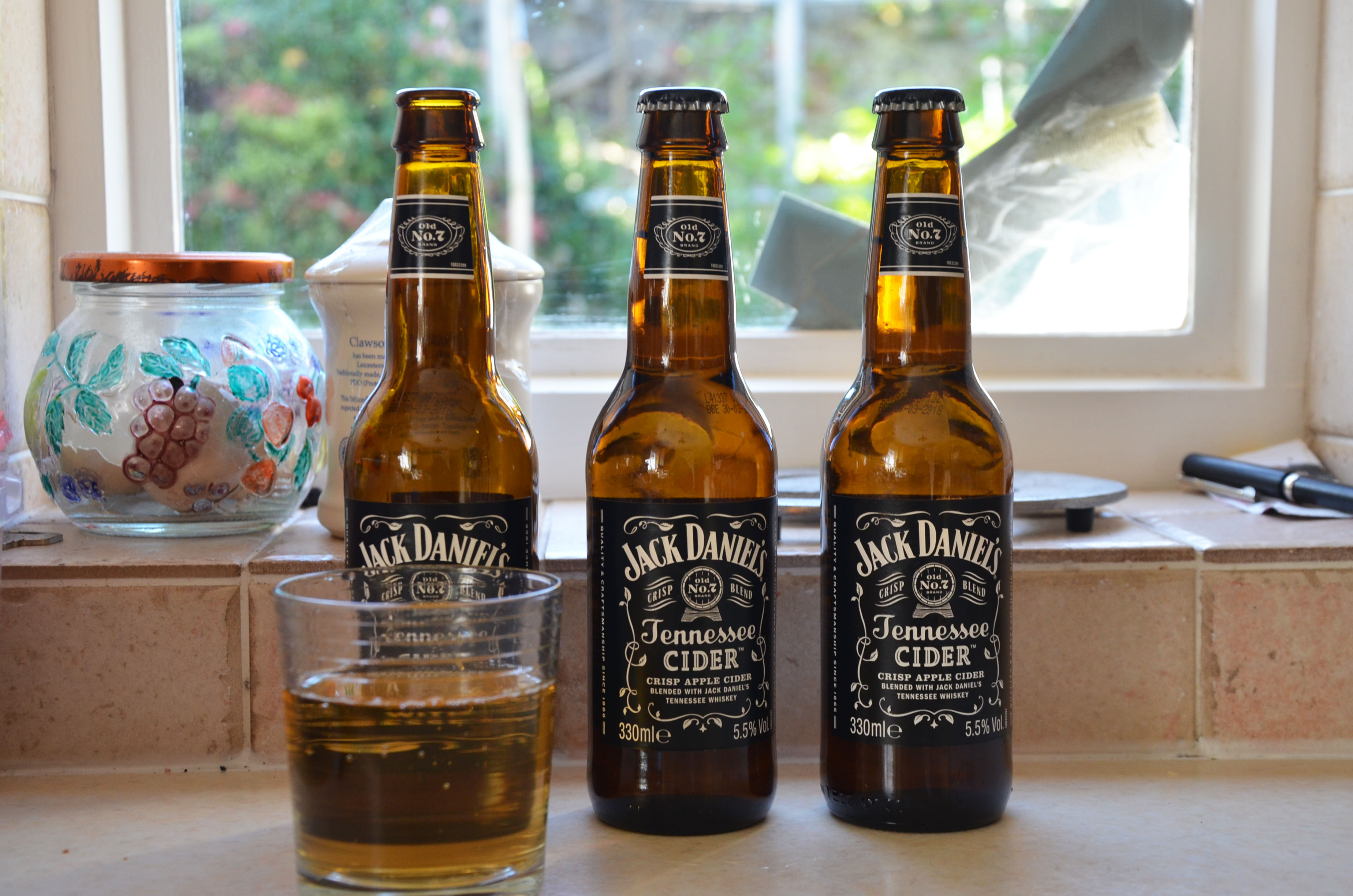 Jack Daniel's released their own Apple Cider line blended with Jack Daniel's Tennessee Whiskeyl in the UK in April this year and I got the chance to try it out.
While being light and mellow with a definitive note of that smokey Tennessee Whiskey in the finish, this does not yield that deep, earthy fruitiness that apple cider typically embodies. That being said, it IS different and refreshing and is ideal for a warm day out. I liked it, but being a cider traditionalist, I wouldn't drink it as cider but more like a cocktail of sorts.