It was a dark and gloomy day that day with neither sun nor rain. Rain was threatening in the distance, but it showed no sign of coming. I was feeling somewhat down myself and needed something comforting, piquant, yet rich and despite the heat these days, something warm. My soul needed some warming.
As one of my foodie friends recently said, food is love to the soul when there is none.
I opened the refrigerator and managed to dig out some mushrooms and some leftover cream from the other day's salted caramel sauce. Fueled by my absolute doting on the roasted pumpkin soup earlier, I was thinking, soup! So cream of mushroom soup it was.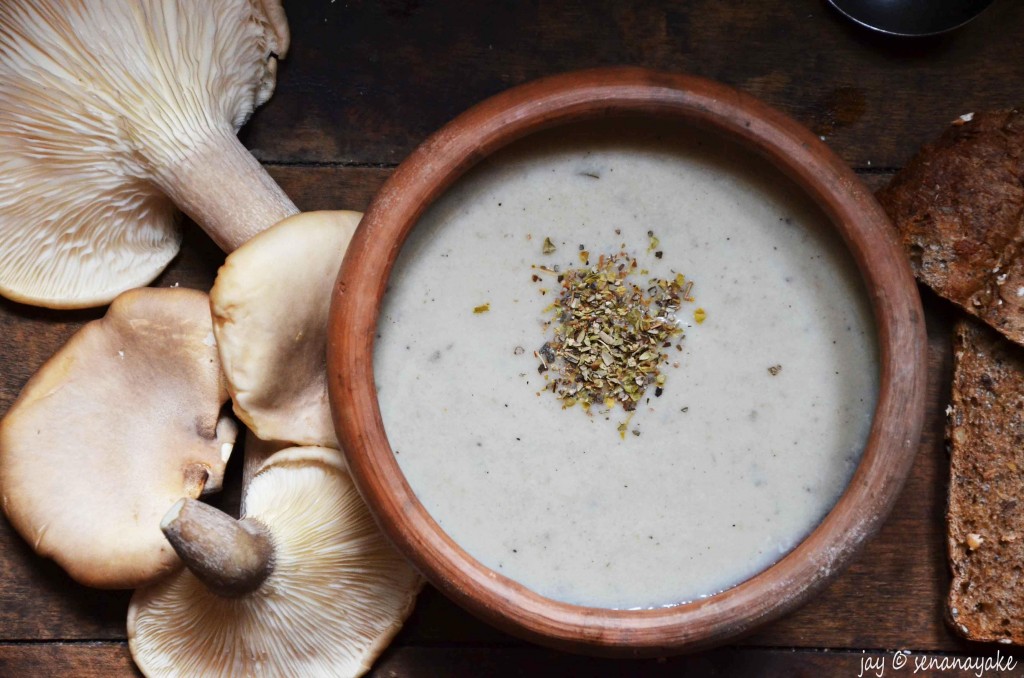 Cream of Mushroom Soup
Prep Time : 20 minutes
Cook Time : 15 minutes
Yield :

4 servings
Instructions
Heat the butter in a pan. Fry the garlic till golden brown. Add to this the chopped onion. Fry till translucent.
Chop the mushroom into medium pieces. Add this to the onion mixture. Fry till the excess water is drained. Sprinkle some salt and pepper. Take off heat.
Scoop the mushroom mix into a blender/food processor and blend well adding just 1/3cup of stock so that it forms a smooth mixture. You can either opt to do this in batches or at once depending on the size of your blender.
Spoon the mixture into a large saucepan. Add the rest of the stock and simmer on low heat.
Add the cream. Stir in well. Simmer till the soup bubbles. Add salt and pepper as desired.
Serve with a light sprinkle of powdered nutmeg on top.
Print
Just as I finished making it, the rain started pouring. I served myself a generous ladle and sat down to watch the rain. Nothing compares to a bit of rain watching with a warming bowl of soup on your lap.
It's simply a bowl of piquant earthiness rolling on the tongue with its silky velvety thickness!  Coating your taste buds in sublime creaminess, it makes you close your eyes in sheer pleasure. The mushrooms seem to have condensed within them all the flavours of the earth, of root, soil and seed, unleashing every bit of it within this soup, merging together with the distinct caramel of the onions. The garlic is forever present, a tapestry of such versatility on which the mushroom thrives, earthiness on bulb. The cream brings it all together, harmonizing the multifaceted broth with the pepper piercing through the thick blanket it creates. And that dash of nutmeg! It's warm, it's soothing, it's fragrant, it's simply, the cherry on top of the cake!(or the nutmeg over the mushroom soup)
Interestingly though, without the salt any of this will not be possible. It's like a soul mate – it brings out the best in the ingredients.
It took me less than half an hour to make this baby. And it sure is rewarding and lifted me right up from that black hole I was in. Cooking can do that to you :)
Helpful Tips
If you like a chunkier soup, you can add in some fried mushrooms later on into the soup. Or simply sprinkle them on top to serve.
Be careful when you salt the dish. The chicken/veg stock will have salt in it already so it is best that you take this into account as well.
If you don't know how to make a broth, you can simply refer here (scroll down to helpful tips) or dissolve 2 soup cubes in some warm water. That should do. But as an advocate of healthy eating, I strongly recommend that you use homemade stock.