It was one of those sweltering hot, all consuming, sweating till you faint kind of days.
Hubby boy and I had just arrived at my place for the week and as we were settling down we were both very much feeling the heat. The balcony doors in my room were thrown wide open and fans were spinning full blast but the heat just got to us anyway. This is when I managed to crawl my way to the kitchen and decided to whip up this ultimate thirst quencher.
The best part about this is that it's fresh. It tastes fresh and it smells fresh and you don't even need to add sugar or any of those things that are not good for you. It was, of course, my mother's idea to have something to cool down the evening with and I am glad that she suggested it!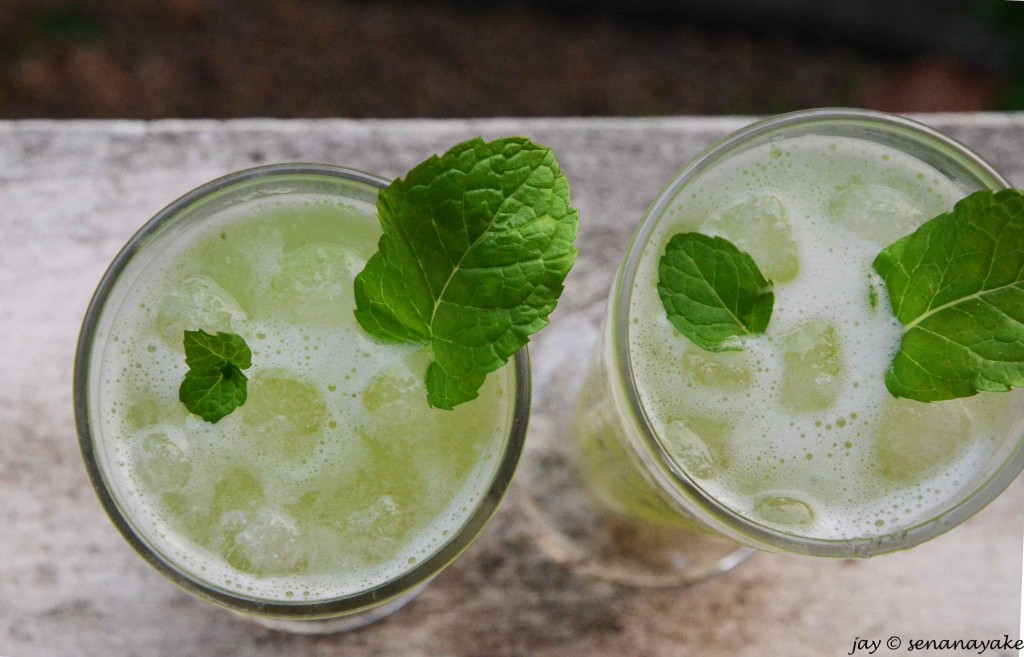 Cucumber and mint cooler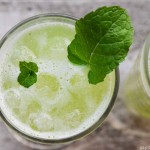 Prep Time : 5 minutes
Yield :

6 persons
Ingredients
Instructions
Peel and roughly cut the cucumber to pieces.
Blend it together with mint leaves and 1 cup water.
Strain the juice while adding more water to the pulp. Make sure you get all the flavour out.
Add juice of two limes. Add the rest of the water and ice cubes. Stir to combine.
You can either add sugar or serve it as it is!
Print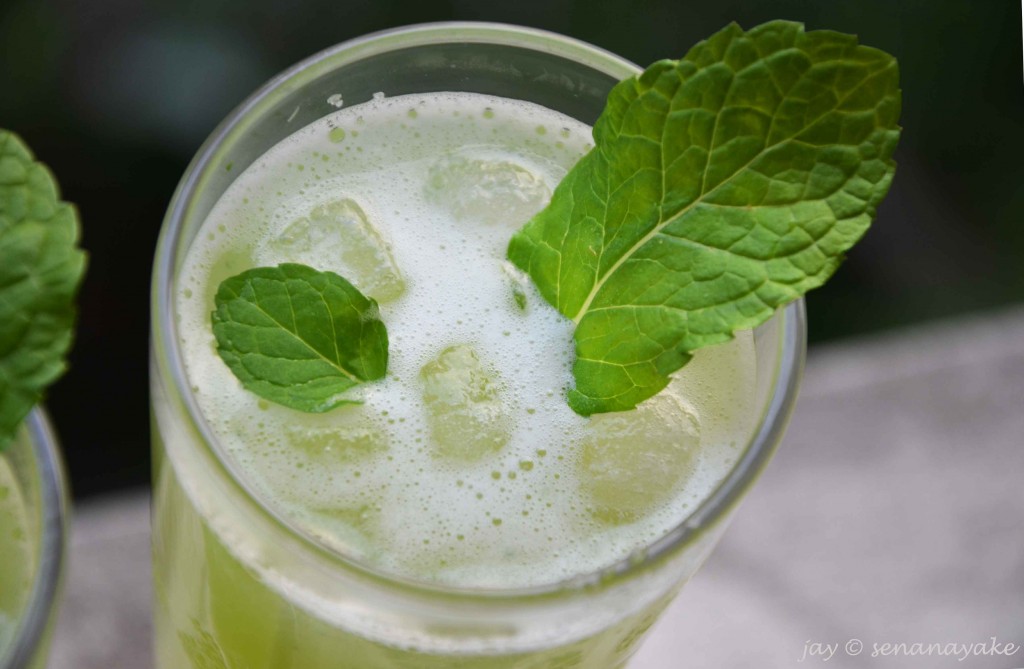 Sprawled on the two armchairs in the balcony, we could feel our systems cooling down as we sipped at it, savouring the little bursts of freshness that sparked throughout our body. It was pure bliss. The thirst had been quenched.
Ever been in a summer garden? Surrounded by ponds of sweet smelling water lilies and the lush green foliage a bird sings nearby on a branch and you are just you – at peace. Suddenly a toad jumps into a pond and you laugh, as water sprays all over you, cooling you, trickling down your neck and in between your breasts. The budding lemon blossoms perfume the air with their citrusy hues as bees buzz their way, busy gathering nectar to fill their hives which you can smell a mile away. This is what this feels like – sipping away at this green, almost luminous drink that seems magical somehow, you forget what it feels like to be all hot and bothered. You are at peace. At rest. Tranquility.
The cucumber provides that green sort of flavour to the drink that hits the nose before it hits the palate, grounded, yet cooling. This is laced with the fresh and piercing notes of mint fragrancing an otherwise mild concoction mingling with the tangy bursts of lime that has incorporated so well into the cucumber and the mint. The overall flavour is one of greenery, nothing overpowering, just beautiful, mild freshness, of cooling. The flavour profiles echo one another, coming together with perfect harmony to achieve one common goal – to provide solace to the ailing throat.
Try it. Inexpensive and so easy to make, beat the heat with this tropical cooler that simply does the job.
You know you want to.
Some tips to get you started
When preparing the cucumber, make sure you cut the stem end first. And with that slice, rub the place that you cut vigorously clockwise. You will see a slight foam of white forming. Once rubbed, wash it off. Unless you do this properly, the cucumbers tend to taste bitter and will not be very pleasant.
You can add sugar or you can just serve as it is. Alternately, you can also use other choices of sweetners like mild bees honey, maple syrup and etc. we of course had it without the sweetners.