I was on one of my baking frenzies when I baked these. A whim that I just needed to put in the oven and see how it comes out. Well they are so damned good that even I was surprised at how awesome they turned out.
The dough is the basic maalu paan (fish bun) dough that I modified to suit this. Although it would seem like a lot of work when I put it down here, it really is a breeze to make. I enjoy making bread, nothing makes me happier than getting down and dirty, wrist deep kneading dough. It's an amazing stress reliever not to mention a therapeutic, meditative, calming thing.
And the best part being, you get to eat your meditation afterwards!
Ingredients
Bun
1 cup boiling water
1 Packet yeast
400g Flour (Whole wheat/plain white flour/multigrain, etc)
2 teapoons Sugar
2 teaspoons salt (add more as per taste)
200ml Olive oil
200ml melted butter
10 cloves garlic
4 sprigs curry leaves
Filling
350g Cheddar cheese (Mozzarella is ideal, but I used cheddar in this cz we all know how hard it is to get by good mozzarella here)
200g Bacon (Optional. These days I am in love with Elephant House Bacon Whooper sausages, so I tried to use those instead of bacon. Tastes great, but texture-wise, I think bacon bits would serve better)
Method
Combine the hot water, yeast and sugar in a bowl. Keep aside for about 10 minutes.
Combine the garlic and curry leaves in a food processor until it forms a smooth pulp. Add this, salt, the melted butter in to the yeast and water mixture.
Add to this the flour, little by little. Combine with a spatula. Start kneading. After everything has combined well, cover with a tea towel and keep aside for about an hour or until the dough has doubled in size.
Separate the dough in to about 18 parts. Roll out each piece of dough with a rolling pin and place a bit of the bacon and the cheese in each. Seal the little cheese and bacon bundles with the dough in the shape of a parcel-bun.
Brush the tops of the buns with a beaten egg or some butter.
Preheat the oven to 375 degrees and prepare a baking tray scattered with flour. Place the prepared buns on the tray (the sealed part down) and bake until golden brown.
For me the yummiest part is the bun. It is soft and cushion-y, so garlic-y and herb-y that it is so flavoursome on its own. This is necessary as the cheese and the bacon inside don't necessarily give out any complex flavours, just loads and loads of well, cheese and bacon flavour. Once you bite into the buns though, the insides are so melting and gooey with cheese that it's just another dimension of taste. The bacon sausages give texture and a kick of salty smokiness that goes well well with the garlic-y smokiness that comes from the bun. Overall, a perfect flavour combination with the right kinds of textures getting along just so wonderfully.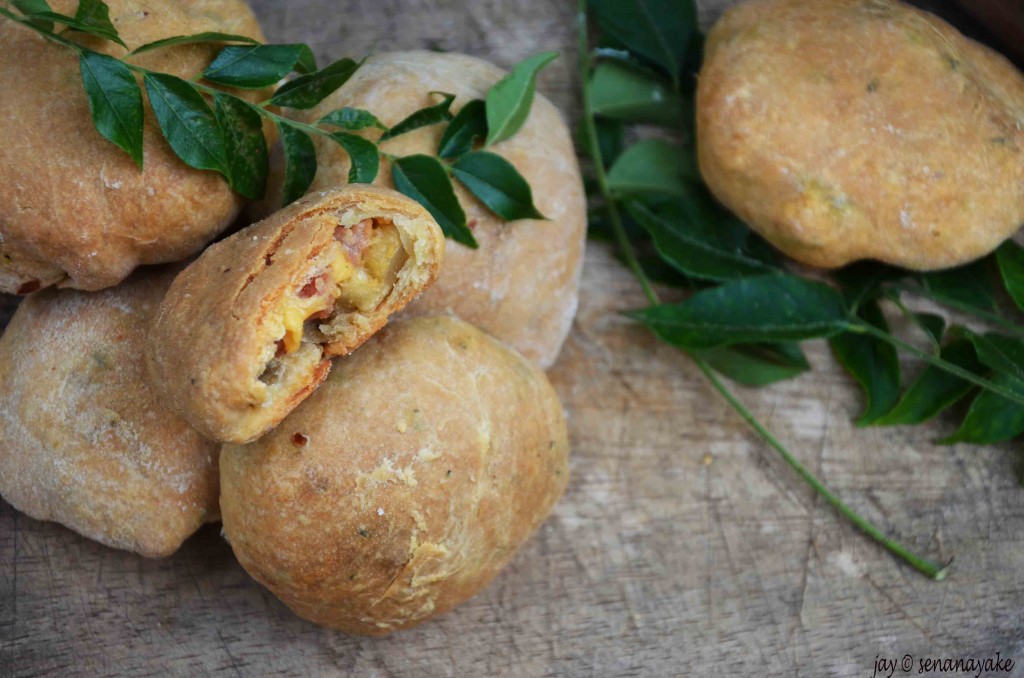 Useful Tips
Get a soft, melting cheddar if you could not find a good mozzarella. Even if you do use mozzarella, make sure you add some cheddar in along with it as the mozzarella does not really have much flavour of its own.
Ditch the bacon altogether for a vegetarian treat. It would still taste so pretty darn awesome.
You can alternate the curry leaves with any herb of your choise. Rosemary and thyme would work wonderfully as well.
Instead of freshly ground garlic, garlic powder could be used. But me being me, I like everything fresh.