I'm not a morning person….at all. Staying up till the wee hours in the morning is not a problem at all, but getting up in the morning is truly a challenge that transcends all herculean challenges.
Because of this, I often miss out on breakfast, simply because the grumpy ol me couldn't bother whipping up any breakfast in the morning. So overnight oats was a God-sent, although I was getting quite tired of the same old bland milky oats day after day – the icky, sticky, slimy porridge. So I started experimenting. I started off as not such a fan of oats – the stuff that our mothers liked to feed us stressing on their 'goodness' and health factor which was probably why we had come to assume that everything healthy must be yucky – but now I am simply hooked! Over the next few days I will be posting up some of my favourite overnight oats combinations and to start with, I'm gonna go with my absolute, all-time favourite.
The carrot cake oats. I call it this because it tastes exactly like carrot cake! So how would you like some carrot cake for breakfast?
Carrot cake overnight oats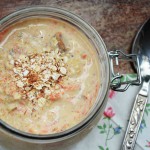 Prep Time : 15 minutes
Yield :

2
Instructions
Combine all the ingredients, mix well, cover the bowl and keep it for 6 hours or overnight preferably.
Take out in the morning and dig in!
Print
Yes, it's as easy as that.
If you like carrot cake (like me) you would absolutely love this. It's exactly like a mushier version of the carrot cake, the spices giving it that Christmassy kind of warmth while the milk and the yogurt give it a cream cheese-like flavour that envelops everything. The best part is that it has not an ounce of sugar, with the sweetness coming only from the dates and the carrots. And you get to eat your veggies too while having dessert as breakfast! It's so delicious that you start wondering if this really is good for you!
Useful tips
Whatever you do do NOT heat the overnight oats. If you want it warm, let the oats thaw outside the fridge or lightly, VERY lightly microwave it for a few seconds. Do not let it cook.
You can adjust the amount of spices as you wish. I like cinnamon in almost everything, so I load up on the cinnamon in this one and it is just absolutely rewarding!
The milk – Oats tend to soak up some of the milk so make sure you add enough. If you like a smoother consistency, more milk is better. If you like a thicker one, adding milk so that it just about covers the mixture (after you've mixed it all in) is enough.
If you want to go vegan, I suggest the yogurt to be replaced with a banana and the milk to be replaced with coconut milk. Not quite sure if it would taste the same though.
If the sweetness is enough, do feel free to add in some sugar. But for me, the dates and the carrots add more than enough sweetness, so that does the trick :)
This post is dedicated to those who like to sleep in late but who have partners/kids who like to get up early and are quite dependent on their better halves to provide them with food. You late sleepers are awesome! Don't compromise on your sleep because you guys deserve it and are probably leading very stressful, demanding lives and therefore are entitled to it. Anyways, there shall be no excuses for those who want to sleep! (says the sleep advocate – moi) Anyways, make this the night prior and keep it in the fridge. Your early bird dependents will then only have to take it out of the fridge and dig in! I'm sure they can manage THAT ;)
If you liked this, you will definitely enjoy the apple pie overnight oats and lime & thyme overnight oats recipes here. Enjoy your mornings better with overnight oats!