And so begins the Avrudu food marathon. For those who aren't aware, the Sinhala and Tamil New Year is just around the corner (13-14th April) and as all good Sri Lankan families do, our household is all set to celebrate the occasion with an abundance of oily, fatty and essentially unhealthy food that are nevertheless oh-so-delicious! The Avrudu season is essentially a dieter's worst nightmare. With so many tempting smells wafting about, not even the most disciplined of eaters can keep themselves away from the oil-oozing good-badness that beckons them like the devil himself.
And who can say no to a kevum! Kevum, also known as oil cakes, is legendary in its seductive powers. I, for one who generally dislike oily things, still adore kevum with a passion. It is the classic, very Sri Lankan sweetmeat that is almost symbolic of Sri Lankan-ness. If you haven't eaten a kevum, you are no Sri Lankan at all.
Making kevum requires some skill and training. It is not something that you pop into an oven and half an hour later, it is ready. Making of kevum is labour intensive work as each sweetmeat is individually made, individually fried with personal care and attention going into each and every one of them. And not everyone can make kevum either. To get that perfect 'konde' that little mound that goes atop each oil cake, it is considered an art and a skill. However, this is an 'art' that I mastered quite easily and therefore, I do not think that it is that difficult.
Getting the mixture right is half the battle and this is known to be notoriously difficult. The recipe I am going to give is not a recipe that has been passed down from generations or all that jingbang, just something that my mother had created herself off of a few recipes that she got off the internet. This totally works and we consider ourselves as having mastered the most trickiest of all traditional sweetmeats. This is something completely gloat-worthy!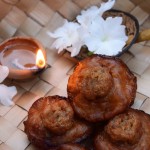 Yield: Approx 25
Prep Time: 60 minutes
Cook Time: 60 minutes
Print
Sri Lankan oil cakes (Kavum/Kevum)
Ingredients
Instructions
Wash the red rice thoroughly. Soak it in water for 2-3 hours (not more than that), dry the rice and powder it to fine flour. Sift the flour through a fine sieve. You should have 500g of rice flour.
Combine all the ingredients in a bowl. Do not let the flour form any clots. The mixture must be smooth and slightly thicker than the consistency of a regular pancake batter. Add water as necessary. Keep it aside for about 1 hour for the flavours to merge and disperse.
Heat a pan with oil. The batter needs to be deep fried, so fill the pan about half way with oil.
When the oil is hot (you can test this by pouring in a bit of batter), slowly pour about 1 ladle of battle into the pan. Make sure you are pouring the batter in a horizontal line, not letting it flatten.
Once the mixture is poured, immediately stick the long metal stick to the middle of the batter. With the oil spoon, swirl the oil towards the metal rod (this way, the batter will amalgamate towards the rod, forming the 'konde') To form the 'konde' properly, you might have to shape it with the spoon as well.
Fry till golden brown and firm. Drain the excess oil on tissue paper.

Not necessarily the healthiest sweetmeat, but whoever said that festival food is healthy? In any case, it is healthy in the manner that there are no artificial ingredients added, it's all natural! What's more, completely vegan!!
It's soft, it is moist with thin, caramelized crunchy crust bits here and there once you bite into it, oily, but satisfying so that you will keep reaching for more. It is treacly from the sugar and the treacle while the fennel seeds give it a herb-y touch that pierces through the moist richness of the oil cake. In short, you simply have to bit into one to really know what it tastes like. So yum!
Useful Tips
Do not soak the rice for more than 2-3 hours. I know some recipes tell you to soak the rice overnight, but the batter does not come out right if you do so.
If you are trying this recipe for the first time, it is advisable to be cautious when adding water. Test the consistency first by trying out different amounts of water additions. For me, 200ml water works but it varies on the rice that I use as well.
Practice makes it perfect! Getting the perfect shape is no easy task. But practice and get a feel for it and you will get there in no time!