Okay folks, fun time's over.
Christmas and New Year came and went. You've had your sugar overdose, the booze, the guilty pleasures and indulgences and now, it's time for that guilt trip down the lane (that usually leads to the gym). And so, it's that time of the year that juice cleanses, detox rituals, fitness regimes and the like come into play!
This by no means is a juice cleanse or a detox. This is just a delicious drink that will assist your journey of purification with its sheer natural goodness.
The 5 pointed star
Star fruit, also known as Carambola is essentially a tropical fruit that is known to have originated from Sri Lanka and is native to Sri Lanka, Malaysia, Philippines, Nepal, Indonesia, Vietnam, India, Mauritius, Bangladesh and Seychelles. With distinctive ridges running down its sides, the fruit is named as star fruit due to its distinctive star shape when sliced. These stars are usually five pointed, although seven or six points also exist.
The sweet star fruit is slightly sweeter when ripe and is delicious whether had alone or as a juice. However, the most commonly found type of star fruit is the sour star fruit which is rather sour and difficult to eat on its own. The entire fruit is edible, including the skin, and has a flesh that is crunchy, firm and quite juicy. With a distinct taste like green apple and pears, the star fruit is a popular fruit among many young and old.
The main characteristic of the star fruit however, is its nutritional value.
Star fruit is one of the fruits that have a very low amount of calories. However, it contains a high amount of dietary fiber and Vitamin C which is a powerful antioxidant which helps the body fight better against all kinds of harmful radicals.
It also contains a number of flavonoids –   quercetin, epicatechin, and gallic acid with 143mg/100g of polyphenol which are all instrumental in protecting the body against radicals. It also has minor amounts of phosphorus, potassium, and iron and zinc as well.
So how does it benefit you?
Help promote weight loss, fight against cancer, maintain blood pressure and heart, curb inflammation, to name a few.
Combine this with ginger, the other ingredient of this delicious drink and you've got yourself a delicious elixir of potential rejuvenation.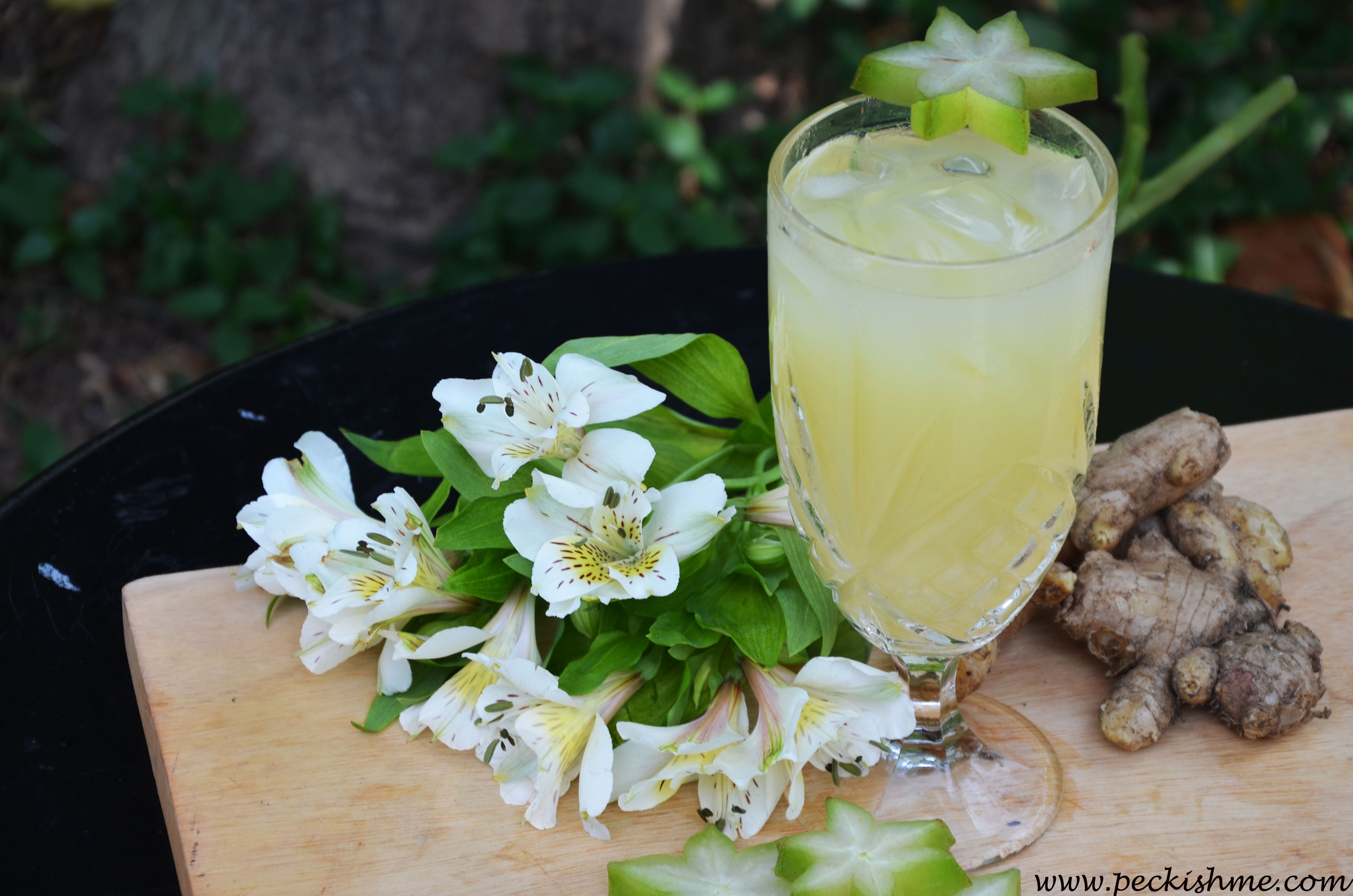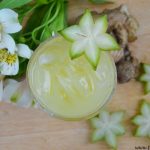 Star fruit cleanser
Ingredients
Instructions
Cut the star fruits width-wise into stars. Remove the pips.
Clean the piece of ginger.
Place all ingredients and water in a blender. Blend till smooth and combined.
Strain the juice. Add more honey if needed more sweetness.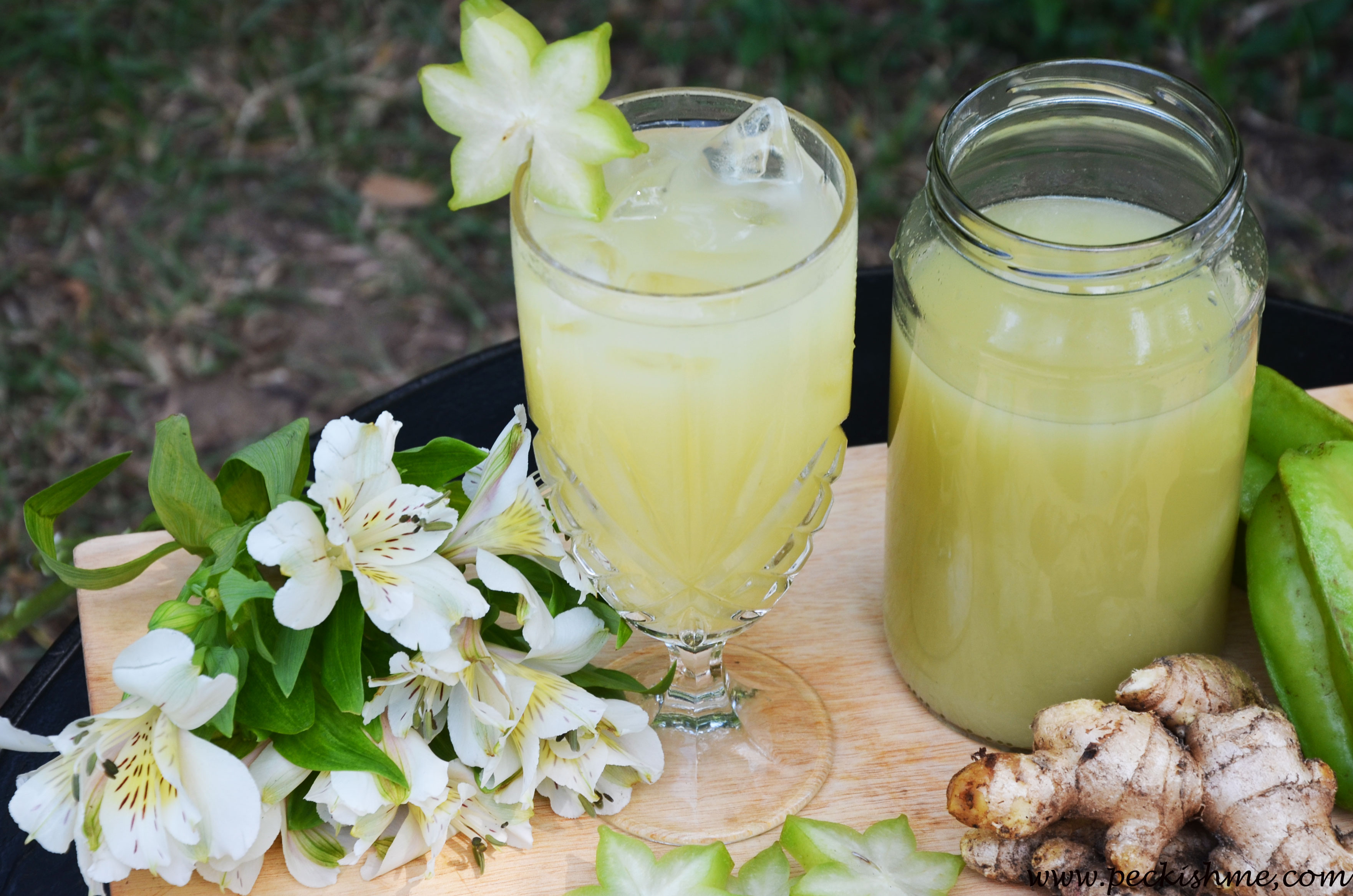 Tangy, sweet, zesty, refreshing – it's a yellow and cheerful drink as happy as sunshine. The tartness of the star fruit complemented by the natural perfume of honey, its sweetness ruffling though the deep-lying layers of flavor of star fruit, making it twinkle, shine and winkle. The ginger is a sprightly one. Playing a lively tune, it pierces through the harmony of the honey-fruit and sizzles around the edges, ripping into the equilibrium of it all at one time and blending into the beautiful yellowy haze in the end. One sip is a lounge in precious luxury that will take you through the sun-kissed groves of exotic Ceylon and invite you into the jade green gardens where peacocks, parrots and butterflies run nigh. It truly is a floral treat.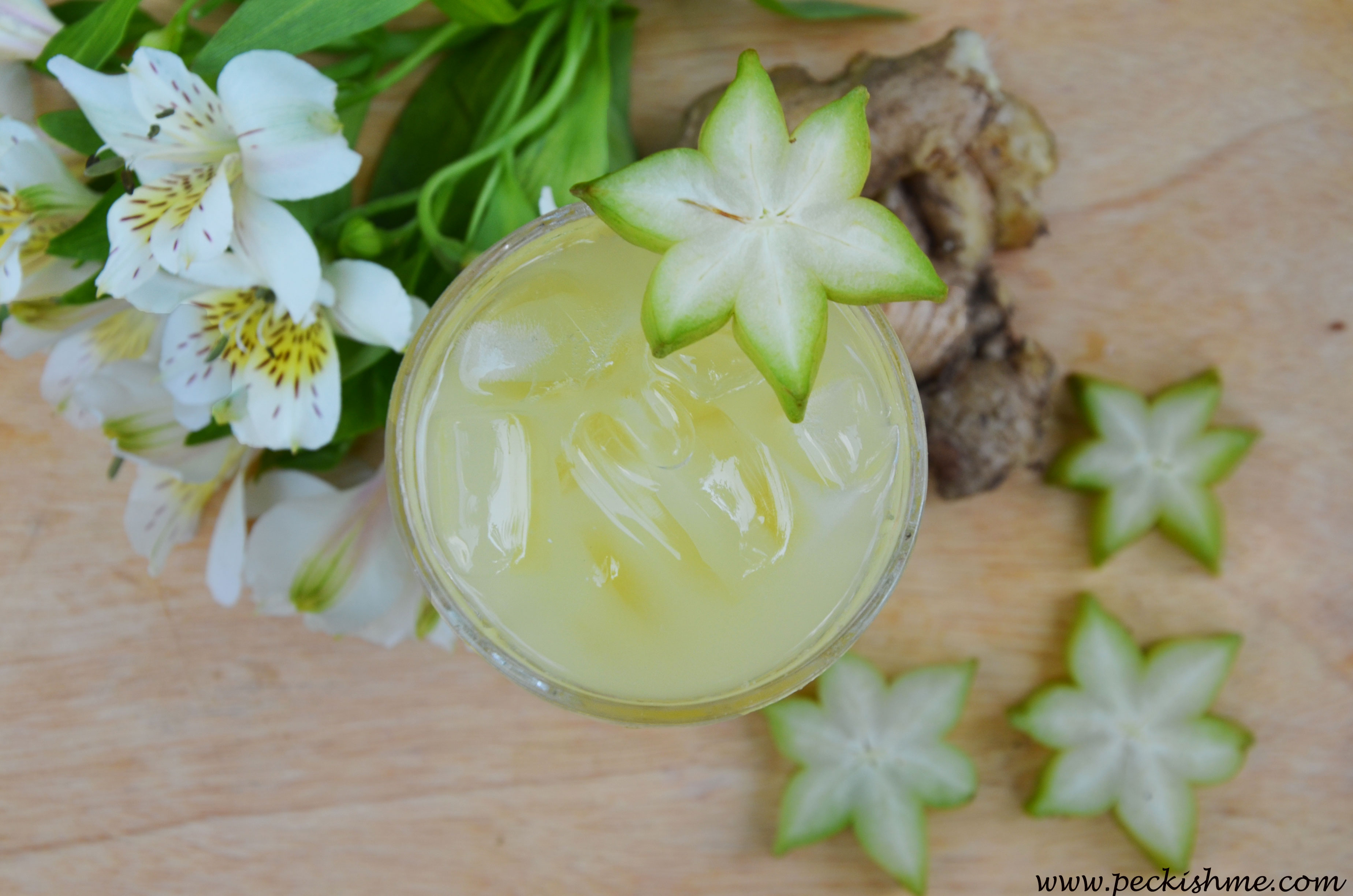 Juice tips
Use ripened  star fruit for a tasty drink.
Use more ginger if you want more piquancy, use less if you like more sweetness.
Honey can be replaced with treacle or sugar for a completely vegan treat.
Also, enjoy our little star fruit dance :)
If you like more star fruit recipes, you can try this Star fruit upside down cake I made for Christmas :)
Like our FB page for more cool stuff
Follow us on Twitter
Subscribe to our videos on YouTube