Days have been hectic and because of that, I've often had to skip meals for the past couple of weeks. But with the workload I've got to handle, I also need a lot of energy which I would not have without any nutrition in my body. So this recipe came as a direct result as the answer to an intense and very real need.
Dates are known for their energizing properties and I often have a few dates with a glass of cold milk every now and again when I need a quick nibble. (If you haven't tried this, I suggest you do because it is simply, delicious). And it's quite filling too so it can be a meal in itself as well. Anyhow, I don't suppose this is my own unique recipe – it is so easy and obvious that I am sure that you might even be making this yourselves. Anyways, here goes.
Energizing date smoothie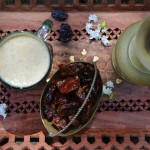 Ingredients
Instructions
Put the dates and a small amount of milk and yogurt in a blender/food processor. Blend till there are no pieces left of the dates.
Add the rest of the ingredients into the blender and blend till combined.
Serve cold.
Print
This wonderful date smoothie is thick, it is rich and it is very filling. There is no additional sugar added because the dates provide enough sweetness to the drink. It's so thick and creamy that it coats the mouth, filling your senses with a sense of voluptuous luxury that is very much fulfilling. The dates provide the sort of a caramel taste to the drink, cutting through the creaminess of the milk and the yogurt so that it does not end up being too rich or overpowering. The homemade yogurt (find out how you make it right here) adds a certain tartness to the drink, once again preventing the drink from being too sweet.
It's great for an instant energy boost and is very filling too and would be the ideal drink to start off your meal, especially for those suffering from gastritis. This being the fasting season for those of the Muslim faith out there, I reckon this would be a great (and healthy) fast-breaker as well. And what's more, it's crazy how easy it is to make this!
Useful Tips
You can easily control the thickness of this drink. I like mine thick so I make sure it is of the desired consistency. If you don't want yours too thick, add more milk. If you like it to be thicker, reduce the milk and stock up on the dates and the yogurt.
Make sure the dates are well broken down first before adding all of the ingredients. Add just a little bit of yogurt and milk to ensure it blends into a smooth, thick paste and then add the rest of the milk.
Do not add sugar. Unless you have an extra sweet tooth that is. The drink is very sweet in itself so taste first before adding any extra sugar.