This is a dish that I quite brainlessly prepare. This dish is so mundane and I prepare it so regularly that never have I even considered blogging about it. But a recent chat with an acquaintance made me realize that not a lot of people are aware that they can make hummus at home. Hence the blog post.
I'm not a big fan of boiled chickpeas, especially not for breakfast. So whenever there is boiled chickpeas for breakfast as it is often the case at my place, I often take my share of the breakfast and make hummus instead. While the folk at home are not fans of the dish and couldn't figure out why I would want to squish up perfectly fine chickpeas into a pulp, I quite enjoy this with some pita bread a demitasse of luxurious Turkish coffee (the recipe for which I shall post on another day). This is a sinfully easy recipe that needs literally 5 minutes. You barely need to lift a finger.
Ingredients
1 cup of boiled chickpeas – Soak raw chickpeas overnight and boil them until soft and crushable in the morning with a bit of salt. Strain the water. Alternatively you can use canned chickpeas but I like them fresh, natural and without the artificial preservatives
2 cloves garlic
1/2 cup water
1 tablespoon tahini
Salt to taste
2 tablespoons of extra virgin olive oil
Some cilantro
1 teaspoon chili powder or paprika
Method
– Process the garlic cloves until well crushed. Combine the chickpeas and the garlic together in a food processor and blend till smooth adding water occasionally until the required consistency comes.
– Add the tahini and again, blend until combined. Add salt to taste.
– Spoon the mixture into a dish. Give it a good drizzle of extra virgin olive oil. Sprinkle over with some cilantro. If you wish, scatter some whole chickpeas over it.
– Finally, scatter a pinch or two of the chili powder over it. Dig in with some pita bread!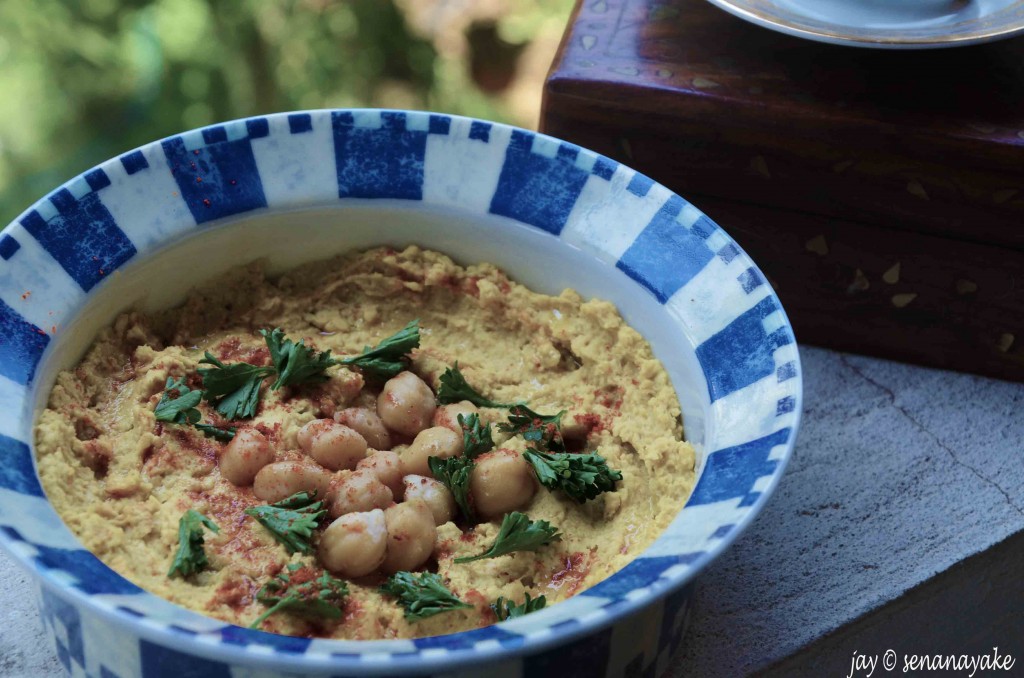 A really simple dish. So simple that I am almost ashamed to talk about it. creamy and with a bit of texture at the same time, it is soft and smooth with the nuttiness of the tahini and the mellow character of the chickpeas curbing the sharpness of it beautifully. Use it as a dip or a spread or eat it by itself. It really is delicious.
Tips
If you like a smoother consistency, I suggest you peel the skin off the chickpeas. (yes, sit and peel each and every one of them. You won't regret it). But I like it with some texture so I just don't bother.
Alternatively, you can top this up with some barbecued meat such as chicken or beef. The oils from the meat will seep into the hummus giving it a delightful smokiness.
Chili powder or paprika is optional. I like mine with just a bit of kick and hence the paprika.
No pita bread? No problem! Simply generously slather some butter over some regular white or brown bread and pan fry it until golden. Your pita bread is served!
There you have it, hummus out of jars is a thing of the past, has always been at my household instead. Replace it with this homemade hummus – super healthy, super fresh.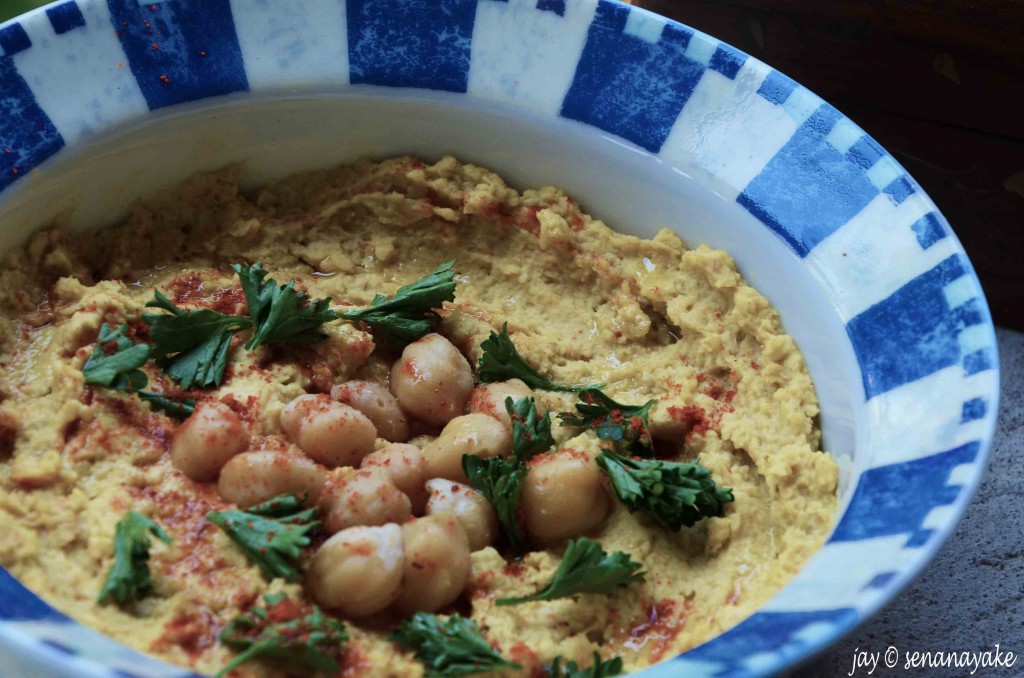 Copyrighted images property of the owner. Copying, downloading these images is strictly prohibited and is punishable by law.