An easy dinner idea for a weekday 
Eating healthy for me is a way of life with an occasional indulgence in the middle. Getting hubby boy to eat healthy, well that is another story altogether.
It's cauliflower season here and big, white pimply globes stare at you from supermarket shelves and farmers' market crates wherever we go. They are hard to ignore really. Because of the abundance of the season, it is a shame to let it all go to waste. So this cauliflower casserole is one of my favourite things to make, because this is health, nutrition and convenience all in a single dish.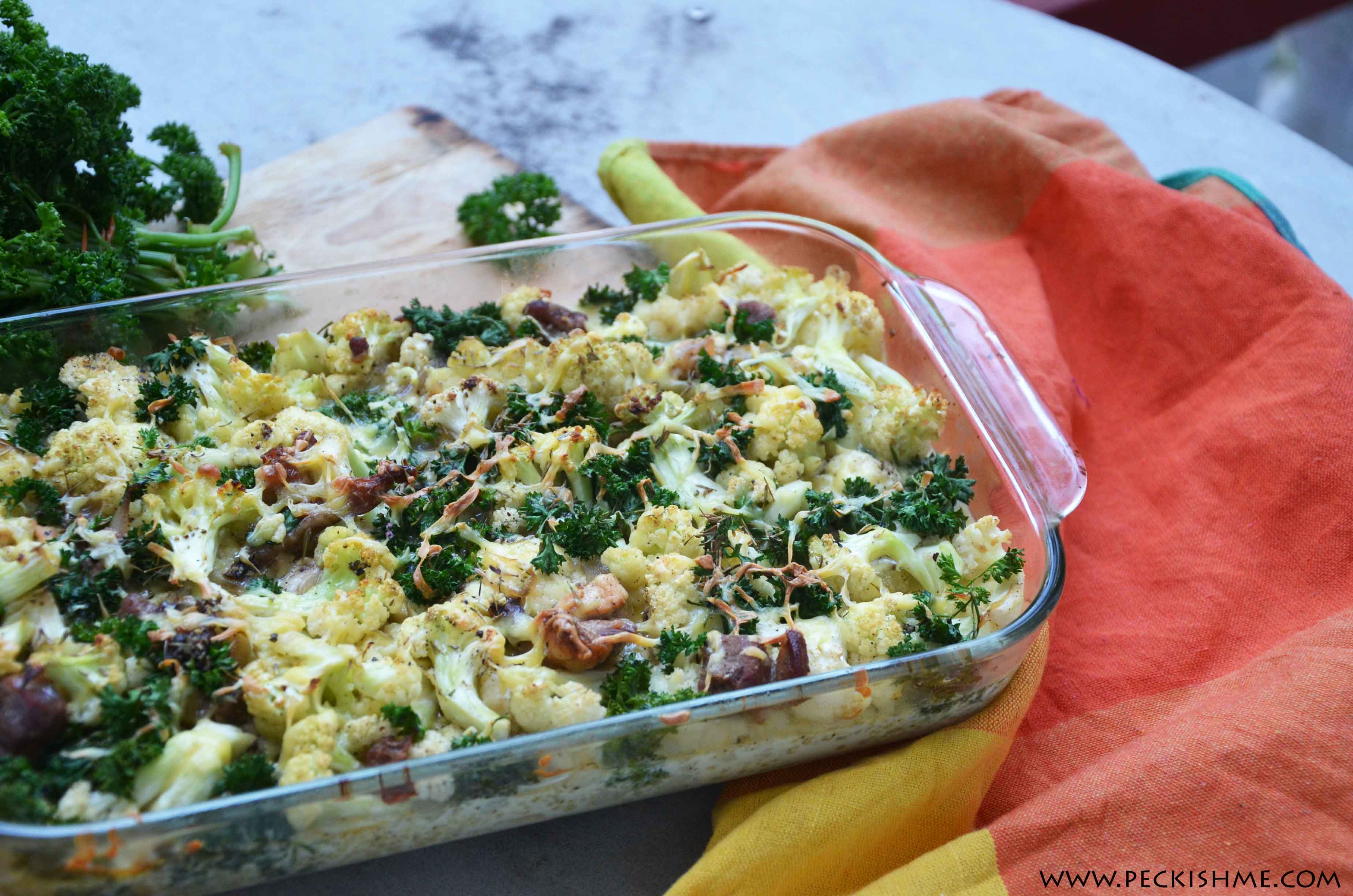 The benefits of cauliflower are many and this is something that is being overlooked. I read this amazingly well researched blog post on the benefits of cauliflower and I have new respect for this wonderful vegetable now.
This dish is something from the pre-marriage era of my life. Every cauliflower season I would make this for my parents at least once a week and they would sit and eat no questions asked. I sometimes use chicken for this, but I prefer the gamey lamb or mutton instead of the mellow tasting chicken because it adds more character to the dish. If we were beef eaters, I would have tried that too but since we are not, I cannot tell how it will be with the meat.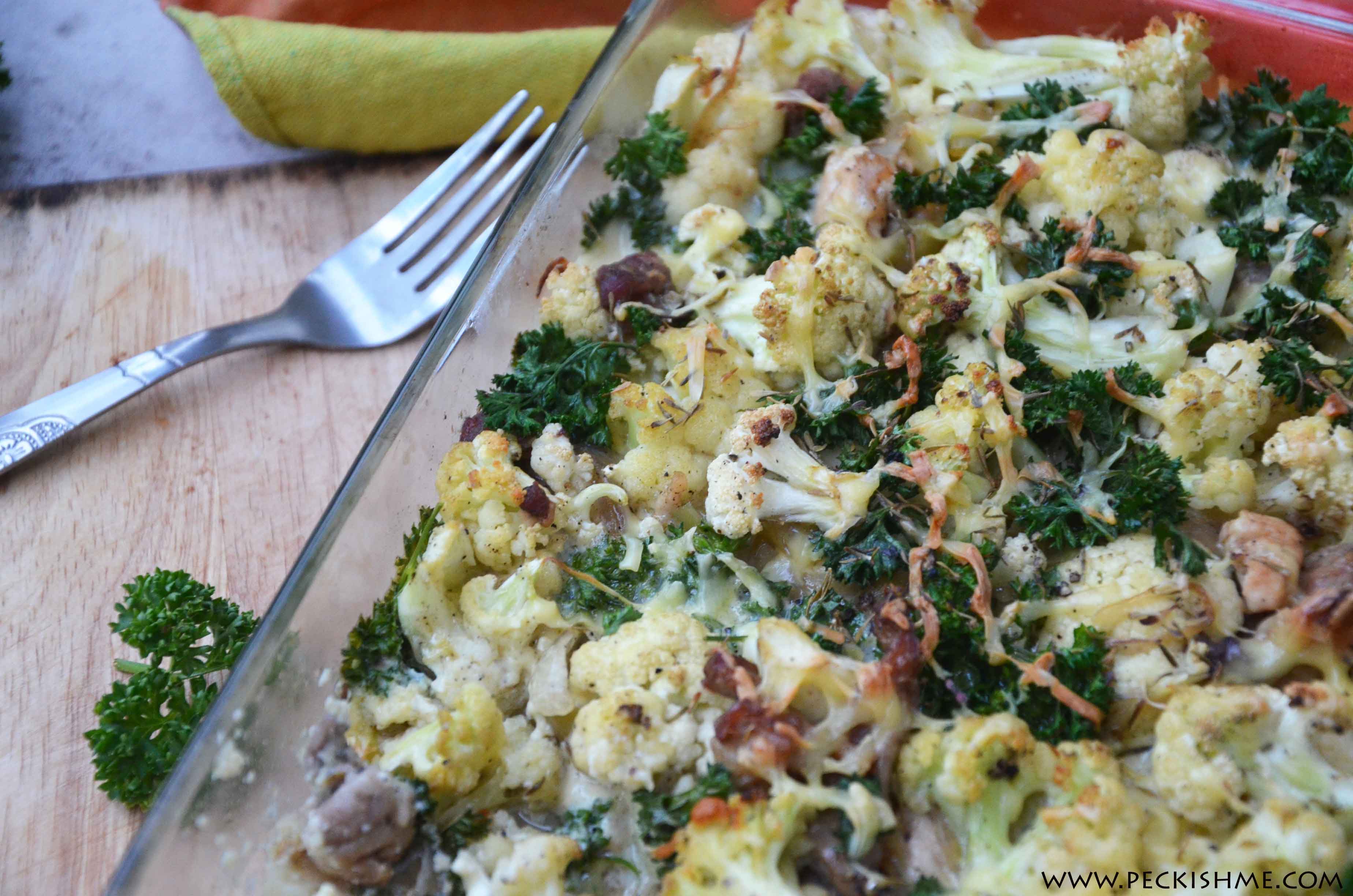 I did want to go all healthy and avoid anything fatty, but alas, try feeding cauliflower to a picky eater whose idea of vegetables is two spoonfuls of dhal. Such are the woes of my married life – a food blogger who blogs with an obsession for healthy food who lives with a husband who'll only eat his veggies if there was a gun against his head. So in comes the fresh cream and the cheese, small amounts of it to make it tasty but keep things healthy as well. I'd rather have this as a meal in itself, but it is also as good as a side dish as well. This is ideal as a quick dinner with a slice of multigrain bread to soak up all those lovely juices and is incredibly easy to make.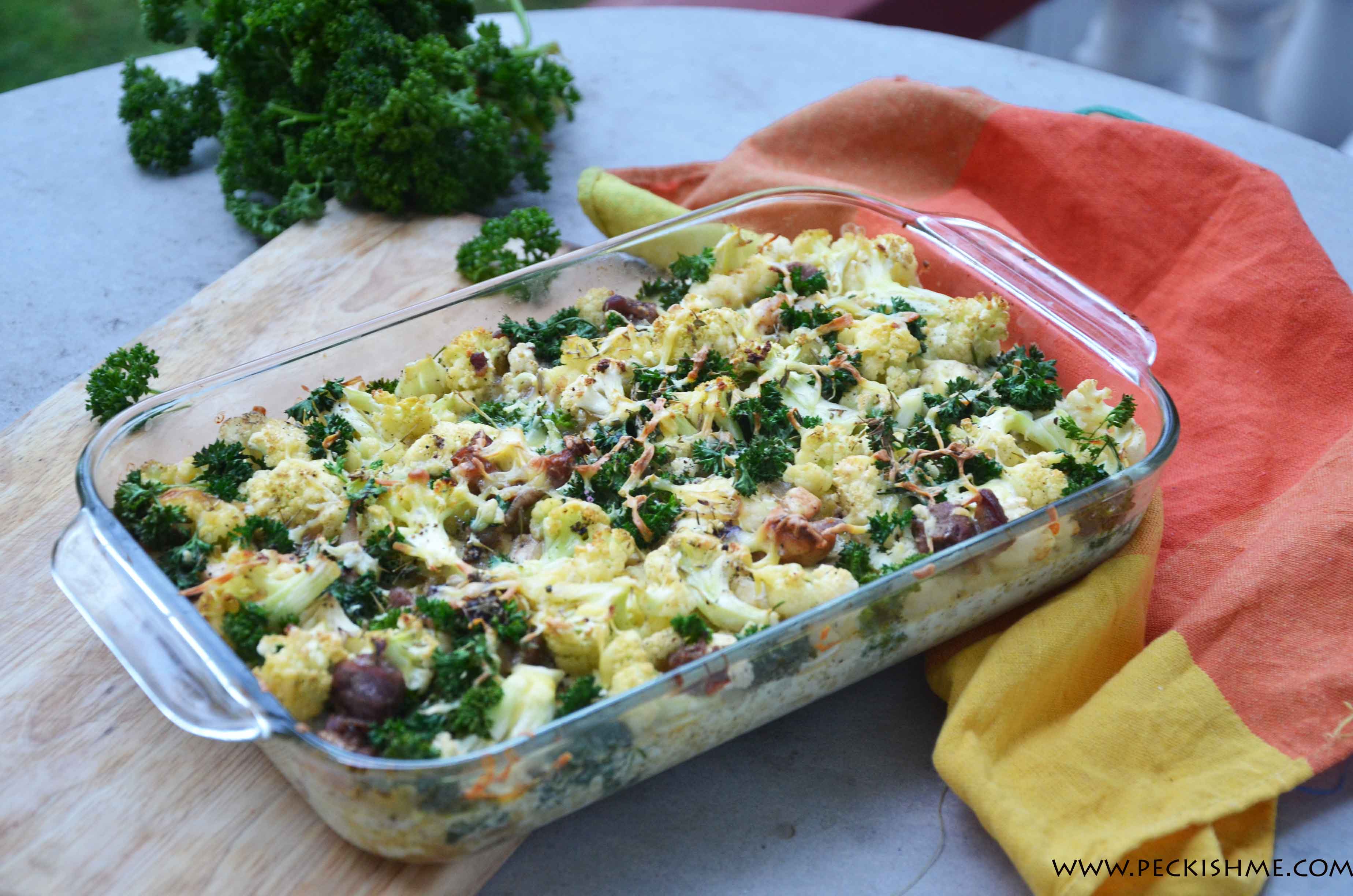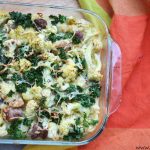 Yield: 4 servings
Prep Time: 15 minutes
Cook Time: 20 minutes
Serving: 4 servings
Print
Baked cauliflower casserole
Ingredients
Instructions
Steam the cauliflower but make sure you take it off while it is still crunchy. Keep aside.
Cut the lamb into bite sized pieces. Heat a pan with some oil and once heated, throw in the lamb, some salt, pepper and oregano and sauté covered until cooked. Throw in the garlic and sauté for a while. Once fragrant (and don't let the garlic burn), add the onions. Fry till translucent. Take off heat.
In a large bowl, combine the steamed cauliflower, parsley and the lamb mix. Toss until well combined.
In a separate bowl, beat together the eggs, the cream, and salt and pepper. Dissolve the cornflour in the stock and beat this in as well.
In a deep oven safe dish, lay in the cauliflower mutton mix. Make sure the layer is even.
Pour the egg and cream mixture over this. Make sure you cover the entire width and the breadth of the dish.
Combine the cheddar and the mozzarella. Sprinkle this over the cauliflower covering the entire dish.
Bake in moderate heat (250F) for about 20 – 30 minutes or until a skewer inserted in the middle comes out clean. The cheese on top would have become golden by this time.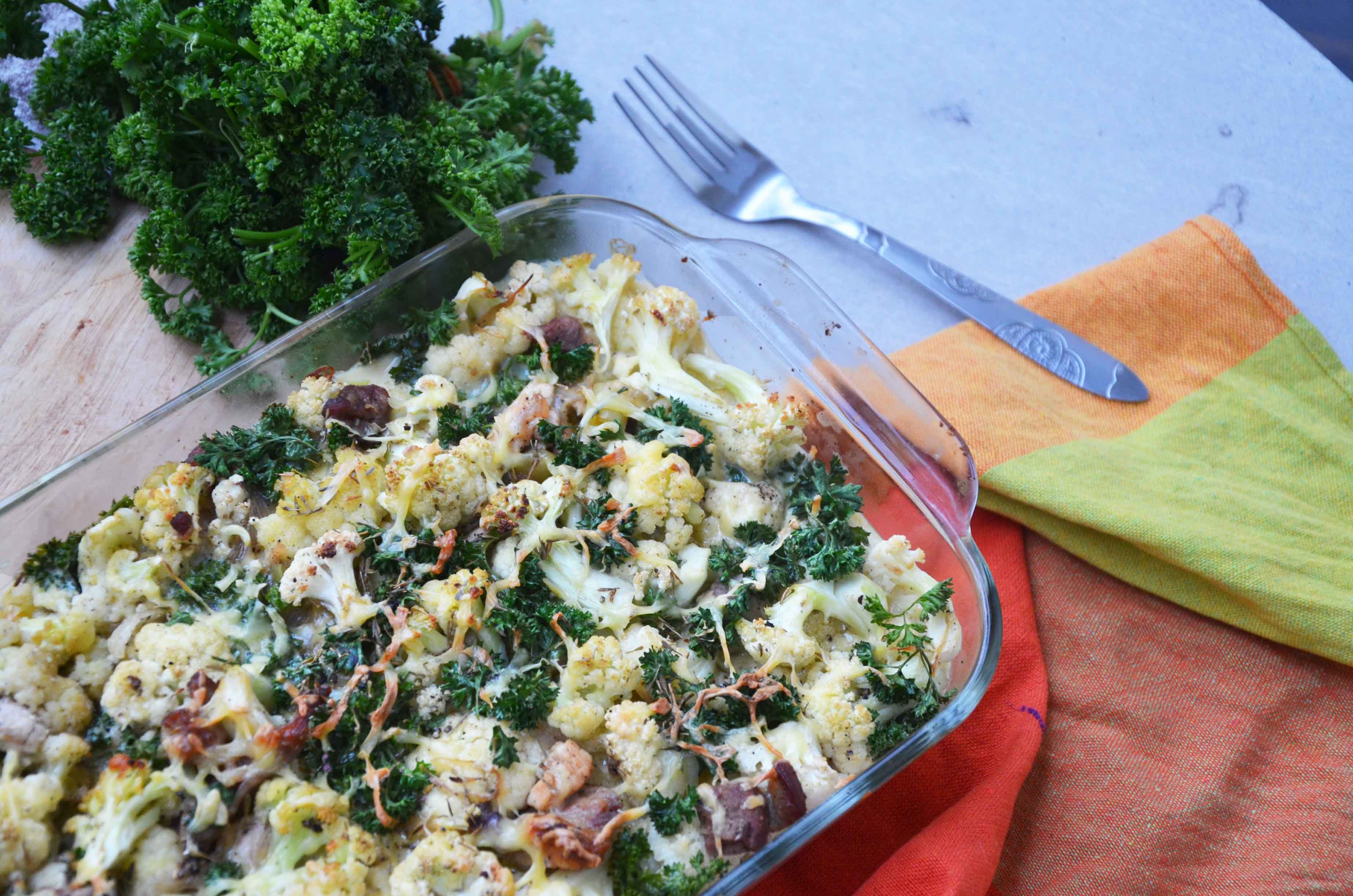 A simple yet rewarding dish.
Dig right in and you will find crunchy cauliflower florets encrusted with toasted cheese embedded within the creamy, flavorsome cake-like texture at the bottom, coming clean like a slice of well baked lasagna. Enveloped in a lusty oregano-infused creamy embrace, the cauliflowers still yield some of that crunchiness, blending in so well with the softness of the egg, enhanced by the gamey taste of the lamb which literally shines out from this otherwise mellow dish. The parsley lends it a fresh green touch while the pepper piques and pecks at the taste buds, cutting through the creaminess of it all. Have a piece of bread to mop up all those beautiful juices and you'll have yourself rubbing your tummy in total satisfaction.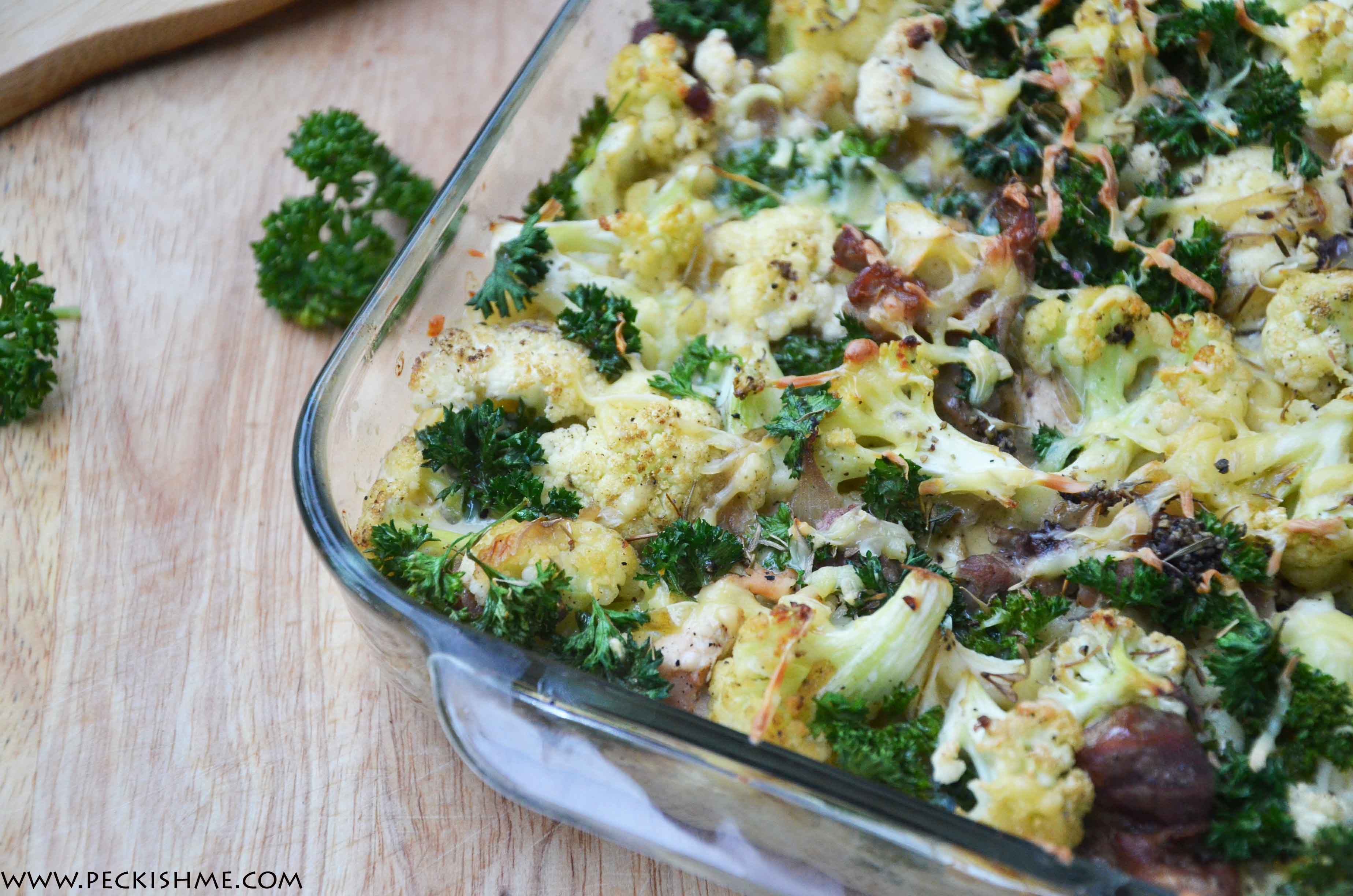 Despite the added cream and the cheese, this is a feel good dish and my go-to dish for all those times I want comfort food and still want to eat healthy (shepherd's pie being more time consuming). Also, a great way to get your kids to eat their veggies! If I can get the hubby creature to eat this, then your kids will definitely eat it. (Tell them it's pasta. It's ok to lie to them once in a while).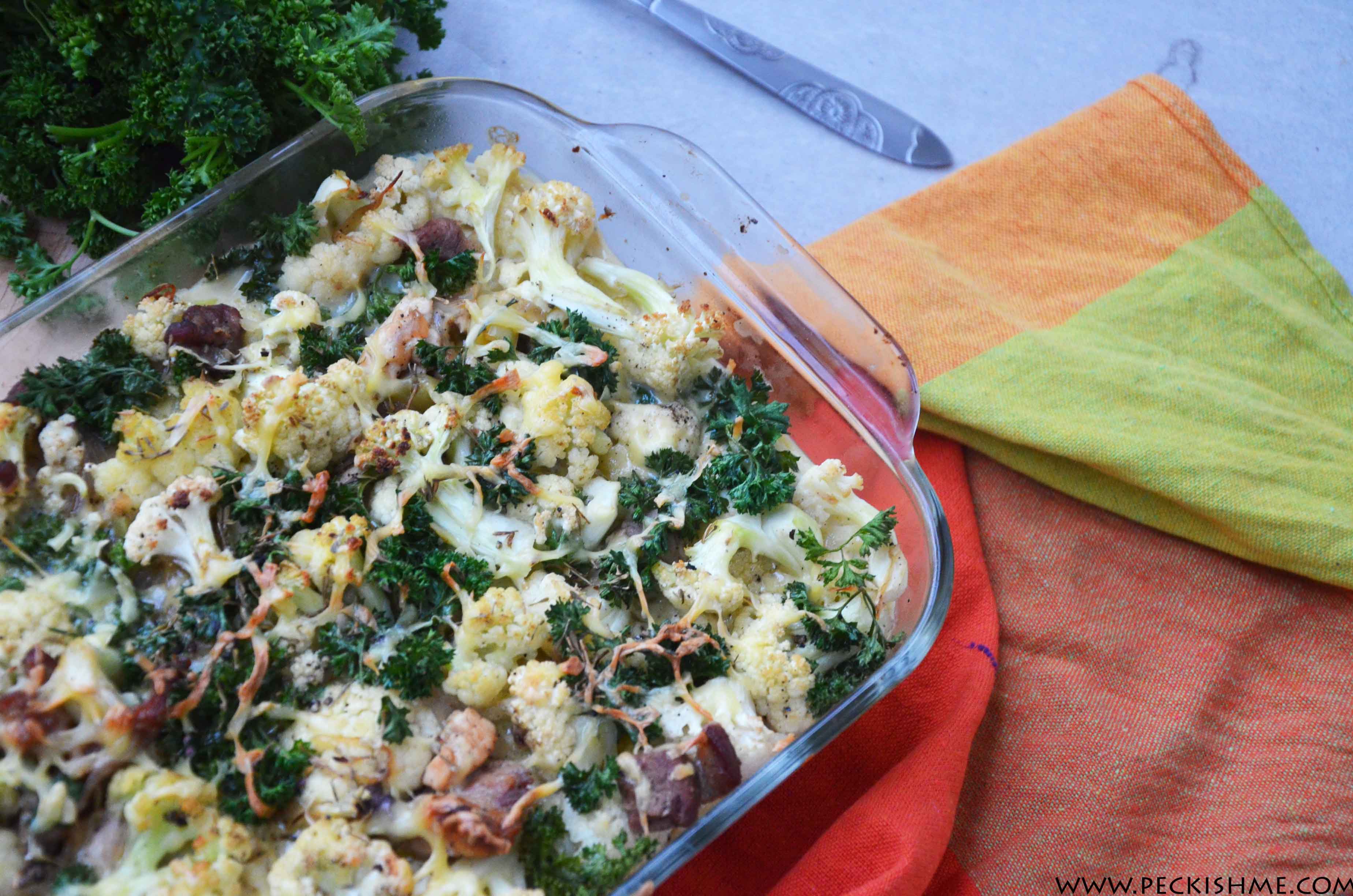 Helpful tips
If you want a low fat version, try substituting the cream for milk and use half the amount of cheese.
You can use chicken and mutton in this dish but obviously there would be a slight difference in the taste. The chicken wont taste as full bodied as the lamb.
When buying cauliflower, opt for the organic option. If not, wash it thoroughly with some vinegar. Growing cauliflower is entirely a matter of checmicals and you need to be sure that you are rid of these before you eat them.
When steaming cauliflower, make sure it is not mushy or overly soft. Take it when it is still crunchy.