My name is Jayani and I am a creamy food/drinks addict.
There, I finally admitted it. I love all things creamy and cheesy – creamy pastas, creamy beverages, creamy rice dishes, hell, I wouldn't drink tea or coffee without the cream. I know, not too great for my heart but hey, even if I die, I will die having truly lived, right?
And cream and seafood are two of my favourite combinations :)
This recipe is undoubtedly a crowd pleaser. So easy to whip up and full of lipsmacking flavour, put a large bowl of this on the table and brace yourself for the compliments that come your way. Keep a few copies of the recipe photocopied. Because they will also want the recipe.
In an attempt to make this the teeniest bit healthy (cream and prawns being high in cholesterol), I have used whole wheat pasta in the recipe (also there was ¾ of a packet of pasta leftover from lunch and I wasn't about to let that go to waste). You can of course use regular pasta, although whole wheat doesn't taste at all bad either.
I used elbow macaroni here because that was what I had at home. This would work equally well with rigatoni or penne as the creamy sauce requires a pasta that has the capacity to hold it.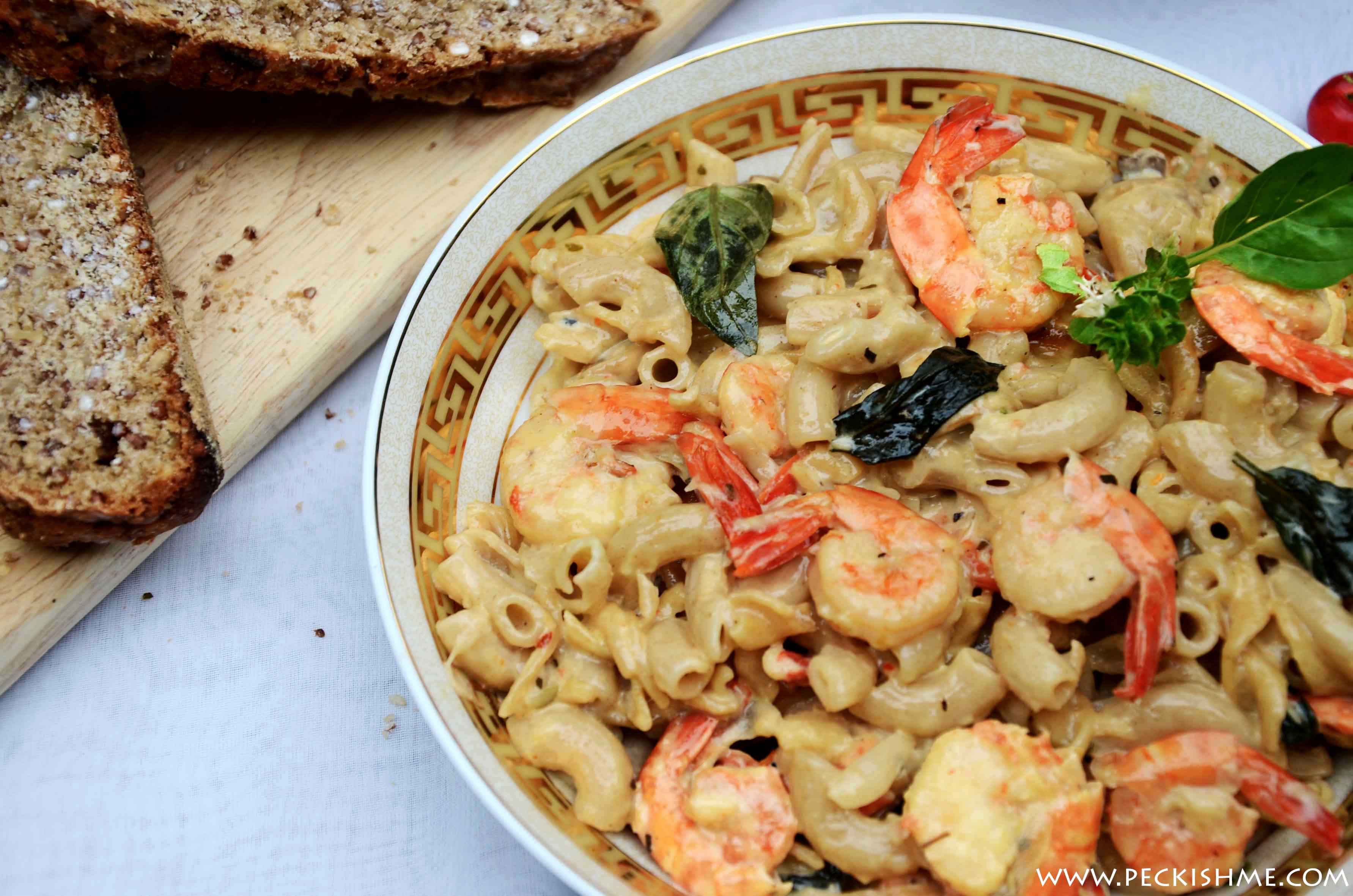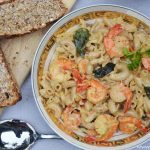 Creamy prawn pasta
Ingredients
Instructions
Boil the pasta. Strain and keep aside to drain. (Check Cooking tips for best practices for boiling pasta)
In a large skillet, heat a little oil. Once hot enough, add the garlic and sauté till it is slightly golden. Add the sliced onions. Sauté until translucent. Season with salt.
Add the prawns. Sauté until the prawns are firm and that bright pink starts to bloom. This should take up to 8 minutes.
Add the fresh cream. Stir well. Add the milk. Simmer over a low heat while stirring until it thickens slightly.
Toss in the pasta and mix well till every morsel is well coated. Sprinkle the chili flakes and mix well. Stir in the basil leaves. Take off heat.
Add the parmesan and stir well. Serve while hot.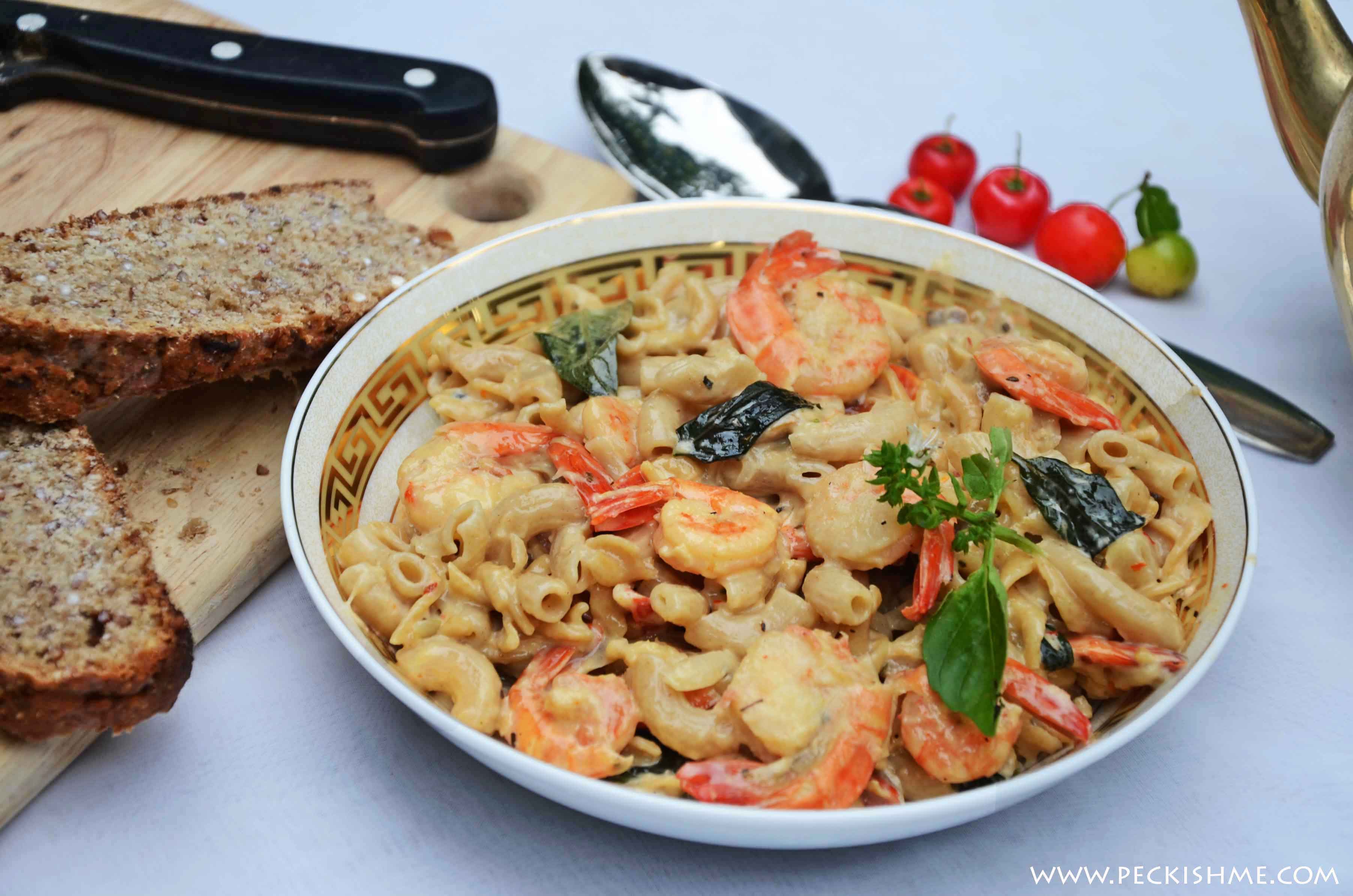 Serve it up with a slice of this delicious multigrain bread to mop up all that beautiful sauce J
Whisper of sumptuous satin over skin, gliding soothing, exciting – that is what a bite of this tastes like in your mouth. The velvety sauce coats the semi-solid rigatoni and seeps through its cavity, each mouthful a juicy bomb exploding over your senses. The cream and the cheese combine to create a soft fuzzy blanket flavoured with garlic while the little flakes of chili piques and plays, piques and plays until you can stand it no more. The solid yet yielding pasta oozing out cheesy, flavoursome juices as you bite in, once in a while bite into a slightly crunchy basil leaf lending its green flavour to the dish. The prawns soft, sweet and juicy yields a slight bite, coated in an oregano scented embrace, they influence the entire dish into a blissfully lazy , indulgent dance that sways and falters, deliciously sinking into all that cushiony softness waiting beneath. Mop up all that wonderful sauce with a piece of fresh bread. It would be a shame to let it go to waste.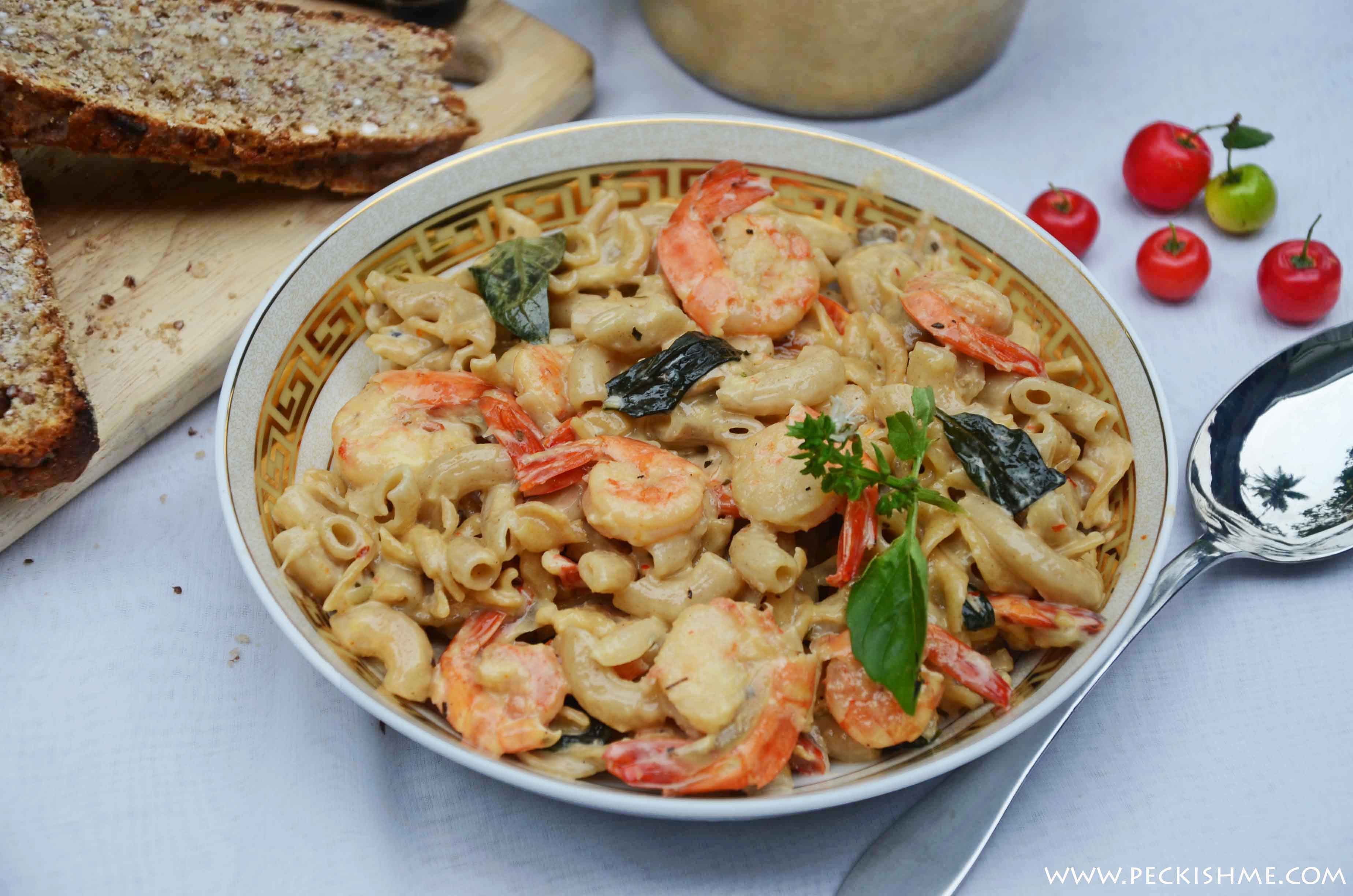 Cooking tips
How to boil the pasta
Boil a large pot of water (use a roomy pot with plenty of water, about 8 times the volume of your pasta) with a little salt. Add some olive oil. Once the water is bubbling add the pasta. Stir well so that the pasta does not cling to each other. In about 10 minutes check back the pasta. The consistency of cooked pasta should be malleable and without any of that doughy flavour. When bitten in, it should be al dente, with a bite but not crunchy. If the pasta is still not cooked, leave it in for another 1 minute and check. Once cooked, strain the pasta in a colander. Stir in some olive oil to keep it from sticking.
When cleaning prawns, wash well, de-vein and clean the entire outer shell for best results. I have kept a little part of the tail for aesthetic reasons. Of course you can remove that if you wish.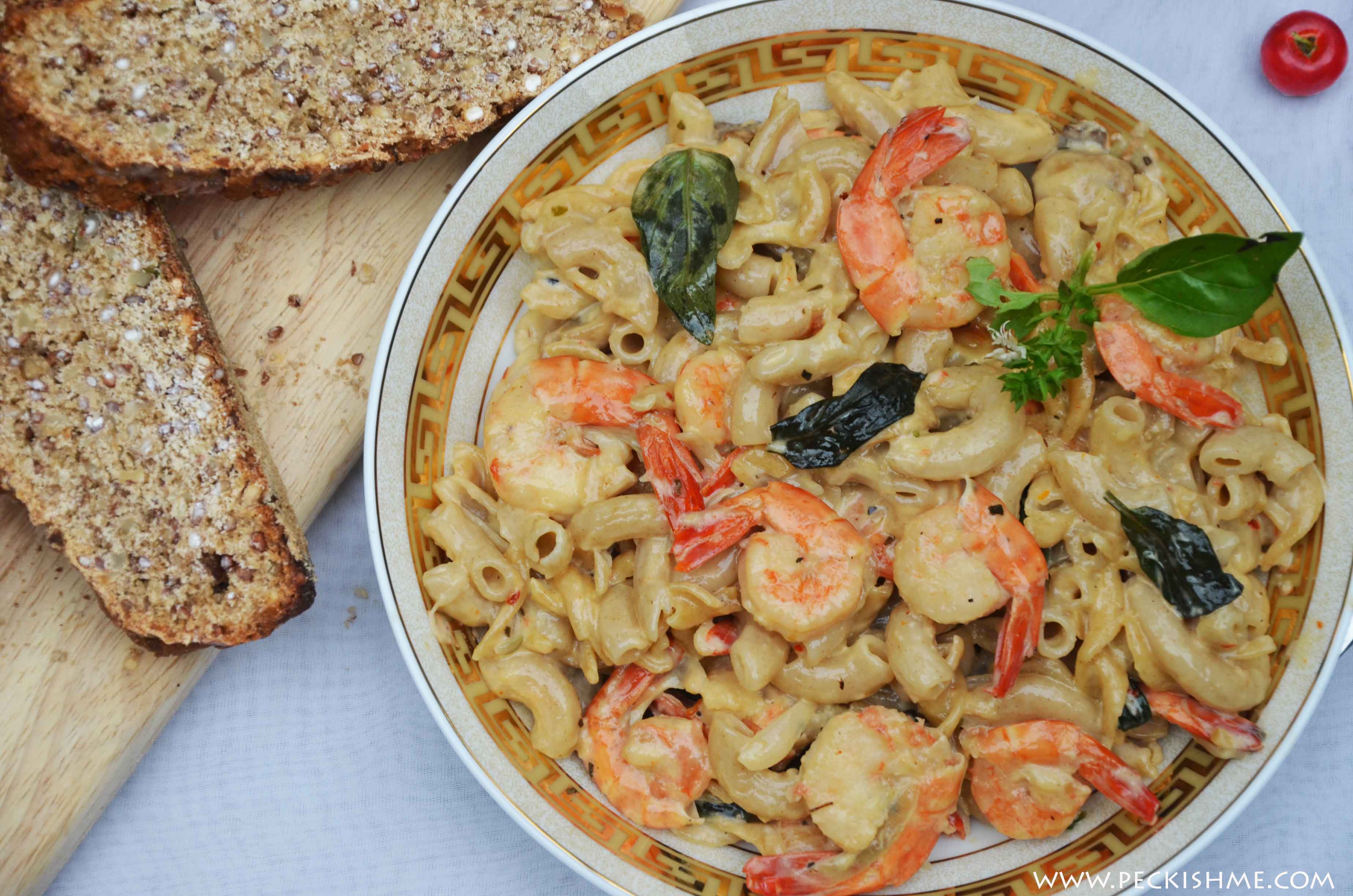 If you liked this recipe, don't forget to subscribe for the latest (and free) recipes delivered right to your inbox. Subscribe via the subscribe option on the right side bar of my blog or through that annoying pop up that haunts you around the site page to page :P Sorry :D