I've been hearing about this place for ages but didn't really have the time to actually visit. But the other day out on our usual Saturday aimless wandering, we stumbled across the Stuart&Co behind the Dutch Hospital in Colombo.
It was quite a task locating it though even if you went looking for it, and I would say it is almost hidden from prying eyes. But those who have visited even once seem to go back again and again, having developed a taste for what it has got to offer.
Ambiance
Very old school English-Scottish pub (Ok, let's call it British. I haven't been to any but I've always imagined that this is what it would look like). Exposed brick walls hung with coats of arms of Scottish Clans, polished wooden floors, tartan table mats and spacious interiors – the ambiance was very much relaxing and we were immediately set at ease. We chose a table near the window with high wooden chairs, we noticed that there were plush leather booths and outside seating as well. It was not crowded, just 2-3 couples having a lazy midday snack. We instantly decided that this would be an absolutely lovely place to spend an evening out with friends, chatting over drinks while the boys watched a game.
I'd give 5 stars for ambiance alone.
Menu & Service
The menu was extensive to say the least and was a mishmash of various cuisines including Sri Lankan, Italian, Middle Eastern, American and even Indian. However, I was delighted to see old British classics such as bangers and mash, fish and chips, a delightful variety of pies and good old fashioned steak and ribs in it as well for they were what really went with the ambiance. I for one love extensive menus and this made me very happy.
For a Scottish themed pub, what it lacked was some good old fashioned Scottish food. Like Haggis, Forfar bridie or some rustic scotch pie. Oh well.
However, I do wish they would give priority to English and Scottish specialties in the menu. The ongoing theme with the deco, the ambiance and everything else is ever so charmingly Scottish that it would be a shame to send it all to waste with Indian masala.
Service was prompt and non-intrusive and the waiters did not hover which we really appreciate. They seemed to know their menu well (which I wish I could say to most out there) and even had a few suggestions for us, this being the first time that either of us visited the place. The security guard though was somewhat annoying. He followed us from the door, right into the pub, eyeing us up and down. We felt like criminals!
The food came at fairly okay timing and we appreciate the fact that mine and my partner's dishes came at the same time which was nice. However we did see a cook carrying bags of rice and dhal across the pub as we were waiting for the food which we found hilarious.
The food
Shepherd's pie – Rs 1,200/- (before tax)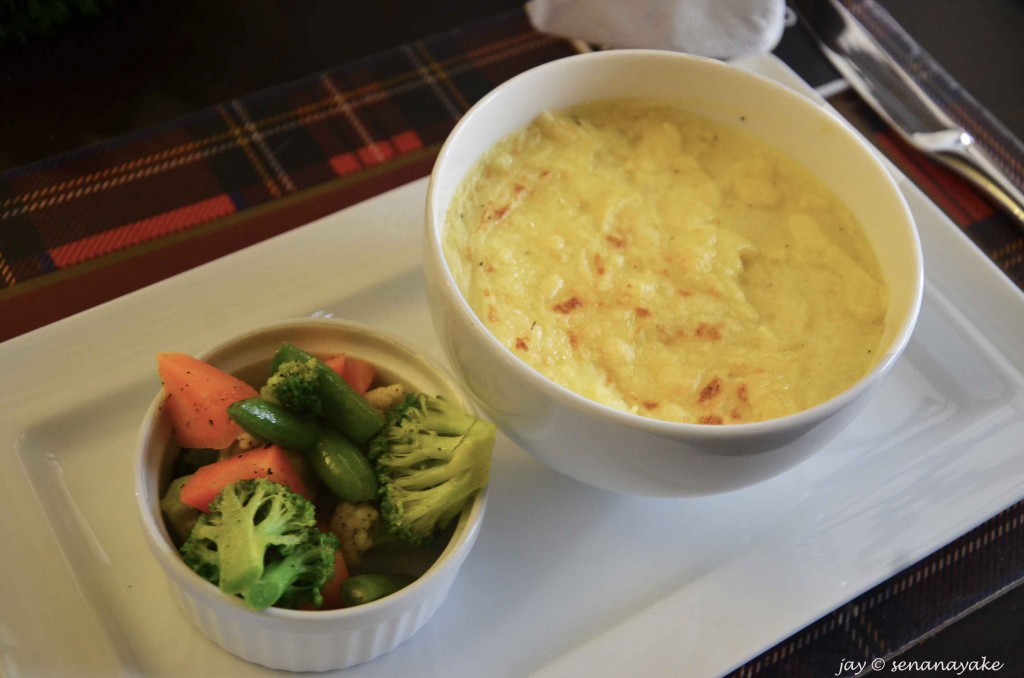 Shepherd's pie is a dish that is a personal favourite and one that is close to my heart. I have been told that I make a killer shepherd's pie myself so let's just say that I have high expectations of the dish. What arrived was different than what I expected though. I got this large bowl of pie, complete with a mashed potato topping with a side of steamed vegetables. I was perplexed at first but when I dug in I saw what they had done. Instead of putting the veggies inside the pie, they had decided to serve it outside. Smart move I'd say. For those who do not like their veggies, they can still have their pie minus the veggies and for those who like their veggies such as myself, we can still have our veggies and have the pie too!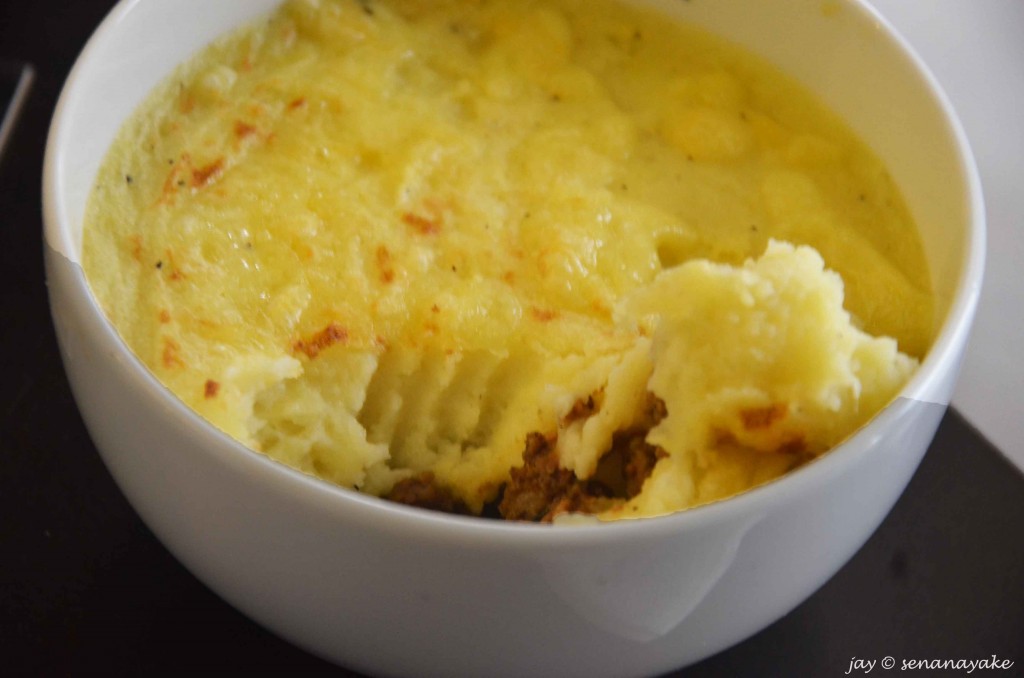 The mashed potato had a lovely golden crust on it which was lovely. By itself, the potatoes were creamy and delicious, quite milky and perfectly seasoned, just the way I like it. Once you dig in you realize that beneath the thick, creamy potato layer there is a thick, earthy minced lamb meat layer, about twice as thick as the potatoes. Perfectly seasoned with all the right herbs (I detected some thyme, oregano and possibly, basil), the combination of the meat and the potatoes was classic and rich and strangely enough the veggies that looked so bland and forlorn all by themselves incorporate themselves brilliantly into the calculations as well. And don't be fooled by the size of the dish. It does not look so big but the once you finish it, you will have to unbutton your trouser button. Will definitely be ordering again.
Luckily for me I had skipped breakfast, so there was more room.
Highly recommended.
Chicken & Leek pie – Rs 550/- (before tax)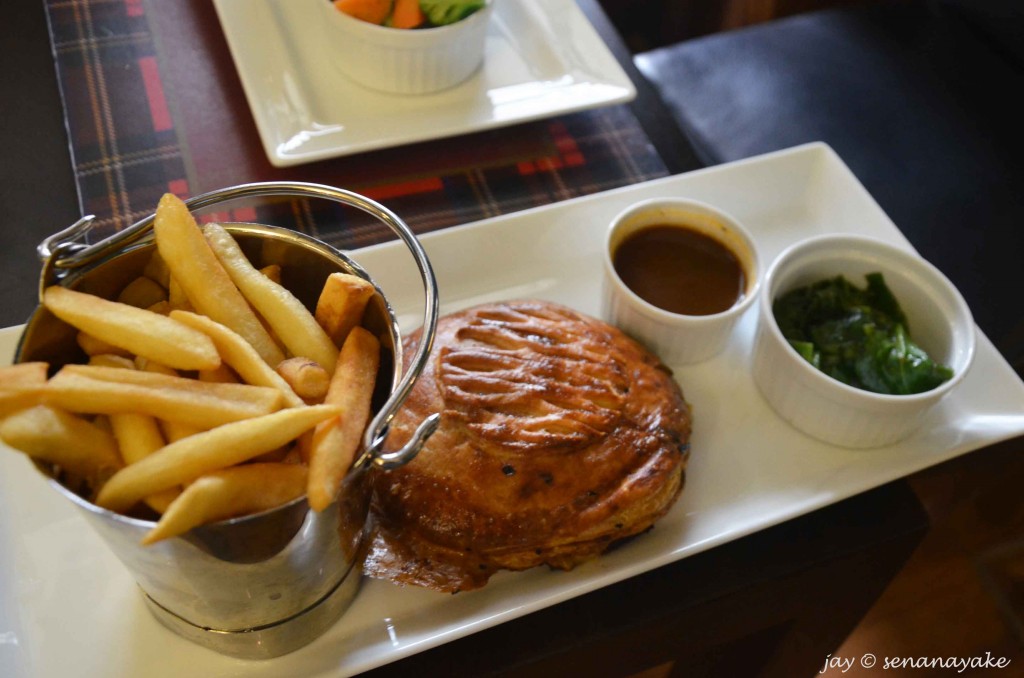 I then ordered, out of curiosity alone what they had named as the "Loch Ness chicken and leek pie". I don't know why they named it that but it sounded so grand and mysterious that I just had to try it! So try it I did.
The pie arrived, the size of my hand alongside a tin pail of fries (very cute), a side of steamed spinach and a reddish coloured sauce. I must say that I was somewhat disappointed in this. The dish was pretty much bland with no seasoning whatsoever and the sauce did nothing to uplift it. The top and the bottom of the pie was hard and rather burnt, very much dried out – possibly reheating catastrophe characteristic of a pre-made, fridged pie – which threw me off immediately. I like my food to be made fresh and while I understand that this is not possible at restaurants, they could have at least kept the pie unbaked and bake it on order instead. I certainly wouldn't mind waiting the extra few minutes if it meant having a freshly baked UNBURNT pie at my table.
The filling was creamy enough though and with just a hint of salt and pepper and a scattering of herbs it could have been marvelous. The chips which seemed hand cut were nice and thick and rather nice. Oh well, tough luck. Won't be ordering again.
Not recommended.
Chicken Korma – Priced Rs 550/- (before tax)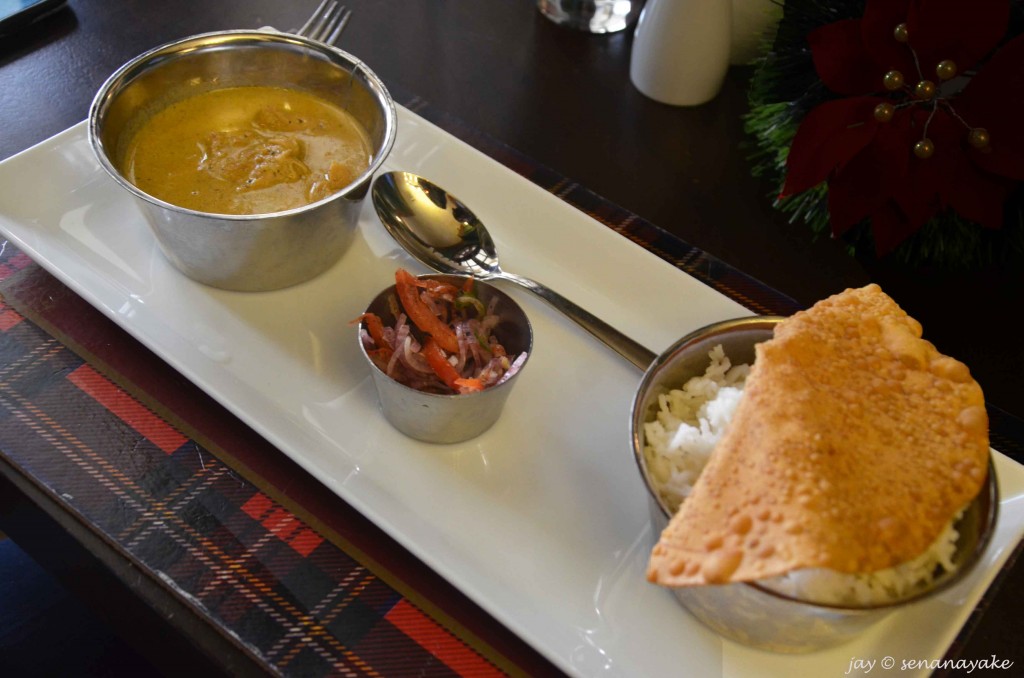 My buth loving kolla decided to order the chicken korma with rice (of all the things he could have ordered) so I left him to his choice. It was a rather generous portion I could see, with a large cup of chicken korma with generously sized chicken pieces, rice, a onion and tomato sambol and a big papadam. He liked it very much. However for me, the korma tasted a little too minty. And it was not the natural kind of minty, it was an artificial sort which is characteristic of Indian after meal refreshers. I suspect this was some kind of seasoning they used.
Not recommended. Unless you are a Indian food kind of person.
Drinks
Grapefruit juice – Rs 275/- (Before tax)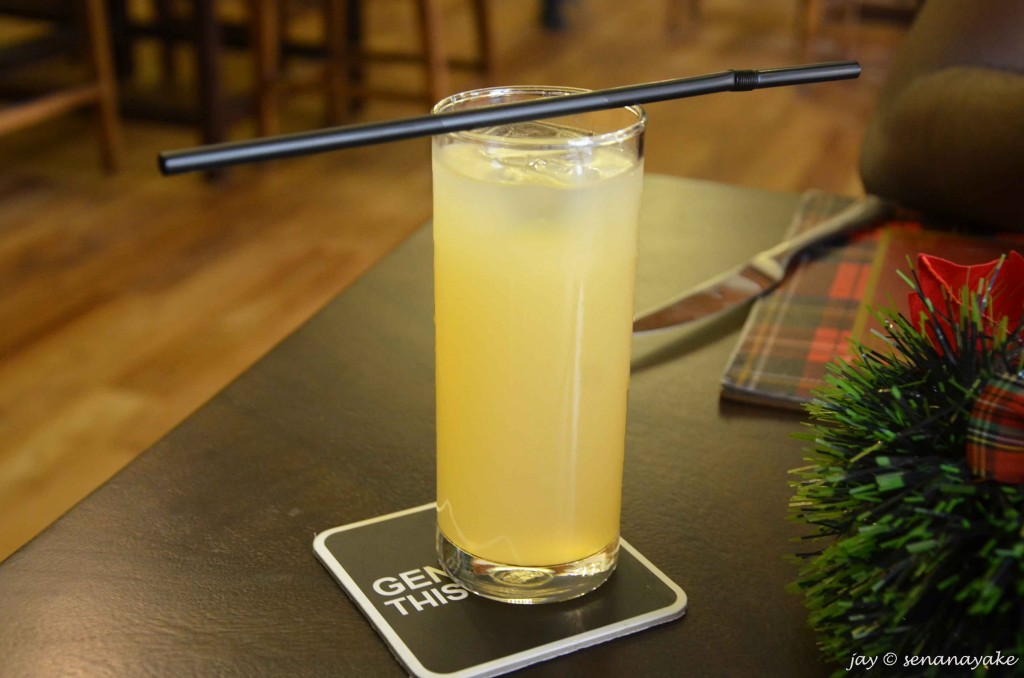 Again despite my expressed objection, and despite the waiter's warning that it is canned juice they offer, my partner went for the grapefruit juice. No point commenting on it because it was not an inhouse product.
Sex on the beach – Rs 750/- (Before tax)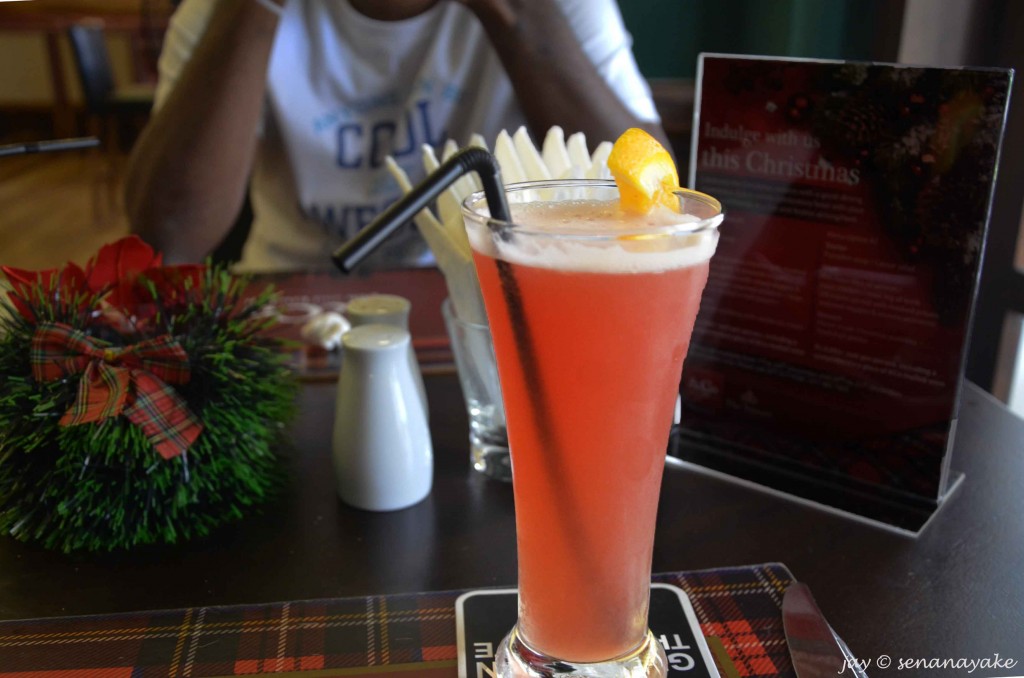 After the apparent disappointment with the grapefruit drink, we shared a Sex on the Beach which was yummeh! A tall glass filled with sweet refreshing liquid, peachy, orangey and filled with cranberry goodness, the flavours were perfectly balanced and it didn't feel alcoholic at all. But after a while, I was happy as a peach with a slight veil over my senses and chattering on – so I guess it was a very nice sex on the beach.
Recommended.
In conclusion
The food – 3.8 stars
Price range – Approximately Rs 4000/- for two people with drinks
Drinks – 4.5 Stars (rating only brought down by the Grapefruit)
Ambience – 5 stars
Service – 4.5 Stars
Location – Behind the Dutch hospital, off Chatham street. Drive right up because parking is available here.
Personal note – Recommended for an evening out with friends, to watch a game or just to chillax. Not an ideal date venue but a casual, but classic hang out spot.
Suggestion for management – Make everything exclusively Scottish because right now we are left confused between English and Scottish and fusion cuisine. Also because they will be the first people to put down some Scottish roots here!
Would I be visiting again? I am looking for an excuse to go!