The Darling was craving pizza and there was absolutely no way around it. I however is not a huge pizza fan (I have my moods when it comes to pizza and other 'junk food' in general' and that day was not one of those days). So we did our research. We were aiming at this one place which was famed for its wood fired pizzas and seeing as it was closed that day, we looked for the next best option. Hence, we stumbled upon Santore quite by chance and this was a chance that we were truly grateful for.
The location of Santore – Italian restaurant is quite unexpected. The Sri Lanka Tennis Association being the last place you would look for an Italian restaurant, we parked with some reluctance and made our way in, wondering all the time if we had made a mistake. But right at the end of the corridor, there it was, surrounded by glass walls and if you were not looking for it, it's quite easy to miss it. It was around 3 Pm at the time and only a few expats were dining there, although the outside was quite crowded with obviously, those who had come for the Tennis. There is a seating area outside as well but we chose indoors as it was a rather hot day outside and we Sri Lankans like our air con a little too much.
Ambiance
The first smell that greeted us however as we sat was the smell of feet – understandable as this is the venue of a sports club, but not acceptable at a restaurant. However, it soon went away or our noses grew accustomed to it – either way, we grew comfortable. The interiors were ordinary – no remarkable ambiance whatsoever (probably due to the timing of our visit) with normal wooden tables and chairs which could be a bit more comfortable. To the side of the restaurant, the chef was kneading out the pizza in the open kitchen while a huge clay pizza oven loomed towards the back in plain view of the restaurant. We thought this was a nice touch and we are sorry that we don't have a picture of that since we wanted to be discreet in our observations. We thought that the venue has got potential in terms of ambiance if spruced up a bit with appropriate lighting, furniture, music and little touches that could transform the place into something special.
Menu & service
We were handed our menus by a friendly waiter, who to his credit, did not hover above us as we took our time to examine the goods and make our choices. This in itself was a huge plus as we could decide and undecided and redecide for as long as we wanted. The menu was extensive and had a large range of pastas, pizzas, a few risottos (which I was elated to see) and some desserts. There was an extensive liquor menu with quite a few cocktails and I was delighted to find Kir Royale in it and immediately decided to have one. But I was told that they do not serve liquor after 2.30 PM (it was 3 PM at that time). While I was devastated, I decided to go with a mango juice instead without making a fuss. I had quite made up my mind for the mango juice in hand when the waiter came and informed me that upon asking the owner, he was asked to serve the Kir Royale anyway despite the bar rules. Needless to say I was pleasantly surprised as I hadn't even inquired whether they could reconsider. This sort of spontaneity is a much appreciated and a rarely seen characteristic in Sri Lankan restaurants still.
The food and the drinks were served relatively fast, there were no long and harrowing waits – we needed only wait about 20 minutes – understandable because the pizza was baked on order. This is also probably due to the fact that the restaurant wasn't crowded at the time. We liked the fact that the pizza and the risotto that I ordered came only a few minutes apart from one another as well. Although we would have liked to be served at the same time – especially as we went as a couple.
The food & the drinks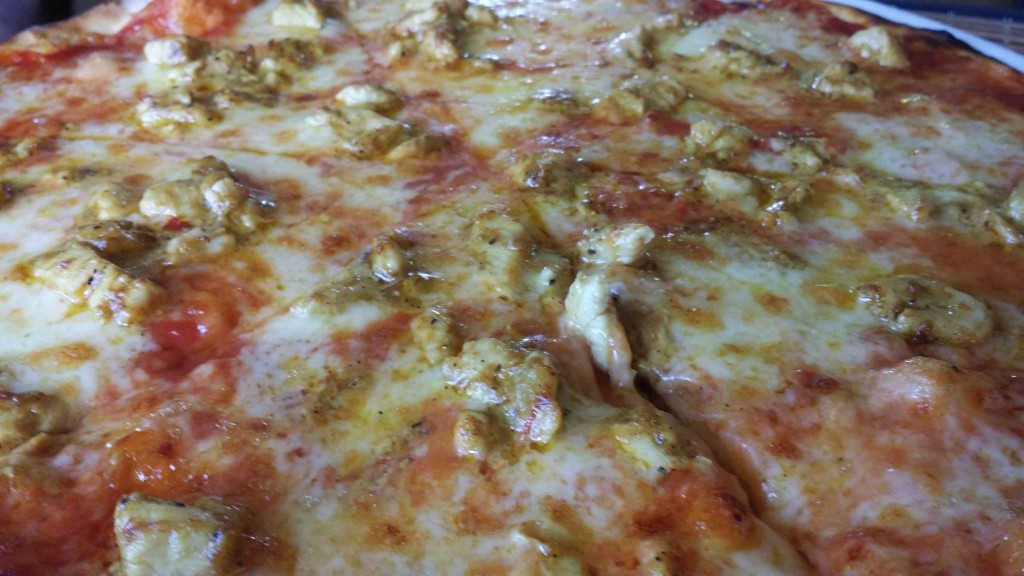 The Darling ordered the Curry Chicken pizza (because he wanted a chicken pizza (regular 9") and that was the only chicken pizza in the menu, other than the chicken sausage one) while I ordered the seafood risotto. For drinks I ordered the Kir Royale (it was Saturday and after a long work week, I deserved a drink!) and my partner in food ordered the Italian iced coffee. At Rs 1450/- the pizza was humongous and I am not exaggerating when I say humongous. They also have the option of making the pizza into a calzone for just Rs 300/- or so for smaller servings but The Darling was in pizza monster mode and one knows better than to mess with him when he is in this mode.
The topping could have been a bit more generous in terms of chicken though. However, this did not compromise when it came to flavour. The crust was appropriately thin and crunchy towards the edge and it delivered mouthful after mouthful of deliciousness. Of course we couldn't finish the pizza so we had to pack more than half of it to take home. True to its name it was curry chicken in essence, but more of an Indian curry chicken – mild and fragrant. But for someone who would come there looking for an Italian twist on the humble Sri Lankan curry chicken, this would not tick any boxes. We would like to suggest a few more chicken pizza options for those who would like their pizzas chicken and with a touch of the famous Italian flair as well. Curry Chicken pizza – recommended for those who like Indian tastes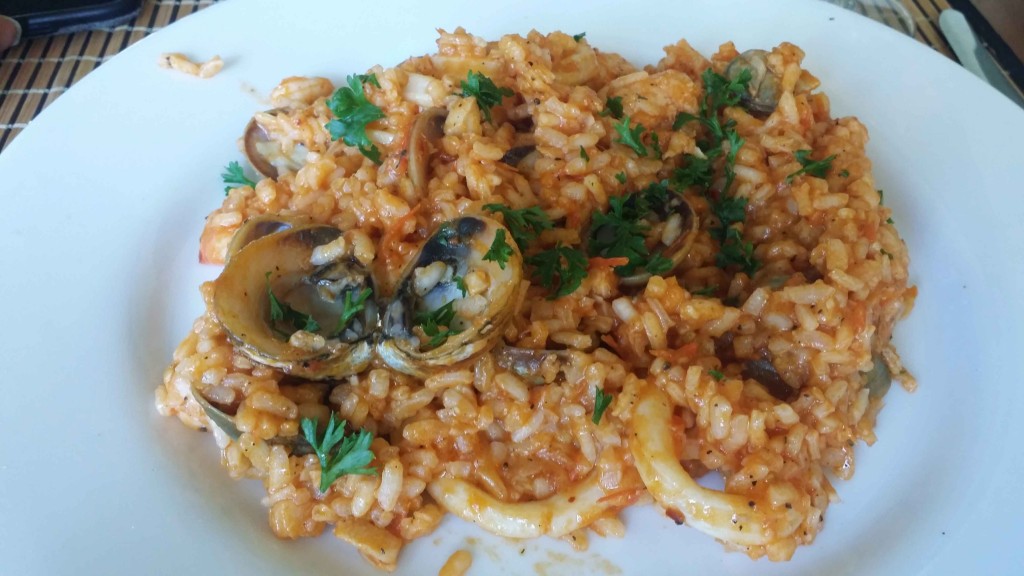 The seafood risotto (Risotto alla Pescatora) was a real treat. It looked quite a sight upon arrival as you can see and I felt almost sorry to eat it. At Rs Rs 1250/- it was quite a generous portion with copious amounts of cuttlefish, prawns and clams, tasting of the sea. The rice was not quite al dente but it still had a bite and was nutty, enveloped in a wonderfully creamy-tomatoey sauce which was delicious. The calamari was soft and flavoursome the prawns were chunky and juicy with the round pearls of rice giving it the perfect combination of textures. The sprinkling of parsley on top gave the risotto a freshness that was wonderful, keeping in line with the theme of the sea. I've been craving for risotto for quite a while and this was the perfect fix. Thank you Santore, I needed that.
Recommended – for everybody who likes a good risotto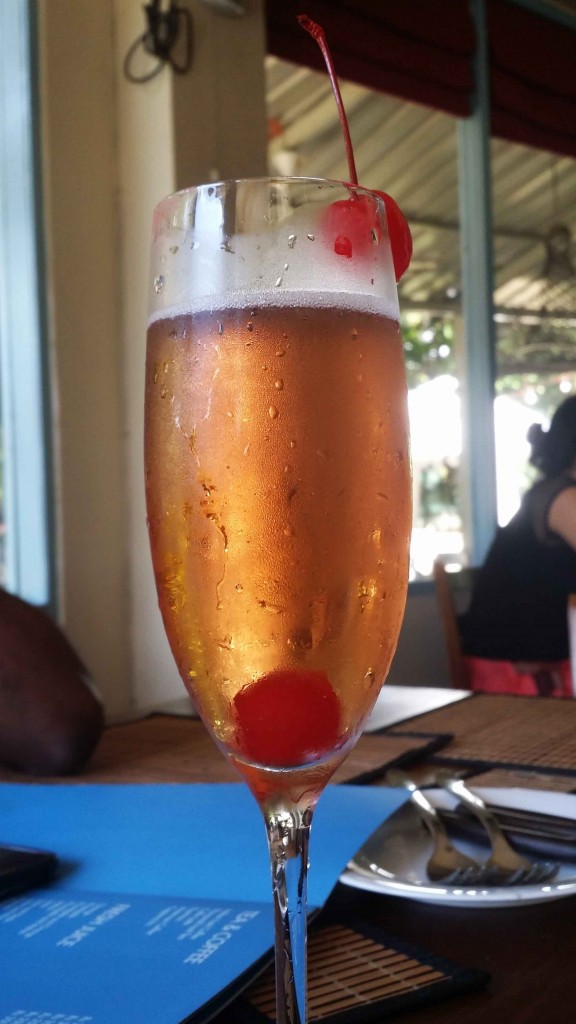 The Kir Royale – Rs 700/- beautifully balanced with a cherry propped upon the rim of the glass and another large plump cherry floating in the bottom. Slightly fizzy, it tasted more of cherry than of black current and I didn't really mind. It was perfect for a lazy Saturday afternoon and was quite refreshing and delicious. Recommended.
The Italian iced coffee – Rs 350/-. I couldn't detect what made it Italian as it tasted like any other iced coffee. But it was good iced coffee. Nice, cold and copious, I would however, liked them to go a bit easy with the sugar. Alternately, a sugar syrup could have been served on the side instead of sugar being included in it. But it was a good iced coffee and The Coffee maniac Darling was very happy.
Being quite full, we didn't try out the desserts that day. The Italian biscuit pudding and the Italian dark chocolate cake looked interesting on the menu and I'm always up for some tiramisu, so we decided we would come back for dessert on another day.
In conclusion,
Food – 4 stars
Price range – Rs 4500/- for two including drinks (no dessert). Not cheap but totally worth it when considering the quality of the food and the generous portions.
Service – 4 stars
Ambiance – 2 stars. Recommended for casual eating.
Contact details
Facebook – https://www.facebook.com/SantoreBistroItaliano
Web – http://www.santorecolombo.com/
Personal note – Highly recommend it for its great food and amiable service.
Would we go again? Of course. Definitely.